Mens Wearhouse (MW) Tops Q3 EPS by 4c; Issues In-Line FY13 EPS Outlook
Mens Wearhouse, Inc. (NYSE: MW) reported Q3 EPS of $0.90, $0.04 better than the analyst estimate of $0.86. Revenue for the quarter came in at $648.9 million versus the consensus estimate of $627.14 million.

Fiscal YTD comps up 1.9%.

Sees FY2013 EPS of $2.40-$2.50, versus the consensus of $2.46.

For earnings history and earnings-related data on Mens Wearhouse, Inc. (MW) click here.
Vera Bradley, Inc. (VRA) Tops Q3 EPS by 4c; Comps Down 6.5%; Issues Light Q4, FY14 Outlook
Vera Bradley, Inc. (NASDAQ: VRA) reported Q3 EPS of $0.37, $0.04 better than the analyst estimate of $0.33. Revenue for the quarter came in at $130.1 million versus the consensus estimate of $129.27 million.

Comparable-store sales decreased 6.5% during the quarter primarily due to lower traffic and underperformance of the product offering. E-commerce revenue decreased 7.8% compared to the prior year, as a result of both lower traffic and lower average transaction size. Indirect segment revenues decreased 17.3% to $61.2 million, primarily due to cautious ordering from the Company's specialty retailers.

Robert Wallstrom, Chief Executive Officer, stated, "While third quarter sales and earnings results were in line with our expectations, based on recent trends we are lowering our fourth quarter outlook. Although we face a persistently challenging retail environment, we are working diligently to make improvements in our organization that will enable us to stabilize the business and generate more consistent sales and earnings growth over the long term. "

Mr. Wallstrom continued, "Upon joining the Company I have come to more fully appreciate Vera Bradley's rich history as an authentic American brand with a highly loyal customer following. I see tremendous opportunity to broaden our customer base, enter new markets, and expand the product offering. Over the next several months I will be evaluating several areas of the business, focusing on the product assortment and the indirect and direct distribution channels, including e-commerce, in order to develop a strategic plan that will drive improved financial performance and increase long-term shareholder value."

Sees Q4 2014 EPS of $0.44-$0.47, versus the consensus of $0.56. Also sees Q4 2014 revenue of $145-150 million, versus the consensus of $159.31 million.

Sees FY2014 EPS of $1.41-$1.44, versus the consensus of $1.49. Also sees FY2014 revenue of $523-528 million, versus the consensus of $536.97 million.

For earnings history and earnings-related data on Vera Bradley, Inc. (VRA) click here.
U.S. Online Holiday Spending Up 9% in 2013; 'Green Monday' Up 10% (AMZN) (EBAY)
comScore (NASDAQ : SCOR), a leader in measuring the digital world, today reported holiday season U.S. retail e-commerce spending from desktop computers for the first 39 days of the November-December 2013 holiday season. For the holiday season-to-date, $31.5 billion has been spent online, marking a 9-percent increase versus the corresponding days last year. However, as we have noted in previous releases, Thanksgiving Day falls six days later this year than last and causes more heavy spending days to fall in the year ago period, thereby diluting growth rates at this point. For example, we see a 25-percent increase if using the alternate comparison of the 4-week period preceding Thanksgiving.

Green Monday reached $1.4 billion in desktop online spending, up 10 percent versus year ago, representing the third heaviest online spending day of the holiday season-to-date. Cyber Week, the week beginning with Cyber Monday, posted strong growth online, raking in approximately $8 billion in spending for an increase of 24 percent compared to the same week last year. The Saturday and Sunday following Cyber Monday saw $1.7 billion in spending via desktop computers, up a robust 71 percent versus last year. Also noteworthy is that Cyber Week fell just $16 million shy on Friday, December 6 of boasting five billion dollar days during the work week. For the period from Thanksgiving Day through Cyber Week, online buying from desktop computers increased a very strong 24 percent.


2013 Holiday Season To Date vs. Corresponding Days* in 2012
Non-Travel (Retail) E-Commerce Spending
Excludes Auctions and Large Corporate Purchases
Total U.S. – Home & Work Desktop Computers
Source: comScore, Inc.

 

 

Millions ($)
2012
2013
Percent Change
Nov. 1–Dec. 9 (vs. Nov. 2-Dec. 10, 2012)
$28,839
$31,547
9%
Nov. 1–Dec. 9 (vs. Oct. 26-Dec. 3, 2012)
$25,272
$31,547
25%
Thanksgiving Day (Nov. 28)
$633
$766
21%
Black Friday (Nov. 29)
$1,042
$1,198
15%
Holiday Weekend (Nov. 30-Dec. 1)
$1,187
$1,59
34%
Cyber Monday (Dec. 2)
$1,465
$1,735
18%
Thanksgiving thru Cyber Monday
$4,327
$5,293
22%
Cyber Week (Dec. 2-8)
$6,437
$7,978
24%
  Cyber Week Monday-Friday (Dec. 2-6)
$5,462
$6,315
16%
  Cyber Weekend (Dec. 7-8)
$975
$1,663
71%
Green Monday (Dec. 9)
$1,275
$1,401
10%
Thanksgiving thru Cyber Week
$9,300
$11,536
24%
*Corresponding days based on corresponding shopping days (November 2 thru December 10, 2012)
Online buying for the period since Thanksgiving has been very strong and indicates that e-commerce is on track to meet expectations," said comScore chairman Gian Fulgoni. "While Green Monday saw a strong desktop spending total of $1.4 billion, its 10-percent year-over-year growth rate might at first seem somewhat underwhelming given the growth rates we've seen for other important days this season."
Added Fulgoni, "However, there is an interesting emerging storyline that helps speak to what's happening during this year's very unique holiday season. It would appear that the abbreviated calendar between Thanksgiving and Christmas is compelling shoppers to complete more of their online buying during the weekends – with this most recent weekend boasting an exceptional 71-percent gain from last year, following on the heels of last weekend's 34-percent jump. The weekend is typically a lighter period of online buying than during workdays, but the weekend surges we're seeing may be attributable to the effects of showrooming, with the in-store shopping experience increasingly getting disrupted by comparison shopping on mobile phones, leading to more conversions online after leaving the store. Of course, it's also likely that many consumers realize the holiday spending clock is ticking and are urgently buying their gifts whenever they have time. And that, in turn, works to the benefit of e-commerce."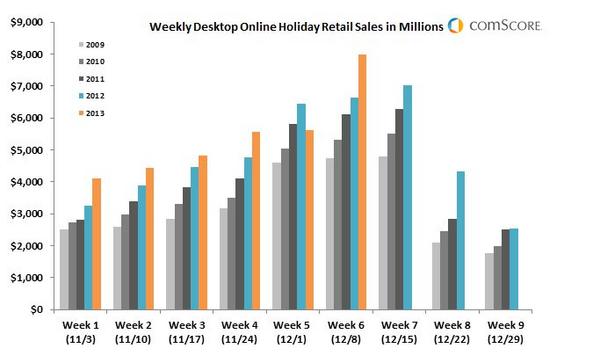 Costco Wholesale (COST) Misses Q1 EPS by 7c; adj.-Comps Up 5%
Costco Wholesale Corp (NASDAQ: COST) reported Q1 EPS of $0.96, $0.07 worse than the analyst estimate of $1.03. Revenue for the quarter came in at $24.47 billion versus the consensus estimate of $25.41 billion.

Adjusted comps rose 5 percent.

Costco currently operates 648 warehouses, including 461 in the United States and Puerto Rico, 87 in Canada, 33 in Mexico, 25 in the United Kingdom, 18 in Japan, 10 in Taiwan, nine in Korea and five in Australia. Costco also operates electronic commerce web sites in the U.S., Canada, the United Kingdom and Mexico.

For earnings history and earnings-related data on Costco Wholesale Corp (COST) click here.
More Retail Sales
View Older Stories
View Older Stories