Global Eagle (ENT), Southwest (LUV) Launch New Messaging Service
Adding to the list of services it now offers Customers inflight, Southwest Airlines (NYSE: LUV) and its inflight entertainment and connectivity partner, Global Eagle Entertainment Inc. (Nasdaq: ENT) announced today the launch of a messaging service designed to work in all stages of flight. The new service enables passengers with Apple devices operating on iOS 5 or later the ability to iMessage gate-to-gate for the introductory price of $2 per day. Android-friendly messaging apps will be added early in 2014.

Currently available on 435 aircraft, Southwest is the only U.S. carrier to offer WiFi below 10,000 feet, and with the addition of Global Eagle's texting product, the airline continues to build upon the extensive entertainment and connectivity services that are available to its Customers at all stages of flight. Customers now have the opportunity to choose the inflight connectivity services that meet their needs, from free TV courtesy of DISH, to WiFi gate-to-gate, to messaging.

"It is our pleasure to say that regardless of whether we're parked at the gate or flying at 30,000 feet in the air, we are able to provide a truly robust entertainment and connectivity service for our passengers," said Kevin Krone, Southwest Airlines Chief Marketing Officer. "Our partnership with Global Eagle has afforded us the opportunity to be first with the services we offer, and has truly helped to differentiate Southwest Airlines in ways that are meaningful to our Customers."

With today's announcement, Global Eagle and Southwest continue to reinforce the value of satellite-based connectivity and its ability to deliver a broad range of services to improve the passenger experience inflight.

"When the ban on inflight connectivity below 10,000 feet was lifted, we knew we were in a great position to take some significant strides in terms of passenger experience with Southwest Airlines," said John LaValle, Chief Executive Officer of Global Eagle Entertainment. "Our messaging service breaks new ground, and embraces the changing face of communication, one where texting has already surpassed voice calls as the preferred method of phone use among young adults, and continues to grow."

How It Works:

-- Once onboard, Customers can switch their phones to "airplane mode" and connect to the Southwest WiFi network.
-- From the WiFi portal homepage, Apple users with devices operating iOS 5 or later can select "Messaging" from the "Connect" tab and pay $2 for all day texting with other iMessage users on WiFi-enabled planes.
-- For Customers that prefer to do more, WiFi is still available for $8 all day per device and texting is included in that purchase automatically.
-- No need to power down! Customers can send messages gate-to-gate like they never left the ground.

Southwest, serving more than 100 million passengers each year, continues to offer the most comprehensive inflight entertainment and connectivity experience at all phases of flight, which now includes:

-- Inflight WiFi available from gate-to-gate for $8 per device per day
-- iMessage, available from gate-to-gate for $2 per day, for iPhone users with iOS5 or later
-- Live Television streamed directly to passengers' own personal electronic devices, free of charge, courtesy of DISH
-- Video-on-Demand television content and movies

Powered by Global Eagle's satellite-based connectivity platform, the new service—in sync with gate-to-gate Wi-Fi—is also optimized to work in all phases of flight, including on the ground.
U.S. Online Holiday Spending Up 9% in 2013; 'Green Monday' Up 10% (AMZN) (EBAY)
comScore (NASDAQ : SCOR), a leader in measuring the digital world, today reported holiday season U.S. retail e-commerce spending from desktop computers for the first 39 days of the November-December 2013 holiday season. For the holiday season-to-date, $31.5 billion has been spent online, marking a 9-percent increase versus the corresponding days last year. However, as we have noted in previous releases, Thanksgiving Day falls six days later this year than last and causes more heavy spending days to fall in the year ago period, thereby diluting growth rates at this point. For example, we see a 25-percent increase if using the alternate comparison of the 4-week period preceding Thanksgiving.

Green Monday reached $1.4 billion in desktop online spending, up 10 percent versus year ago, representing the third heaviest online spending day of the holiday season-to-date. Cyber Week, the week beginning with Cyber Monday, posted strong growth online, raking in approximately $8 billion in spending for an increase of 24 percent compared to the same week last year. The Saturday and Sunday following Cyber Monday saw $1.7 billion in spending via desktop computers, up a robust 71 percent versus last year. Also noteworthy is that Cyber Week fell just $16 million shy on Friday, December 6 of boasting five billion dollar days during the work week. For the period from Thanksgiving Day through Cyber Week, online buying from desktop computers increased a very strong 24 percent.


2013 Holiday Season To Date vs. Corresponding Days* in 2012
Non-Travel (Retail) E-Commerce Spending
Excludes Auctions and Large Corporate Purchases
Total U.S. – Home & Work Desktop Computers
Source: comScore, Inc.

 

 

Millions ($)
2012
2013
Percent Change
Nov. 1–Dec. 9 (vs. Nov. 2-Dec. 10, 2012)
$28,839
$31,547
9%
Nov. 1–Dec. 9 (vs. Oct. 26-Dec. 3, 2012)
$25,272
$31,547
25%
Thanksgiving Day (Nov. 28)
$633
$766
21%
Black Friday (Nov. 29)
$1,042
$1,198
15%
Holiday Weekend (Nov. 30-Dec. 1)
$1,187
$1,59
34%
Cyber Monday (Dec. 2)
$1,465
$1,735
18%
Thanksgiving thru Cyber Monday
$4,327
$5,293
22%
Cyber Week (Dec. 2-8)
$6,437
$7,978
24%
  Cyber Week Monday-Friday (Dec. 2-6)
$5,462
$6,315
16%
  Cyber Weekend (Dec. 7-8)
$975
$1,663
71%
Green Monday (Dec. 9)
$1,275
$1,401
10%
Thanksgiving thru Cyber Week
$9,300
$11,536
24%
*Corresponding days based on corresponding shopping days (November 2 thru December 10, 2012)
Online buying for the period since Thanksgiving has been very strong and indicates that e-commerce is on track to meet expectations," said comScore chairman Gian Fulgoni. "While Green Monday saw a strong desktop spending total of $1.4 billion, its 10-percent year-over-year growth rate might at first seem somewhat underwhelming given the growth rates we've seen for other important days this season."
Added Fulgoni, "However, there is an interesting emerging storyline that helps speak to what's happening during this year's very unique holiday season. It would appear that the abbreviated calendar between Thanksgiving and Christmas is compelling shoppers to complete more of their online buying during the weekends – with this most recent weekend boasting an exceptional 71-percent gain from last year, following on the heels of last weekend's 34-percent jump. The weekend is typically a lighter period of online buying than during workdays, but the weekend surges we're seeing may be attributable to the effects of showrooming, with the in-store shopping experience increasingly getting disrupted by comparison shopping on mobile phones, leading to more conversions online after leaving the store. Of course, it's also likely that many consumers realize the holiday spending clock is ticking and are urgently buying their gifts whenever they have time. And that, in turn, works to the benefit of e-commerce."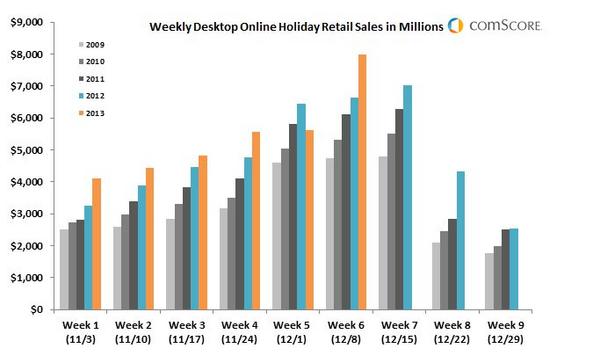 Rexahn Pharma (RNN) Stock Holds Gains After Co. Granted Patent
Rexahn Pharmaceuticals, Inc. (NYSE: RNN), a clinical stage biopharmaceutical company developing potential best-in-class oncology therapies, today announced that it has been issued United States Patent, No. 8,598,173, which covers a method for treating solid cancer tumors including ovarian, breast, prostate, liver, lung, kidney, colon, pancreatic and stomach for its clinical development candidate SupinoxinTM (RX-5902). Rexahn had previously received a composition of matter patent from the United Stated Patent and Trademark Office covering the structure of Supinoxin.

"We are progressing on schedule with our Phase I dose-escalation clinical trial for Supinoxin in cancer patients with solid cancer tumors. Having initiated patient enrollment in August, we expect data in the first half of 2014, which will help inform the study design for future Phase II trials on Supinoxin," stated Rexahn CEO Peter D. Suzdak, Ph.D.

"We are committed to developing cancer treatments that specifically target cancer cells, excluding healthy tissue, so that cancer can be treated with increased efficacy and reduced toxicity. Strengthening our IP portfolio as we advance in our clinical trials adds critical value to our company," added Dr. Suzdak.

In-vitro studies have shown that Supinoxin reduces the spread of 18 different human cancer cells lines. Supinoxin has also shown that it can eliminate cancer cells which were resistant to other widely used cancer drugs including docetaxel, cisplatin and gemcitabine. Supinoxin is an orally available new chemical entity exhibiting potent antitumor properties in several types of tumors and has also show strong anti-proliferative activity against known anti-cancer drug-resistant cancer cells, and a synergistic effect with known anti-cancer drugs as well.

About SupinoxinTM (RX-5902)

Supinoxin is an orally administered, first-in-class, small molecule inhibitor of phosphorylated-p68 RNA helicase (P-p68). P-p68, which is selectively expressed in cancer cells but absent in normal tissue, increases the activity of multiple cancer related genes including cyclin D1, c-jun and c-myc, and plays a role in tumor progression and metastasis. Over-expression of P-p68 has been observed in solid tumors such as melanoma, colon, ovarian and lung.
BlackBerry (BBRY) BES10 Selected for Use by Colorado-Based RMHS
BlackBerry (Nasdaq: BBRY) and Rocky Mountain Human Services (RMHS), announced that RMHS has selected BlackBerry's enterprise mobility management (EMM) solution - BlackBerry Enterprise Service 10 (BES10) - along with BlackBerry Z10 smartphones to enhance mobile productivity.

BlackBerry 10 is the platform of choice for RMHS, whose workforce serves more than 7,500 individuals that face challenges from developmental delays, cognitive and intellectual impairments, brain injuries, aging and social conditions. With BES10 and BlackBerry 10 smartphones, RMHS has seen increased collaboration between employees working remotely using email, BBM" and file sharing on their smartphones. Workers also benefited from using the BlackBerry 10 browser to access both internal and external web sites.

"The productivity benefits on the BlackBerry Z10 smartphone are unmatched, empowering our employees to be as engaged on-the-go as they are in the office," said RMHS spokesperson, Annie Davies. "Our employees often require access to confidential information while in the field. The Citrix Receiver application allows for a seamless transition from employee workstations to our BlackBerry Z10 smartphones, because we can access the same applications and files securely behind our corporate firewall."

RMHS considers BlackBerry 10 a key enabler for employees to share information securely with their clients and colleagues. In addition, BES10 offers a single console that enables RMHS to centralize control of all devices, and access the full range of security features and customization tools within BES10, allowing RMHS to tailor the BlackBerry Z10 smartphone's functionality to their needs.

Building on more than a decade of enterprise mobility management expertise, BES10 with BlackBerry 10 smartphones is a clear choice for security-conscious organizations. Ramon Llamas, an analyst at technology research firm IDC said, "BlackBerry has been, and continues to be, the gold standard for mobile security. Providing a full turn-key enterprise solution has been in BlackBerry's DNA since day one, and that's why companies continue to put BlackBerry on their list."

"Companies like Rocky Mountain Human Services invested in BlackBerry because of the incomparable enterprise-ready benefits and the unmatched security the BlackBerry EMM solution offers our corporate customers," said Andrew MacLeod, Managing Director for North America at BlackBerry. "The combination of BES10 and BlackBerry 10 smartphones offers powerful productivity and security tools for organizations, giving both employees and IT departments peace of mind that privacy is maintained while sensitive work information is protected."

BES10 also lets customers manage iOS and Android" devices, providing the same level of security for those devices accessing data behind-the-firewall as for BlackBerry 10 smartphones, so there's no need to invest in multiple MDM solutions or a patchwork of security products to support a BYOD deployment. Corporations continue to invest in BlackBerry products and services, with nearly 30,000 BES10 commercial and test servers installed globally to date.

Rocky Mountain Human Services (RMHS) specializes in human services expertise to improve the health, self-sufficiency and overall quality of life for over 7,500 individuals across Colorado who face challenges from developmental delays, cognitive and intellectual impairments, brain injuries, aging or social conditions.
Gevo (GEVO) Prices 18.5M Units Offering; Plans to Sell Senior Notes
Gevo, Inc. (Nasdaq: GEVO) announced that it has priced its underwritten public offering of common stock units.

Gevo announced that it has agreed to sell 18,525,000 common stock units. Each common stock unit consists of one share of common stock and a warrant to purchase one share of common stock, at a public offering price of $1.35 per common stock unit. Gevo has granted the underwriter a 30-day option to purchase up to an additional 2,778,750 shares of common stock and/or warrants to purchase up to 2,778,750 shares of common stock to cover over-allotments, if any. Each warrant included in a common stock unit will have an exercise price of $1.85 per share, will be exercisable from the date of original issuance and will expire on December 16, 2018. The shares of common stock and the warrants will be immediately separable and will be issued separately. The gross proceeds to Gevo from this offering are expected to be approximately $25 million, not including any future proceeds from the exercise of the warrants.

Certain of Gevo's directors and officers have expressed an interest in participating in the public offering of common stock units.

In connection with the offering, Piper Jaffray & Co. is acting as sole manager.

Gevo also announced today that it has decided not to pursue its previously announced public offering of senior note units.

The offering of common stock units was made pursuant to Gevo's shelf registration statement filed with the Securities and Exchange Commission (SEC) and declared effective, and is expected to close on or about December 16, 2013, subject to customary closing conditions. This press release does not constitute an offer to sell, or the solicitation of an offer to buy, these securities, nor will there be any sale of these securities in any state or other jurisdiction in which such offer, solicitation or sale is not permitted.
More Corporate News
View Older Stories
View Older Stories