IPOs
News on U.S. IPOs, pending IPOs and upcoming IPOs. For a birds eye view of the IPO market visit
IPO Insider.
Spark Energy (SPKE) IPO Opens Flat
The IPO for Spark Energy, Inc. (Nasdaq: SPKE) opened for trading at $18 after pricing 3,000,000 shares of its Class A common stock at $18, below the expected $19-$21 range. Shares have since moved higher to $18.18, or up 1%.
Robert W. Baird & Co. Incorporated and Stifel, Nicolaus & Company, Incorporated are acting as joint book-running managers for the offering. Janney Montgomery Scott LLC, Wunderlich Securities, Inc., BB&T Capital Markets, a division of BB&T Securities, LLC, J.J.B. Hilliard, W.L. Lyons, LLC, Drexel Hamilton, LLC, Halliday Financial LLC, USCA Securities LLC, SG Americas Securities, LLC, Natixis Securities Americas LLC and RB International Markets (USA) LLC are acting as co-managers of the offering.
Spark Energy, Inc. is an established and growing independent retail energy services company founded in 1999 that provides residential and commercial customers in competitive markets across the United States with an alternative choice for their natural gas and electricity. Headquartered in Houston, Texas, Spark currently operates in 16 states and serves 46 utility territories. Spark offers its customers a variety of product and service choices, including stable and predictable energy costs, green products, and potential cost savings.
Mobileye (MBLY) Raises IPO Price Range to $21-$23
Upcoming IPO Mobileye N.V.(NYSE: MBLY) raised its expected IPO range from $17-$19 to $21-$23. The company still plans to offer 27,750,000 Ordinary Shares in the deal, which is expected later this week. The company will list on the NYSE under the ticker "MBLY."
Goldman, Sachs & Co. and Morgan Stanley are leading the deal.
​Mobileye is the global leader in the design and development of software and related technologies for camera-based Advanced Driver Assistance Systems ("ADAS") . The company's technology keeps passengers safer on the roads, reduces the risks of traffic accidents, saves lives and has the potential to revolutionize the driving experience by enabling autonomous driving.
​
​
​​
Windstream (WIN) Plans to Spin Certain Telecom Assets Into Public REIT
Windstream (Nasdaq: WIN) announced plans to spin off certain telecommunications network assets into an independent, publicly traded real estate investment trust (REIT). The transaction will enable Windstream to accelerate network investments, provide enhanced services to customers and maximize shareholder value. The transaction will allow the REIT, which will own Windstream's existing fiber and copper network and other fixed real estate assets, to expand its network and diversify its assets through acquisitions. The company's board of directors approved the plan following the receipt of a favorable private letter ruling from the Internal Revenue Service.
"This transaction will make Windstream a more nimble competitor in today's increasingly dynamic communications marketplace and accelerate our deployment of advanced communications services," said Jeff Gardner, president and CEO of Windstream. "Additionally, the REIT will have geographically diverse, high-quality assets and sustainable cash flows with the ability to grow and diversify over time."
Transaction Rationale
The tax-free spinoff will enable Windstream to realize significant financial flexibility by lowering debt by approximately $3.2 billion and increasing free cash flow to accelerate broadband investments, transition faster to an IP network and pursue additional growth opportunities to better serve customers. As a result of the transaction, Windstream will offer faster broadband speeds and more robust performance to consumers. The company said it would expand availability of 10 Mbps Internet service to more than 80 percent of its customers by 2018. It also said it would more than double the availability of 24 Mbps Internet service by 2018, expanding to more than 30 percent of its customers.
The REIT will be positioned to provide an attractive dividend to shareholders and grow revenue through lease escalation, capital investment and acquisitions.
Transaction Details
Under the transaction, Windstream will spin off certain assets, including its fiber and copper networks and other real estate, as a REIT, which will lease use of the assets to Windstream through a long-term triple-net exclusive lease with an initial estimated rent payment of $650 million per year. Windstream will operate and maintain the assets and deliver advanced communications and technology services to consumers and businesses. Customers will see no change in their rates, scope or terms of service as a result of the transaction. Windstream will continue to have sole responsibility for meeting its existing regulatory obligations following the creation of the REIT. The REIT will focus on expanding and diversifying its assets and tenants through future acquisitions.
Windstream anticipates that the REIT will raise approximately $3.5 billion in new debt, which will be used to repay existing Windstream debt to effect the transaction. Windstream expects to retire approximately $3.2 billion of debt as part of the transaction, resulting in the company deleveraging to 3.3 times debt to adjusted operating income before depreciation and amortization immediately at closing. The company's enhanced leverage profile and improved discretionary free cash flow will enable Windstream to invest more capital in strategic initiatives, better positioning Windstream for long-term growth.
The transaction will not result in significant operational changes at Windstream. The REIT will have approximately 25 employees. Tony Thomas, Windstream's chief financial officer, will become CEO of the REIT. Francis X. "Skip" Frantz, a Windstream director, will serve as chairman of the REIT's board.
"Tony has served Windstream well, and I would like to personally offer my gratitude for his many contributions over the last eight years," Gardner said. "I am confident that his experience and expertise will benefit the REIT while also providing important continuity and fostering a close working relationship between the two companies."
Thomas was appointed CFO in 2009. He previously served as controller for Windstream. He will continue to serve in his current role with Windstream while the company conducts a search for his successor.
"I am very excited about this new opportunity and believe that we will be able to drive additional value for shareholders and maximize benefits for customers operating as two distinct companies," Thomas said.
Frantz has been a director of Windstream since 2006 and was chairman of the board from July 2006 to February 2010. He is a former chairman of the United States Telecom Association and was previously executive vice president of external affairs, general counsel and secretary of Alltel Corp.
"I have known Skip for many years, and his extensive telecommunications experience has been a terrific asset to me personally and to Windstream as a whole," Gardner said. "His leadership has been integral throughout the transformation of Windstream, and he will bring significant expertise to the REIT."
Frantz will leave the Windstream board upon close of the transaction.
Shareholder Distribution
As part of this transaction, Windstream shareholders will retain their existing shares and receive shares in the REIT commensurate with their Windstream ownership.
Dividend Practice
Windstream plans to maintain its current dividend practice through the close of the transaction. Following the spinoff, the expected annual dividend per share in the aggregate for the two companies will be $0.70 per current Windstream share, with Windstream expected to pay an annual dividend of $0.10, while the REIT will have an annual dividend equivalent to $0.60.
Approvals and Anticipated Closing
Windstream has received a private letter ruling from the Internal Revenue Service relating to certain tax matters regarding the tax-free nature of the spinoff and the qualification of the spunoff entity's assets as real property for REIT purposes.
Completion of the proposed spinoff is contingent on receipt of regulatory approvals, final approval from the Windstream board of directors, execution of definitive documentation, and satisfaction of other customary conditions. No assurances can be given that such conditions will be satisfied or as to the timing of any regulatory action. Windstream may, at any time and for any reason until the proposed transaction is complete, abandon the spinoff or modify or change the terms of the spinoff.
Windstream anticipates that the spinoff would occur in the first quarter of 2015.
Additional Information
Bank of America Merrill Lynch and Stephens Inc. are serving as exclusive financial advisers to Windstream in the transaction. Bank of America Merrill Lynch and J.P. Morgan also are advising with respect to certain financing matters. Skadden, Arps, Slate, Meagher & Flom LLP is serving as legal adviser to Windstream.
El Pollo Loco (LOCO) Quickly Becomes Top Performing IPO of 2014
Earlier we highlighted how El Pollo Loco (NASDAQ: LOCO) briefly became 2014's top performing IPO. Well, given today's late day surge, now it's official. With today's 43.5% gain shares are now up 130% from its IPO pricing of $15 last Friday, making it the Top IPO for 2014, according to IPO Insider.
El Pollo Loco's performance has eclipsed 2014 IPO favorites like Tuniu Corporation (NASDAQ: TOUR) (+122%), Energous Corporation (NASDAQ: WATT) (+116%), Vital Therapies, Inc. (NASDAQ: VTL) (+114%), Zoe's Kitchen (NASDAQ: ZOES) (+113%) and GoPro, Inc. (NASDAQ: GPRO) (+80%), among others.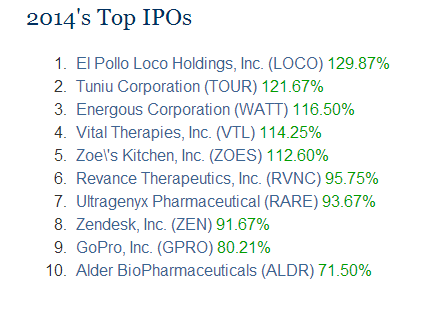 El Pollo Loco is a differentiated and growing restaurant concept that specializes in fire-grilling citrus-marinated chicken in front of its customers. The company posted revenue of $314.7 million in 2013, while posting a pro-forma profit of $0.22. In the first quarter of 2014 the company posted revenue of $81.4 million and a pro-forma profit of $0.22/share. The company posted adjusted EBTIDA of $55 million in 2013 and $14.9 million in the first quarter of 2014.
Needless to say, El Pollo Loco bubble talk is already being discussed widely.
More IPOs
View Older Stories
View Older Stories