Microsoft's (MSFT) Bing: This Time, It's Getting Personal. No, Really
Microsoft's (Nasdaq: MSFT) Bing.com is getting more personal.
The following was posted to the Bing Search blog on Thursday by Chen Fang, Program Manager, Bing:
At Build, we previewed Cortana powered by Bing which will ship with the upcoming release of Windows Phone 8.1. One of the things that makes Cortana so helpful is her ability to learn about your preferences and interests. As we talked about last week, it is the Bing platform that makes this possible, earned through years of machine learning and big data experience doing web search
Starting today, we are unveiling a set of personalized cards on the Bing homepage that will help you keep track of things that matter to you. Set up your interests in Bing settings and you will start seeing personalized news, weather, flights, and stocks with more to come - all as part of the search experience.
Let's see how this works.
Sign in to your Microsoft account and set-up your interests to let Bing know what it should track. Then, when it's appropriate, Bing will let you know if for example your stock changes or flight is delayed.
The best part? As long as you're signed in, Bing will remember your interests and notify you, as appropriate, across a range of Bing-powered Microsoft services, such as Cortana and the Bing Sports app, for example.
You can learn more and set your interests here on Bing.com.
Microsoft (MSFT), H-P (HPQ) Rise Following Intel's (INTC) Q1 Results
Microsoft (Nasdaq: MSFT) and Hewlett-Packard (NYSE: HPQ) shares are positive Wednesday following strong Q114 results from partner Intel (Nasdaq: INTC).
While Intel's overall numbers were decent, there is one metric to point out: PC Client Group. The company posted just a 1 percent year-over-year dip in revenue to $7.94 billion, while net income rose 12.6 percent to $2.80 billion.
Notably, IDC recently pointed out that global PC shipments fell 4.4 percent during Q114.
Intel's PC Client Group encompasses notebook (including Ultrabook devices and 2 in 1 systems) and the desktop (including all-in-ones and high-end enthusiast PCs); wireless and wired connectivity products; as well as home gateway and set-top box components.
What does the data mean? It could suggest a flattening of the decline seen in PC sales due to competition from tablets and other portables. Microsoft would move more on this news given its operating system is included in a slew of PCs and notebooks/Ultrabooks alike, while H-P still produces its own hardware.
Microsoft is up 0.7 percent and H-P is up 0.3 percent in late-morning trading.
Microsoft (MSFT) Windows-Based Tablets Seeing Strong Demand in Key Asian Market
Microsoft (Nasdaq: MSFT) is getting big in Japan.
Accoridng to Digitimes, sales of Windows 8-based, 8-inch tablets accounted for 15.7 percent of tablet sales in Japan during February 2014, up significantly over the same period last year.
Notably, demand for Microsoft's second-generation Surface is such that there are shortages with some versions of the device (two for enterprise and two for consumer, out of a toal of nine versions available).
Japan is likely to be the first balanced market for tablet sales between Apple's (Nasdaq: AAPL) iOS, Google (Nasdaq: GOOG) Android, and Microsoft Windows, given that Windows tablets only have about 2 percent of global share.
Microsoft is just about flat Tuesday.
Microsoft (MSFT) Launches Office 365 Personal; Will Run ~$70/Year
Microsoft (Nasdaq: MSFT) is launching Office 365 Personal today.
According to Microsoft's official blog, the service will run $69.99 per year, or $6.99 per month. The company said:
An Office 365 Personal subscription allows for one PC or Mac, and one tablet (including iPad) to be connected to the service, and is the best option for individuals interested in using Office 365. By offering Office 365 Personal, in addition to Office 365 Home, we are better positioned to deliver the right Office to a broader range of households–whether it's an individual or a family of five.
For more, visit the blog post here. Shares of Microsoft are modestly higher Tuesday.
First Images of Amazon's (AMZN) Smartphone Leak
Photos of Amazon.com's (Nasdaq: AMZN) six-camera smartphone are hitting the Internet today.
The device will obviously be optimized for Amazon products and services (think streaming video/music, shopping, etc.).
Amazon's first smartphone will run on Qualcomm (Nasdaq: QCOM) Snapdragon processor, have 2-GB of RAM, 4.7-inch display, and use a modified version of Google (Nasdaq: GOOG) Android.
There will be six cameras: one on the front for video chatting and one on the back for snapping regular photos. The device will also sport four infrared cameras in the front. Those cameras will help with the devices 3-D software interface. The infrared camera will be used to monitor a users face and eyes, allowing software to make adjustments for optimal viewing.
Below is a photo of the device, courtesy of BGR: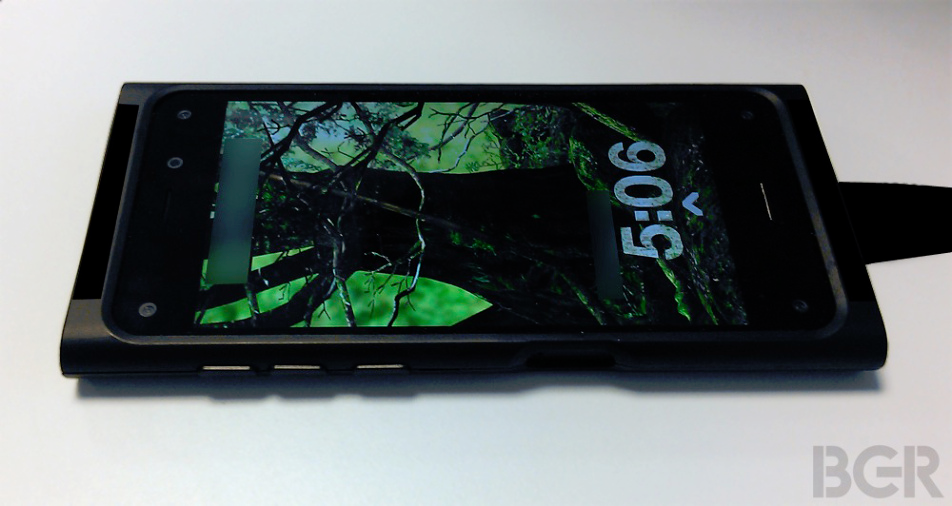 More Insiders' Blog
View Older Stories
View Older Stories