Apple (AAPL), IBM (IBM), CBS (CBS) Among Top 24 Stocks for 2014 - Deutsche Bank
Deutsche Bank thinks the S&P will level off at 1800 then slowly rise to 2000 in 2015. In the note, Deutsche Bank highlights a number of themes for 2014. Themes include "stick with capex plays", "keep cautious on commodity plays", "buy the dips", and "stay constructive". Deutsche Bank also named 24 stocks investors should buy now.

"Healthy EPS growth with yields slowly rising from low levels justifies S&P at 1800," said analyst David Bianco. "Our 2014E EPS of $119 assumes: ~5% sales growth, ~1.5% of mostly pension related margin expansion and a ~1.5% share count decline. We also expect ~15% DPS growth. Our sales outlook it tied to our US capex and export outlook of 5% or higher real growth in 2014 on: 1) $85+/bbl WTI oil prices, 2) healthy China growth, and 3) an overdue upgrade cycle in US manufacturing, enterprise technology and private infrastructure. The S&P price should rise on this EPS growth and with dividends deliver worthy returns in 2014 and 2015."

"With a broad return, across sectors, to healthy real EPS growth, we consider a 16x trailing and 15x forward PE to be fair. This PE aligns with averages since 1960 and implies that 6% is a fair real return on long-term S&P 500 ownership. Further PE expansion in 2014 or 2015 would be justified if long-term real interest rates stay below historical norms when the Fed stops asset purchases," he added.

2014 picks include: Apple Inc. (Nasdaq: AAPL), Accenture plc (NYSE: ACN), Amgen Inc. (Nasdaq: AMGN), Air Products & Chemicals Inc. (NYSE: APD), CBS Corporation (NYSE: CBS), Dupont (NYSE: DD), Delphi Automotive PLC (NYSE: DLPH), EMC Corporation (NYSE: EMC), General Electric Company (NYSE: GE), Gilead Sciences Inc. (Nasdaq: GILD), General Motors Company (NYSE: GM), Honeywell International Inc. (NYSE: HON), IBM (NYSE: IBM), Loews Corporation (NYSE: L), Lincoln National Corporation (NYSE: LNC), LyondellBasell Industries NV (NYSE: LYB), Marsh & McLennan Companies, Inc. (NYSE: MMC), Praxair Inc. (NYSE: PX), QUALCOMM Incorporated (Nasdaq: QCOM), Time Warner Inc. (NYSE: TWX), United Technologies Corp. (NYSE: UTX), and Viacom, Inc. (Nasdaq: VIAB).
Initial Jobless Claims Spike Higher, But Market May Take it in Stride
In a shocker to the market, initial jobless claims surged to 368,000 for the week ended December 7. The number was an increase of 68,000 from the previous week's revised figure of 300,000 and was well ahead of the 320,000 expected on average by economists.

Today's figure boosted the 4-week moving average to 328,750, an increase of 6,000 from the previous week's revised average of 322,750.

It is unclear what spurred the big jump in initial jobless claims, but the market may actually spin the news as a positive. Today's weaker-than-expected initial jobless claims data comes counter to recently strong jobs data, including last week's non-farm payroll number. The unclear nature of the jobs data could be enough keep the Fed from tapering QE, which some say there is growing evidence could be announced as soon a next's week's December 17-18 FOMC meeting.
Pope Francis Named TIME's 2013 Person of the Year
Pope Francis named TIME's 2013 Person of the Year.

From Time:
"Once there was a boy so meek and modest, he was awarded a Most Humble badge. The next day, It was taken away because he wore it. Here endeth the lesson.

How do you practice humility from the most exalted throne on earth? Rarely has a new player on the world stage captured so much attention so quickly—young and old, faithful and cynical—as has Pope Francis. In his nine months in office, he has placed himself at the very center of the central conversations of our time: about wealth and poverty, fairness and justice, transparency, modernity, globalization, the role of women, the nature of marriage, the temptations of power.

At a time when the limits of leadership are being tested in so many places, along comes a man with no army or weapons, no kingdom beyond a tight fist of land in the middle of Rome but with the immense wealth and weight of history behind him, to throw down a challenge. The world is getting smaller; individual voices are getting louder; technology is turning virtue viral, so his pulpit is visible to the ends of the earth. When he kisses the face of a disfigured man or washes the feet of a Muslim woman, the image resonates far beyond the boundaries of the Catholic Church."

More...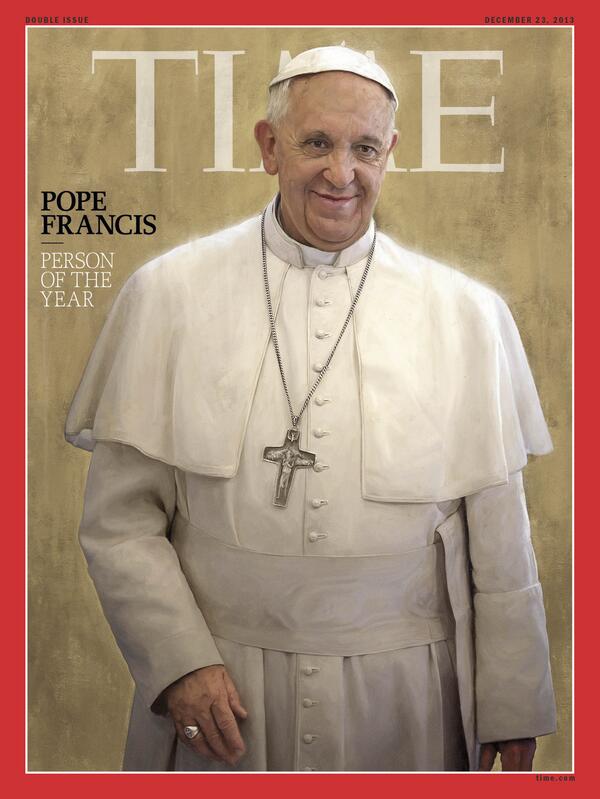 More General News
View Older Stories
View Older Stories