Form 6-K Santander UK plc For: Mar 31
---
Get instant alerts when news breaks on your stocks. Claim your 1-week free trial to StreetInsider Premium here.
---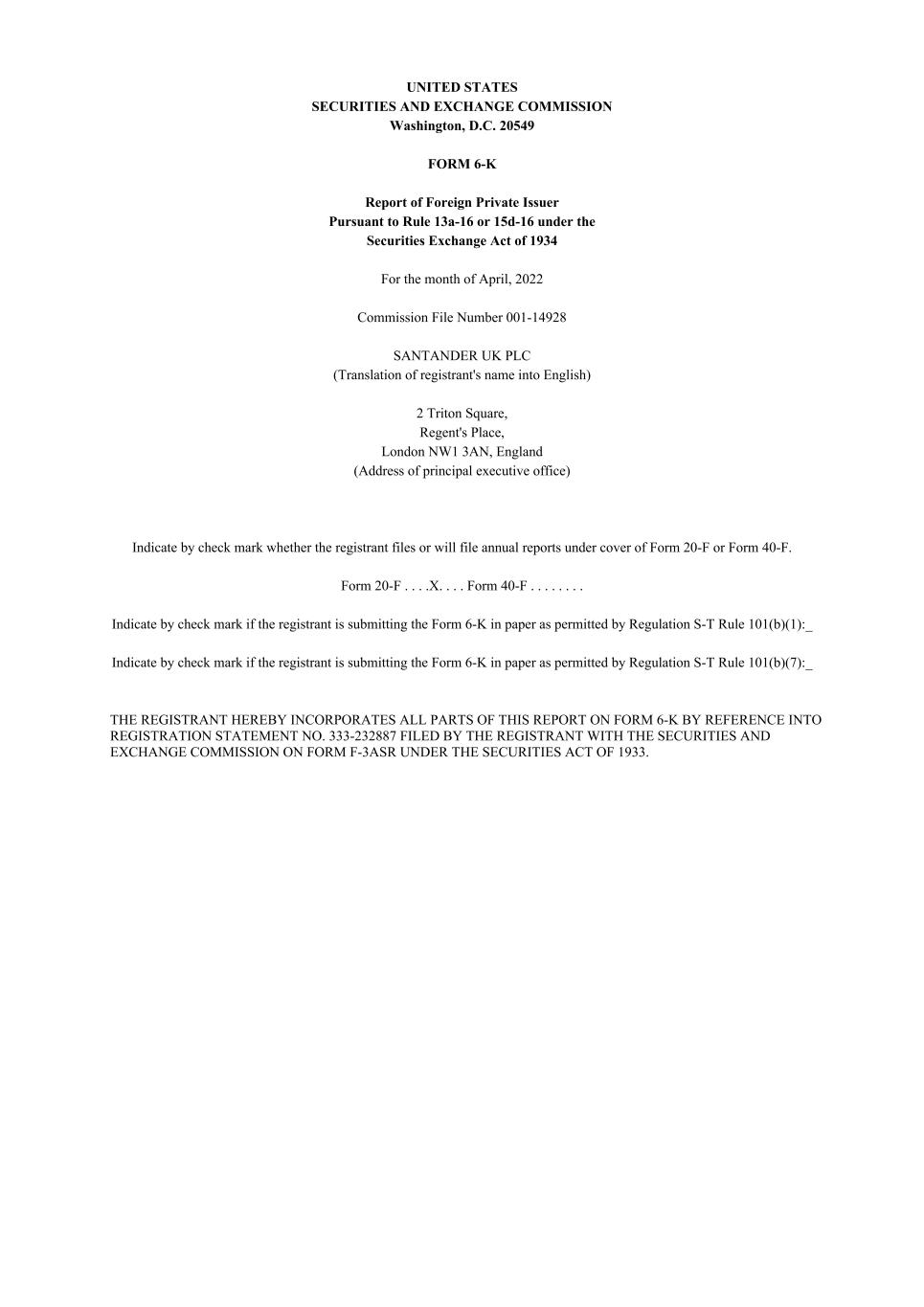 UNITED STATES SECURITIES AND EXCHANGE COMMISSION Washington, D.C. 20549 FORM 6-K Report of Foreign Private Issuer Pursuant to Rule 13a-16 or 15d-16 under the Securities Exchange Act of 1934 For the month of April, 2022 Commission File Number 001-14928 SANTANDER UK PLC (Translation of registrant's name into English) 2 Triton Square, Regent's Place, London NW1 3AN, England (Address of principal executive office) Indicate by check mark whether the registrant files or will file annual reports under cover of Form 20-F or Form 40-F. Form 20-F . . . .X. . . . Form 40-F . . . . . . . . Indicate by check mark if the registrant is submitting the Form 6-K in paper as permitted by Regulation S-T Rule 101(b)(1):_ Indicate by check mark if the registrant is submitting the Form 6-K in paper as permitted by Regulation S-T Rule 101(b)(7):_ THE REGISTRANT HEREBY INCORPORATES ALL PARTS OF THIS REPORT ON FORM 6-K BY REFERENCE INTO REGISTRATION STATEMENT NO. 333-232887 FILED BY THE REGISTRANT WITH THE SECURITIES AND EXCHANGE COMMISSION ON FORM F-3ASR UNDER THE SECURITIES ACT OF 1933.
---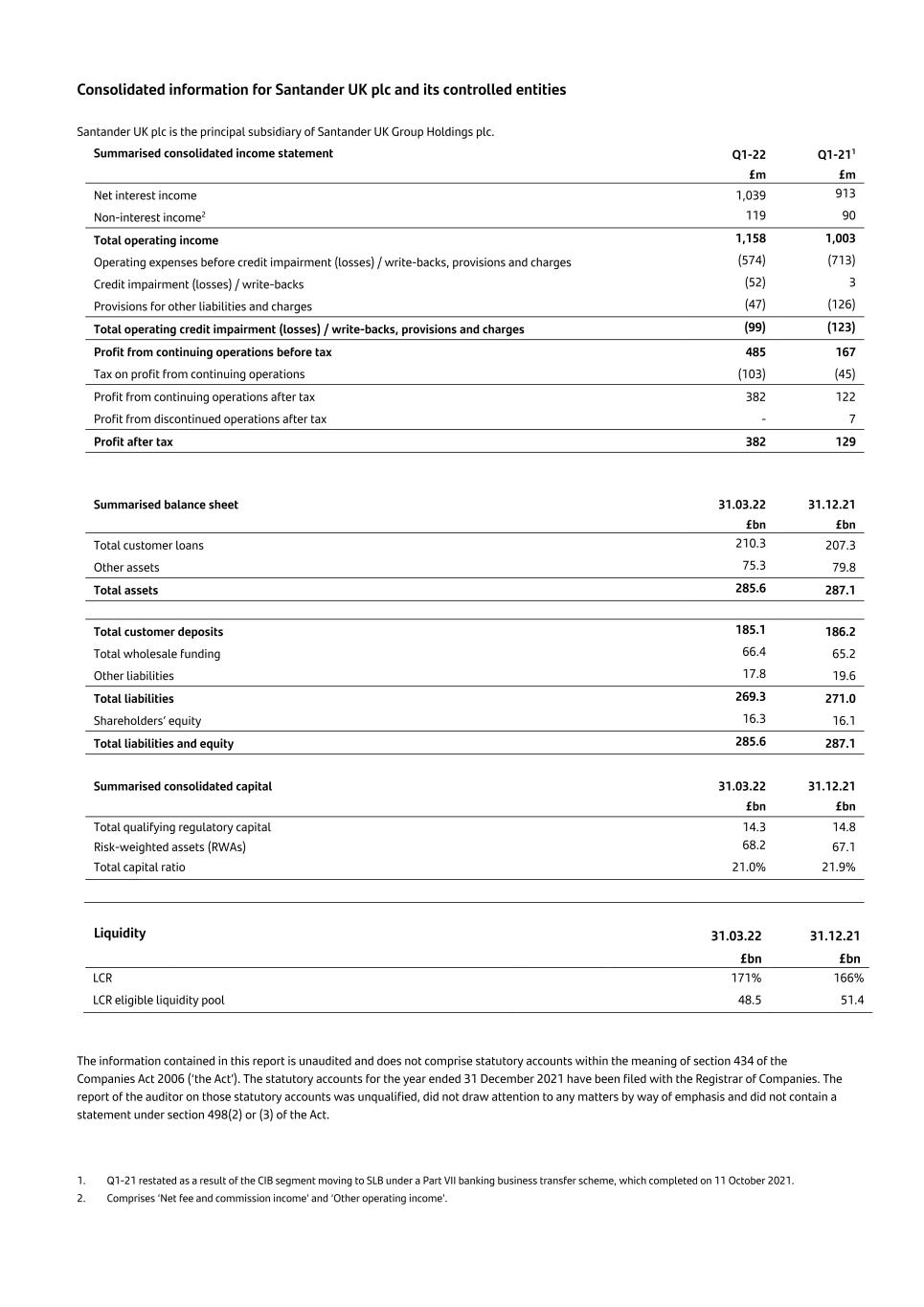 Consolidated information for Santander UK plc and its controlled entities Santander UK plc is the principal subsidiary of Santander UK Group Holdings plc. Summarised consolidated income statement Q1-22 Q1-211 £m £m Net interest income 1,039 913 Non-interest income2 119 90 Total operating income 1,158 1,003 Operating expenses before credit impairment (losses) / write-backs, provisions and charges (574) (713) Credit impairment (losses) / write-backs (52) 3 Provisions for other liabilities and charges (47) (126) Total operating credit impairment (losses) / write-backs, provisions and charges (99) (123) Profit from continuing operations before tax 485 167 Tax on profit from continuing operations (103) (45) Profit from continuing operations after tax 382 122 Profit from discontinued operations after tax - 7 Profit after tax 382 129 Summarised balance sheet 31.03.22 31.12.21 £bn £bn Total customer loans 210.3 207.3 Other assets 75.3 79.8 Total assets 285.6 287.1 Total customer deposits 185.1 186.2 Total wholesale funding 66.4 65.2 Other liabilities 17.8 19.6 Total liabilities 269.3 271.0 Shareholders' equity 16.3 16.1 Total liabilities and equity 285.6 287.1 Summarised consolidated capital 31.03.22 31.12.21 £bn £bn Total qualifying regulatory capital 14.3 14.8 Risk-weighted assets (RWAs) 68.2 67.1 Total capital ratio 21.0% 21.9% Liquidity 31.03.22 31.12.21 £bn £bn LCR 171% 166% LCR eligible liquidity pool 48.5 51.4 The information contained in this report is unaudited and does not comprise statutory accounts within the meaning of section 434 of the Companies Act 2006 ('the Act'). The statutory accounts for the year ended 31 December 2021 have been filed with the Registrar of Companies. The report of the auditor on those statutory accounts was unqualified, did not draw attention to any matters by way of emphasis and did not contain a statement under section 498(2) or (3) of the Act. 1. Q1-21 restated as a result of the CIB segment moving to SLB under a Part VII banking business transfer scheme, which completed on 11 October 2021. 2. Comprises 'Net fee and commission income' and 'Other operating income'.
---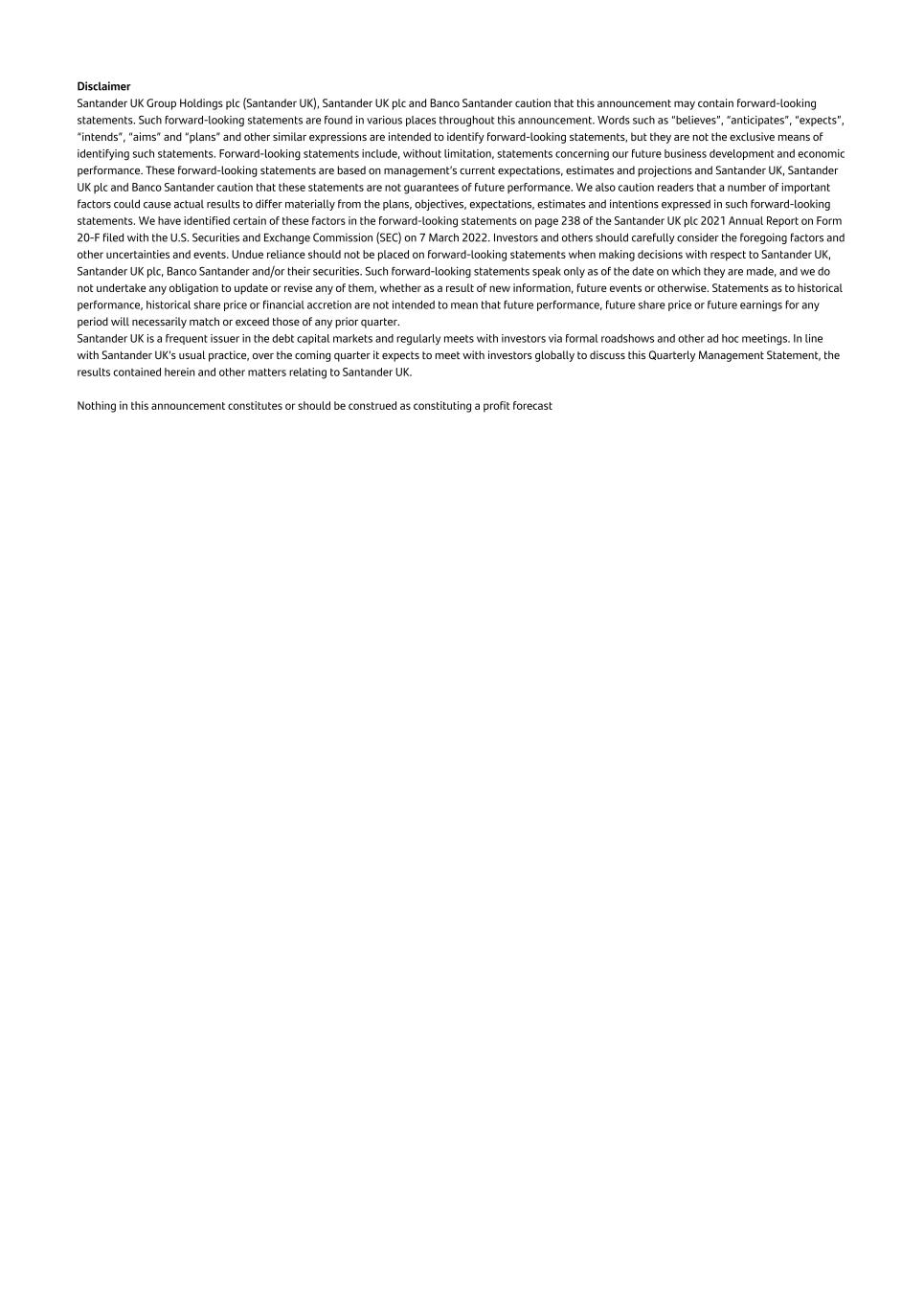 Disclaimer Santander UK Group Holdings plc (Santander UK), Santander UK plc and Banco Santander caution that this announcement may contain forward-looking statements. Such forward-looking statements are found in various places throughout this announcement. Words such as "believes", "anticipates", "expects", "intends", "aims" and "plans" and other similar expressions are intended to identify forward-looking statements, but they are not the exclusive means of identifying such statements. Forward-looking statements include, without limitation, statements concerning our future business development and economic performance. These forward-looking statements are based on management's current expectations, estimates and projections and Santander UK, Santander UK plc and Banco Santander caution that these statements are not guarantees of future performance. We also caution readers that a number of important factors could cause actual results to differ materially from the plans, objectives, expectations, estimates and intentions expressed in such forward-looking statements. We have identified certain of these factors in the forward-looking statements on page 238 of the Santander UK plc 2021 Annual Report on Form 20-F filed with the U.S. Securities and Exchange Commission (SEC) on 7 March 2022. Investors and others should carefully consider the foregoing factors and other uncertainties and events. Undue reliance should not be placed on forward-looking statements when making decisions with respect to Santander UK, Santander UK plc, Banco Santander and/or their securities. Such forward-looking statements speak only as of the date on which they are made, and we do not undertake any obligation to update or revise any of them, whether as a result of new information, future events or otherwise. Statements as to historical performance, historical share price or financial accretion are not intended to mean that future performance, future share price or future earnings for any period will necessarily match or exceed those of any prior quarter. Santander UK is a frequent issuer in the debt capital markets and regularly meets with investors via formal roadshows and other ad hoc meetings. In line with Santander UK's usual practice, over the coming quarter it expects to meet with investors globally to discuss this Quarterly Management Statement, the results contained herein and other matters relating to Santander UK. Nothing in this announcement constitutes or should be construed as constituting a profit forecast
---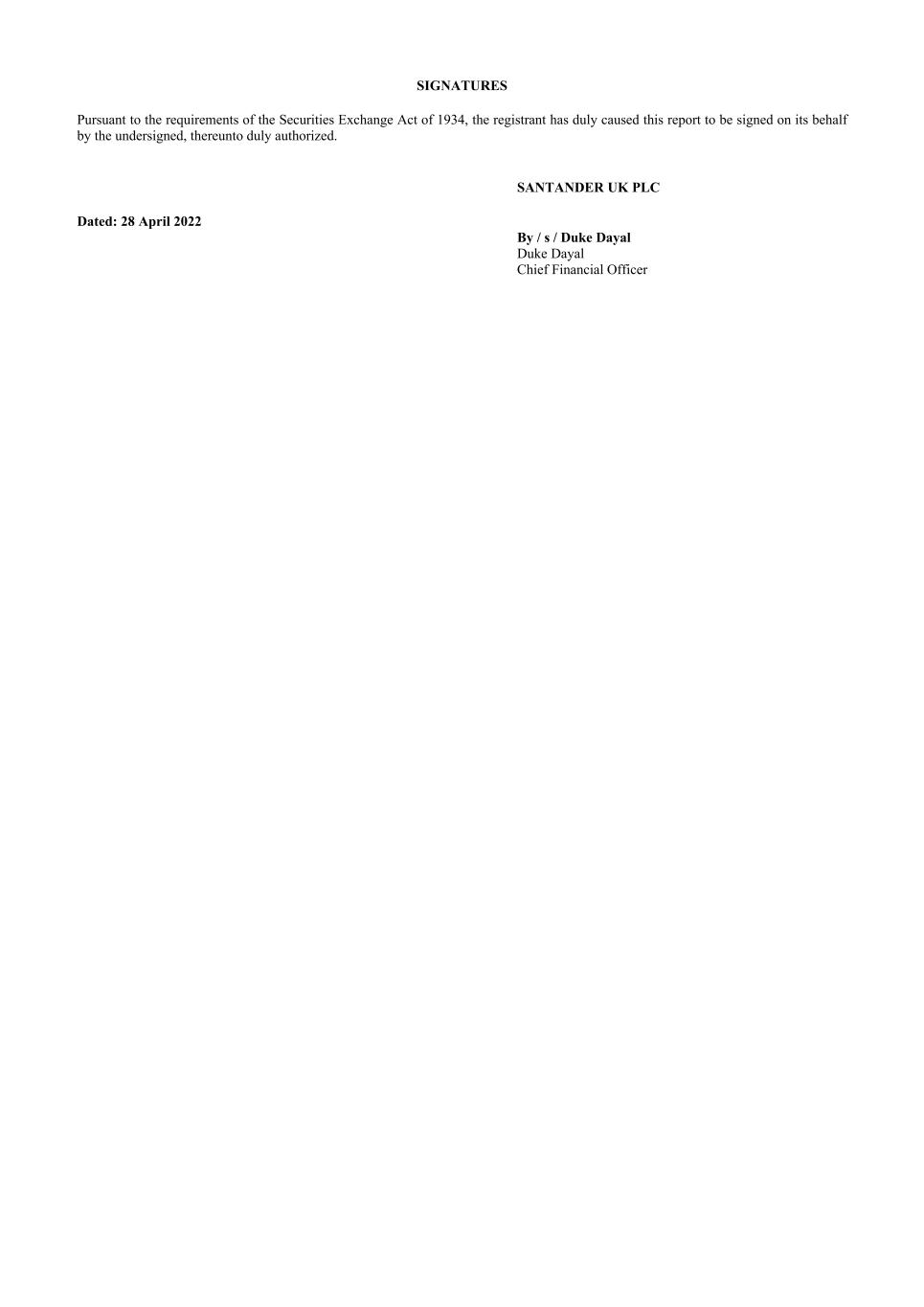 SIGNATURES Pursuant to the requirements of the Securities Exchange Act of 1934, the registrant has duly caused this report to be signed on its behalf by the undersigned, thereunto duly authorized. SANTANDER UK PLC Dated: 28 April 2022 By / s / Duke Dayal Duke Dayal Chief Financial Officer
---
SEC Filings
Sign up for StreetInsider Free!
Receive full access to all new and archived articles, unlimited portfolio tracking, e-mail alerts, custom newswires and RSS feeds - and more!