Form 425 Mirae Asset Discovery Filed by: Global X Funds
---
Get inside Wall Street with StreetInsider Premium. Claim your 1-week free trial here.
---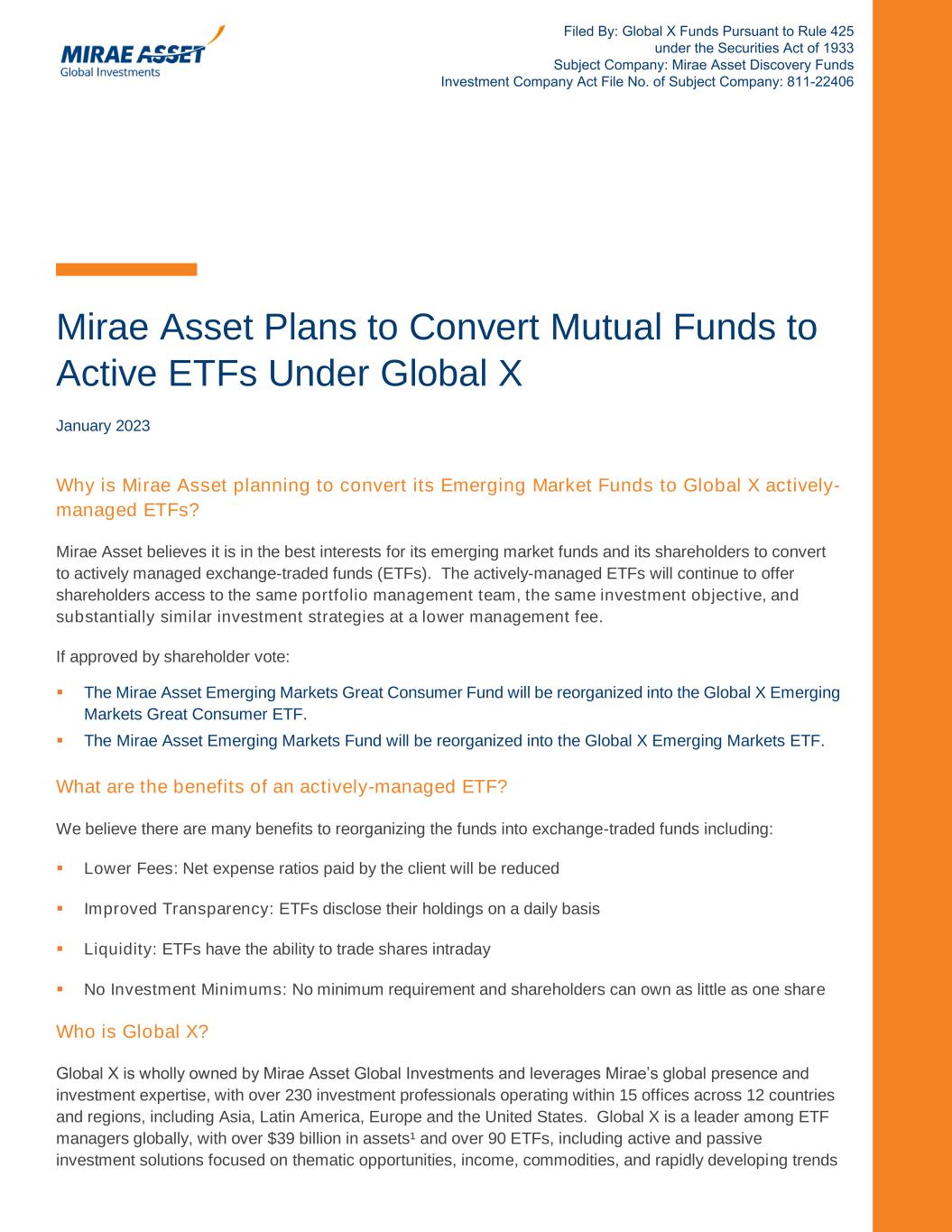 Mirae Asset Plans to Convert Mutual Funds to Active ETFs Under Global X January 2023 Why is Mirae Asset planning to convert its Emerging Market Funds to Global X actively- managed ETFs? Mirae Asset believes it is in the best interests for its emerging market funds and its shareholders to convert to actively managed exchange-traded funds (ETFs). The actively-managed ETFs will continue to offer shareholders access to the same portfolio management team, the same investment objective, and substantially similar investment strategies at a lower management fee. If approved by shareholder vote:  The Mirae Asset Emerging Markets Great Consumer Fund will be reorganized into the Global X Emerging Markets Great Consumer ETF.  The Mirae Asset Emerging Markets Fund will be reorganized into the Global X Emerging Markets ETF. What are the benefits of an actively-managed ETF? We believe there are many benefits to reorganizing the funds into exchange-traded funds including:  Lower Fees: Net expense ratios paid by the client will be reduced  Improved Transparency: ETFs disclose their holdings on a daily basis  Liquidity: ETFs have the ability to trade shares intraday  No Investment Minimums: No minimum requirement and shareholders can own as little as one share Who is Global X? Global X is wholly owned by Mirae Asset Global Investments and leverages Mirae's global presence and investment expertise, with over 230 investment professionals operating within 15 offices across 12 countries and regions, including Asia, Latin America, Europe and the United States. Global X is a leader among ETF managers globally, with over $39 billion in assets¹ and over 90 ETFs, including active and passive investment solutions focused on thematic opportunities, income, commodities, and rapidly developing trends Filed By: Global X Funds Pursuant to Rule 425 under the Securities Act of 1933 Subject Company: Mirae Asset Discovery Funds Investment Company Act File No. of Subject Company: 811-22406
---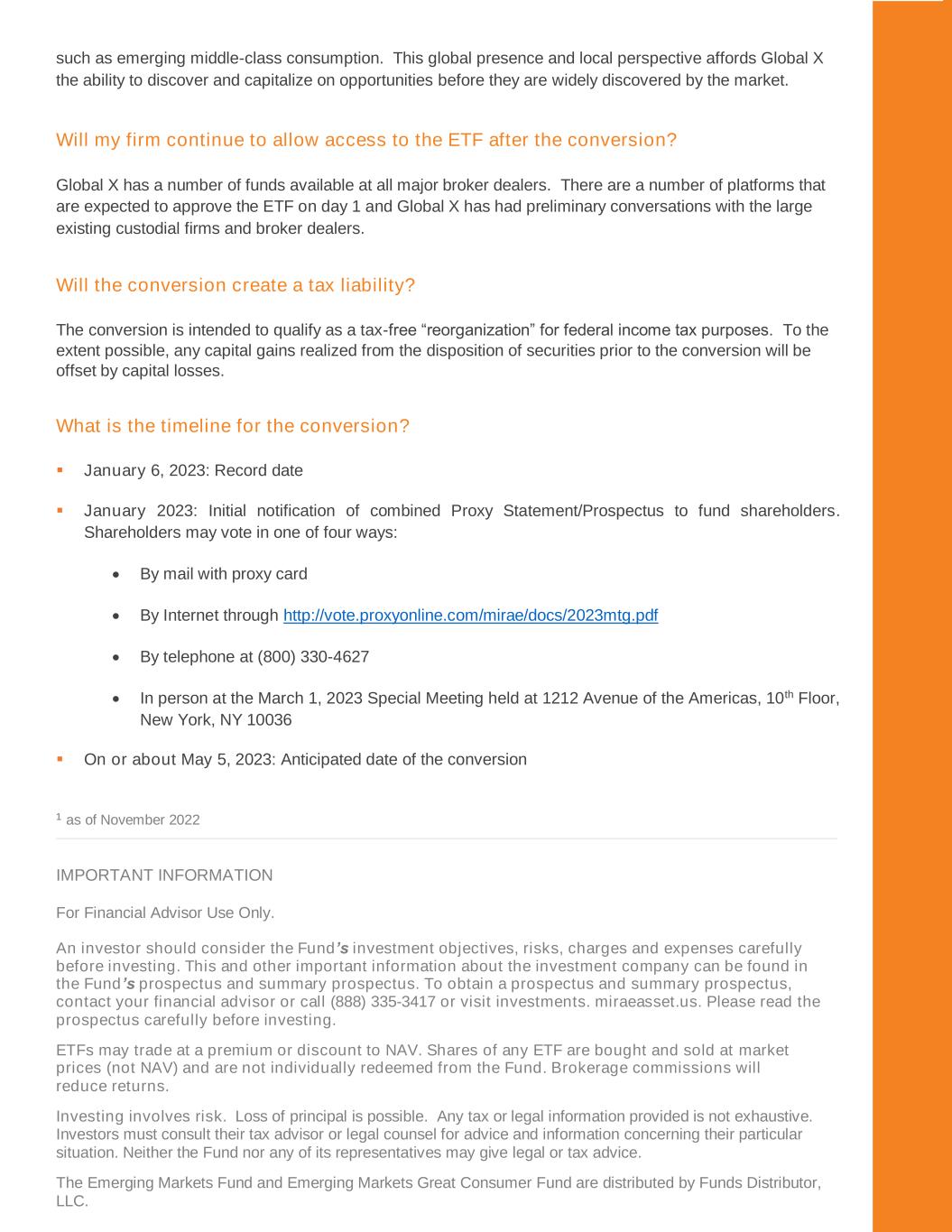 such as emerging middle-class consumption. This global presence and local perspective affords Global X the ability to discover and capitalize on opportunities before they are widely discovered by the market. Will my firm continue to allow access to the ETF after the conversion? Global X has a number of funds available at all major broker dealers. There are a number of platforms that are expected to approve the ETF on day 1 and Global X has had preliminary conversations with the large existing custodial firms and broker dealers. Will the conversion create a tax liability? The conversion is intended to qualify as a tax-free "reorganization" for federal income tax purposes. To the extent possible, any capital gains realized from the disposition of securities prior to the conversion will be offset by capital losses. What is the timeline for the conversion?  January 6, 2023: Record date  January 2023: Initial notification of combined Proxy Statement/Prospectus to fund shareholders. Shareholders may vote in one of four ways:  By mail with proxy card  By Internet through http://vote.proxyonline.com/mirae/docs/2023mtg.pdf  By telephone at (800) 330-4627  In person at the March 1, 2023 Special Meeting held at 1212 Avenue of the Americas, 10th Floor, New York, NY 10036  On or about May 5, 2023: Anticipated date of the conversion ¹ as of November 2022 IMPORTANT INFORMATION For Financial Advisor Use Only. An investor should consider the Fund's investment objectives, risks, charges and expenses carefully before investing. This and other important information about the investment company can be found in the Fund's prospectus and summary prospectus. To obtain a prospectus and summary prospectus, contact your financial advisor or call (888) 335-3417 or visit investments. miraeasset.us. Please read the prospectus carefully before investing. ETFs may trade at a premium or discount to NAV. Shares of any ETF are bought and sold at market prices (not NAV) and are not individually redeemed from the Fund. Brokerage commissions will reduce returns. Investing involves risk. Loss of principal is possible. Any tax or legal information provided is not exhaustive. Investors must consult their tax advisor or legal counsel for advice and information concerning their particular situation. Neither the Fund nor any of its representatives may give legal or tax advice. The Emerging Markets Fund and Emerging Markets Great Consumer Fund are distributed by Funds Distributor, LLC.
---
SEC Filings
Sign up for StreetInsider Free!
Receive full access to all new and archived articles, unlimited portfolio tracking, e-mail alerts, custom newswires and RSS feeds - and more!