Tesla (TSLA) Tops Q4 EPS by 8c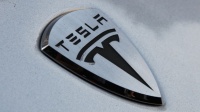 ---
Get instant alerts when news breaks on your stocks. Claim your 1-week free trial to StreetInsider Premium here.
---
Tesla (NASDAQ: TSLA) reported Q4 EPS of ($3.04), $0.08 better than the analyst estimate of ($3.12). Revenue for the quarter came in at $3.29 billion versus the consensus estimate of $3.28 billion.
"2017 was an important year in Tesla's history. Among other things, we started delivering Model 3 to customers, unveiled the Semi and the next-generation Roadster, installed the world's largest battery in Australia, and had record vehicle production and deliveries of Model S and Model X. We also learned many lessons from the slower than planned production ramp of Model 3. All of this sets the stage for 2018 to be a transformative year for us.
At some point in 2018, we expect to begin generating positive quarterly operating income on a sustained basis. With the planned ramp of both Model 3 and our energy storage products, our rate of revenue growth this year is poised to significantly exceed last year's growth rate. The launch of Model 3 is what Tesla had been building towards from day one. We incorporated all the learnings from the development and production of Roadster, Model S, and Model X to create the world's first mass market electric vehicle that is priced on par with its gasoline-powered equivalents – even without incentives. Now we are ramping up production significantly, and as we look ahead in 2018, we are on the cusp of a step change in the world's transition to sustainability."
OUTLOOK
2018 will be a transformative year for Tesla, with a high level of operational scaling. As we ramp production of both Model 3 and our energy products while keeping tight control of operating expenses, our quarterly operating income should turn sustainably positive at some point in 2018.
We expect Model S and Model X deliveries to be approximately 100,000 in total, constrained by the supply of cells with the old 18650 form factor. As our sales network continues to expand to new markets in 2018, we believe orders should continue to grow. With demand outpacing production, we plan to optimize the options mix in order to maximize gross margin. As stated above, we continue to target a weekly Model 3 production rate of 2,500 by the end of Q1 and 5,000 by the end of Q2. Also, we are focused on achieving our target of 25% gross margin for Model 3 after our production stabilizes at 5,000 cars per week.
We expect energy storage products to experience significant growth, with our aim to at least triple our sales this year. We expect energy generation and storage gross margin to improve significantly in 2018 as we enter the year with a backlog of higher-margin commercial solar projects and a more profitable energy storage business due to manufacturing efficiencies from scaling.
Service and Other gross margin should improve in each subsequent quarter in 2018. This will be achieved mainly through improved service productivity via Mobile Service and better remote diagnostics for Model 3. Diagnostics architecture has been substantially redesigned for Model 3 in order to reduce physical service visits by more than 50%. Additionally, Superchargers will start generating revenue in 2018 with pay per use charging primarily by Model 3 customers.
Capital expenditures in 2018 are projected to be slightly more than 2017. The majority of the spending will be to support increases in production capacity at Gigafactory 1 and Fremont, and for building stores, service centers, and Superchargers. This year, we are starting a new chapter of our journey. Hundreds of thousands of people will switch to our EVs and many others will turn their houses into near self-sufficient energy generators.
This is the year when we believe we can achieve true cost parity - producing a premium EV like the Model 3 will be no more expensive than producing an ICE vehicle, something that many believe is not yet possible.
For earnings history and earnings-related data on Tesla (TSLA) click here.