Tesla (TSLA) raised to BB+ by S&P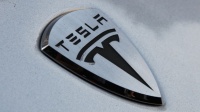 ---
Get instant alerts when news breaks on your stocks. Claim your 1-week free trial to StreetInsider Premium here.
---
(Updated - October 22, 2021 12:34 PM EDT)
Tesla (NASDAQ: TSLA) was raised to BB+ by S&P.
Tesla Inc.'s earnings and cash flow in recent quarters has outperformed our expectations and demand prospects appear robust globally, especially with its ongoing expansion of production in China, Germany, and the U.S.
S&P Global Ratings raised its issuer credit and issue-level ratings on Tesla to 'BB+'.
The positive outlook reflects our view that Tesla's free operating cash flow (FOCF) generation will remain positive more consistently, even as the company expands its global manufacturing footprint over the next 12 months.
&P Global Ratings today took the rating actions listed above. Despite near-term supply bottlenecks for the industry, we expect Tesla deliveries and earnings to remain strong over the next few quarters. Despite semiconductor shortages and other supply-related bottlenecks, Tesla appears to have minimized production disruption relative to most automakers. This is likely to support its strong revenue and earnings growth for 2021. Demand is backed by a higher backlog of orders, albeit with some delays in customer deliveries. The company has hit an annualized production run-rate of 1 million units at the end of the third quarter, which we believe is a key milestone. Our view also reflects outperformance of electric vehicles (EVs) so far this year globally, fueled by the regulatory push for lower-emission vehicles that is backed by subsidies in many markets, despite continuing concerns on the development of the charging infrastructure.
EBITDA margins for Tesla remained strong so far this year; we expect margins to remain steady in 2022, despite some mix shift towards lower-priced vehicles i.e., Model 3 and Y relative to the higher-priced Model S and X. Going forward, we expect that higher fixed-cost absorption and cost reduction will continue to be offset by weaker mix, higher operating expenses (including supply-chain related), lower regulatory credit revenue, and higher commodity costs.
The company continues to improve execution, become more efficient in production and make strides in its global expansion efforts. In our latest forecast, we expect Tesla to deliver more than 900,000 units in 2021, slightly over our prior forecasts (of about 850,000 units) with a substantial increase to 1.2 million-1.5 million units over the next 18 months. While the battery electric vehicle (BEV) market remains a sliver of total U.S. auto sales (under 3% of total light vehicles), Tesla's market share was almost over 65% in the first nine months of 2021. Its global market share in the twelve months ended June 30, 2021 was around 21%, including almost 15% in China (per EV-volumes.com). We expect further improvements in efficiency, cost, and technology as Tesla builds on lessons learned in its Fremont, Calif., factory, where S and X models continue to ramp up. The company reported progress at its Shanghai Gigafactory, where production continues to ramp up. Tesla is also building capacity for Model Y at its Berlin Gigafactory in Germany, one of its largest markets, where it expects to receive final permit approval before the end of 2021.
Key risks going forward include access to supply as the company looks to raise cell capacity and complete its production ramp-up to meet demand. Stretching capacity at some of its facilities to meet strong demand over the next 2 years will introduce elevated execution risk and further test an already stressed industry supply chain. The evolution of Tesla's business hinges on it reaching its production targets, using its manufacturing capacity efficiently, and maintaining desired quality amid upcoming competitive pressures.
To sustain its first-mover advantage and brand appeal, Tesla has to manage keeping its technological prowess while targeting more-affordable product rollouts. Based on current and upcoming model specifications, we believe Tesla has an advantage over competitors in battery and powertrain technology (as measured by motor efficiency and range). Given its brand excitement and location in Silicon Valley, we believe Tesla has attracted talented software engineers to advance the development of the concept of the "vehicle app." In this regard, Autopilot and full self-driving (FSD) technologies could become important competitive advantages as Tesla continues to make progress developing its FSD computer and remotely updatable artificial intelligence software.
However, to sustain recent strong growth, hold its first-mover advantage, and maintain market share, the company has to expand its range of products and make EVs more affordable with regard to total cost of ownership, including insurance and service costs. The timing for its planned affordable EV for $25,000 will be an important consideration for our market share assumptions and for potential improvements in its competitive advantage beyond 2022.
Furthermore, Tesla will need to contend with rising competition as global automakers are expected to launch about 40 new EV models by the end of 2022. These much larger players, such as Volkswagen and Toyota, and those traditionally focused on the luxury segment, such as BMW and Daimler, could be formidable competitors. This is because many of them have the capacity and the vertical integration capabilities to bridge the cost gap over time and also leverage their existing customer base and brand power to command pricing power.
Tesla should manage expansion-related capital expenditures prudently to enable consistent positive FOCF and protect its strong liquidity. Equity share sales throughout 2020 boosted Tesla's liquidity and substantially curtailed the company's financial risk. The company's early settlement of $1.8 billion senior notes (due 2025) in its third quarter was another credit positive. We expect cash on the balance sheet to exceed $15 billion at the end of 2021. As a result, Tesla's net debt continues to be zero. With more cash on its balance sheet than total debt, the company appears easily able to fund its global expansion. Moreover, this cushion of cash will help the company navigate through the near-term supply bottlenecks. We still risk-adjust our assessment to incorporate significant future uncertainties, including a slower than expected rate of EV adoption and the coming fierce contest with a number of very capable global auto manufacturers.
The positive outlook reflects our view that Tesla's FOCF generation will remain positive more consistently even as the company expands its manufacturing footprint around the world over the next 12 months.
We could consider an upgrade to investment grade if the company remains on a trajectory to sustain automotive EBITDA margins above 18% (excluding regulatory credits) as its Berlin and Austin production facilities come online. We would also expect Tesla to exceed 1.5 million units delivered by 2023 to avoid a meaningful loss in market share amid intensifying competition and aggressive launches by automakers globally, particularly in China and Europe. For an upgrade, we would also require Tesla to maintain strong liquidity and generate free cash flow to sales of over 2% on a sustained basis.
We could revise the outlook to stable if the company encountered problems expanding its manufacturing footprint, if demand for its electric vehicles did not match the newly installed capacity, or competition from traditional automakers drew customers away from buying Tesla's vehicles. Also, we could lower the ratings if FOCF is unlikely to exceed 2% of sales due to declining sales or the need to elevate capital expenditures beyond our current expectations.