Alexza's EU Partner (Grupo Ferrer) Signs New ADASUVE Deal With Medivir
Alexza Pharmaceuticals (NASDAQ:
ALXA
) is focused on the research, development and commercialization of novel proprietary products for the acute treatment of central nervous system ("CNS") conditions.
Alexza's product candidates are based on its proprietary technology, the Staccato® system. The Staccato system vaporizes an excipient-free drug to form a condensation aerosol that, when inhaled, allows for rapid systemic drug delivery.
Alexza's first approved product, Staccato loxapine, (known commercially as ADASUVE®) has been approved for marketing in the United States by the U.S. Food and Drug Administration and in the European Union by the European Commission. ADASUVE (loxapine) inhalation powder was approved for the acute treatment of agitation associated with schizophrenia or bipolar I disorder in adults.
Teva Pharmaceuticals USA, a subsidiary of Teva Pharmaceutical Industries Ltd (NASDAQ:
TEVA
), is Alexza's commercial partner for ADASUVE in the U.S. Teva will be responsible for all U.S. commercial and clinical activities for ADASUVE, including U.S. post-approval clinical studies, and has gained rights to conduct additional clinical trials of ADASUVE for potential new indications in neurological disorders. Alexza will be responsible for manufacturing and supplying ADASUVE to Teva for commercial sales and clinical trials. The deal is valued at up to $260 million, and it includes the following:


Alexza received an upfront cash payment of $40 million.


Alexza is eligible to receive up to $195 million in additional milestone payments, based upon successful completion of the ADASUVE post-approval studies in the U.S. and achieving net sales targets.


Teva will make tiered, royalty payments based on net commercial sales of ADASUVE.


Teva will also make available up to $25 million to Alexza via a five-year convertible note and agreement to lend, which Alexza may access to support its ADASUVE activities.
Alexza expects that Teva will launch ADASUVE in the U.S. during early 2014. A summary of the Teva ADASUVE deal is depicted in the two (2) Tables below: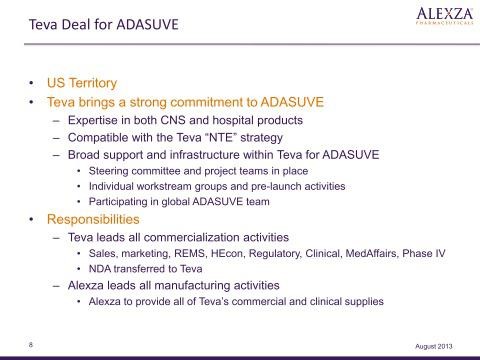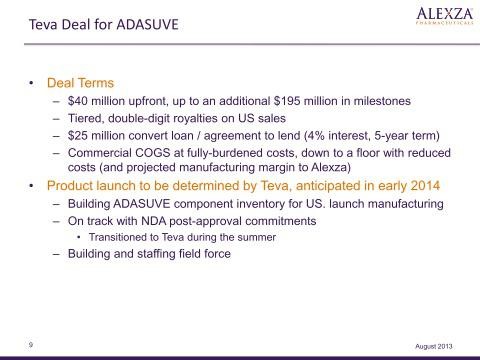 Grupo Ferrer Internacional, S.A. is Alexza's commercial partner for ADASUVE in Europe (the E.U.), Latin America, Russia and the Commonwealth of Independent States.
The EMA approval of the ADASUVE MAA covers all
28 member states
in the E.U., and the 3 countries that comprise the European Economic Area countries (Norway, Iceland and Liechtenstein).
ADASUVE was launched in Germany by Grupo Ferrer in July 2013. Alexza expects that ADASUVE will continue to be launched in the other 30 E.U. countries on a country-by-country basis during Q4 of 2013 and continuing through 2014. A summary of the Grupo Ferrer ADASUVE deal is depicted in the Table below: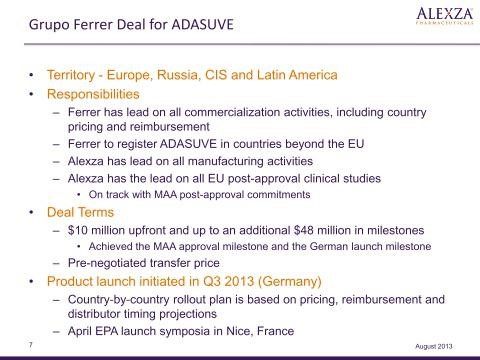 The New ADASUVE License & Distribution Deal
On September 18, 2013, Grupo Ferrer announced that they have entered a license and distribution agreement for the commercialization of ADASUVE® (Staccato® Loxapine) in the Nordic region. In Europe, ADASUVE is approved for the treatment of mild to moderate agitation of patients with schizophrenia or bipolar disease.
Under the terms of the agreement, Grupo Ferrer grants to Medivir AB the exclusive rights to promote, market, sell and distribute ADASUVE in the Nordic region - including Denmark, Finland, Norway, Iceland and Sweden. Here is a link to the Medivir
Press Release
for this transaction.
Medivir is based in Sweden, and according to the
Medivir website
, its strategic focus is to develop pharmaceuticals for global sale, primarily in the infectious diseases sphere, and to commercialize pharmaceuticals in the Nordic or Scandinavia market. Medivir was founded in 1988 as a spin-off from AstraZeneca's (NYSE:
AZN
) antiviral research unit. Medivir is already marketing and selling pharmaceutical products in the Nordic market to psychiatrists who treat patients diagnosed with bipolar disorder.
What Does the Medivir Deal Mean for Alexza?
Alexza is responsible for all manufacturing and supplying ADASUVE to Teva and Grupo Ferrer for commercial sales and clinical trials. Alexza's Mountain View, California ADASUVE manufacturing facility is the only approved GMP facility that has been inspected by both the FDA and the EMA.
Alexza is currently manufacturing commercial launch quantities of ADASUVE for the Germany market to supply what was needed for the initial launch in Germany, and to supply what will be needed for on-going ADASUVE demand in Germany.
Alexza is also producing launch quantities of ADASUVE for the U.S. market for the early 2014 launch of ADASUVE in the U.S. by Teva. Alexza's ADASUVE commercial manufacturing activities and capabilities are summarized in the Table below: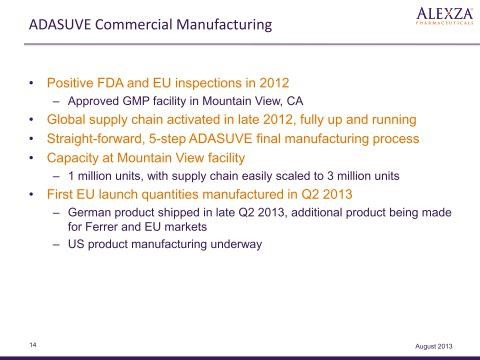 As a result of the license and distribution agreement that Grupo Ferrer just signed with Medivir, in addition to manufacturing ADASUVE for the U.S. and Germany markets, Alexza will soon be manufacturing and supplying all of the ADASUVE that will be needed for the commercialization launches in Denmark, Finland, Iceland, Norway and Sweden.
According to Alexza, it will sell ADASUVE to Grupo Ferrer at a pre-negotiated transfer price. The pre-determined transfer price plus cumulative sales milestone payments will include an embedded manufacturing profit of about 20% above and beyond the Cost of Goods Sold (COGS) once the ADASUVE sales volume to Grupo Ferrer is large enough to cover the fixed manufacturing costs.
Conclusion
The license and distribution deal between Grupo Ferrer and Medivir will help ensure that there will be an experienced and knowledgeable company in the Nordic countries of Denmark, Finland, Iceland, Norway, and Sweden to promote and market ADASUVE. Medivir has existing relationships with physicians and psychiatrists who are currently treating patients who are targeted by ADASUVE.
I believe that Alexza continues to execute its overall business plan very well since the 4th quarter of 2012. I believe that Alexza is well on its way to expanding the sales opportunities for ADASUVE throughout the E.U. and the rest of the world.
Disclaimer: The author @ATLnsider is long share of Alexza Pharmaceutical (ALXA) but has no other relationship with the company.
Contributors
,
FDA
,
Insiders' Blog
Related Entities
Twitter
Sign up for StreetInsider Free!
Receive full access to all new and archived articles, unlimited portfolio tracking, e-mail alerts, custom newswires and RSS feeds - and more!