Truist Raises Price Target Following Tesla (TSLA) AI Day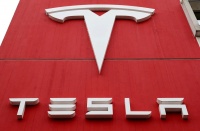 Truist Securities reiterated a Buy rating on electric vehicle maker, Tesla (NASDAQ: TSLA) and raised the price target to $348.00 (From $333.33) following the company's AI day on Friday. During the event, Tesla provided updates to their Full Self-driving program (FSD), Dojo, and their progress with the humanoid AI robot, Optimus.
Tesla announced the Optimus at last year's AI day with a person wearing a robot costume. This year, company brought a real robot. While a live demo was limited to showing the robot walking, waving, and dancing, a video demonstration showed Optimus performing several different tasks such as lifting boxes and watering plants. Tesla CEO, Elon Musk announced that he anticipates selling Optimus to consumers within three to five years.
Tesla showed off their FSD program with advancements in the program's hardware infrastructure, training datasets, and the types of models used to build up FSD features. The company noted that in the last year, the number of users has grown from only 2,000 to 160,000. Further, Tesla plans to deliver a significant upgrade to FSD in about one month's time and believes FSD could be delivered worldwide by the end of this year.
Tesla's supercomputer, Dojo, was featured in a highly technical presentation where Tesla noted significant enhancements in the D1 chip, a fully integrated training tile, Dojo accelerator, and ExaPod. Tesla noted that its home-grown semi and computer solutions deliver better performance than commercially available GPU computers for the company's specific compute workloads. Management also noted that it would stand-up its first ExaPod in 1Q23 and will build seven ExaPods in Palo Alto.
The electric vehicle company also reported its 3Q delivery numbers on Sunday, falling short of expectations.
Truist analyst, William Stein wrote in a note: "On Sunday, TSLA noted that Q3 unit deliveries were ~344k which was 12% below our model and 5% below consensus. Importantly, Q3 production of 366k was 6% below our model and exceeded the consensus delivery estimate. In the PR, management noted that during Q3 it began to transition away from large end-of-quarter deliveries to a more even regional mix of vehicles builds each week, which increases the number of cars in
transit at the end of each quarter. We expect this will make the Q3 deliveries shortfall appear like a temporary dip with a larger Q4 recovery."
By Michael Elkins | [email protected]
Categories
Next Articles