Exclusive-U.S. regulator eyes Friday bids for SVB, Signature Bank -sources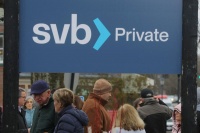 By David French and Pete Schroeder
(Reuters) -Regulators at the U.S. Federal Deposit Insurance Corp (FDIC) have asked banks interested in acquiring failed lenders Silicon Valley Bank and Signature Bank to submit bids by March 17, people familiar with the matter said on Wednesday.
The new auctions show how the FDIC is making a concerted effort to return the lenders to the private sector after regulators took over Silicon Valley Bank (SVB) last Friday and Signature Bank on Sunday, during a weekend of turmoil that has reverberated through the global financial system.
This will be the FDIC's second attempt at selling SVB after a failed effort on Sunday. The FDIC has since retained investment bank Piper Sandler Companies to run a new auction, the sources said.
The FDIC is aiming to sell both SVB and Signature in their entirety, while offers for parts of the banks could be considered if whole company sales do not happen, two of the sources said.
Only bidders with an existing bank charter will be allowed to study the banks' financials ahead of submitting their offer, a move which is aimed at giving traditional lenders an advantage over private equity firms, the two sources said.
The two sources added that any buyer of Signature must agree to give up all the crypto business at the bank. But an FDIC spokesperson told Reuters after publication that the agency would not require divestment of crypto activities as part of any sale, and pointed to prior comments from FDIC Chairman Martin Gruenberg that the agency is not looking to prohibit any particular activity by banks.
The sources requested anonymity because the matter is confidential. Signature and Piper Sandler did not immediately respond to requests for comment.
U.S. President Joseph Biden has said that U.S. taxpayers will not bear the cost of salvaging SVB and Signature because any capital shortfalls would be covered by a government fund that can place a levy on other banks. Successful sales, however, would help minimize such shortfalls.
SVB became last week the biggest U.S. bank to fail since the 2008 financial crisis, spreading jitters across the banking sector and raising doubt about the future of startups that turned to the technology-focused lender for financial services.
Among the banks that studied but decided against an offer during last weekend's auction for SVB were PNC Financial Services and Royal Bank of Canada, which owns California-focused lender City National Bank, Reuters has reported.
SVB Financial Group, the former parent of SVB, is exploring seeking bankruptcy protection as one option for selling its remaining assets, which include an investment bank and a venture capital business, Reuters reported on Wednesday.
Signature Bank was shuttered due to "a significant crisis of confidence in the bank's leadership," the New York financial regulator said on Tuesday. The bank was well known in the crypto space, and at the end of September almost a quarter of its deposits came from the cryptocurrency sector.
(Reporting by David French in New York and Pete Schroeder in Washington; Additional Reporting by Anirban Sen; Editing by Nick Zieminski & Shri Navaratnam)
Categories