Tesla (TSLA) Releases Software Update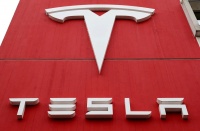 Electric vehicle maker, Tesla Inc. (NASDAQ: TSLA) released software update 2022.40.1 over the weekend, introducing improvements to Sentry Mode, Dog Mode, charging, radio stations, and driver door unlock mode.
The update started rolling out on Saturday with the latest version helping to improve the vehicle's efficiency while Supercharging. If you choose to charge at a non-Tesla DC fast charger, the update should speed up the session there as well. This is because Tesla has updated the thermal controls to account for each DC fast charging station's power output. The company was able to make this improvement by tweaking its vehicles' software settings rather than redesigning hardware features.
Tesla wrote in its release notes, "During DC fast charging, the thermal system controls have been optimized for each charging station's power capability, improving both charging and on-route battery preconditioning efficiency. This results in fast charge time and reduced energy costs."
In addition to the increase in Supercharging efficiency, Tesla also improved Sentry Mode and Dog Mode to now work in tandem with each other. Tesla drivers can activate both modes at the same time. Sentry Mode alarms are silenced if it is activated with Dog Mode.
"Your vehicle and pets can be kept by activating Dog Mode and Sentry Mode at the same time. Sentry Mode alarms are silenced if Dog Mode and Sentry Mode are both enabled. Mobile app notifications will still be sent, and video footage will still be saved," stated the release notes.
The update also enables customers the ability to unlock all the doors and the trunk of their car by long pressing the interior driver door switch. Driver Door Unlock Mode is available for vehicles that didn't have the feature before.
One other update Tesla rolled out in 2022.40.1 are radio station logos. Now, Media Player displays the logos of radio stations.
Shares of TSLA are down 3.36% in mid-day trading on Monday.
By Michael Elkins | [email protected]
Categories
Next Articles