Musk Says Now Over 3M Teslas (TSLA) Made; Congratulates GigaShanghai on 1M Vehicle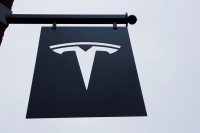 Tesla Inc. (NASDAQ: TSLA) CEO, Elon Musk, tweeted a message Sunday congratulating Giga Shanghai on producing its one millionth car. According to the CEO, this milestone brings the total Teslas made to over 3 million vehicles.
"Congrats Giga Shanghai on making millionth car! Total Teslas made now over 3M," Musk tweeted.
The tweet included a picture of Giga Shanghai workers on the factory floor surrounding the one millionth car produced, a red Tesla.
Global Equities Research analyst, Trip Chowdhry highlighted Tesla's expanding deliveries in an August 10th note. He reiterated his $2,300 price target following Musk's announcement.
Chowdhry notes that TSLA has increased its Fleet of Delivery Trucks by ~50%, and mentioned that "Everyday during this 3Q'2022, it seems like TSLA is operating as if every days is an End-of-Quarter Rush"
The milestone comes just a few weeks after Musk said Tesla's factory in Fremont, Calif., produced its 2 millionth vehicle. The Fremont factory officially opened its doors in late 2010, whereas the Shanghai location opened in 2018.
The achievement is particularly impressive once you consider the shutdowns that plagued the Shanghai factory during the COVID restrictions, as well as shutdowns attributed to upgrades at the plant.
Recent reports say Giga Shanghai's Model Y production capacity grew to over 50,000 per month in July and is set to accelerate to 60,000 per month in the coming weeks.
When earnings were released, Musk said the company had been in "supply-chain hell for several years," but barring a surprise, "we have the potential for a record-breaking second half of the year."
In that report, Tesla said the Shanghai factory achieved "the highest vehicle production month in our history" in June. In July, Tesla said that it delivered 254,695 vehicles in the second quarter, a 26.5% rise year-over-year.
Along with the Shanghai and Fremont plants, Tesla also produces EVs in Austin, Texas; and at Gigafactory Berlin-Brandenburg in Germany.
By Michael Elkins | [email protected]
Categories
Next Articles