Peter Thiel Sold Half a Billion in Palantir (PLTR) Stock as Lockup Expired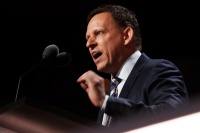 Peter Thiel disclosed he sold over 20 million shares of Palantir (NYSE: PLTR) on 02/18 through a 10b5-1 trading plan as a lock-up expired. Thiel is the Chairman of the Board and one of the founders of the company. Shares were sold at prices from ~$25.06-$25.93 per share.
Thiel converted Class B Common Stock into Class A Common Stock before the sale.
The value of the stock sales were over $500 million.
Categories