Merck CEO Doesn't See Therapeutics or Vaccines 'as a Silver Bullet', Believes Mask-Wearing Will Stay 'Well Into 2021'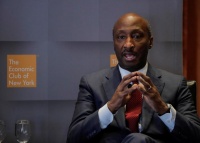 Merck (NYSE: MRK) CEO Ken Frazier says that he doesn't see "the therapeutics that we have, or the vaccines that are coming as a silver bullet."
Speaking about the pandemic and the vaccine race on CNBC Thursday morning, Frazier said that the public will have to practice basic mask-wearing, social distancing and hygiene for the "foreseeable future," and "certainly well into 2021".
While he is "very optimistic" about therapeutics and vaccine to treat COVID-19 infection, Frazier doesn't believe the problem will disappear overnight.
"I think it's a mistake to tell people that [vaccine] is a silver bullet and overnight we are going to be able to vaccinate enough people and treat enough people. The natural history of these viruses is that they don't go away, we still vaccinate people for measles because measles are still around," Frazier told CNBC.
"I don't think we should tell people that they can expect to give up on those public health measures anytime soon," Frazier concluded.
In an earnings conference call that took place two days ago, Frazier said that Merck made "significant progress" over the last few months in COVID program.
"Our learnings reinforce our confidence that the approaches we've selected are among the most promising. We are moving forward with dispatch and diligence, designing our clinical studies in a manner that, if successful, will provide physicians and patients confidence that our candidates are safe, effective, simple to administer and distribute, and capable of being used not just in millions but billions of people.
"While we understand the importance of moving expeditiously in light of the pandemic, our experience with the natural history of other pandemic and epidemic viral diseases counsels us to seek enduring solutions that can be deployed globally now and for future generations," Frazier said.
Categories