Microsoft (MSFT) Shares Dip as Q1 Beats But Guidance Misses on Volatile Personal Computing Segment; Goldman, Others Raise Targets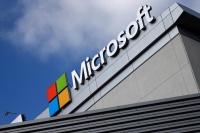 Shares of Microsoft (NASDAQ: MSFT) fell over 2% in pre-open trading Wednesday after the tech giant reported lower-than-expected revenue guidance for its second quarter but smashed analysts' expectations on other fronts.
Earnings per share for the first quarter came in at $1.82 per share to easily beat the market estimates of $1.54. Revenue was reported at $37.15 billion vs $35.72 billion expected from analysts, growing 12% on a yearly basis.
"The next decade of economic performance for every business will be defined by the speed of their digital transformation," said Satya Nadella, chief executive officer of Microsoft. "We are innovating across our full modern tech stack to help our customers in every industry improve time to value, increase agility, and reduce costs."
MSFT missed on revenue guidance, as it now expects $39.5 billion to $40.4 billion in fiscal second-quarter revenue, with the middle point of the range ($39.95) billion below the market consensus estimate of $40.43 billion.
Goldman Sachs' analyst Heather Bellini maintained a "Buy" rating on MSFT and raised the price target to $255.00 per share from $235.00.
"At ~$210 in the after-market, MSFT trades at ~33x and ~30x our CY20 EPS and CY21 EPS estimates of $6.32 and $7.01 (consensus $6.01 and $6.79, respectively)," Bellini explained in the note to clients.
Jason Ader, an analyst at William Blair, described MSFT's results as "impressive" and maintained an "Outperform" rating on the stock.
"Microsoft reported another impressive top- and bottom-line beat ($1.4 billion and $0.28, respectively), though second-quarter revenue guidance came in $0.55 billion below consensus, almost entirely due to headwinds in the More Personal Computing (MPC) segment (tough comps and a lower expiry base for Windows and Xbox supply constraints). The beat was driven by commercial cloud growth of 31%, as Azure grew 47%, Office/Microsoft 365 saw strong E5 upsell activity, and LinkedIn rebounded after last quarter's slowdown," Ader said in today's note.
While he understands investors' concerns related to the lower revenue guide, he notes that the MPC segment is notoriously volatile.
In addition to the price target hike at Goldman Sachs, MSFT saw targets hikes at Cowen, Piper Sandler, Credit Suisse, Morgan Stanley, Barclays, and others.
Categories