Evidence of institutional and retail tax loss selling - BofA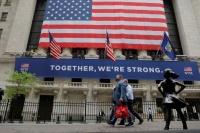 Jimmy Bonilla, an equity and quant strategist at BofA Securities, reports that there's evidence that institutional clients are again selling in late October, and retail investors tend to do to same before a December 31 cut-off data to realize capital gains.
"This year is no exception to heightened October selling," wrote Bonilla in today's note to clients titled "Special edition: Tax loss selling implications."
He says that the bank recorded the highest outflows in U.S. equities since January 2018 and the third largest in history (since 2008).
"While net selling was broad across sectors, ETF outflows drove much of the selling. All three client groups (hedge funds, institutional, and retail) sold stocks, led by institutional clients (most affected by the Oct. tax year-end) where we saw the largest net selling since April 2017."
Buybacks, driven by Industrials, have also decelerated in recent weeks, writes Bonilla.
"Although buybacks tend to slow around blackout periods, unlike tax loss selling, we've found scant evidence that buyback blackouts pose risk to returns. Buybacks YTD are -52% YoY vs +15% on avg. since 2011."
However, this trend tends to reverses in November as fundamentally-supported stocks sold in October, mostly due to tax-loss harvesting, tend to systematically outperform from November to January.
"Nov.-Jan. is a seasonally strong period, and [tax-loss harvesting candidates] TLC stocks have led far more than lagged during this time: since 1986, stocks that were down more than 10% in the first ten months of the year (TLCs) subsequently beat the S&P 500 by 1.3ppt on average in the next three months (68% hit rate). And during narrow (sub-avg. breadth) markets like 2020 (where 48% of companies had positive YTD returns vs the average 59%), the strategy outperformed 80% of years since 1986, with an average alpha of 2.7ppt.
"Could the upcoming election be a factor? Selling trends during prior election years were similar to trends during the average year albeit amplified. But admittedly, today's concerns around major changes in tax policy under a Biden win could alter dynamics."
Bonilla and his team identified a list of stocks, which are Buy-rated by BofA, that are likely to outperform as of November. This list includes names, such as Exxon (NYSE: XOM), Chevron (NYSE: CVX), Raytheon (NYSE: RTX), Tapestry (NYSE: TPR), Cisco (NASDAQ: CSCO), etc.
Categories