AstraZeneca (AZN) and Merck (MRK) Announce LYNPARZA Receives Positive Opinion from EU CHMP for Treatment of BRCA1/2 mCRPC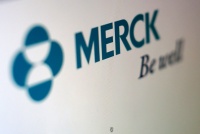 AstraZeneca (NYSE: AZN) and Merck (NYSE: MRK), known as MSD outside the United States and Canada, today announced that the Committee for Medicinal Products for Human Use (CHMP) of the European Medicines Agency (EMA) has adopted a positive opinion recommending LYNPARZA for approval as monotherapy for the treatment of adult patients with metastatic castration-resistant prostate cancer (mCRPC) and BRCA1/2 mutations (germline and/or somatic) who have progressed following a prior therapy that included a new hormonal agent.
Prostate cancer is the second-most common type of cancer in men, with an estimated 1.3 million new patients diagnosed worldwide in 2018. Approximately 10% of men with mCRPC have a BRCA mutation.
The CHMP's positive opinion was based on a subgroup analysis of patients with BRCA1/2 mutations from the Phase 3 PROfound trial. The primary results of the trial were published in The New England Journal of Medicine in May 2020.
Dr. José Baselga, executive vice president, oncology R&D, AstraZeneca, said, "Patients diagnosed with metastatic castration-resistant prostate cancer unfortunately have few treatment options and a historically poor prognosis. This recommendation for LYNPARZA brings us closer to making it the only PARP inhibitor to improve overall survival in this setting available to men in the EU. BRCA testing should now become a critical step for the diagnosis and determination of treatment options for men with advanced prostate cancer in the EU."
Dr. Roy Baynes, senior vice president and head of global clinical development, chief medical officer, Merck Research Laboratories, said, "In the PROfound trial, LYNPARZA provided a significant clinical benefit to men with BRCA1/2-mutated metastatic castration-resistant prostate cancer. If approved, LYNPARZA could be transformative in the treatment paradigm, bringing an additional option to certain prostate cancer patients in the EU."
LYNPARZA is approved in the U.S. for the treatment of adult patients with deleterious or suspected deleterious germline or somatic homologous recombination repair (HRR) gene-mutated mCRPC who have progressed following prior treatment with enzalutamide or abiraterone. Patients are selected for therapy based on an FDA-approved companion diagnostic for LYNPARZA.
AstraZeneca and Merck are exploring additional trials in metastatic prostate cancer, including the ongoing Phase 3 PROpel trial evaluating LYNPARZA as a first-line therapy in combination with abiraterone acetate for patients with mCRPC versus abiraterone acetate alone.
Categories
Next Articles