AstraZeneca (AZN), Merck (MRK) Report LYNPARZA Improved Median PFS to Over Four and a Half Years Compared to 13.8 Months with Placebo for Patients with BRCA-Mutated Advanced Ovarian Cancer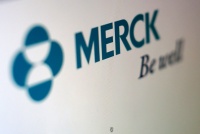 AstraZeneca (NYSE: AZN) and Merck (NYSE: MRK), known as MSD outside the United States and Canada, today announced positive five-year follow-up data from the Phase 3 SOLO-1 trial which demonstrated a long-term progression-free survival (PFS) benefit of LYNPARZA versus placebo as a first-line maintenance treatment in patients with newly diagnosed, advanced BRCA-mutated (BRCAm) ovarian cancer who were in complete or partial response to platinum-based chemotherapy.
Ovarian cancer is the eighth most common cause of cancer death in women worldwide and in 2018 there were nearly 300,000 new patients diagnosed and around 185,000 deaths globally. Approximately 22% of patients with ovarian cancer have a BRCA1/2 mutation.
Five-year follow-up data from the Phase 3 SOLO-1 trial showed LYNPARZA reduced the risk of disease progression or death by 67% (HR 0.33 [95% CI 0.25–0.43]), and improved median PFS to 56 months vs. 13.8 months for placebo. At five years, 48.3% of patients treated with LYNPARZA remained free from disease progression vs. 20.5% on placebo. The median duration of treatment with LYNPARZA was 24.6 months vs. 13.9 months with placebo. Median follow-up in the LYNPARZA arm was 4.8 years and 5 years for placebo.
The safety profile of LYNPARZA was consistent with previous observations in SOLO-1. The most common adverse reactions (ARs) ≥20% were nausea (77%), fatigue/asthenia (63%), vomiting (40%), anemia (39%) and diarrhea (34%). Grade 3 or greater ARs were reported in 40% of patients in the LYNPARZA arm with the most common being anemia (22%) and neutropenia (9%). ARs led to a dose interruption with LYNPARZA in 58% of patients and a dose reduction in 29% of patients. Twelve percent of patients on LYNPARZA discontinued treatment due to an AR.
Dr. Susana Banerjee, one of the investigators from the SOLO-1 trial and consultant medical oncologist at The Royal Marsden NHS Foundation Trust and reader at the Institute of Cancer Research, said, "For patients with newly diagnosed BRCA-mutated advanced ovarian cancer, the benefit derived from two years of maintenance treatment with LYNPARZA continued long after treatment ended. At five years, almost half of these women had not progressed and were still living with stable disease. These results represent a significant step forward in the treatment of BRCA-mutated advanced ovarian cancer."
Dr. José Baselga, executive vice president, oncology R&D, AstraZeneca, said, "Once a patient's ovarian cancer recurs, it has historically been incurable. Even at an advanced stage, we have shown that maintenance treatment with LYNPARZA can help patients achieve sustained remission. Today's results further underline the critical importance of identifying a patient's biomarker status at the time of diagnosis to be able to offer a maintenance treatment that may help delay disease progression for these patients."
Dr. Roy Baynes, senior vice president and head of global clinical development, chief medical officer, Merck Research Laboratories, said, "This is the first trial of a PARP inhibitor to read out a five-year follow-up and showed LYNPARZA improved progression-free survival to over four and half years versus 13.8 months with placebo following response to first-line platinum-based chemotherapy. This latest data represents a major and significant milestone in a disease which has historically had such a poor prognosis."
Summary of efficacy results
Progression-Free Survival

(Primary Endpoint)

Recurrence-Free Survival*

(Post Hoc Analysis)

LYNPARZA

N=260

Placebo

N=131

LYNPARZA

N=189

Placebo

N=101

Events, n (%)

118 (45)

100 (76)

79 (42)

74 (73)

Median, m

56.0

13.8

NR

15.3

HR (95% CI)

0.33 (0.25–0.43)

0.37 (0.27–0.52)

Patients progression or recurrence free at timepoint, % (Kaplan-Meier estimates)

These analyses are descriptive only; the SOLO-1 trial was not powered to assess a

statistical difference between treatment groups at these time points

1y

87.7 (N=212)

51.4 (N=65)

91.0 (N=159)

58.0 (N=56)

2y

73.6 (N=173)

34.6 (N=41)

77.2 (N=132)

39.0 (N=35)

3y

60.1 (N=129)

26.9 (N=30)

64.0 (N=99)

28.9 (N=25)

4y

52.3 (N=101)

21.5 (N=23)

55.2 (N=75)

23.0 (N=19)

5y

48.3 (N=58)

20.5 (N=16)

51.9 (N=42)

21.8 (N=12)

*Defined post hoc as time from randomization to disease recurrence or death. Patients had complete response at baseline based on electronic case report form data. CI, confidence interval; HR, hazard ratio; NR, not reached
The results were presented on Friday, Sept. 18, 2020, at the European Society for Medical Oncology (ESMO) Virtual Congress 2020 (Abstract #811MO).
The Phase 3 SOLO-1 trial met the primary endpoint of PFS in June 2018, which formed the basis of approvals in the U.S., the EU, Japan, China and several other countries.
About SOLO-1
SOLO-1 was a Phase 3, randomized, double-blinded, placebo-controlled, multi-center trial to evaluate the efficacy and safety of LYNPARZA tablets (300 mg twice daily) as a maintenance monotherapy compared with placebo in newly diagnosed patients with BRCAm advanced ovarian cancer following response to first-line platinum-based chemotherapy. The trial randomized 391 patients with a deleterious or suspected deleterious germline or somatic BRCA1 or BRCA2 mutation who were in clinical complete or partial response following platinum-based chemotherapy.
Patients were randomized (2:1) to receive LYNPARZA or placebo for up to two years or until disease progression. Patients who had a partial response at two years were permitted to stay on therapy at the investigator's discretion. The primary endpoint was investigator-assessed PFS and key secondary endpoints included time to second disease progression or death, time to first subsequent treatment and overall survival. The primary analysis results were presented at the 2018 ESMO Congress and published in The New England Journal of Medicine.
Categories
Next Articles