Buffett's Berkshire is Sitting on an Astonishing $75 Billion Profit in Apple (AAPL)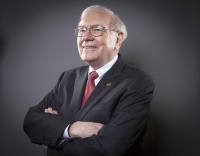 Warren Buffet's Berkshire Hathaway reported second-quarter earnings over the weekend. While always an interesting read, the one thing that sticks out, but is not truly reflected in the results, is the insane amount of money Mr. Buffett is making with his Apple (NASDAQ: AAPL) position.
With shares of Apple trading at $448 early Monday, Berkshire's approximately 245 million shares are worth an astonishing $110 billion. The firm paid between $35-$36 billion for the position, suggesting a profit of around $75 billion, or over 214%.
The Apple position is now over 4x the size of his next biggest position in Bank of America (NYSE: BAC), and makes up 35% of the Berkshire portfolio.
Categories