After-Hours Movers 01/06: (XERS) (CNXN) (MCHP) Higher; (ITCI) (ARE) (CRWD) Lower (more...)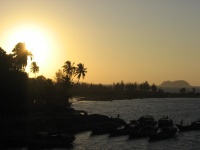 Today's After-Hours Movers
Xeris Pharmaceuticals, Inc. (Nasdaq: XERS) 20.7% HIGHER; announced positive topline results from the in-clinic stage of a Phase 2 study of its developmental ready-to-use (RTU) glucagon for the prevention of hypoglycemia during and after moderate-to-high intensity aerobic exercise in adults with Type 1 diabetes mellitus (T1D).
PC Connection Inc. (NASDAQ: CNXN) 9% HIGHER; will replace Jagged Peak Energy in the S&P SmallCap 600.
Microchip Technology Incorporated, (NASDAQ: MCHP) 4.6% HIGHER; provided an update on the business environment it is experiencing. Microchip has continued to experience strong bookings since October 2019. Microchip now expects consolidated net sales for the December 2019 quarter to be $1.281 billion to $1.288 billion, or down between 3.75% and 4.25% sequentially with a mid-point of down 4%. Microchip previously provided revised guidance on December 3, 2019 for consolidated net sales to be $1.244 billion to $1.298 billion, or down between 3% and 7% sequentially with a mid-point of down 5%. (Consensus sees Q3 revenue of $1.27 billion).
InterDigital, Inc. (NASDAQ: IDCC) 2.8% HIGHER; updated its revenue guidance for fourth quarter 2019. The company expects total fourth quarter 2019 revenue to be between $92 million and $100 million, which includes between $74 million and $77 million of recurring revenue. The company also expects fourth quarter 2019 operating expenses to be roughly $11 million to $14 million higher than third quarter 2019. Approximately half of both the non-recurring revenue and the increase in expenses reflect revenue and revenue sharing cost associated with a new consumer electronics licensee, which the company signed in the second half of December. (Consensus sees Q4 revenue of $88.8 million).
Intra-Cellular Therapies, Inc. (NASDAQ: ITCI) 2.4% LOWER; announced that it has commenced an underwritten public offering of 10,000,000 shares of its common stock.
Alexandria Real Estate Equities, Inc. (NYSE: ARE) 2% LOWER; announced today that it is commencing an underwritten public offering of 6,000,000 shares of common stock, subject to market conditions, in connection with the forward sale agreements described below. The Company expects to grant the underwriters a 30-day option to purchase up to 900,000 additional shares.
Texas Instruments (NASDAQ: TXN) 1.6% HIGHER; gains on MCHP
Iveric Bio (NASDAQ: ISEE) 1.6% HIGHER; Wedbush initiates coverage with an Outperform rating and a price target of $8.20.
ON Semiconductor (NASDAQ: ON) 1.4% HIGHER; gains on MCHP
CrowdStrike Holdings Inc. (NASDAQ: CRWD) 1.3% LOWER; block of 5 million shares to be offered via Goldman, Bloomberg reported. Shares to be offered at $53.60-$53.80.
Categories
Next Articles