Form 8-K GILEAD SCIENCES INC For: Oct 15
Exhibit 10.1

October 11, 2019
Dear Andy,
I am very pleased to congratulate you on your new role as Gilead's Chief Financial Officer, effective November 1, 2019. In this role you will be designated as a Section 16 Officer. I am looking forward to partnering with you as we continue to move Gilead forward during this exciting time. In accordance with this opportunity, the key employment terms are outlined below:
Your salary on an annualized basis will be $950,000, less taxes, payable bi-weekly. This increase is inclusive of your 2020 annual increase.
(i) Stock Option Grant. Subject to the approval of the Compensation Committee, you will be granted $500,000 in stock options under the Gilead Sciences, Inc. 2004 Equity Incentive Plan to purchase shares of Gilead Sciences, Inc. ('Gilead") common stock with an exercise price equal to the fair market value of Gilead common stock at the time of grant. The actual number of stock options you receive will be based on the fair market value on the grant date. The fair market value per share for that date will be determined in accordance with the provisions of the Plan in effect for your grant. You will be notified of the details after your options have been granted. Your options will vest and become exercisable for 25% of the option shares upon your completion of one year of employment with Gilead, measured from the grant date, and will vest and become exercisable for the balance of the option shares in a series of successive equal quarterly installments upon your completion of each successive three-month period of continued employment with Gilead over the next three years. The options will have a maximum term of ten years, subject to earlier termination following your cessation of employment.
(ii) Restricted Stock Units. Subject to the approval of the Compensation Committee, you will also be awarded $500,000 in restricted stock units under the Plan at the same time your stock option grant is made. The actual number of restricted stock units you receive will be based on the fair market value on the grant date. Your restricted stock units will vest, and the underlying shares of Gilead common stock issued to you, in a series of four successive annual installments upon your completion of each year of continued employment with Gilead over the four-year period measured from the award date. Each restricted stock unit that vests will entitle you to one share of Gilead common stock. However, the issuance of those vested shares will be subject to Gilead's collection of all applicable withholding taxes.
You will continue to be eligible to participate in an annual corporate bonus program based on individual and company performance. Your target bonus will be 100% of annual salary, less taxes. The actual payout can range from 0% to 150% of this target based on your performance against your annual goals and objectives, as well as the company's overall performance. Your 2019 year-end bonus will be pro-rated to reflect the time served at each target bonus level.
You will also continue participating in Gilead's equity award program under which you will be considered for annual awards in the combined form of stock option grants, restricted stock units and performance stock unit awards. For 2020, the aggregate target grant date value for your equity awards will be $3,500,000.

I am very excited about you taking on this role and look forward to your continued contributions to Gilead's long-term success.
Sincerely,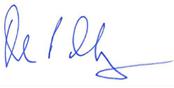 Daniel O'Day
Chief Executive Officer and Chairman of the Board
Signature: ______________________________
Date: __________________________________
Exhibit 99.1

| | | |
| --- | --- | --- |
| | CONTACTS: | Sung Lee, Investors |
| | | (650) 524-7792 |
| | | |
| | | Marni Kottle, Media |
| | | (650) 522-5388 |
For Immediate Release
GILEAD SCIENCES APPOINTS ANDREW DICKINSON AS
CHIEF FINANCIAL OFFICER
Foster City, Calif., October 15, 2019 – Gilead Sciences, Inc. (NASDAQ: GILD) today announced that Andrew Dickinson has been appointed Chief Financial Officer (CFO), effective November 1. Mr. Dickinson currently serves as the company's Executive Vice President, Corporate Development and Strategy, and in his new role he will continue to be a member of the senior leadership team, reporting to Daniel O'Day, Chairman and Chief Executive Officer.
Mr. Dickinson joined Gilead in 2016 and has transformed the way that the company approaches corporate development, expanding the kinds of transactions executed and implementing a broader and more strategic approach to deal-making. He served as the architect of the company's 2017 acquisition of Kite Pharma, Inc. and of the 10-year, global research collaboration with Galapagos NV announced earlier this year. In his new role, Mr. Dickinson will retain responsibility for the corporate development and strategy organization.
"Andy is an exceptional, highly strategic leader. In addition to his impressive business and financial acumen and broad experience, Andy possesses strong creativity and vision. This has been evident in the way Gilead has approached acquisitions and partnerships under Andy's leadership," commented Mr. O'Day. "Over the past months, one of my key priorities has been to ensure we have an outstanding team of leaders to shape Gilead's long-term success. I am pleased that with Andy's appointment as CFO, we now have our full leadership team in place."
Prior to his tenure at Gilead, Mr. Dickinson worked for nine years at Lazard Frères & Co., where he was Global Co-Head of Healthcare Investment Banking. Prior to Lazard, he was General Counsel and Vice President of Corporate Development at Myogen, Inc., which was acquired by Gilead in 2006. Earlier in his career, he worked as a lawyer specializing in mergers and acquisitions. Mr. Dickinson received his B.A. in molecular, cellular and developmental biology at University of Colorado at Boulder and holds a J.D. from Loyola University of Chicago.
"It has been an incredible privilege to work at Gilead for the past three years and I am honored to have the opportunity to serve as the company's next CFO," said Mr. Dickinson. "I am looking forward to working with the talented teams across Gilead in this new role as we together seek to improve care for millions of people around the world who are in need of better treatment options."
| | |
| --- | --- |
| Gilead Sciences, Inc. 333 Lakeside Drive Foster City, CA 94404 USA | www.gilead.com |
| phone 650 574 3000 facsimile 650 578 9264 | |
Mr. Dickinson will work closely with Robin Washington, who currently serves as Executive Vice President and Chief Financial Officer, to ensure a smooth transition. As previously announced, Ms. Washington will remain at Gilead in an advisory capacity through the completion of the company's reporting of 2019 financial results early next year.
About Gilead Sciences
Gilead Sciences, Inc. is a research-based biopharmaceutical company that discovers, develops and commercializes innovative medicines in areas of unmet medical need. The company strives to transform and simplify care for people with life-threatening illnesses around the world. Gilead has operations in more than 35 countries worldwide, with headquarters in Foster City, California.
###
For more information on Gilead Sciences, please visit the company's website at www.gilead.com, follow Gilead on Twitter (@GileadSciences) or call Gilead Public Affairs at 1-800-GILEAD-5 or 1-650-574-3000.
Categories