Ford's rejection of deal for Blanquefort was 'betrayal': French minister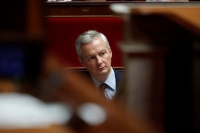 PARIS (Reuters) - Ford's (NYSE: F) rejection of a rescue deal for the Blanquefort site in France represented a "betrayal" by the U.S. carmaker, said French finance minister Bruno Le Maire on Thursday.
"I am revolted, I am sickened by this decision whose only justification is for Ford to get its shares to rise on the stock market," Le Maire told the French Senate.
"I want to attack the cowardice of Ford. For the last three days I have been looking to talk to them, and they didn't even have the courage to talk to the minister of finance and economy over the phone," added Le Maire.
Ford had earlier said it would will end production at its Blanquefort gearbox plant in southwest France by late August next year after it turned down a Belgian firm's offer to buy the factory.
The site employs around 850 staff.
(Reporting by Elizabeth Pineau; Editing by Sudip Kar-Gupta)
Categories