China is Said to Move on U.S. Car Tariff Cut Trump Tweeted on - Bloomberg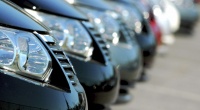 (Updated - December 11, 2018 6:53 AM EST)
China is moving toward cutting its trade-war tariffs on imported U.S.-made cars, according to Bloomberg, citing people familiar with the matter. A proposal to reduce tariffs on cars made in the U.S. to 15 percent from the current 40 percent has been submitted to China's Cabinet to be reviewed in the coming days.
The step hasn't been finalized and could still change, the report noted.
Earlier this month a Trump tweet said China agreed to reduce and remove tariffs on imported American-made cars, but this was not confirmed at the time.
Categories