Form 8-K FORD MOTOR CO For: Nov 15
UNITED STATES
SECURITIES AND EXCHANGE COMMISSION
Washington, D. C. 20549
FORM 8-K
CURRENT REPORT
Pursuant to Section 13 or 15(d) of
the Securities Exchange Act of 1934
Date of Report: November 15, 2018
(Date of earliest event reported)
FORD MOTOR COMPANY
(Exact name of registrant as specified in its charter)
Delaware
(State or other jurisdiction of incorporation)
1-3950

38-0549190

(Commission File Number)

(IRS Employer Identification No.)

One American Road, Dearborn, Michigan

48126

(Address of principal executive offices)

(Zip Code)
Registrant's telephone number, including area code 313-322-3000
Check the appropriate box below if the Form 8-K filing is intended to simultaneously satisfy the filing obligation of the registrant under any of the following provisions:
[ ]    Written communications pursuant to Rule 425 under the Securities Act (17 CFR 230.425)
[ ]    Soliciting material pursuant to Rule 14a-12 under the Exchange Act (17 CFR 240.14a-12)
[ ]    Pre-commencement communications pursuant to Rule 14d-2(b) under the Exchange Act
(17 CFR 240.14d-2(b))
[ ]    Pre-commencement communications pursuant to Rule 13e-4(c) under the Exchange Act
(17 CFR 240.13e-4(c))
Indicate by check mark whether the registrant is an emerging growth company as defined in Rule 405 of the Securities Act of 1933 (§230.405 of this chapter) or Rule 12b-2 of the Securities Exchange Act of 1934 (§240.12b-2 of this chapter).
Emerging growth company o
If an emerging growth company, indicate by check mark if the registrant has elected not to use the extended transition period for complying with any new or revised financial accounting standards provided pursuant to Section 13(a) of the Exchange Act. o
---
Item 7.01. Regulation FD Disclosure.
Ford Motor Company's presentation materials for the Ford AV Miami Experience on November 15, 2018 are furnished as Exhibit 99 to this Report and incorporated by reference herein.
Item 9.01. Financial Statements and Exhibits.
EXHIBITS*
Designation

Description

Method of Filing

Presentation materials for the Ford AV Miami

Furnished with this Report

Experience on November 15, 2018
SIGNATURE
Pursuant to the requirements of the Securities Exchange Act of 1934, the registrant has duly caused this report to be signed on its behalf by the undersigned hereunto duly authorized.
FORD MOTOR COMPANY

(Registrant)

Date: November 15, 2018

By:

/s/ Corey M. MacGillivray

Corey M. MacGillivray

Assistant Secretary
*

Any reference in the attached exhibit(s) to our corporate website(s) and/or other social media sites or platforms, and the contents thereof, is provided for convenience only; such websites or platforms and the contents thereof are not incorporated by reference into this Report nor deemed filed with the Securities and Exchange Commission.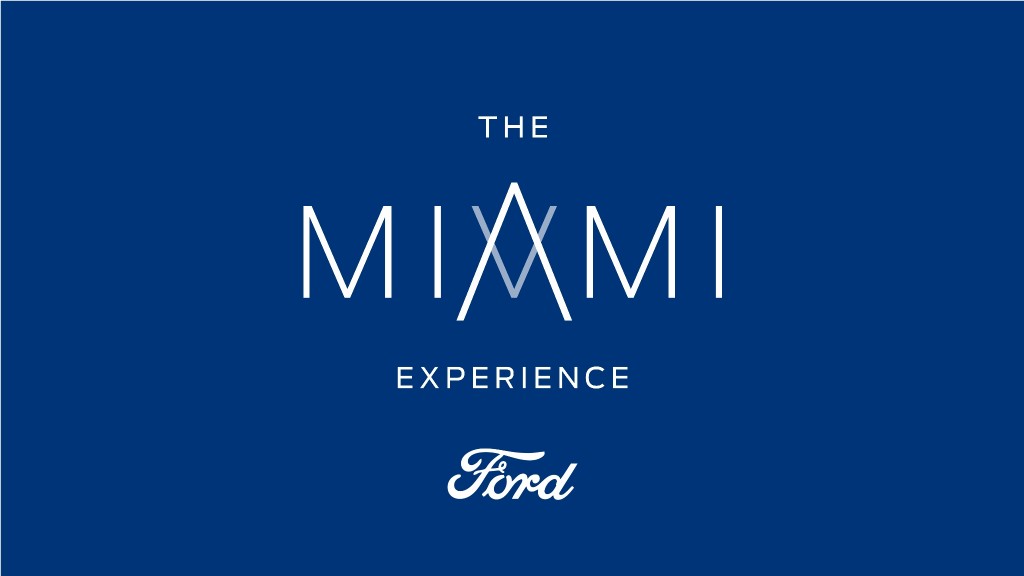 ---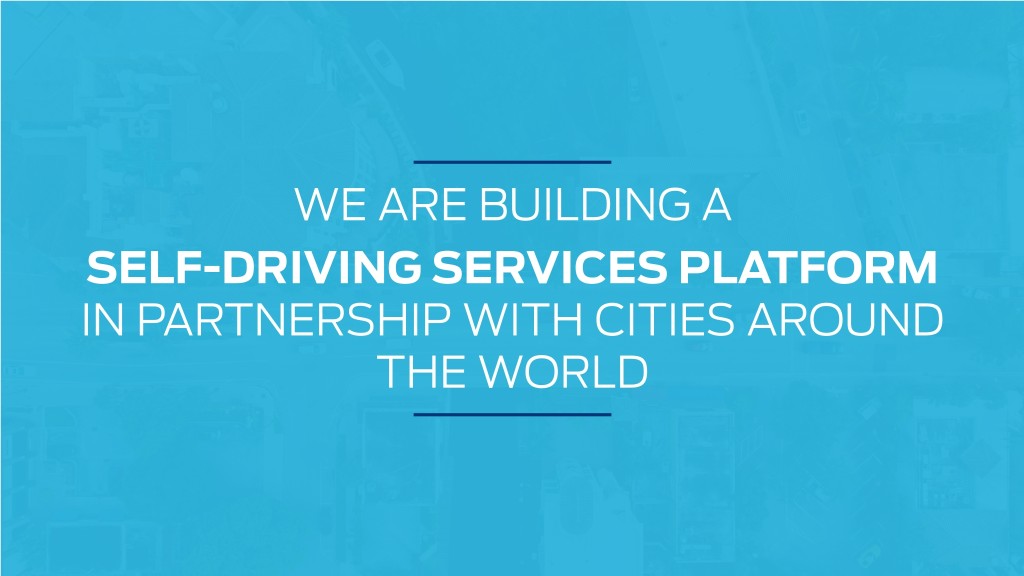 WE ARE BUILDING A SELF-DRIVING SERVICES PLATFORM IN PARTNERSHIP WITH CITIES AROUND THE WORLD
---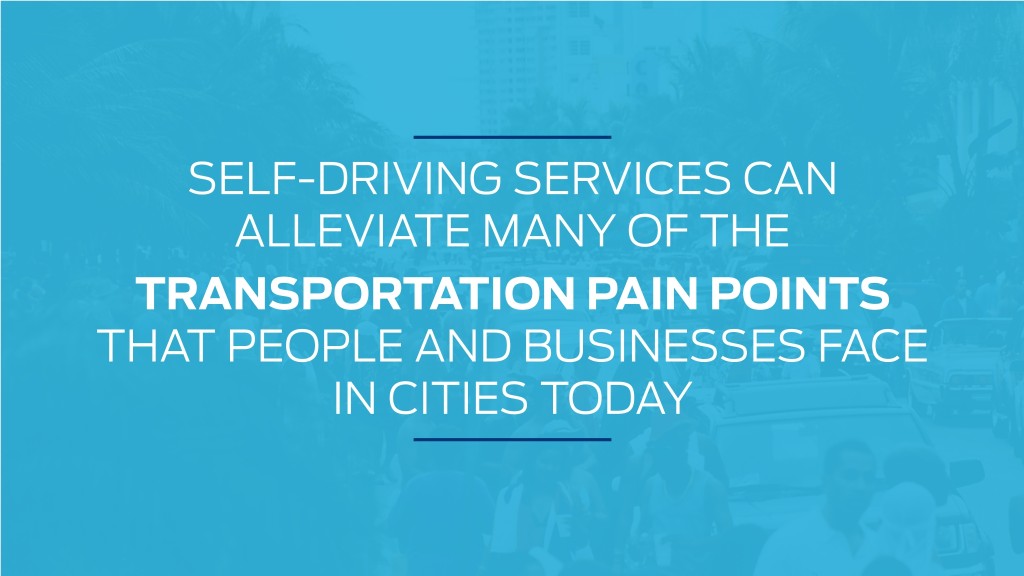 SELF-DRIVING SERVICES CAN ALLEVIATE MANY OF THE TRANSPORTATION PAIN POINTS THAT PEOPLE AND BUSINESSES FACE IN CITIES TODAY
---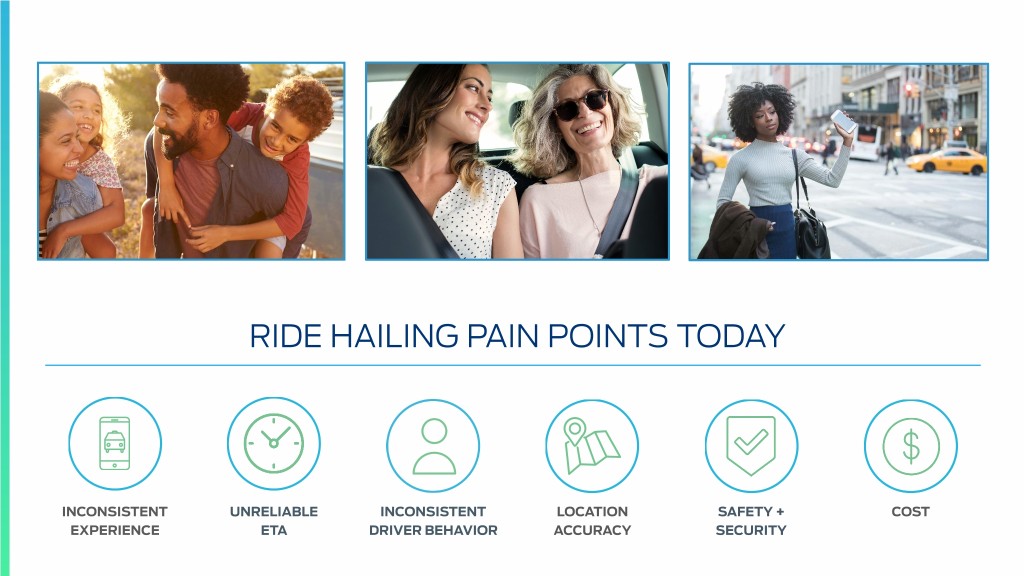 RIDE HAILING PAIN POINTS TODAY INCONSISTENT UNRELIABLE INCONSISTENT LOCATION SAFETY + COST EXPERIENCE ETA DRIVER BEHAVIOR ACCURACY SECURITY
---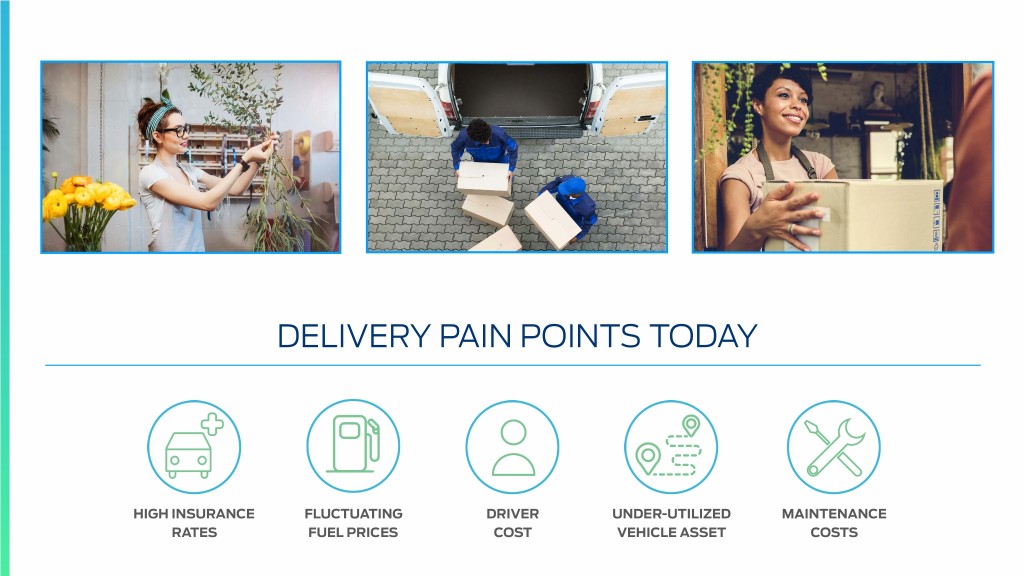 DELIVERY PAIN POINTS TODAY HIGH INSURANCE FLUCTUATING DRIVER UNDER-UTILIZED MAINTENANCE RATES FUEL PRICES COST VEHICLE ASSET COSTS
---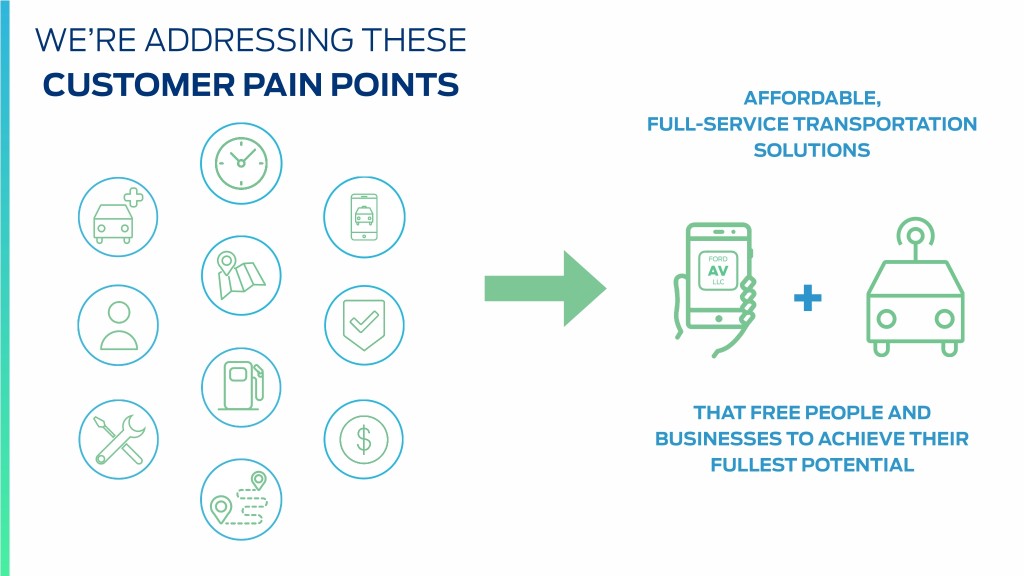 WE'RE ADDRESSING THESE CUSTOMER PAIN POINTS AFFORDABLE, 
 FULL-SERVICE TRANSPORTATION SOLUTIONS FORD AV LLC + THAT FREE PEOPLE AND BUSINESSES TO ACHIEVE THEIR FULLEST POTENTIAL
---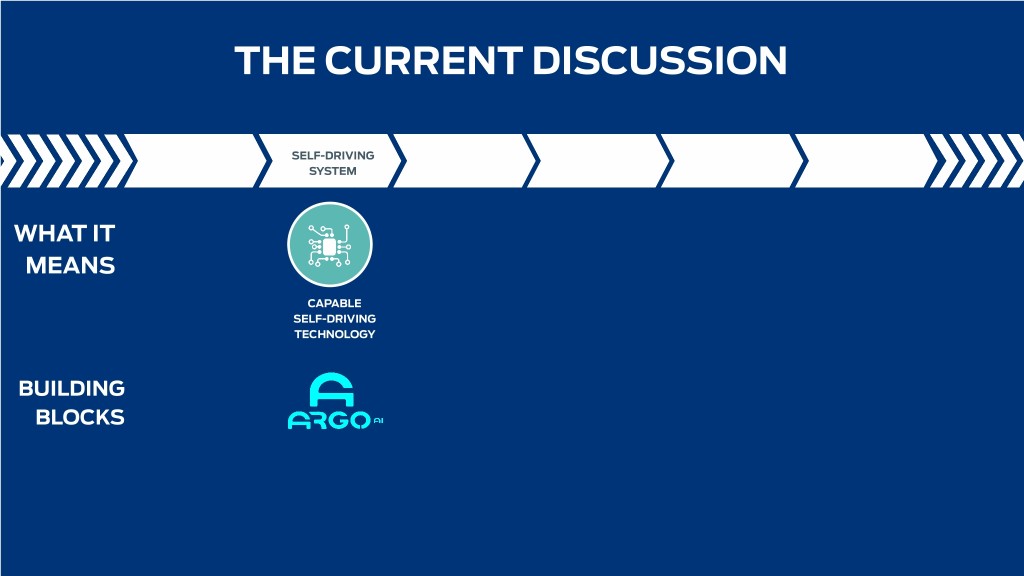 THE CURRENT DISCUSSION VEHICLE SELF-DRIVING SYSTEM WHAT IT MEANS CAPABLE SELF-DRIVING TECHNOLOGY BUILDING BLOCKS
---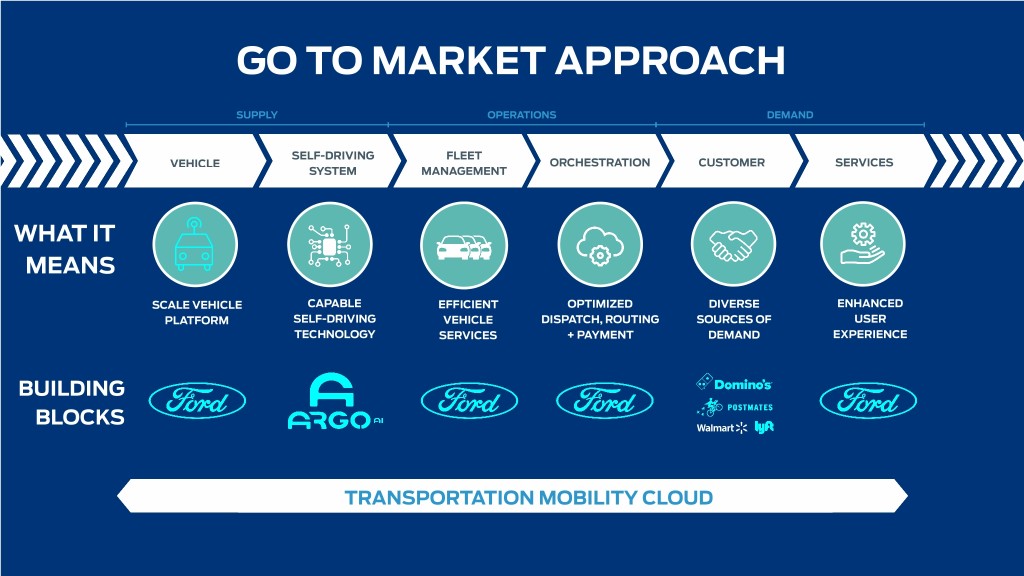 GO TO MARKET APPROACH SUPPLY OPERATIONS DEMAND VEHICLE SELF-DRIVING FLEET VEHICLE ORCHESTRATION CUSTOMER SERVICES SYSTEM MANAGEMENT WHAT IT MEANS SCALE VEHICLE CAPABLE EFFICIENT OPTIMIZED DIVERSE ENHANCED PLATFORM SELF-DRIVING VEHICLE DISPATCH, ROUTING SOURCES OF USER TECHNOLOGY SERVICES + PAYMENT DEMAND EXPERIENCE BUILDING BLOCKS TRANSPORTATION MOBILITY CLOUD
---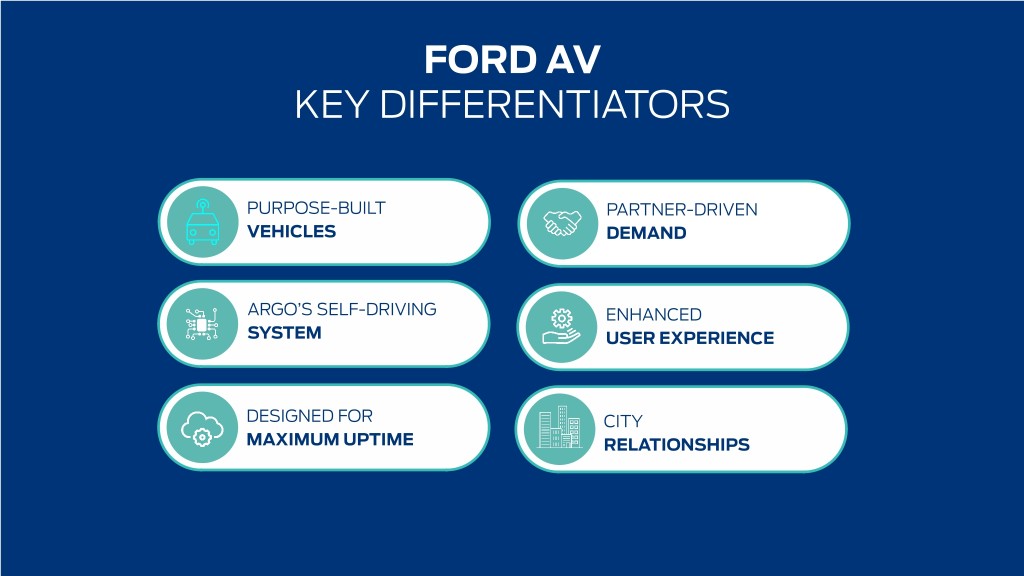 FORD AV KEY DIFFERENTIATORS PURPOSE-BUILT PARTNER-DRIVEN VEHICLES DEMAND ARGO'S SELF-DRIVING ENHANCED SYSTEM USER EXPERIENCE DESIGNED FOR CITY MAXIMUM UPTIME RELATIONSHIPS
---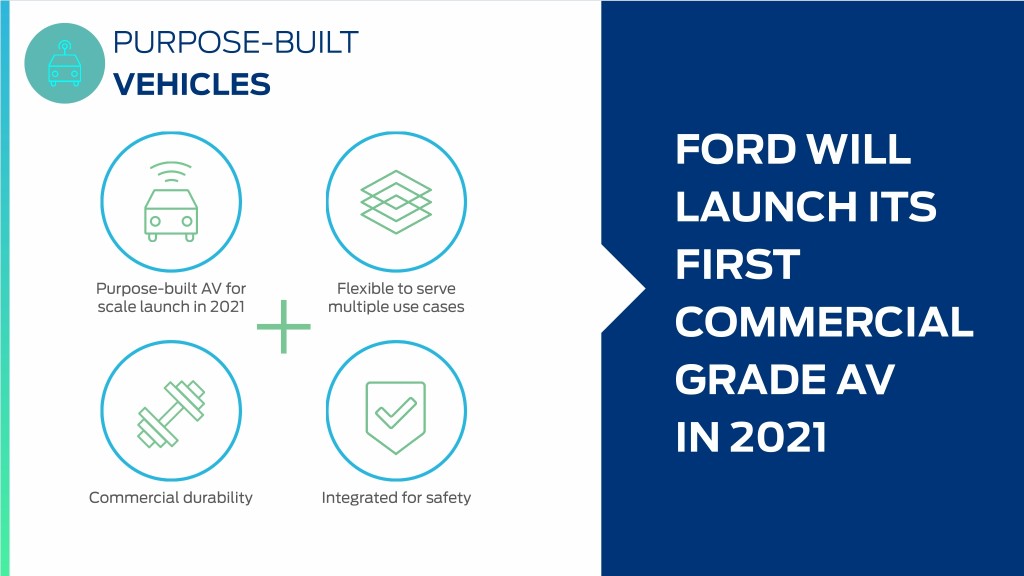 PURPOSE-BUILT VEHICLES FORD WILL LAUNCH ITS FIRST Purpose-built AV for Flexible to serve scale launch in 2021 + multiple use cases COMMERCIAL GRADE AV IN 2021 Commercial durability Integrated for safety
---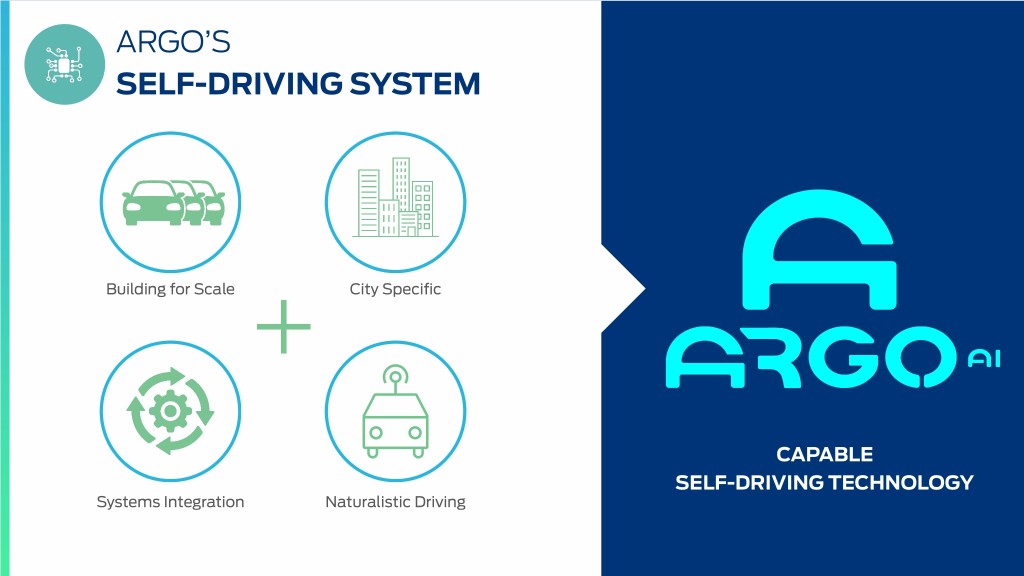 ARGO'S SELF-DRIVING SYSTEM Building for Scale + City Specific CAPABLE SELF-DRIVING TECHNOLOGY Systems Integration Naturalistic Driving
---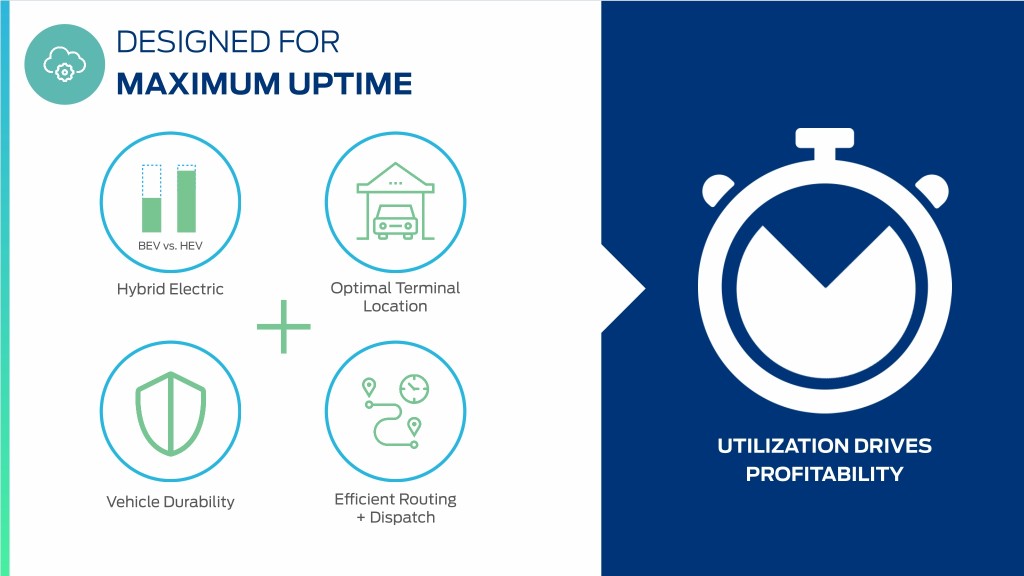 DESIGNED FOR MAXIMUM UPTIME BEV vs. HEV Hybrid Electric Optimal Terminal + Location UTILIZATION DRIVES PROFITABILITY Vehicle Durability Efficient Routing + Dispatch
---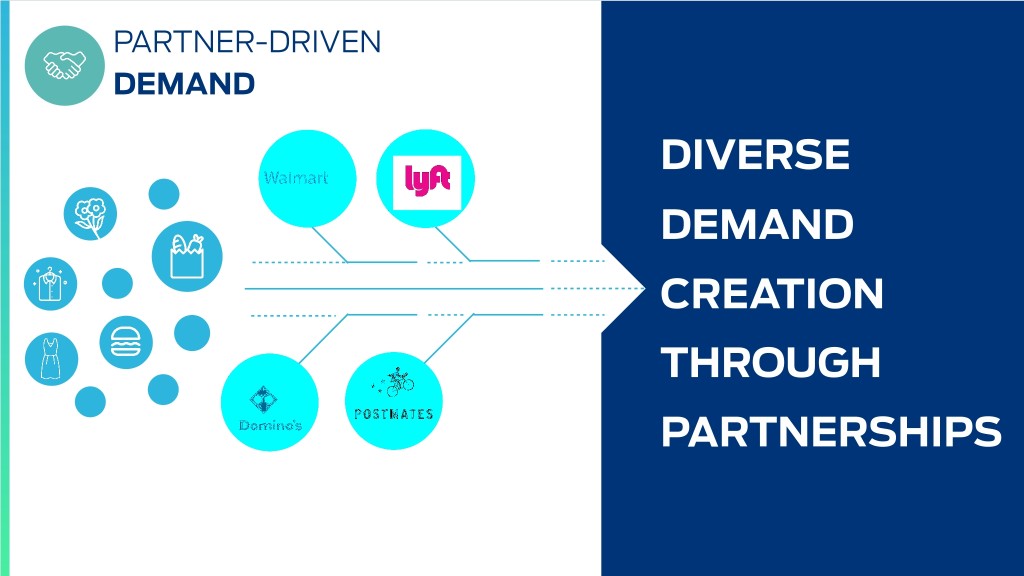 PARTNER-DRIVEN DEMAND DIVERSE DEMAND CREATION THROUGH PARTNERSHIPS
---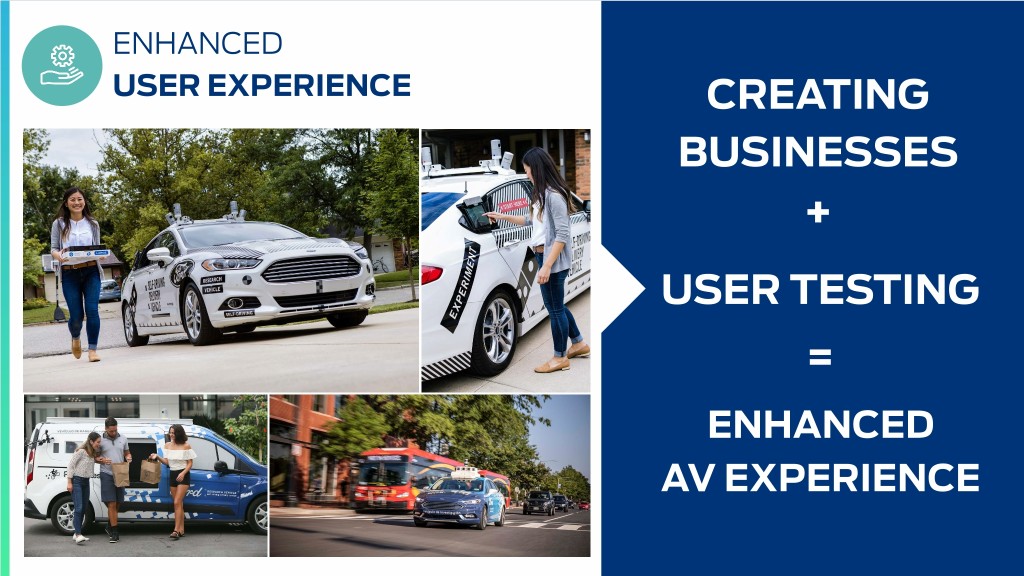 ENHANCED USER EXPERIENCE CREATING BUSINESSES + USER TESTING = ENHANCED AV EXPERIENCE
---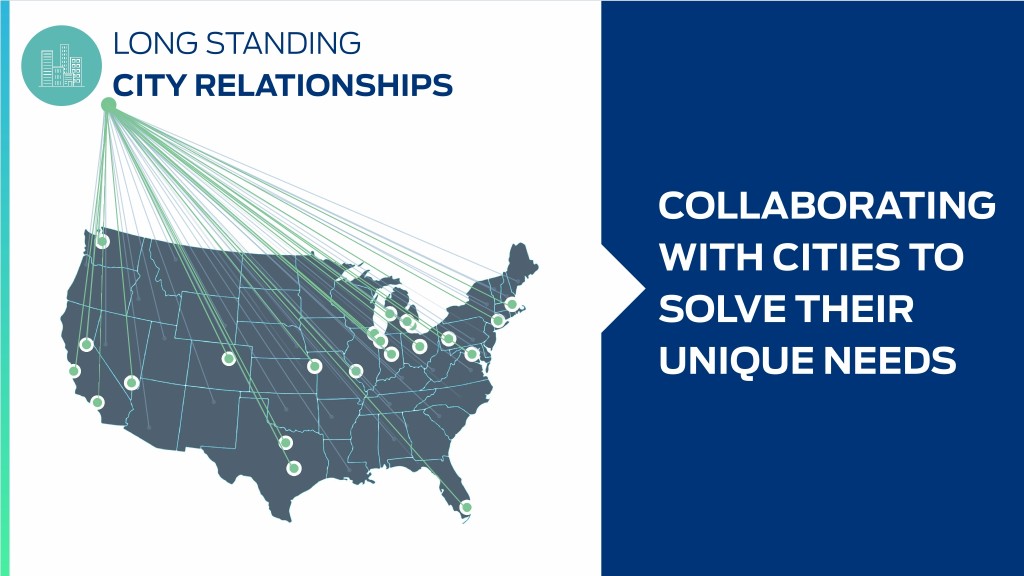 LONG STANDING CITY RELATIONSHIPS COLLABORATING WITH CITIES TO SOLVE THEIR UNIQUE NEEDS
---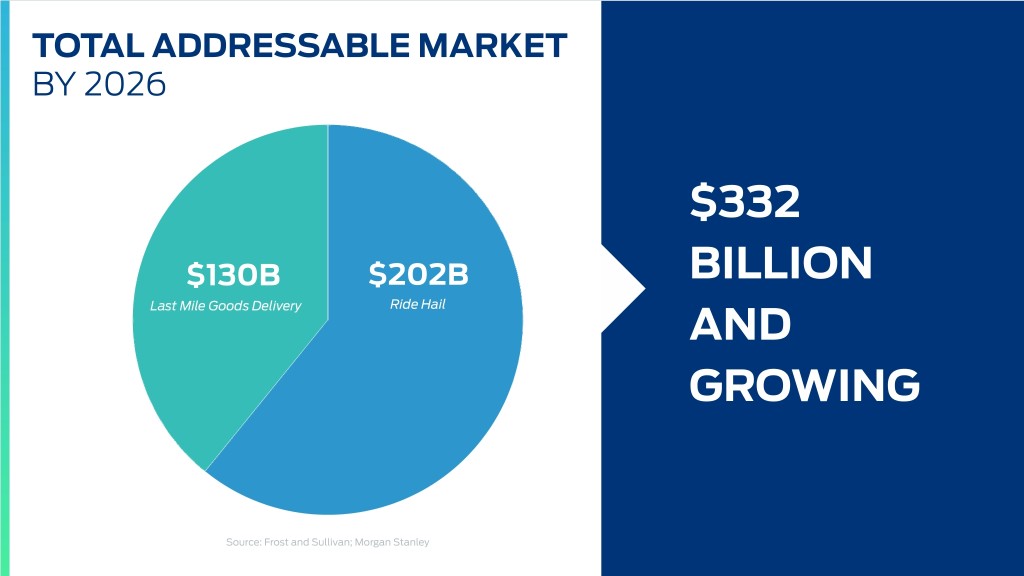 TOTAL ADDRESSABLE MARKET BY 2026 $332 $130B $202B BILLION Last Mile Goods Delivery Ride Hail AND GROWING Source: Frost and Sullivan; Morgan Stanley
---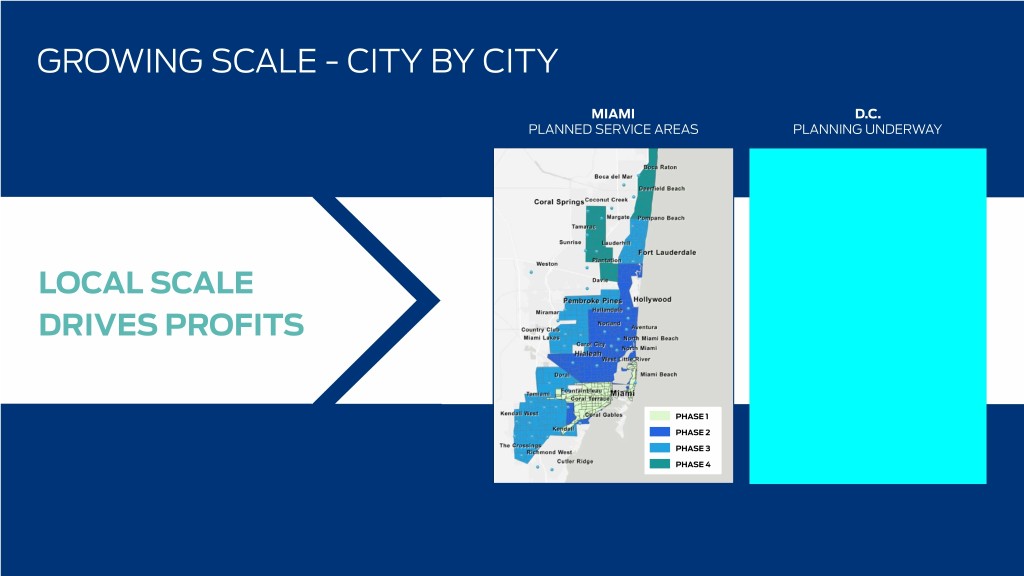 GROWING SCALE - CITY BY CITY MIAMI D.C. PLANNED SERVICE AREAS PLANNING UNDERWAY LOCAL SCALE DRIVES PROFITS PHASE 1 PHASE 2 PHASE 3 PHASE 4
---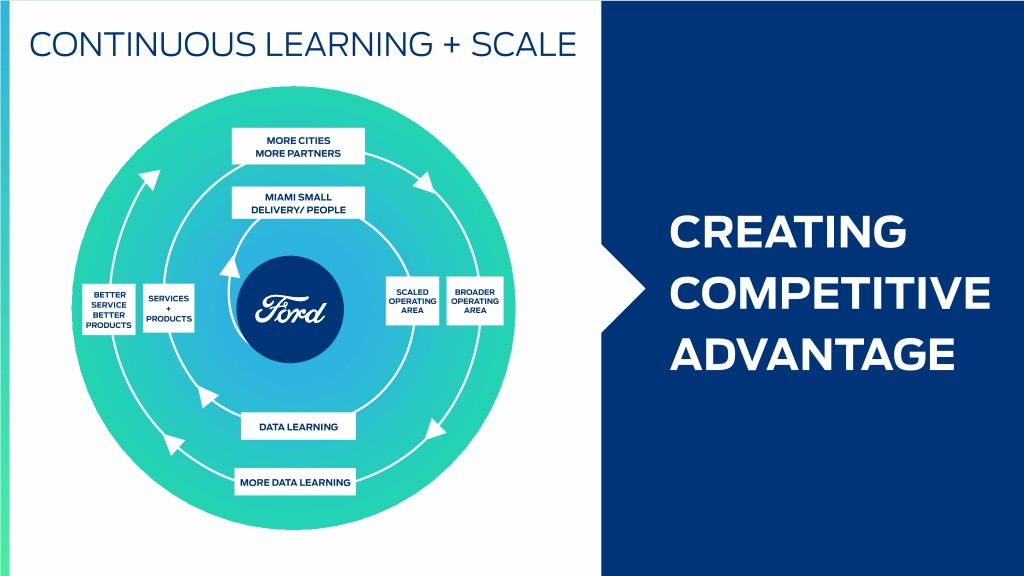 CONTINUOUS LEARNING + SCALE MORE CITIES MORE PARTNERS MIAMI SMALL 
 DELIVERY/ PEOPLE CREATING BROADER FLEET BETTER SCALED 
 BROADER 
 SERVICES OPERATING OPERATING SERVICE +
 AREA AREA COMPETITIVE BETTER PRODUCTS PRODUCTS ADVANTAGE DATA LEARNING MORE DATA LEARNING
---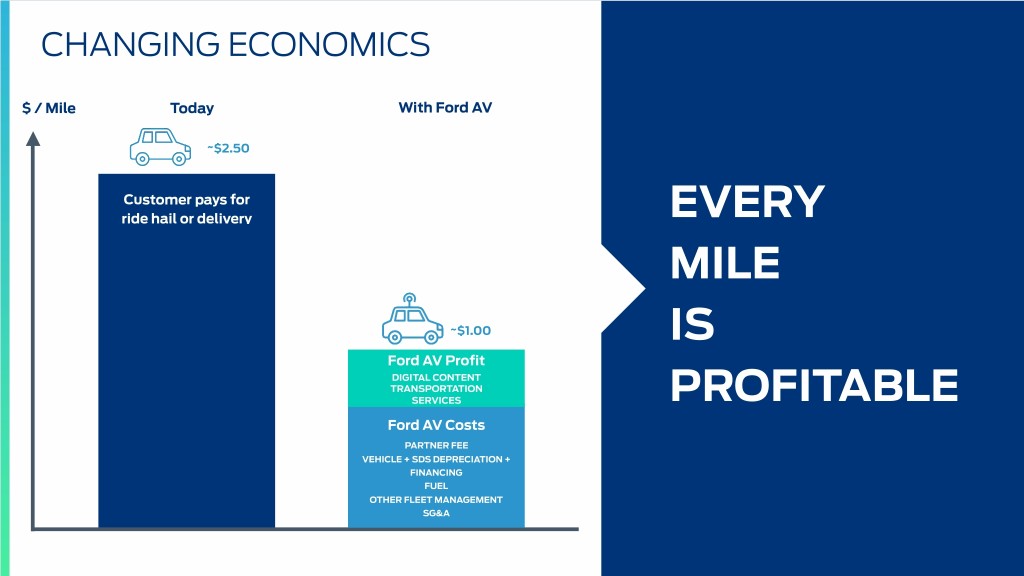 CHANGING ECONOMICS $ / Mile Today With Ford AV ~$2.50 Customer pays for ride hail or delivery EVERY MILE ~$1.00 IS Ford AV Profit DIGITAL CONTENT
 TRANSPORTATION SERVICES PROFITABLE Ford AV Costs PARTNER FEE
 VEHICLE + SDS DEPRECIATION +
 FINANCING
 FUEL
 OTHER FLEET MANAGEMENT
 SG&A
---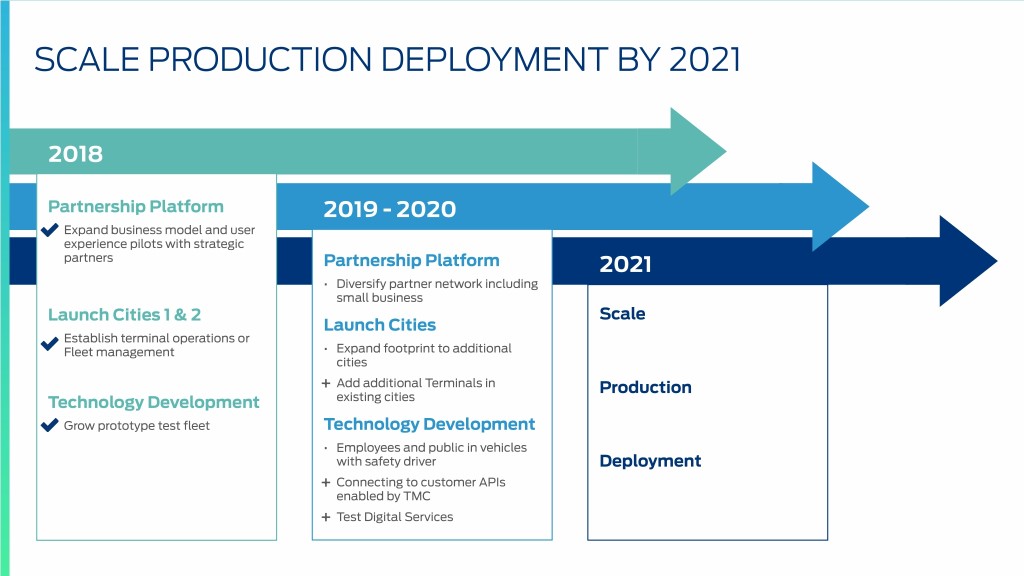 SCALE PRODUCTION DEPLOYMENT BY 2021 2018 Partnership Platform 2019 - 2020 • Expand business model and user experience pilots with strategic partners Partnership Platform 2021 • Diversify partner network including small business Launch Cities 1 & 2 Scale Launch Cities • Establish terminal operations or Fleet management • Expand footprint to additional cities 
 +• Add additional Terminals in Production Technology Development existing cities • Grow prototype test fleet Technology Development • Employees and public in vehicles with safety driver Deployment +• Connecting to customer APIs enabled by TMC +• Test Digital Services
---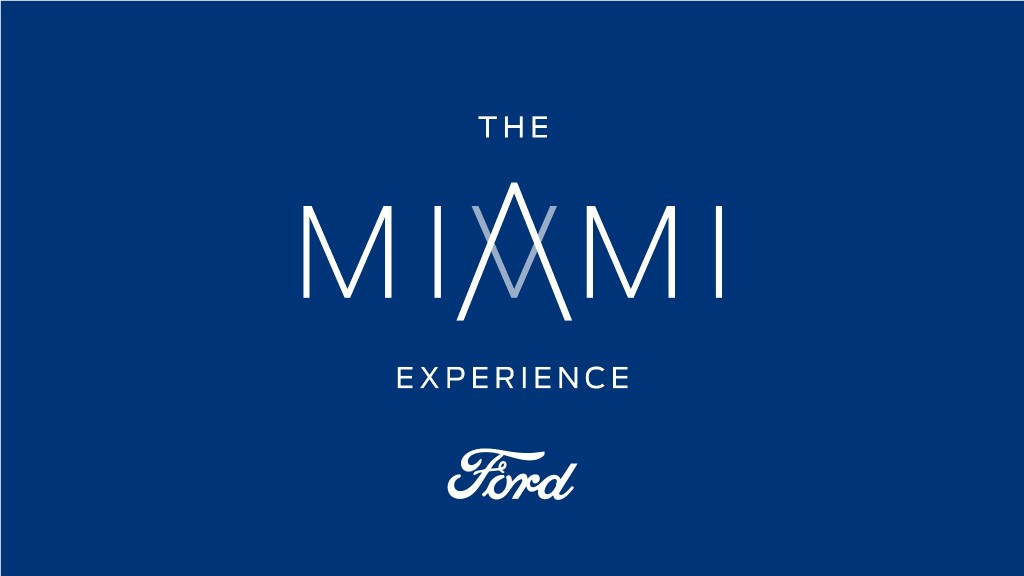 ---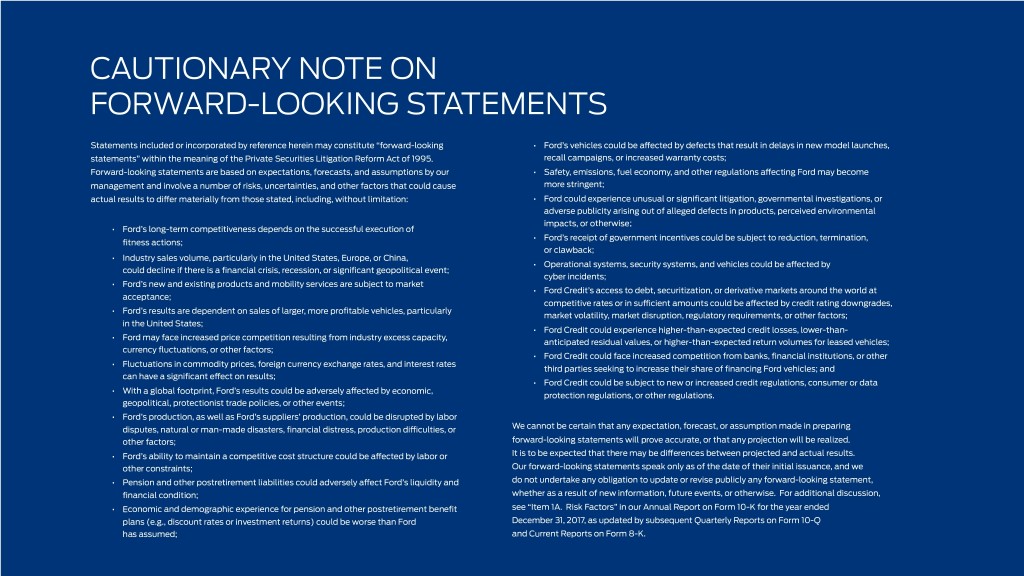 CAUTIONARY NOTE ON 
 FORWARD-LOOKING STATEMENTS Statements included or incorporated by reference herein may constitute "forward-looking • Ford's vehicles could be affected by defects that result in delays in new model launches, statements" within the meaning of the Private Securities Litigation Reform Act of 1995. recall campaigns, or increased warranty costs; Forward-looking statements are based on expectations, forecasts, and assumptions by our • Safety, emissions, fuel economy, and other regulations affecting Ford may become 
 management and involve a number of risks, uncertainties, and other factors that could cause more stringent; actual results to differ materially from those stated, including, without limitation: • Ford could experience unusual or significant litigation, governmental investigations, or adverse publicity arising out of alleged defects in products, perceived environmental impacts, or otherwise; • Ford's long-term competitiveness depends on the successful execution of 
 • Ford's receipt of government incentives could be subject to reduction, termination, 
 fitness actions; or clawback; • Industry sales volume, particularly in the United States, Europe, or China, 
 • Operational systems, security systems, and vehicles could be affected by 
 could decline if there is a financial crisis, recession, or significant geopolitical event; cyber incidents; • Ford's new and existing products and mobility services are subject to market • Ford Credit's access to debt, securitization, or derivative markets around the world at acceptance; competitive rates or in sufficient amounts could be affected by credit rating downgrades, • Ford's results are dependent on sales of larger, more profitable vehicles, particularly 
 market volatility, market disruption, regulatory requirements, or other factors; in the United States; • Ford Credit could experience higher-than-expected credit losses, lower-than- • Ford may face increased price competition resulting from industry excess capacity, anticipated residual values, or higher-than-expected return volumes for leased vehicles; currency fluctuations, or other factors; • Ford Credit could face increased competition from banks, financial institutions, or other • Fluctuations in commodity prices, foreign currency exchange rates, and interest rates third parties seeking to increase their share of financing Ford vehicles; and can have a significant effect on results; • Ford Credit could be subject to new or increased credit regulations, consumer or data • With a global footprint, Ford's results could be adversely affected by economic, protection regulations, or other regulations.
 geopolitical, protectionist trade policies, or other events; • Ford's production, as well as Ford's suppliers' production, could be disrupted by labor 
 disputes, natural or man-made disasters, financial distress, production difficulties, or We cannot be certain that any expectation, forecast, or assumption made in preparing other factors; forward-looking statements will prove accurate, or that any projection will be realized. 
 • Ford's ability to maintain a competitive cost structure could be affected by labor or 
 It is to be expected that there may be differences between projected and actual results. 
 other constraints; Our forward-looking statements speak only as of the date of their initial issuance, and we 
 • Pension and other postretirement liabilities could adversely affect Ford's liquidity and do not undertake any obligation to update or revise publicly any forward-looking statement, financial condition; whether as a result of new information, future events, or otherwise. For additional discussion, • Economic and demographic experience for pension and other postretirement benefit see "Item 1A. Risk Factors" in our Annual Report on Form 10-K for the year ended 
 plans (e.g., discount rates or investment returns) could be worse than Ford 
 December 31, 2017, as updated by subsequent Quarterly Reports on Form 10-Q 
 has assumed; and Current Reports on Form 8-K.
---
Categories