U.S. ends safety probe into nearly 50,000 U.S. Ford police vehicles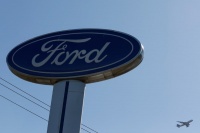 WASHINGTON (Reuters) - The National Highway Traffic Safety Administration is closing an investigation into nearly 50,000 Ford Motor Co (NYSE: F) Explorer Police Interceptor vehicles over reports of sudden brake failures, it said on Tuesday, without seeking a recall.
The probe, opened in April 2015, was prompted by reported incidents of front brake hose failure in 2015 Ford Explorer Police Interceptor vehicles used by the Sacramento Police Department in its pursuit driving training program. The agency said Tuesday it had not confirmed any incidents of failures caused by overheating in vehicles outside the training program.
(Reporting by David Shepardson; Editing by Richard Chang)
Categories