U.S. autos rise on report China proposes slashing car purchase tax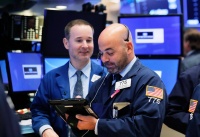 By Sanjana Shivdas and Ankit Ajmera
(Reuters) - Shares of U.S. automakers rose on Monday after a report that China was considering halving its car purchase tax to 5 percent to support its struggling auto industry, which has been hit hard by the ongoing Sino-U.S. trade war.
Shares of General Motors Co (NYSE: GM), the No.1 U.S. automaker by sales, rose as much as 5 percent to $34.30, while those of Ford Motor Co (NYSE: F) jumped about 7 percent. Shares of the two companies have fallen more than 20 percent this year.
"From a China perspective, the extension of a purchase benefit (could) help to alleviate some of the trade dispute overhang, and is likely contributing to stocks performance today," Consumer Edge Research analyst James Albertine said.
China's National Development and Reform Commission, the top regulator, has submitted a plan but no decision has been made, Bloomberg reported, citing people familiar with the matter. (https://bloom.bg/2RgGRZy)
The measure would apply to cars with engines no bigger than 1.6 liters, according to the report.
Reuters had previously reported that the China Automobile Dealers Association (CADA) had submitted documents to the country's finance and commerce ministries, proposing the auto purchase tax be halved.
The European auto stocks index <.SXAP> also rose after the report and was set for its best day in nearly 4 months.
BMW , Volkswagen AG and Daimler AG gained between 4.3 pct and 4.9 pct.
Auto part makers Aptiv Plc (NYSE: APTV), Delphi Technologies Plc (NYSE: DLPH), BorgWarner (NYSE: BWA) ,Visteon Corp (NASDAQ: VC) Goodyear Tire & Rubber Co (NASDAQ: GT) all up between 5 and 8 percent.
Separately Goldman Sachs upgraded Ford to "buy", citing the company's refreshed product lines globally and cost savings from strategic initiatives.
(Reporting by Sanjana Shivdas and Ankit Ajmera in Bengaluru)
Categories
Next Articles