Insys Therapeutics (INSY) Comments on Unsealing of Previously Filed Qui Tam Complaints and Recaps Transformation Efforts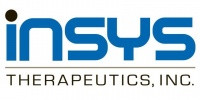 INSYS Therapeutics, Inc. (NASDAQ: INSY), a leader in the development, manufacture and commercialization of pharmaceutical cannabinoids and spray technology, today issued the following response to the unsealing of the previously filed Qui Tam complaints and the public release of the intervention of the Department of Justice (DOJ) in such cases:
In December 2013, INSYS received a subpoena from the Office of Inspector General (OIG) of the Department of Health and Human Services (HHS), which notified the company of the commencement of an investigation by the DOJ's Civil Division into the company's sales and commercial practices and resulted in the company's corresponding public disclosure. As is often the case, this four-and-a-half-year investigation has been conducted in concert with certain whistleblower litigation that was filed under seal prior to and during the course of the DOJ's investigation. These Qui Tam complaints filed against the company, along with the notice of intervention and complaint filed by the DOJ's Civil Division, were unsealed yesterday.
INSYS continues to have ongoing dialogue with the DOJ regarding this investigation. INSYS management accrued, as of Sept. 30, 2017, an aggregate of $150,000,000 which represents the company's current best estimate of the minimum liability exposure which it expects to be paid out over five years in connection with this investigation. This ongoing dialogue has not resulted in information that would cause the company to revise this estimate (and the related disclosure), which was first filed in the company's Quarterly Report on Form 10-Q filed with the Securities and Exchange Commission on Nov. 3, 2017.
As the company has documented in various public releases, today INSYS is a completely transformed organization, with a promising pipeline, a strong commitment to serving patients as well as an organizational culture of high ethical standards. Throughout this transformation, INSYS has learned from the past and remains committed to significant innovation and investment in R&D, which the company believes will result in improving the lives of many patients.
About INSYSINSYS Therapeutics is a specialty pharmaceutical company that develops and commercializes innovative drugs and novel drug delivery systems of therapeutic molecules that improve patients' quality of life. Using proprietary spray technology and capabilities to develop pharmaceutical cannabinoids, INSYS is developing a pipeline of products intended to address unmet medical needs and the clinical shortcomings of existing commercial products. INSYS is committed to developing medications for potentially treating addiction to opioids, opioid overdose, epilepsy, and other disease areas with a significant unmet need.
Categories
Next Articles