Concordia International (CXRX) Reports Q4 Revenues Above Estimates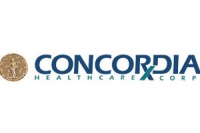 Concordia International (NASDAQ: CXRX) reported Q4 revenue for the quarter came in at $150.2 million versus the consensus estimate of $143.8 million.
Consolidated Fourth Quarter And Fiscal 2017 Financial and Operational Results
Reported fourth quarter revenue of $150.2 million, compared to $170.4 million for the fourth quarter of 2016, and $154.6 million for the third quarter of 2017.
GAAP net loss for the fourth quarter of $431.8 million included impairment charges of $207.7 million. The impairments consisted of a $44.3 million impairment of intellectual property rights within the Concordia North America segment with respect to Nilandron®, as well as $163.4 million of impairments from the Concordia International segment with respect to intellectual property, manufacturing processes and in-process research and development.
Reported fourth quarter adjusted EBITDA1 of $70.8 million, compared to $80.5 million for the fourth quarter in 2016, and $78.6 million in the third quarter of 2017.
Generated cash flows from operating activities of $283.2 million in 2017, compared to $408.3 million in 2016.
As of December 31, 2017, the Company's liquidity consisted of $327 million of cash and cash equivalents.
On October 20, 2017, Concordia announced its intention to realign its capital structure by commencing a court proceeding under the Canada Business Corporations Act (the "CBCA"). The CBCA is a Canadian corporate statute that contains provisions allowing Canadian corporations to restructure certain debt obligations. The CBCA is not a bankruptcy or insolvency statute. Under the CBCA process, Concordia's management continues to lead day-to-day operations and operate its business as usual, while meeting its commitments to employees, suppliers and customers.
For earnings history and earnings-related data on Concordia International (CXRX) click here.
Categories