Form DFAN14A CALLIDUS SOFTWARE INC Filed by: SAP SE
UNITED STATES
SECURITIES AND EXCHANGE COMMISSION
Washington, D.C. 20549
SCHEDULE 14A
(Rule 14a-101)
INFORMATION REQUIRED IN PROXY STATEMENT
SCHEDULE 14A INFORMATION
Proxy Statement Pursuant to Section 14(a) of
the Securities Exchange Act of 1934 (Amendment No. )
Filed by the Registrant o

Filed by a Party other than the Registrant x

Check the appropriate box:

o

Preliminary Proxy Statement

o

Confidential, for Use of the Commission Only (as permitted by Rule 14a-6(e)(2))

o

Definitive Proxy Statement

o

Definitive Additional Materials

x

Soliciting Material under §240.14a-12

Callidus Software Inc.

(Name of Registrant as Specified In Its Charter)

SAP SE and subsidiaries

(Name of Person(s) Filing Proxy Statement, if other than the Registrant)

Payment of Filing Fee (Check the appropriate box):

x

No fee required.

o

Fee computed on table below per Exchange Act Rules 14a-6(i)(1) and 0-11.

(1)

Title of each class of securities to which transaction applies:

(2)

Aggregate number of securities to which transaction applies:

(3)

Per unit price or other underlying value of transaction computed pursuant to Exchange Act Rule 0-11 (set forth the amount on which the filing fee is calculated and state how it was determined):

(4)

Proposed maximum aggregate value of transaction:

(5)

Total fee paid:

o

Fee paid previously with preliminary materials.

o

Check box if any part of the fee is offset as provided by Exchange Act Rule 0-11(a)(2) and identify the filing for which the offsetting fee was paid previously. Identify the previous filing by registration statement number, or the Form or Schedule and the date of its filing.

(1)

Amount Previously Paid:

(2)

Form, Schedule or Registration Statement No.:

(3)

Filing Party:

(4)

Date Filed:
---
Filed by SAP SE and subsidiaries
Pursuant to Rule 14a-12 under the Securities
Exchange Act of 1934
Subject Company: Callidus Software Inc.
Commission File No.: 000-50463
---
January 2018 Rob Enslin and Alex Atzberger SAP Hybris Intent to Acquire CallidusCloud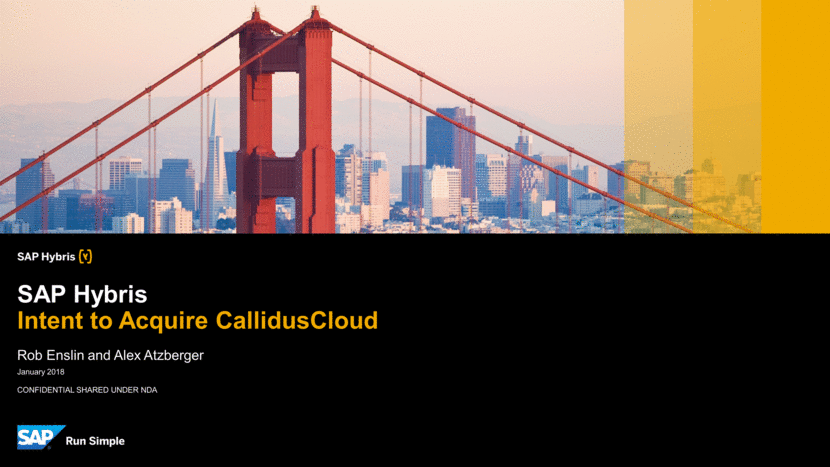 The News SAP Hybris Portfolio Strategy Q&A Agenda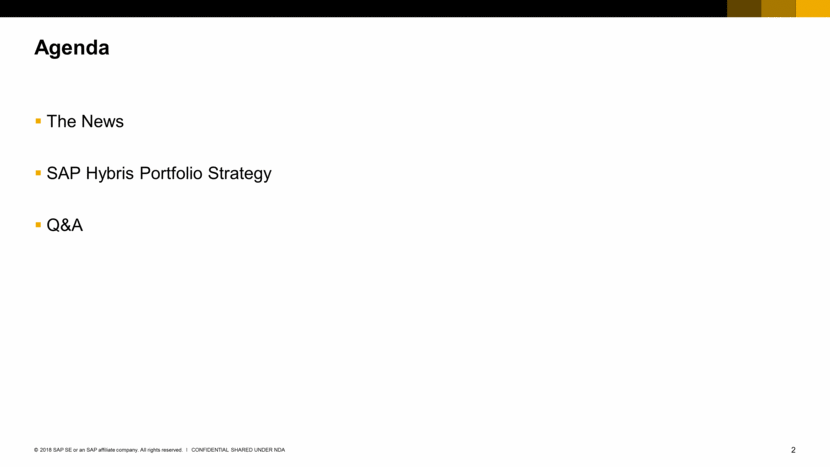 SAP Hybris Portfolio Strategy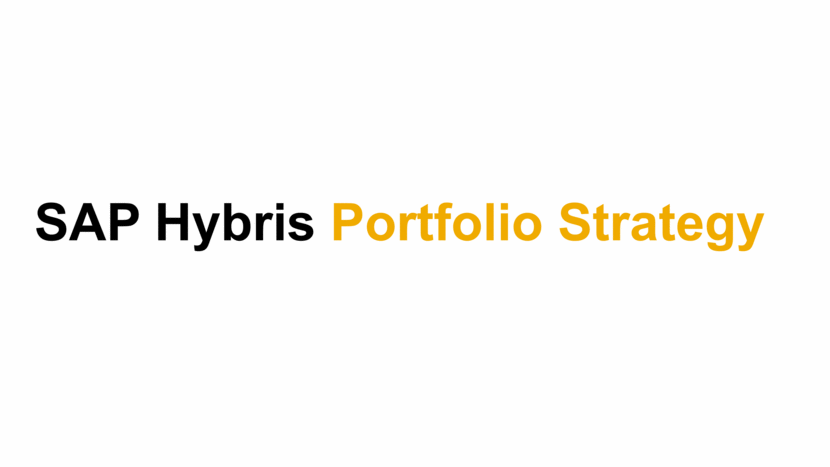 ENGAGEMENT ECONOMY: a new CRM for B2B is required. Businesses need a solution across marketing, commerce, sales, service, and revenue: grounded in customer engagement and consent and connected from lead to money for new business models RIGHT FOR THE SAP CX STRATEGY: SAP S/4HANA provides the digital core to connect the demand chain to the supply chain with empowered employees. CallidusCloud strengthens and expands the SAP Hybris value in the front-office RIGHT FOR OUR BUSINESS: CallidusCloud is a segment leader with strong growth and believes in the power of end-to-end lead to money solutions like SAP. CallidusCloud will benefit from the SAP global field reach while uplifting the value of the SAP Hybris portfolio overall Why CallidusCloud, Why Now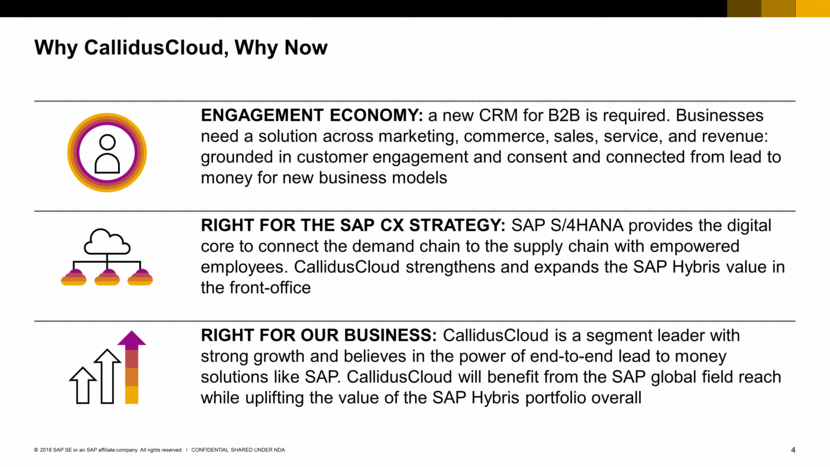 SAP Front-Office Portfolio with CallidusCloud SALES SERVICE MARKETING COMMERCE NEXTGEN QUOTE TO CASH CallidusCloud Sales Execution Configuration & Pricing Quoting & Approval Workflow Guided Selling Sales Contract Lifecycle Management SAP Hybris Sales Cloud Leads Opportunities Quotes Activities SAP Jam Collaboration CallidusCloud Sales Performance Management Incentives & Commissions Territory & Quota Sales Coaching Sales Gamification Pipeline Management SAP Hybris Revenue Cloud Order Management Billing CallidusCloud Revenue Recognition IFRS 15/ASC 606 compliance CallidusCloud Sales Enablement Mobile Learning Training Operations Content creation Content recommendation CallidusCloud applications will extend and strengthen the current SAP Hybris Sales Cloud portfolio by adding solution areas for Sales Performance Management, Sales Enablement and Sales Execution CallidusCloud strengthens our offering for the new middle office battleground of Quote-to-Cash and accelerates SAP Hybris Revenue Cloud SAP Cloud Platform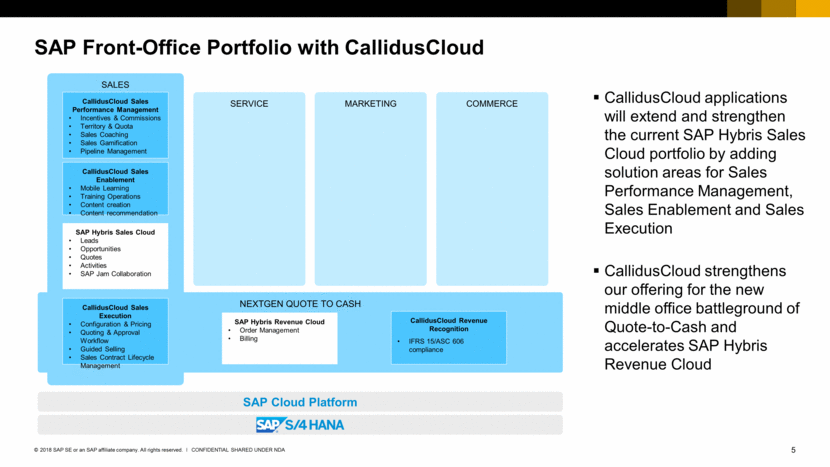 CallidusCloud 5,800 customers HIGH-TECH FINANCIAL SERVICES TELCO, MEDIA, WHOLESALE, RETAIL, OTHERS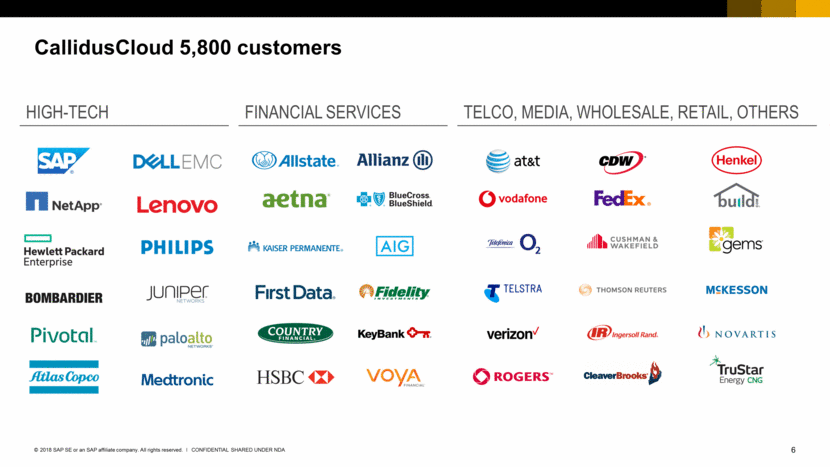 CallidusCloud Lead-to-Money vision realized in the SAP solution context Manage Deal Order-to- Cash Manage Demand Finance Marketing Cloud Sales Cloud Commerce Cloud Revenue Cloud CallidusCloud Revenue Recognition CallidusCloud Sales Execution CallidusCloud Sales Enablement CallidusCloud Sales Performance Management Employee Central Payroll SAP is an CallidusCloud customer today. We have integrated CallidusCloud's solutions into our sales operations as follows: We have rolled out CallidusCloud Sales Performance Management internally to more than 17,000 global employees. A global rollout of CallidusCloud Sales Execution to 9,000 account executives is on target for completion later this year.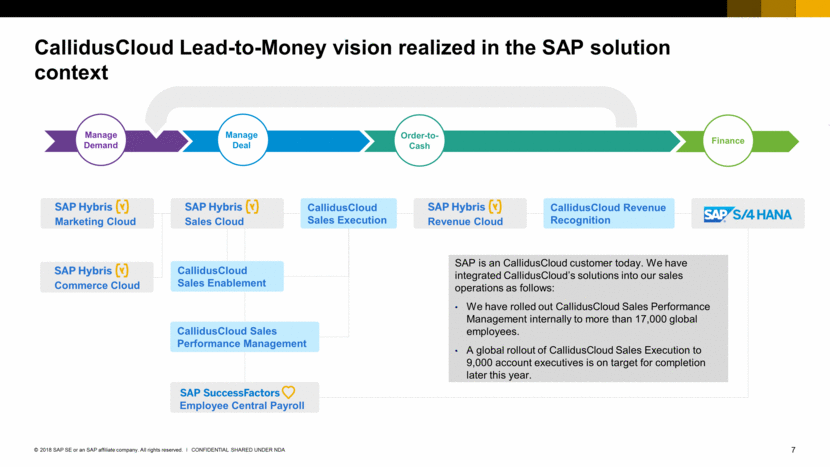 [LOGO]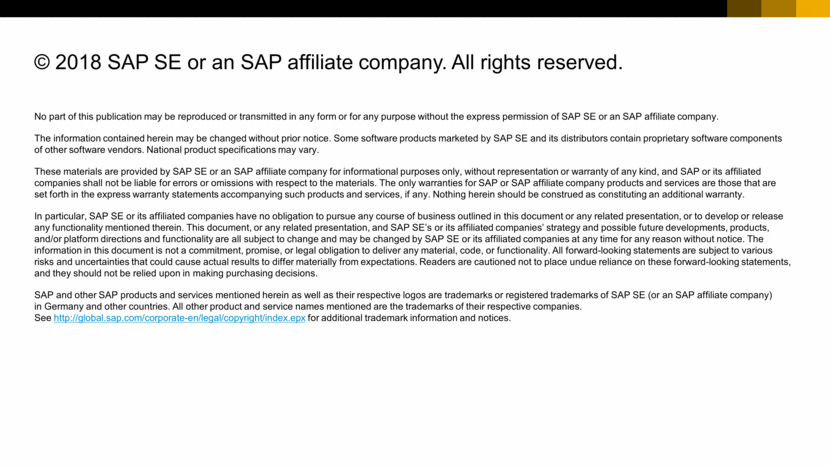 Cautionary Statement Regarding Forward-Looking Statements Any statements contained in this document that are not historical facts are forward-looking statements as defined in the U.S. Private Securities Litigation Reform Act of 1995. Words such as "anticipate", "believe", "estimate", "expect", "forecast", "intend", "may", "plan", "project", "predict", "should" and "'will" and similar expressions as they relate to SAP or Callidus Software Inc. are intended to identify such forward-looking statements. This release contains forward-looking statements that involve risks and uncertainties concerning the parties' ability to close the transaction and the expected closing date of the transaction, the anticipated benefits and synergies of the proposed transaction, anticipated future combined operations, products and services, and the anticipated role of CallidusCloud, its key executives and its employees within SAP following the closing of the transaction. Actual events or results may differ materially from those described in this release due to a number of risks and uncertainties. These potential risks and uncertainties include, among others, the outcome of regulatory reviews of the proposed transaction, the ability of the parties to complete the transaction, the failure to retain key CallidusCloud employees, customer and partner uncertainty regarding the anticipated benefits of the transaction, the failure of SAP and CallidusCloud to achieve the anticipated synergies of the proposed transaction and other risks detailed in SAP's and CallidusCloud's SEC filings, including those discussed in SAP's Annual Report on Form 20-F for the year ended December 31, 2016 and CallidusCloud's Quarterly Report on Form 10-Q for the quarter ended September 30, 2017, each of which is on file with the SEC and available at the SEC's website at www.sec.gov. SAP is not obligated to update these forward-looking statements to reflect events or circumstances after the date of this document. Readers are cautioned not to place undue reliance on these forward-looking statements, which speak only as of their dates. Additional Information About the Merger In connection with the proposed merger, Callidus Software Inc. will file a proxy statement with the SEC. The definitive proxy statement will be sent or given to CallidusCloud stockholders entitled to vote at the special meeting relating to the transaction and will contain important information about the proposed merger and related matters. CallidusCloud's stockholders are urged to read the definitive proxy statement (including any amendments or supplements thereto) carefully when it becomes available before making any voting or investment decision with respect to the proposed merger because it will contain important information about the merger and the parties to the merger. Additionally, CallidusCloud and SAP will file other relevant materials in connection with the proposed acquisition of CallidusCloud by SAP pursuant to the terms of an Agreement and Plan of Merger by and among, SAP America, Inc., Emerson One Acquisition Corp. , a wholly owned subsidiary of SAP America, and CallidusCloud. SAP, CallidusCloud and their respective directors, executive officers and other members of their management and employees, under SEC rules, may be deemed to be participants in the solicitation of proxies of CallidusCloud stockholders in connection with the proposed merger. Investors and security holders may obtain more detailed information regarding the names, affiliations and interests of certain of SAP's executive officers and directors in the solicitation by reading SAP's most recent Annual Report on Form 20-F, and the proxy statement and other relevant materials filed with the SEC when they become available. Information concerning the interests of CallidusCloud's participants in the solicitation, which may, in some cases, be different than those of CallidusCloud's stockholders generally, will be set forth in the proxy statement relating to the merger when it becomes available. The materials to be filed by SAP and CallidusCloud with the SEC may be obtained free of charge at the SEC's web site at www.sec.gov. In addition, security holders will be able to obtain free copies of the proxy statement from CallidusCloud, once it is filed with the SEC, by contacting CallidusCloud Investor Relations through the investor contact page on the company's website at http://investor.calliduscloud.com/about-us/investor-relations/investor-faq/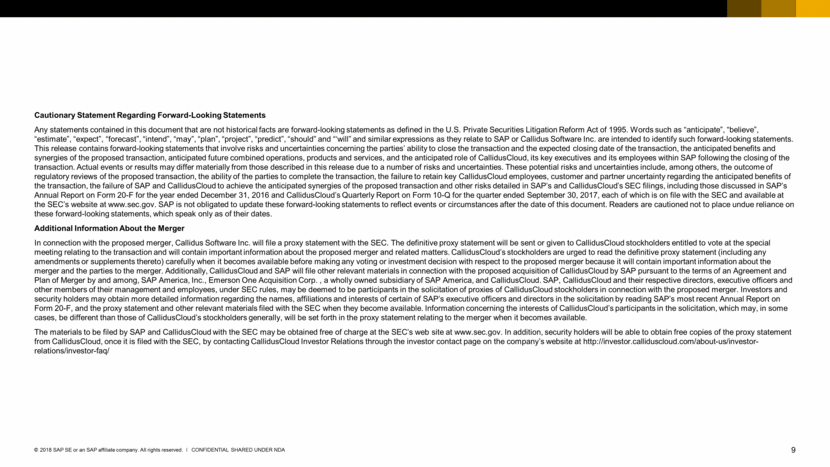 Categories