Form 497K SUNAMERICA EQUITY FUNDS
SUMMARY PROSPECTUS

JANUARY 29, 2018

AIG JAPAN FUND

CLASS A, CLASS C AND CLASS W
The Fund's Statutory Prospectus and Statement of Additional Information dated January 29, 2018, and the most recent shareholder reports are incorporated into and made part of this Summary Prospectus by reference.
Before you invest, you may want to review the Fund's Statutory Prospectus, which contains more information about the Fund and its risks. You can find the Statutory Prospectus and the above incorporated information online at http://aigfunds.onlineprospectus.net/AIGFunds/FundDocuments/index.html. You can also get this information at no cost by calling (800) 858-8850, by sending an email request to mutualfundinquiry@aig.com or by writing to the Fund at AIG Fund Services, Inc., Mutual Fund Operations, Harborside 5, 185 Hudson Street, Suite 3300, Jersey City, NJ 07311.
The Securities and Exchange Commission has not approved or disapproved these securities, nor has it determined that this Prospectus is accurate or complete. It is a criminal offense to state otherwise.
Investment Goal
The investment goal of the AIG Japan Fund (the "Japan Fund" or the "Fund") is long-term capital appreciation.
Fees and Expenses of the Fund
This table describes the fees and expenses that you may pay if you buy and hold shares of the Fund. You may qualify for sales charge discounts if you and your family invest, or agree to invest in the future, at least $50,000 in the AIG fund complex. More information about these and other discounts is available from your financial professional and in the "Shareholder Account Information—Sales Charge Reductions and Waivers" section on page 13 of the Fund's Prospectus, in the "Financial Intermediary—Specific Sales Charge Waiver Policies" section on page A-1 of the Fund's Prospectus and in the "Additional Information Regarding Purchase of Shares" section on page 55 of the Fund's statement of additional information ("SAI").
Class A
Class C
Class W

Shareholder Fees
(fees paid directly from your investment)

Maximum Sales Charge (Load) Imposed on Purchases (as a percentage of offering price)

5.75
%
None
None

Maximum Deferred Sales Charge (Load) (as a percentage of the lesser of the amount redeemed or original purchase cost)(1)

None
1.00
%
None

Maximum Sales Charge (Load) Imposed on Reinvested Dividends

None
None
None

Maximum Account Fee

None
None
None

Annual Fund Operating Expenses
(expenses that you pay each year as a percentage of the value of your investment)

Management Fees

1.15
%
1.15
%
1.15
%
| | | | | |
| --- | --- | --- | --- | --- |
| | | | | |
| | | - 1 - | | SunAmerica Equity Funds |
---
Class A
Class C
Class W

Distribution and/or Service (12b-1) Fees

0.35
%
1.00
%
—

Other Expenses

0.95
%
1.15
%
18.54
%

Total Annual Fund Operating Expenses Before Fee Waivers and/or Expense Reimbursement

2.45
%
3.30
%
19.69
%

Fee Waivers and/or Expense Reimbursement(2),(3)

0.55
%
0.75
%
17.99
%

Total Annual Fund Operating Expenses After Fee Waivers and/or Expense Reimbursement(2),(3)

1.90
%
2.55
%
1.70
%
| | |
| --- | --- |
| (1) | Purchases of Class A shares of $1 million or more will be subject to a contingent deferred sales charge ("CDSC") on redemptions made within two years of purchase. The CDSC on Class C shares applies only if shares are redeemed within twelve months of their purchase. See pages 13-15 of the Prospectus for more information about the CDSCs. |
| | |
| --- | --- |
| (2) | Pursuant to an Expense Limitation Agreement, SunAmerica Asset Management, LLC ("SunAmerica" or the "Adviser") is contractually obligated to waive its fees and/or reimburse expenses to the extent that the Total Annual Fund Operating Expenses exceed 1.90%, 2.55% and 1.70% for Class A, Class C and Class W shares, respectively. For purposes of the Expense Limitation Agreement, "Total Annual Fund Operating Expenses" shall not include extraordinary expenses (i.e., expenses that are unusual in nature and/or infrequent in occurrence, such as litigation), or acquired fund fees and expenses, brokerage commissions and other transactional expenses relating to the purchase and sale of portfolio securities, interest, taxes and governmental fees, and other expenses not incurred in the ordinary course of the Fund's business. This agreement will continue in effect indefinitely, unless terminated by the Board of Trustees, including a majority of the trustees of the Board who are not "interested persons" of SunAmerica Equity Funds as defined in the Investment Company Act of 1940, as amended. |
| | |
| --- | --- |
| (3) | Any waivers and/or reimbursements made by SunAmerica pursuant to the Expense Limitation Agreement are subject to recoupment from the Fund within two years after the occurrence of the waiver and/or reimbursement, provided that the Fund is able to effect such payment to SunAmerica and remain in compliance with the expense cap in effect at the time the waivers and/or reimbursements occurred. |
Example:
This Example is intended to help you compare the cost of investing in the Fund with the cost of investing in other mutual funds. The Example assumes that you invest $10,000 in the Fund for the time periods indicated and then redeem all of your shares at the end of those periods. The Example also assumes that your investment has a 5% return each year and that the Fund's operating expenses remain the same. Although your actual costs may be higher or lower, based on these assumptions and the net expenses shown in the fee table, your costs would be:
1 Year
3 Years
5 Years
10 Years

AIG Japan Fund

Class A Shares

$
757
$
1,138
$
1,542
$
2,669

Class C Shares

358
794
1,355
2,885

Class W Shares

173
536
923
2,009

You would pay the following expenses if you did not redeem your shares:

1 Year
3 Years
5 Years
10 Years

AIG Japan Fund

Class A Shares

$
757
$
1,138
$
1,542
$
2,669

Class C Shares

258
794
1,355
2,885

Class W Shares

173
536
923
2,009
| | | | | |
| --- | --- | --- | --- | --- |
| | | | | |
| | | - 2 - | | SunAmerica Equity Funds |
---
Portfolio Turnover:
The Fund pays transaction costs, such as commissions, when it buys and sells securities (or "turns over" its portfolio). A higher portfolio turnover rate may indicate higher transaction costs and may result in higher taxes when shares are held in a taxable account. These costs, which are not reflected in annual fund operating expenses or in the example, affect the Fund's performance. During the most recent fiscal year, the Fund's portfolio turnover rate was 115% of the average value of its portfolio.
Principal Investment Strategy and Techniques of the Fund
The Fund's principal investment strategy is country-specific investing. The strategy of country-specific investing involves investing in securities that focus on a particular country.
The principal investment technique of the Fund is active trading of securities of Japanese issuers and other investments that are tied economically to Japan ("Japanese companies"). Under normal circumstances, at least 80% of the Fund's net assets, plus any borrowings for investment purposes, will be invested in Japanese companies. The Fund will invest primarily in common stocks and may invest in securities of companies of any size. The Fund may also invest in other equity securities, which include, without limitation, preferred stock, convertible securities, depositary receipts, rights and warrants.
In selecting investments for the Fund, the Fund's subadviser, Wellington Management Company LLP ("Wellington Management"), will employ a contrarian investment process, which is based on valuation and behavioral finance principles applied to overlooked and misunderstood companies. In particular, the investment process incorporates traditional assessments of financial strength and management credibility with a disciplined approach to determining the current state of investor sentiment toward each industry and securities within the investment universe. The primary principle behind this process is that markets overreact to unexpected negative news, causing share prices to deeply undervalue near-term information.
The principal investment strategy and principal investment techniques of the Fund may be changed without shareholder approval. You will receive at least 60 days' notice of any change to the 80% investment policy set forth above.
Principal Risks of Investing in the Fund
There can be no assurance that the Fund's investment goal will be met or that the net return on an investment in the Fund will exceed what could have been obtained through other investment or savings vehicles. Shares of the Fund are not bank deposits and are not guaranteed or insured by any bank, government entity or the Federal Deposit Insurance Corporation. As with any mutual fund, there is no guarantee that the Fund will be able to achieve its investment goal. If the value of the assets of the Fund goes down, you could lose money.
The following is a summary description of the principal risks of investing in the Fund.
Market Volatility and Securities Selection. The Fund invests significantly in equity securities. As with any equity fund, the value of your investment in the Fund may fluctuate in response to stock market movements. You should be aware that the performance of different types of equity securities may rise or decline under varying market conditions — for example, "value" stocks may perform well under circumstances in which "growth" stocks in general have fallen. In addition, individual securities selected for the Fund may underperform the market generally. Moreover, while the Fund will seek to invest in securities that Wellington Management
| | | | | |
| --- | --- | --- | --- | --- |
| | | | | |
| | | - 3 - | | SunAmerica Equity Funds |
---
believes are misunderstood in the market or out-of-favor, there is a risk that the market may not recognize a security's intrinsic value for a long period of time, or that a security judged to be attractively valued may actually be appropriately priced.
Geographic Concentration. Because the Fund concentrates its investments in Japan, the Fund's performance is expected to be closely tied to social, political and economic conditions of that country. As a result, the Fund is likely to be more volatile than more geographically diverse international funds.
Japan Exposure. The Japanese economy faces a number of long-term problems, including massive government debt, the aging and shrinking of the population, an unstable financial sector and low domestic consumption. Japan has experienced natural disasters of varying degrees of severity, and the risks of such phenomena, and damage resulting therefrom, continue to exist. Japan has a growing economic relationship with China and other Southeast Asian countries, and thus Japan's economy may also be affected by economic, political or social instability in those countries (whether resulting from local or global events).
International Investing. When investing internationally, the value of your investment may be affected by fluctuating currency values, changing local and regional economic, political and social conditions, and greater market volatility. In addition, foreign securities may not be as liquid as domestic securities and are subject to settlement practices and regulatory and financial reporting standards that differ from those in the U.S. In addition, the Fund's performance may be affected by the broader Asian region, which includes emerging markets. Emerging markets are typically more volatile than more developed markets.
Small- and Mid-Market Capitalization. Stocks of small-cap companies, and to a lesser extent, mid-cap companies, may be more volatile than, and not as readily marketable as, those of larger companies.
Active Trading. As part of the Fund's principal investment technique, the Fund may engage in active trading of its portfolio securities. Because the Fund may sell a security without regard to how long it has held the security, active trading may have tax consequences for certain shareholders, involving a possible increase in short-term capital gains or losses. Active trading may result in high portfolio turnover and correspondingly greater brokerage commissions and other transaction costs, which will be borne directly by the Fund and which will affect the Fund's performance. During periods of increased market volatility, active trading may be more pronounced.
| | | | | |
| --- | --- | --- | --- | --- |
| | | | | |
| | | - 4 - | | SunAmerica Equity Funds |
---
Performance Information*
The following Risk/Return Bar Chart and Table illustrate the risks of investing in the Fund by showing changes in the Fund's performance from calendar year to calendar year, and compare the Fund's average annual returns to those of the Morgan Stanley Capital International ("MSCI") Japan Index (Net), a broad measure of market performance. Sales charges are not reflected in the Bar Chart. If these amounts were reflected, returns would be less than those shown. However, the Table includes all applicable fees and sales charges. Past performance (before and after taxes) is not necessarily an indication of how the Fund will perform in the future. Performance information with respect to the Fund's Class W shares is not provided as these shares do not have a complete calendar year of performance. Updated information on the Fund's performance can be obtained by visiting www.aig.com/funds or can be obtained by phone at 800-858-8850, ext. 6003.
Japan Fund (Class A)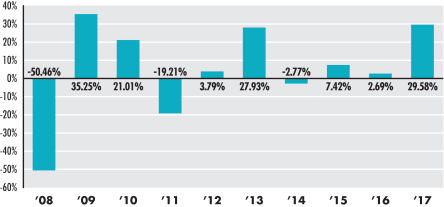 During the period shown in the Bar Chart, the highest return for a quarter was 23.54% (quarter ended June 30, 2009) and the lowest return for a quarter was – 27.29% (quarter ended September 30, 2008).
Average Annual Total Returns (as of the periods ended December 31, 2017)
Past One
Year
Past Five
Years
Past Ten
Years

Class C

27.52
%
11.46
%
1.23
%

Class A

22.06
%
10.86
%
1.31
%

Return After Taxes on Distributions (Class A)

19.09
%
8.78
%
–0.03
%

Return After Taxes on Distributions and Sale of Fund Shares (Class A)(1)

13.23
%
7.79
%
0.66
%

MSCI Japan Index (Net)

23.99
%
11.16
%
3.17
%
| | |
| --- | --- |
| * | Effective January 27, 2012, the name of the Fund was changed to the SunAmerica Japan Fund (n/k/a AIG Japan Fund) and certain corresponding changes were made to the Fund's investment strategy and techniques. Prior to this date, the Fund was managed as an international small-cap fund. The performance shown prior to January 27, 2012 represents the performance of the Fund as an international small-cap fund. Accordingly, this performance information does not reflect the management of the Fund in accordance with its current investment strategy and techniques. |
| | |
| --- | --- |
| (1) | When the return after taxes on distributions and sale of Fund shares is higher, it is because of realized losses. If realized losses occur upon the sale of Fund shares, the capital loss is recorded as a tax benefit, which increases the return. |
| | | | | |
| --- | --- | --- | --- | --- |
| | | | | |
| | | - 5 - | | SunAmerica Equity Funds |
---
The after-tax returns shown were calculated using the historical highest individual federal marginal income tax rates, and do not reflect the impact of state and local taxes. An investor's actual after-tax returns depend on the investor's tax situation and may differ from those shown in the above table. The after-tax returns shown are not relevant to investors who hold their shares through tax-deferred arrangements, such as 401(k) plans or individual retirement accounts. After-tax returns are shown only for Class A. After-tax returns for other classes will vary.
Investment Adviser and Subadviser
The Fund's investment adviser is SunAmerica. The Fund is subadvised by Wellington Management.
Portfolio Manager
Name

Portfolio
Manager of the
Fund Since

Title

Jun Y. Oh

2012
Senior Managing Director and Portfolio Manager affiliated with Wellington Management and located outside the U.S.
Purchase and Sale of Fund Shares
The Fund's initial investment minimums generally are as follows:
Class A and
Class C Shares

Class W Shares

Minimum Initial Investment

•  non-retirement account: $500

•  retirement account: $250

•  dollar cost averaging: $500 to open; you must invest at least $25 a month.

$50,000

Minimum Subsequent Investment

•  non-retirement account: $100

•  retirement account: $25

N/A
You may purchase or sell shares of the Fund each day the New York Stock Exchange is open. Purchase and redemption requests are executed at the Fund's next net asset value to be calculated after the Fund or its agents receive your request in good order. You should contact your broker, financial adviser or financial institution, or, if you hold your shares through the Fund, you should contact the Fund by phone at 800-858-8850, by regular mail (AIG Funds c/o DST Asset Manager Solutions, Inc. ("DST"), PO Box 219186, Kansas City, MO 64121-9186), by express, certified and registered mail (AIG Funds c/o DST, 330 West 9th Street, Kansas City, MO 64105-1514), or via the Internet at www.aig.com/funds.
| | | | | |
| --- | --- | --- | --- | --- |
| | | | | |
| | | - 6 - | | SunAmerica Equity Funds |
---
Tax Information
The Fund's dividends and distributions are subject to federal income taxes and will be taxed as ordinary income or capital gains, unless you are a tax-exempt investor or are investing through a retirement plan, in which case you may be subject to federal income tax upon withdrawal from such tax-deferred arrangements.
Payments to Broker/Dealers and Other Financial Intermediaries
If you purchase the Fund through a broker-dealer or other financial intermediary (such as a bank), the Fund and its related companies may pay the intermediary for the sale of Fund shares and related services. These payments may create a conflict of interest by influencing the broker-dealer or other intermediary and your salesperson to recommend the Fund over another investment. Ask your salesperson or visit your financial intermediary's website for more information.
| | | | | |
| --- | --- | --- | --- | --- |
| | | | | |
| JPNSP-1/18 | | - 7 - | | SunAmerica Equity Funds |
---
[THIS PAGE INTENTIONALLY LEFT BLANK]
Categories