Qualcomm could win EU approval for NXP by end of year: Bloomberg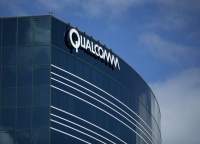 (Reuters) - U.S. smartphone chipmaker Qualcomm Inc (NASDAQ: QCOM) may win European Union approval for its bid to acquire NXP Semiconductors NV (NASDAQ: NXPI) by the end of the year, Bloomberg reported on Thursday, citing people familiar with the matter.
Qualcomm, which supplies chips to Android smartphone makers and Apple Inc (NASDAQ: AAPL), is set to become the leading supplier to the fast growing automotive chip market following the deal, the largest-ever in the semiconductor industry.
Regulators have dropped their concerns after accepting Qualcomm's pledge not to acquire standard essential and system-level patents belonging to NXP, according to the Bloomberg report. (https://bloom.bg/2A5VN8E)
Qualcomm recently rejected rival Broadcom Ltd's (NASDAQ: AVGO) $103-billion takeover bid in November, saying the offer undervalued the company and would face regulatory hurdles.
Qualcomm said in June it was confident of addressing EU's antitrust concerns and expected to close the NXP deal by the end of 2017.
The European Commissioner for Competition Margrethe Vestager said on Wednesday a ruling on Qualcomm's proposed acquisition of NXP may come in 2018.
Qualcomm and NXP did not immediately respond to requests for comment, while the European Commission was not immediately available for comment.
(Reporting by Pushkala Aripaka and Laharee Chatterjee in Bengaluru; Editing by Shounak Dasgupta)
Categories
Next Articles