Form 8-K Nexeo Solutions, Inc. For: Sep 15
UNITED STATES
SECURITIES AND EXCHANGE COMMISSION
Washington, D.C. 20549
FORM 8-K
CURRENT REPORT
Pursuant to Section 13 OR 15(d) of the Securities Exchange Act of 1934
Date of Report (Date of earliest event reported):  September 13, 2017
NEXEO SOLUTIONS, INC.
(Exact name of registrant as specified in its charter)
Delaware

001-36477

46-5188282

(State or other jurisdiction of

(Commission File Number)

(IRS Employer Identification

incorporation)

No.)
3 Waterway Square Place, Suite 1000

The Woodlands, Texas

77380

(Address of principal executive offices)

(Zip Code)
Registrant's telephone number, including area code:  (281) 297-0700
Check the appropriate box below if the Form 8-K filing is intended to simultaneously satisfy the filing obligation of the registrant under any of the following provisions:
o Written communications pursuant to Rule 425 under the Securities Act (17 CFR 230.425)
o Soliciting material pursuant to Rule 14a-12 under the Exchange Act (17 CFR 240.14a-12)
o Pre-commencement communications pursuant to Rule 14d-2(b) under the Exchange Act (17 CFR 240.14d-2(b))
o Pre-commencement communications pursuant to Rule 13e-4(c) under the Exchange Act (17 CFR 240.13e-4(c))
Indicate by check mark whether the registrant is an emerging growth company as defined in Rule 405 of the Securities Act of 1933 (§230.405 of this chapter) or Rule 12b-2 of the Securities Exchange Act of 1934 (§240.12b-2 of this chapter).
Emerging growth company o
If an emerging growth company, indicate by check mark if the registrant has elected not to use the extended transition period for complying with any new or revised financial accounting standards provided pursuant to Section 13(a) of the Exchange Act. o
---
| | |
| --- | --- |
| | |
| Item 1.01 | Entry into a Material Definitive Agreement |
On September 13, 2017, Nexeo Solutions, Inc. (the "Company") entered into a Waiver and Consent Agreement (the "Waiver") whereby it waived the limitation on the size of the Company's Board of Directors (the "Board") set forth in Section 3.2 of the Shareholders' and Registration Rights Agreement, dated as of March 21, 2016, by and among Nexeo Holdco, LLC, WL Ross Sponsor LLC and the Company (as amended to date, the "Shareholders' Agreement"). The Waiver permits the size of the Board to be increased from nine members to ten members. This summary of the Waiver does not purport to be complete and is qualified in its entirety by reference to the Waiver, a copy of which is attached to this Current Report on Form 8-K as Exhibit 10.1 and is incorporated herein by reference.
| | |
| --- | --- |
| | |
| Item 5.02 | Departure of Directors or Certain Officers; Election of Directors; Appointment of Certain Officers; Compensatory Arrangements of Certain Officers |
On September 13, 2017, the Board increased its size to ten members and appointed Brian A. Selmo to the Board to fill the vacancy created by such increase. Mr. Selmo was appointed as a Class II director with his term expiring at the Company's 2018 annual meeting of stockholders. The Board has not yet appointed Mr. Selmo to serve on any committees of the Board.
Mr. Selmo, age 39, is a Partner with First Pacific Advisors, LLC ("FPA") where he serves as Portfolio Manager and Director of Research for the Contrarian Value Strategy at FPA, and Vice President and Portfolio Manager for FPA Crescent Fund and Source Capital, Inc. He joined FPA in 2008. Prior to joining FPA, Mr. Selmo was Portfolio Manager of Eagle Lake Capital, LLC/ Coast Asset Management, LLC from 2003 to 2008. Previously, he was an analyst at Third Avenue Management from 2001 to 2003 and Rothschild, Inc. from 2000 to 2001. Mr. Selmo holds a B.S. degree in Economics (with honors) from The Johns Hopkins University in 2000, where he graduated Phi Beta Kappa. He is a CFA Charterholder.
Mr. Selmo's significant industry experience allows him to provide instrumental leadership and strategic business planning experience to the Board.
There are no arrangements or understandings between Mr. Selmo and any other person pursuant to which he was elected to the Board. Based on their latest Form 4 filed with the Securities and Exchange Commission, First Pacific Advisors, LLC and certain of its affiliates beneficially own approximately 28.7% of the outstanding common stock of the Company.
Mr. Selmo is expected to enter into an indemnification agreement with the Company similar to the indemnification agreements that the Company has entered into with its other directors. The Board has determined that Mr. Selmo is an independent director under the rules of NASDAQ. He will receive the standard non-executive director compensation as more fully described in the Company's Proxy Statement dated December 15, 2016 under the heading "Executive and Director Compensation-Directors Fees".
A copy of the press release issued by the Company on September 15, 2017 related to these matters is filed herewith as Exhibit 99.1 and is incorporated herein by reference.
| | |
| --- | --- |
| | |
| Item 9.01 | Financial Statements and Exhibits |
(d) Exhibits
EXHIBIT

 

DESCRIPTION

 

 

 

10.1

 

Waiver and Consent Agreement made as of September 13, 2017 by and among Nexeo Solutions, Inc. and Nexeo Holdco, LLC

99.1

Press Release issued by the Company on September 15, 2017
---
SIGNATURES
Pursuant to the requirements of the Securities Exchange Act of 1934, the registrant has duly caused this report to be signed on its behalf by the undersigned hereunto duly authorized.
 

NEXEO SOLUTIONS, INC

 

 

 

 

 

By:

/s/ Michael B. Farnell, Jr.

 

 

Michael B. Farnell, Jr.

 

 

Executive Vice President and Chief Administrative Officer

 

 

 

 

Dated: September 15, 2017

 
---
EXHIBIT INDEX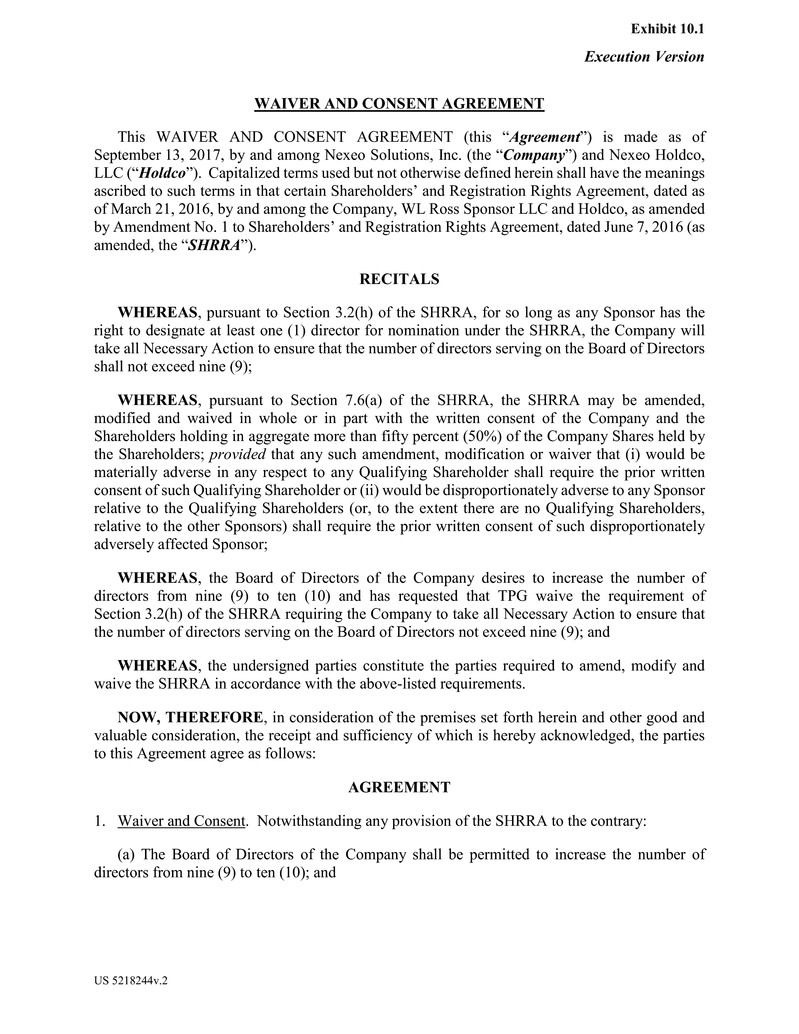 Execution Version US 5218244v.2 WAIVER AND CONSENT AGREEMENT This WAIVER AND CONSENT AGREEMENT (this "Agreement") is made as of September 13, 2017, by and among Nexeo Solutions, Inc. (the "Company") and Nexeo Holdco, LLC ("Holdco"). Capitalized terms used but not otherwise defined herein shall have the meanings ascribed to such terms in that certain Shareholders' and Registration Rights Agreement, dated as of March 21, 2016, by and among the Company, WL Ross Sponsor LLC and Holdco, as amended by Amendment No. 1 to Shareholders' and Registration Rights Agreement, dated June 7, 2016 (as amended, the "SHRRA"). RECITALS WHEREAS, pursuant to Section 3.2(h) of the SHRRA, for so long as any Sponsor has the right to designate at least one (1) director for nomination under the SHRRA, the Company will take all Necessary Action to ensure that the number of directors serving on the Board of Directors shall not exceed nine (9); WHEREAS, pursuant to Section 7.6(a) of the SHRRA, the SHRRA may be amended, modified and waived in whole or in part with the written consent of the Company and the Shareholders holding in aggregate more than fifty percent (50%) of the Company Shares held by the Shareholders; provided that any such amendment, modification or waiver that (i) would be materially adverse in any respect to any Qualifying Shareholder shall require the prior written consent of such Qualifying Shareholder or (ii) would be disproportionately adverse to any Sponsor relative to the Qualifying Shareholders (or, to the extent there are no Qualifying Shareholders, relative to the other Sponsors) shall require the prior written consent of such disproportionately adversely affected Sponsor; WHEREAS, the Board of Directors of the Company desires to increase the number of directors from nine (9) to ten (10) and has requested that TPG waive the requirement of Section 3.2(h) of the SHRRA requiring the Company to take all Necessary Action to ensure that the number of directors serving on the Board of Directors not exceed nine (9); and WHEREAS, the undersigned parties constitute the parties required to amend, modify and waive the SHRRA in accordance with the above-listed requirements. NOW, THEREFORE, in consideration of the premises set forth herein and other good and valuable consideration, the receipt and sufficiency of which is hereby acknowledged, the parties to this Agreement agree as follows: AGREEMENT 1. Waiver and Consent. Notwithstanding any provision of the SHRRA to the contrary: (a) The Board of Directors of the Company shall be permitted to increase the number of directors from nine (9) to ten (10); and Exhibit 10.1
---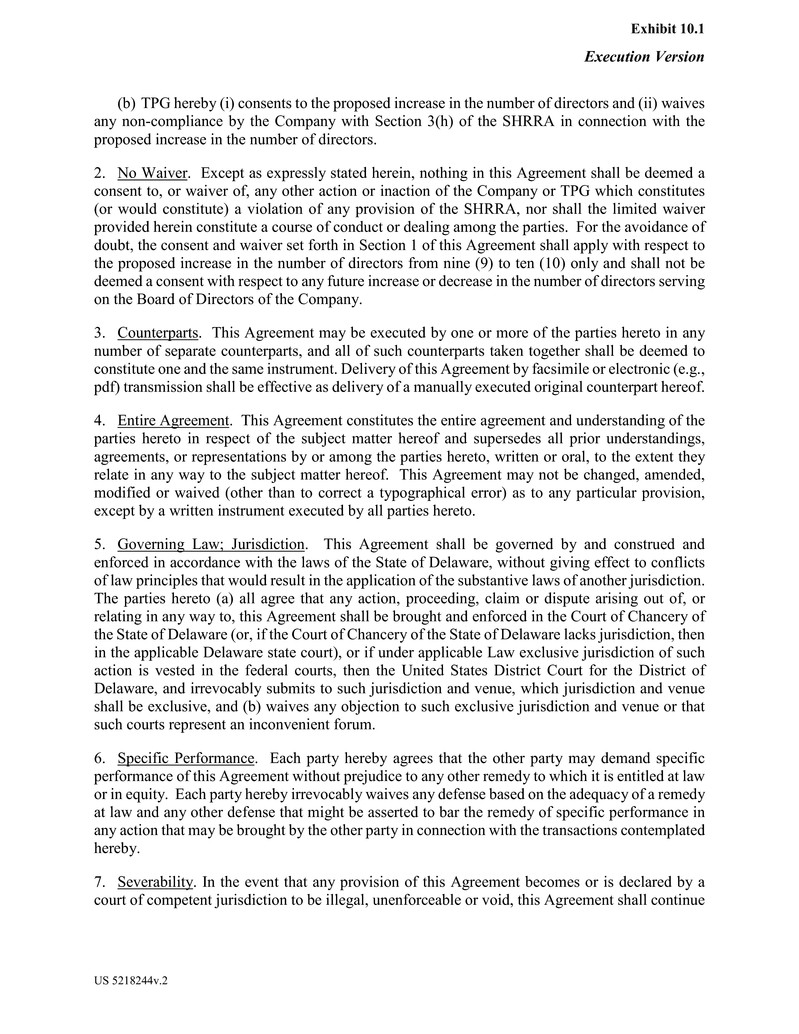 Execution Version US 5218244v.2 (b) TPG hereby (i) consents to the proposed increase in the number of directors and (ii) waives any non-compliance by the Company with Section 3(h) of the SHRRA in connection with the proposed increase in the number of directors. 2. No Waiver. Except as expressly stated herein, nothing in this Agreement shall be deemed a consent to, or waiver of, any other action or inaction of the Company or TPG which constitutes (or would constitute) a violation of any provision of the SHRRA, nor shall the limited waiver provided herein constitute a course of conduct or dealing among the parties. For the avoidance of doubt, the consent and waiver set forth in Section 1 of this Agreement shall apply with respect to the proposed increase in the number of directors from nine (9) to ten (10) only and shall not be deemed a consent with respect to any future increase or decrease in the number of directors serving on the Board of Directors of the Company. 3. Counterparts. This Agreement may be executed by one or more of the parties hereto in any number of separate counterparts, and all of such counterparts taken together shall be deemed to constitute one and the same instrument. Delivery of this Agreement by facsimile or electronic (e.g., pdf) transmission shall be effective as delivery of a manually executed original counterpart hereof. 4. Entire Agreement. This Agreement constitutes the entire agreement and understanding of the parties hereto in respect of the subject matter hereof and supersedes all prior understandings, agreements, or representations by or among the parties hereto, written or oral, to the extent they relate in any way to the subject matter hereof. This Agreement may not be changed, amended, modified or waived (other than to correct a typographical error) as to any particular provision, except by a written instrument executed by all parties hereto. 5. Governing Law; Jurisdiction. This Agreement shall be governed by and construed and enforced in accordance with the laws of the State of Delaware, without giving effect to conflicts of law principles that would result in the application of the substantive laws of another jurisdiction. The parties hereto (a) all agree that any action, proceeding, claim or dispute arising out of, or relating in any way to, this Agreement shall be brought and enforced in the Court of Chancery of the State of Delaware (or, if the Court of Chancery of the State of Delaware lacks jurisdiction, then in the applicable Delaware state court), or if under applicable Law exclusive jurisdiction of such action is vested in the federal courts, then the United States District Court for the District of Delaware, and irrevocably submits to such jurisdiction and venue, which jurisdiction and venue shall be exclusive, and (b) waives any objection to such exclusive jurisdiction and venue or that such courts represent an inconvenient forum. 6. Specific Performance. Each party hereby agrees that the other party may demand specific performance of this Agreement without prejudice to any other remedy to which it is entitled at law or in equity. Each party hereby irrevocably waives any defense based on the adequacy of a remedy at law and any other defense that might be asserted to bar the remedy of specific performance in any action that may be brought by the other party in connection with the transactions contemplated hereby. 7. Severability. In the event that any provision of this Agreement becomes or is declared by a court of competent jurisdiction to be illegal, unenforceable or void, this Agreement shall continue Exhibit 10.1
---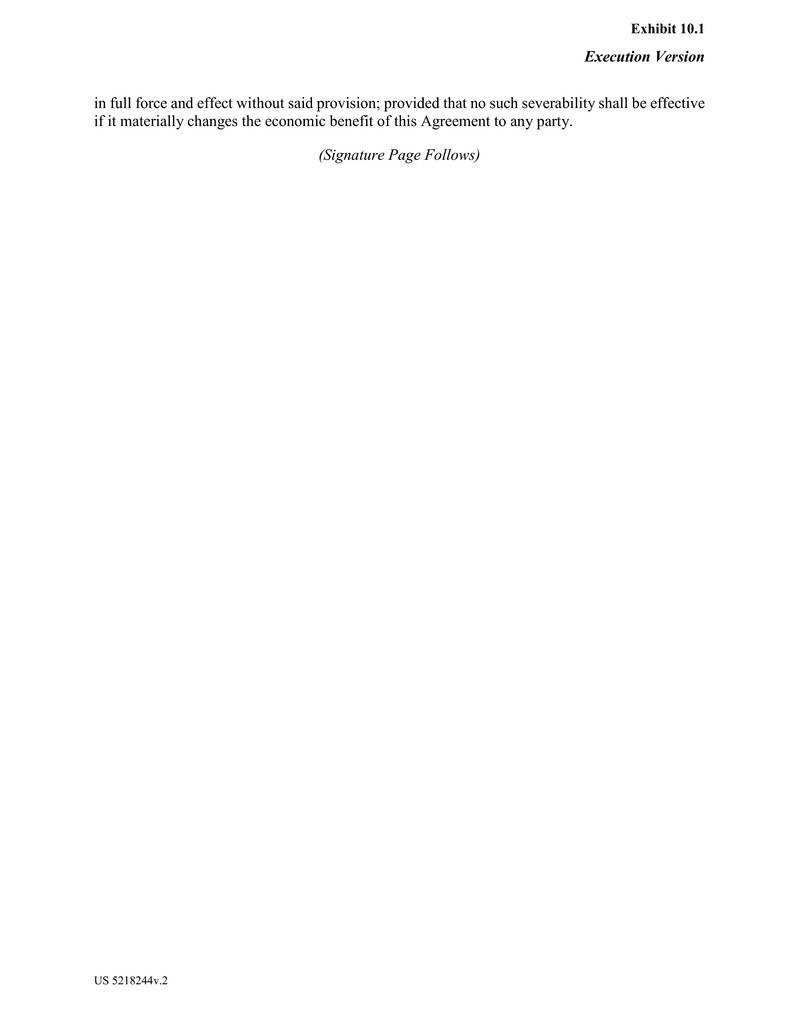 Execution Version US 5218244v.2 in full force and effect without said provision; provided that no such severability shall be effective if it materially changes the economic benefit of this Agreement to any party. (Signature Page Follows) Exhibit 10.1
---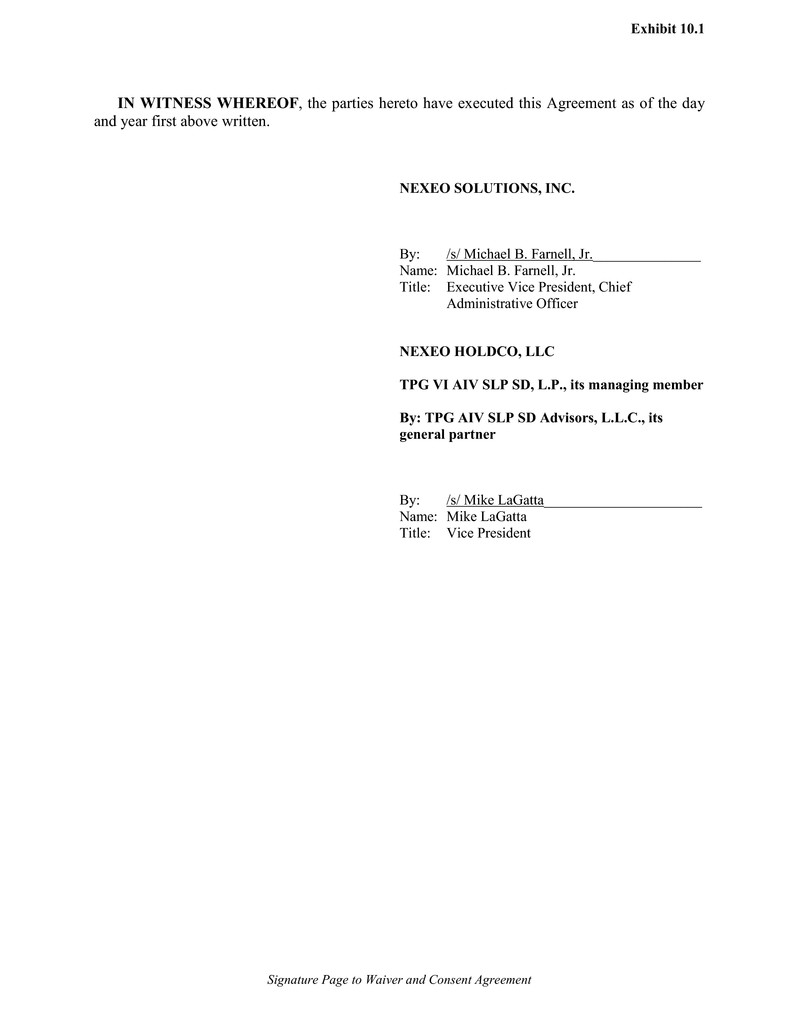 Signature Page to Waiver and Consent Agreement IN WITNESS WHEREOF, the parties hereto have executed this Agreement as of the day and year first above written. NEXEO SOLUTIONS, INC. By: /s/ Michael B. Farnell, Jr._______________ Name: Michael B. Farnell, Jr. Title: Executive Vice President, Chief Administrative Officer NEXEO HOLDCO, LLC TPG VI AIV SLP SD, L.P., its managing member By: TPG AIV SLP SD Advisors, L.L.C., its general partner By: /s/ Mike LaGatta______________________ Name: Mike LaGatta Title: Vice President Exhibit 10.1
---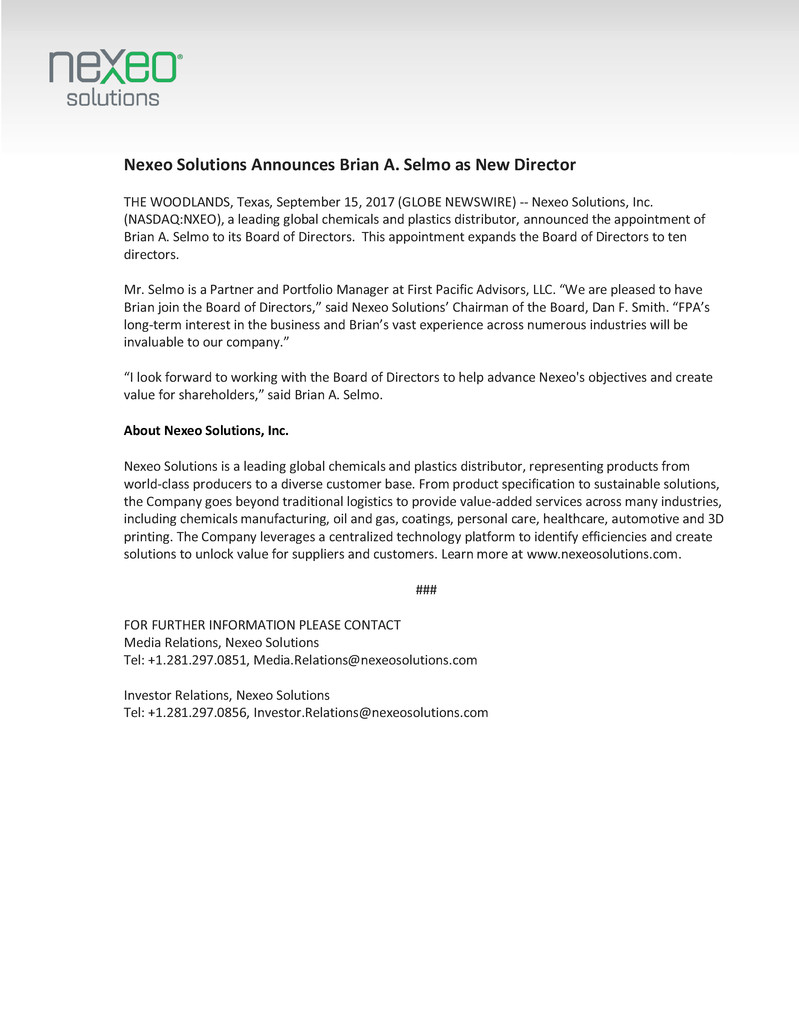 Nexeo Solutions Announces Brian A. Selmo as New Director THE WOODLANDS, Texas, September 15, 2017 (GLOBE NEWSWIRE) -- Nexeo Solutions, Inc. (NASDAQ:NXEO), a leading global chemicals and plastics distributor, announced the appointment of Brian A. Selmo to its Board of Directors. This appointment expands the Board of Directors to ten directors. Mr. Selmo is a Partner and Portfolio Manager at First Pacific Advisors, LLC. "We are pleased to have Brian join the Board of Directors," said Nexeo Solutions' Chairman of the Board, Dan F. Smith. "FPA's long-term interest in the business and Brian's vast experience across numerous industries will be invaluable to our company." "I look forward to working with the Board of Directors to help advance Nexeo's objectives and create value for shareholders," said Brian A. Selmo. About Nexeo Solutions, Inc. Nexeo Solutions is a leading global chemicals and plastics distributor, representing products from world-class producers to a diverse customer base. From product specification to sustainable solutions, the Company goes beyond traditional logistics to provide value-added services across many industries, including chemicals manufacturing, oil and gas, coatings, personal care, healthcare, automotive and 3D printing. The Company leverages a centralized technology platform to identify efficiencies and create solutions to unlock value for suppliers and customers. Learn more at www.nexeosolutions.com. ### FOR FURTHER INFORMATION PLEASE CONTACT Media Relations, Nexeo Solutions Tel: +1.281.297.0851, Media.Relations@nexeosolutions.com Investor Relations, Nexeo Solutions Tel: +1.281.297.0856, Investor.Relations@nexeosolutions.com
---
Categories