Tesla (TSLA) Going 'All Out' to Hit Model 3 Production Goals - KGI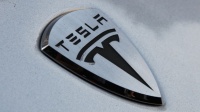 While many are skeptical about Elon Musk's Tesla (NASDAQ: TSLA) aggressive 2nd-half 2017 production target of 100k units of the mass market Model 3, analyst Jennifer Liang of Chinese research firm KGI said their channel checks reveal that Telsa is going all out to speed up production by introducing system integrators (SI) in the supply chain and strengthening automation.
"Versus supply chain management for Model S and X, where nearly all parts and components are shipped to Tesla's Fremont factory in California for sub- and final assembly, Tesla has brought in two SIs, located in Thailand and China, for various sub-assembly for Model 3," Liang said. "Its recent acquisition of Grohmann Engineering (DE), a specialist in automated manufacturing, is clearly another endeavour by Tesla to accelerate Model 3 production."
Liang added that while shipments of Model 3 in 2017 are highly likely to fall short of the firm's target, the order backlog of 400k units for Model 3 provides volume visibility for both Tesla and its supply chain. Furthermore, as Tesla continues to expand market reach, they see sequential robust growth of over 50% for Model S and Model X combined in 2017F. This further strengthens Tesla's leading market position in the global EV market.
The firm's checks suggest that Tesla is finalizing its supplier list and supply allocation for Model 3 production, which will clarify volume and ASP uncertainties for vendors in the supply chain. They are bullish on Hota (1536 TT) and Bizlink (3665 TT) as they continue to benefit substantially from Tesla's strong EV growth outlook. While the value contribution of each Model 3 is only 50-60% that of Model S or X, the sole supplier position in their respective product offerings and sheer volume potential point to solid medium-term sales and earnings growth for Hota and Bizlink. They project Tesla's sales contribution to increase from 20% in 2016F to 26% in 2017F for Hota and from 12% to 16% for Bizlink.
Categories