Praise from West after mostly peaceful Kiev Pride march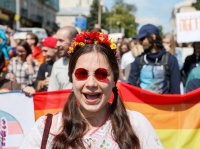 By Matthias Williams and Natalia Zinets
KIEV (Reuters) - Western diplomats joined gay rights activists on a Pride march in Kiev on Sunday and spoke of signs of progress on gay rights in Ukraine after the event passed off largely without incident.
Ukrainian authorities have increased their support for LGBT(lesbian, gay, bisexual and trans-gender) rights since a pro-Western government came to power after the 2014 Maidan protests; but critics say homophobic attitudes remain widespread.
Flanked by thousands of police who formed a protective cordon around the area on Sunday, activists shouted pro-equality slogans while carrying rainbow umbrellas. Some were draped in rainbow or European Union flags, some in national dress.
"A few steps forward (literally!) for #Kyivpride. A big leap forward for equality in Ukraine," Britain's openly lesbian Ambassador to Ukraine, Judith Gough, said on Twitter.
There were numerous violent clashes at last year's march and right-wing radicals had warned that Sunday's event would result in a "bloodbath".
But police were quick to deal with attempts to disrupt the march. A crowd shouted "get out" from behind the police line and some threw leaflets titled "Stop LGBT Propaganda".
"The authorities committed a crime by allowing this march to take place," nationalist leader Mykola Kokhanivsky said. "And their (the gay activists') behavior is a crime against the normal Ukrainian citizen."
Those who managed to slip through the police line and harangue the marchers were quickly bundled away.
There were 5,500 police on duty to marshall the 1,500 LGBT marchers, the national police chief said after the event, adding that 57 people were detained and later released.
"There is even stronger political backing than last year," Rebecca Harms, a German Member of the European Parliament (MEP), told Reuters at the march.
"You need equal rights for everybody in a democratic society, and sexual orientation cannot be a reason to exclude people from their rights."
Parliament passed legislation last year to ban discrimination against gay people in the workplace as part of a series of laws Ukraine needed to pass to qualify for an EU visa=free travel agreement.
At the time of the vote, the Speaker of the parliament Volodymyr Groysman, who is now Prime Minister, tried to reassure doubters by saying Ukraine would never support gay marriage.
Harms said on Sunday that the vote was "only a beginning" and emphasized that Ukraine is not the only country where lawmakers have resisted progress on gay rights.
That the march took place in the center of Kiev with such heavy police support was a sign of the changes in Ukrainian society since Maidan, said lawmaker Serhiy Leshchenko at the march.
"EuroMaidan was not only against (former President Viktor) Yanukovich, it was against corruption and for human rights as well," he said.
(Additional reporting by Andriy Perun and Sergei Karazy; Editing by David Goodman)
Categories