Tesla (TSLA) Will Still Have One Key Advantage Over Other Automakers for Foreseeable Future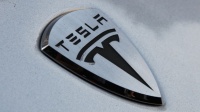 Tesla (Nasdaq: TSLA) may retain one key competitive advantage over peers as litigation once again gets in the way.
Reuters noted on Wednesday that General Motors (NYSE: GM) global product development head, Mark Reuss, was asked whether the automaker would ever consider implementing over-the-air updates. Reuss said, "We would never do that."
Global Equities' Trip Chowdhry noted that "every auto manufacturer is fundamentally limited and disadvantaged because Dealership Network Rules, which prohibit OTA Updates [...] The rule mandates that Software updates only be performed at the Authorized Auto Dealership.
Chowdhry also observed that Tesla has perfected this and now has a 10-year headstart over the competition.
OTA updates are especially important as automotive software become more complex, particularly with the electric vehicle segment.
Shares of Tesla are down around 1 percent.
Categories