UPDATE: Texas Instruments (TXN) Reports In-Line Q2 EPS; Issues Light Q3 Outlook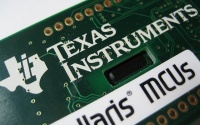 (Updated - July 22, 2015 4:32 PM EDT)
Texas Instruments (NASDAQ: TXN) reported Q2 EPS of $0.65, in-line with the analyst estimate of $0.65. Revenue for the quarter came in at $3.23 billion versus the consensus estimate of $3.26 billion.
Regarding the company's performance and returns to shareholders, Rich Templeton, TI's chairman, president and CEO, made the following comments:
"Revenue declined 2 percent year over year, inclusive of notably weak demand in communications equipment and continued strong demand in automotive.
"Even so, our core businesses of Analog and Embedded Processing, together, grew slightly year over year and comprised 85 percent of second-quarter revenue. Analog delivered its eighth consecutive quarter of year-over-year growth.
"Gross margin of 58.2 percent was up 1 percentage point from a year ago, reflecting the diversity and longevity of our product portfolio, as well as the efficiency of our manufacturing strategy.
"Our cash flow from operations once again underscored the strength of our business model. Free cash flow for the trailing 12 months was up 13 percent from a year ago to $3.6 billion, or 27 percent of revenue. This represents an increase of 2 percentage points from a year ago and is consistent with our targeted range of 20-30 percent of revenue.
"We returned $4.1 billion to shareholders in the past 12 months through stock repurchases and dividends.
"Our strategy to return to shareholders 100 percent of free cash flow plus proceeds from exercises of equity compensation minus net debt retirement reflects our confidence in the long-term sustainability of our business model.
"Our balance sheet remains strong with $3.3 billion of cash and short-term investments at the end of the quarter, 82 percent of which was owned by the company's U.S. entities. Inventory ended the quarter at 126 days.
"While strength in demand varies by end markets, our market in total is expected to be weaker year over year in the third quarter than it was in the second. Consistent with this view, TI's outlook is for revenue in the range of $3.15 billion to $3.41 billion, and earnings per share between 62 and 72 cents. (The Street sees Q3 revenue of $3.47 billion and EPS of $0.75.) For the year 2015, TI's annual effective tax rate is expected to be about 30 percent, unchanged from previous guidance."
For earnings history and earnings-related data on Texas Instruments (TXN) click here.
Categories
Next Articles