Form 425 KANSAS CITY SOUTHERN Filed by: CANADIAN NATIONAL RAILWAY CO
---
News and research before you hear about it on CNBC and others. Claim your 1-week free trial to StreetInsider Premium here.
---
Filed by Canadian National Railway Company
Pursuant to Rule 425 under the Securities Act of 1933
and deemed filed pursuant to Rule 14a-12
under the Securities Exchange Act of 1934
Subject Company: Kansas City Southern
Commission File No.: 001-04717
Date: May 5, 2021
The following communications were made available on LinkedIn and Twitter on May 5, 2021:
LinkedIn: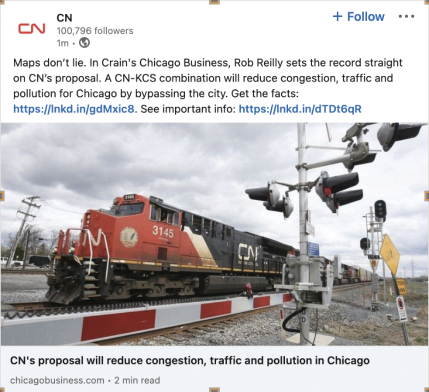 [a copy of the article linked in the social media post is set forth below]
---
Twitter:
[a copy of the article linked in the social media post is set forth below]
---
The following article in Crain's Chicago Business is linked in the social media postings set forth above:
CN's proposal will reduce congestion, traffic and pollution in Chicago
Despite what some would have you believe, a combination of Canadian National and Kansas City Southern would relieve congestion on the tracks and take trucks off of Chicago's local roads, a top CN exec writes.
By Rob Reilly
May 4 2021
Crain's Chicago
It is disappointing that Canadian Pacific would suggest in Crain's Chicago Business that the proposed combination between Canadian National and Kansas City Southern would increase traffic in Chicago. I have worked in the area for a large portion of my 32-year railroad career, and I can assure you that the truth is the opposite.
Canadian National uses a simple strategy to solve Chicago's longstanding rail congestion problem: We go around the core of the city. Canadian National's line bypasses downtown Chicago by about 30 miles to the south, looping through Matteson and then heading east towards Indiana.
Maps don't lie. This Elgin Joliet & Eastern Railway route, which you'll often hear us refer to as EJ&E, allows CN to move freight faster and more efficiently in all directions, thereby relieving congestion on the tracks and taking trucks off of your local roads. This benefits customers and commuters alike, and our proposal would not impact Amtrak or Metra services whatsoever.
The basic fact is that our proposal is largely built on a vision of converting truck traffic to rail traffic on a path from Mexico and Texas to the Upper Midwest and Southern Ontario. Our routing for this traffic growth would actually bypass Chicago—not go through the city.
We can remove more than 300 trucks from the road with every additional freight train. Because trains are 4-5 times more fuel-efficient than trucks and offer a 75 percent reduction in greenhouse gas emissions, local communities along our line have cleaner air.
It is unfortunate that Canadian Pacific continues to resort to misrepresentations instead of sticking with the facts. It has made similar misleading claims about Springfield, St. Louis, Omaha and many other places. This is a transparent attempt to distract from the fact that Canadian National's competing proposal to acquire Kansas City Southern is superior in all respects. The fact is we have made a better bid, we are a better partner, and are a better railway.
---
At Canadian National, we continue to believe facts matter, and that trust is earned, not declared.
Rob Reilly is executive vice president and chief operating officer of Canadian National Railway.
Forward Looking Statements
Certain statements included in this communication constitute "forward-looking statements" within the meaning of the United States Private Securities Litigation Reform Act of 1995 and under Canadian securities laws, including statements based on management's assessment and assumptions and publicly available information with respect to KCS, regarding the proposed transaction between CN and KCS, the expected benefits and synergies of the proposed transaction, future opportunities for the combined company and future shareholder returns. By their nature, forward-looking statements involve risks, uncertainties and assumptions. CN cautions that its assumptions may not materialize and that current economic conditions render such assumptions, although reasonable at the time they were made, subject to greater uncertainty. Forward-looking statements may be identified by the use of terminology such as "believes," "expects," "anticipates," "assumes," "outlook," "plans," "targets," or other similar words.
Forward-looking statements are not guarantees of future performance and involve risks, uncertainties and other factors which may cause actual results, performance or achievements of CN, or the combined company, to be materially different from the outlook or any future results, performance or achievements implied by such statements. Accordingly, readers are advised not to place undue reliance on forward-looking statements. Important risk factors that could affect the forward-looking statements in this communication include, but are not limited to: the outcome of any possible transaction between CN and KCS, including the possibility that a transaction will not be agreed to or that the terms of any definitive agreement will be materially different from those described; the parties' ability to consummate the proposed transaction; the conditions to the completion of the proposed transaction; that the regulatory approvals required for the proposed transaction may not be obtained on the terms expected or on the anticipated schedule or at all; CN's indebtedness, including the substantial indebtedness CN expects to incur and assume in connection with the proposed transaction and the need to generate sufficient cash flows to service and repay such debt; CN's ability to meet expectations regarding the timing, completion and accounting and tax treatments of the proposed transaction; the possibility that CN may be unable to achieve expected synergies and operating efficiencies within the expected time-frames or at all and to successfully integrate KCS' operations with those of CN; that such integration may be more difficult, time-consuming or costly than expected; that operating costs, customer loss and business disruption (including, without limitation, difficulties in maintaining relationships with employees, customers or suppliers) may be greater than expected following the proposed transaction or the public announcement of the proposed transaction; the retention of certain key employees of KCS may be difficult; the duration and effects of the COVID-19 pandemic, general economic and business conditions, particularly in the context of the
---
COVID-19 pandemic; industry competition; inflation, currency and interest rate fluctuations; changes in fuel prices; legislative and/or regulatory developments; compliance with environmental laws and regulations; actions by regulators; the adverse impact of any termination or revocation by the Mexican government of Kansas City Southern de México, S.A. de C.V.'s Concession; increases in maintenance and operating costs; security threats; reliance on technology and related cybersecurity risk; trade restrictions or other changes to international trade arrangements; transportation of hazardous materials; various events which could disrupt operations, including illegal blockades of rail networks, and natural events such as severe weather, droughts, fires, floods and earthquakes; climate change; labor negotiations and disruptions; environmental claims; uncertainties of investigations, proceedings or other types of claims and litigation; risks and liabilities arising from derailments; timing and completion of capital programs; and other risks detailed from time to time in reports filed by CN with securities regulators in Canada and the United States. Reference should also be made to Management's Discussion and Analysis in CN's annual and interim reports, Annual Information Form and Form 40-F, filed with Canadian and U.S. securities regulators and available on CN's website, for a description of major risk factors relating to CN.
Forward-looking statements reflect information as of the date on which they are made. CN assumes no obligation to update or revise forward-looking statements to reflect future events, changes in circumstances, or changes in beliefs, unless required by applicable securities laws. In the event CN does update any forward-looking statement, no inference should be made that CN will make additional updates with respect to that statement, related matters, or any other forward-looking statement.
No Offer or Solicitation
This communication does not constitute an offer to sell or the solicitation of an offer to buy any securities or a solicitation of any vote or approval, nor shall there be any sale of securities in any jurisdiction in which such offer, solicitation or sale would be unlawful prior to registration or qualification under the securities laws of any such jurisdiction. No offer of securities shall be made except by means of a prospectus meeting the requirements of Section 10 of the Securities Act of 1933, as amended.
Additional Information and Where to Find It
This communication relates to a proposal which CN has made for an acquisition of KCS. In furtherance of this proposal and subject to future developments, CN (and, if a negotiated transaction is agreed, KCS) may file one or more registration statements, proxy statements, tender offer statements or other documents with the U.S. Securities and Exchange Commission ("SEC") or applicable securities regulators in Canada. This communication is not a substitute for any proxy statement, registration statement, tender offer statement, prospectus or other document CN and/or KCS may file with the SEC or applicable securities regulators in Canada in connection with the proposed transactions.
---
INVESTORS AND SECURITY HOLDERS ARE URGED TO READ THE PROXY STATEMENT(S), REGISTRATION STATEMENT(S), TENDER OFFER STATEMENT, PROSPECTUS AND ANY OTHER RELEVANT DOCUMENTS FILED WITH THE SEC OR APPLICABLE SECURITIES REGULATORS IN CANADA CAREFULLY IN THEIR ENTIRETY IF AND WHEN THEY BECOME AVAILABLE BECAUSE THEY WILL CONTAIN IMPORTANT INFORMATION ABOUT CN, KCS AND THE PROPOSED TRANSACTIONS. Any definitive proxy statement(s), registration statement or prospectus(es) and other documents filed by CN and KCS (if and when available) will be mailed to stockholders of CN and/or KCS, as applicable. Investors and security holders will be able to obtain copies of these documents (if and when available) and other documents filed with the SEC and applicable securities regulators in Canada by CN free of charge through at www.sec.gov and www.sedar.com. Copies of the documents filed by CN (if and when available) will also be made available free of charge by accessing CN's website at www.CN.ca.
Participants
This communication is neither a solicitation of a proxy nor a substitute for any proxy statement or other filings that may be made with the SEC and applicable securities regulators in Canada. Nonetheless, CN and its directors and executive officers and other members of management and employees may be deemed to be participants in the solicitation of proxies in respect of the proposed transactions. Information about CN's executive officers and directors is available in its 2021 Management Information Circular, dated March 9, 2021, as well as its 2020 Annual Report on Form 40-F filed with the SEC on February 1, 2021, in each case available on its website at www.CN.ca/investors/ and at www.sec.gov and www.sedar.com. Additional information regarding the interests of such potential participants will be included in one or more registration statements, proxy statements, tender offer statements or other documents filed with the SEC and applicable securities regulators in Canada if and when they become available. These documents (if and when available) may be obtained free of charge from the SEC's website at www.sec.gov and www.sedar.com, as applicable.
SEC Filings
Sign up for StreetInsider Free!
Receive full access to all new and archived articles, unlimited portfolio tracking, e-mail alerts, custom newswires and RSS feeds - and more!