Form DEFA14A Kinetik Holdings Inc.
---
Get inside Wall Street with StreetInsider Premium. Claim your 1-week free trial here.
---
UNITED STATES
SECURITIES AND EXCHANGE COMMISSION
Washington, D.C. 20549
SCHEDULE 14A
Proxy Statement Pursuant to Section 14(a) of the
Securities Exchange Act of 1934
(Amendment No. )
Filed by the Registrant ☒
Filed by a Party other than the Registrant ☐
Check the appropriate box:
| | |
| --- | --- |
| ☐ | Preliminary Proxy Statement |
| | |
| --- | --- |
| ☐ | Confidential, for Use of the Commission Only (as permitted by Rule 14a-6(e)(2)) |
| | |
| --- | --- |
| ☐ | Definitive Proxy Statement |
| | |
| --- | --- |
| ☒ | Definitive Additional Materials |
| | |
| --- | --- |
| ☐ | Soliciting Material Pursuant to §240.14a-12 |
KINETIK HOLDINGS INC.
(Name of Registrant as Specified In Its Charter)
(Name of Person(s) Filing Proxy Statement if other than the Registrant)
Payment of Filing Fee (Check all boxes that apply):
| | |
| --- | --- |
| ☐ | Fee paid previously with preliminary materials |
| | |
| --- | --- |
| ☐ | Fee computed on table in exhibit required by Item 25(b) per Exchange Act Rules 14a-6(i)(1) and 0-11 |
---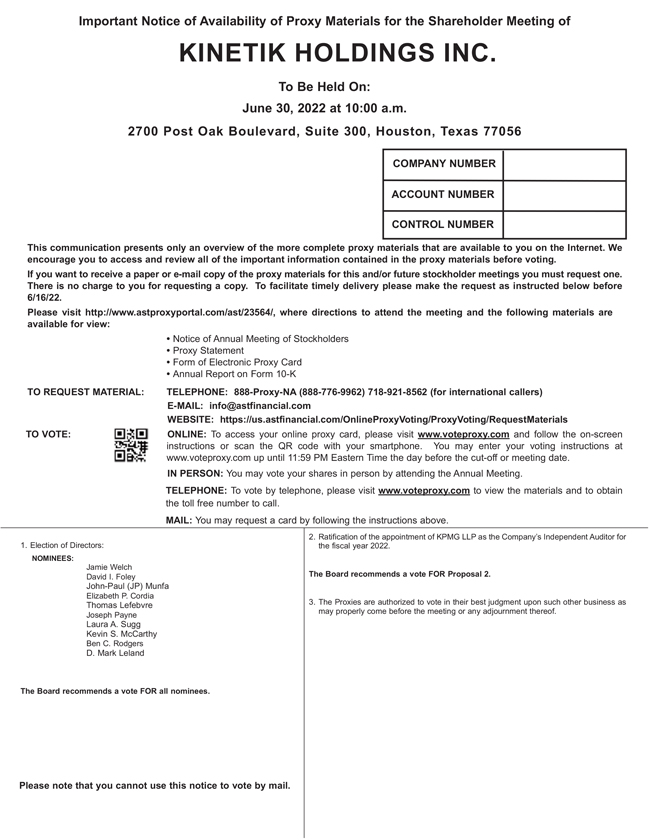 Important NoticeKINETIK of Availability of Proxy HOLDINGS Materials for the Shareholder INC. Meeting of To Be Held On: June 30, 2022 at 10:00 a.m. 2700 Post Oak Boulevard, Suite 300, Houston, Texas 77056 COMPANY NUMBER ACCOUNT NUMBER CONTROL NUMBER encourage you to access and review all of the important information contained in the proxy materials before voting. If you want to receive a paper or e-mail copy of the proxy materials for this and/or future stockholder meetings you must request one. There is no charge to you for requesting a copy. To facilitate timely delivery please make the request as instructed below before 6/16/22. Please visit http://www.astproxyportal.com/ast/23564/, where directions to attend the meeting and the following materials are available for view: • Notice of Annual Meeting of Stockholders • Proxy Statement • Form of Electronic Proxy Card • Annual Report on Form 10-K TO REQUEST MATERIAL: TELEPHONE: 888-Proxy-NA (888-776-9962) 718-921-8562 (for international callers) E-MAIL: [email protected] WEBSITE: https://us.astfinancial.com/OnlineProxyVoting/ProxyVoting/RequestMaterials TO VOTE: ONLINE: To access your online proxy card, please visit www.voteproxy.com and follow the on-screen instructions or scan the QR code with your smartphone. You may enter your voting instructions at www.voteproxy.com up until 11:59 PM Eastern Time the day before the cut-off or meeting date. IN PERSON: You may vote your shares in person by attending the Annual Meeting. TELEPHONE: To vote by telephone, please visit www.voteproxy.com to view the materials and to obtain the toll free number to call. MAIL: You may request a card by following the instructions above. 1. Election of Directors: NOMINEES: Jamie Welch David I. Foley John-Paul Elizabeth P. (JP) Munfa Thomas Cordia Joseph Payne Lefebvre Kevin Laura S. A. McCarthy Sugg Ben C. Rodgers Mark Leland D. The Board recommends a vote FOR all nominees. Please note that you cannot use this notice to vote by mail. the fiscal year 2022. The Board recommends a vote FOR Proposal 2. 3. The Proxies are authorized to vote in their best judgment upon such other business as may properly come before the meeting or any adjournment thereof.
SEC Filings
Sign up for StreetInsider Free!
Receive full access to all new and archived articles, unlimited portfolio tracking, e-mail alerts, custom newswires and RSS feeds - and more!