Form DEFA14A Bill.com Holdings, Inc.
---
Get instant alerts when news breaks on your stocks. Claim your 1-week free trial to StreetInsider Premium here.
---
---
UNITED STATES
SECURITIES AND EXCHANGE COMMISSION
WASHINGTON, D.C. 20549
SCHEDULE 14A
(Rule 14a-101)
SCHEDULE 14A INFORMATION
Proxy Statement Pursuant to Section 14(a) of the
Securities Exchange Act of 1934
Filed by the Registrant ☒ Filed by a Party other than the Registrant ☐
Check the appropriate box:
| | |
| --- | --- |
| ☐ | Preliminary Proxy Statement |
| ☐ | Confidential, for Use of the Commission Only (as permitted by Rule 14a-6(e)(2)) |
| ☐ | Definitive Proxy Statement |
| ☒ | Definitive Additional Materials |
| ☐ | Soliciting Material Pursuant to §240.14a-12 |
BILL.COM HOLDINGS, INC.
(Name of Registrant as Specified In Its Charter)
N/A
(Name of Person(s) Filing Proxy Statement, if other than the Registrant)
Payment of Filing Fee (Check the appropriate box):
| | |
| --- | --- |
| ☒ | No fee required. |
| ☐ | Fee paid previously with preliminary materials. |
| ☐ | Fee computed on table in exhibit required by Item 25(b) per Exchange Act Rules 14a-6(i)(1) and 0-11. |
---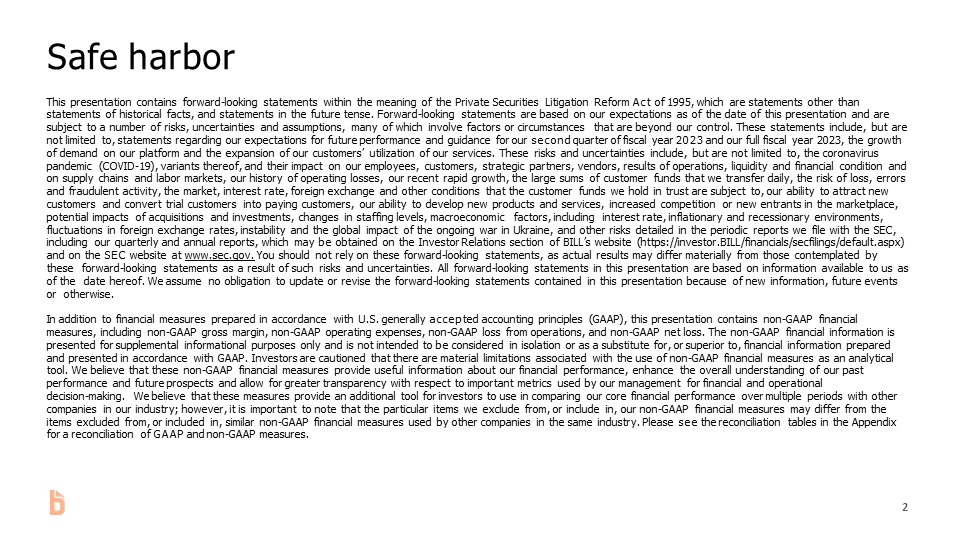 2  This presentation contains forward-looking statements within the meaning of the Private Securities Litigation Reform Act of 1995, which are statements other than statements of historical facts, and statements in the future tense. Forward-looking statements are based on our expectations as of the date of this presentation and are subject to a number of risks, uncertainties and assumptions, many of which involve factors or circumstances that are beyond our control. These statements include, but are not limited to, statements regarding our expectations for future performance and guidance for our second quarter of fiscal year 2023 and our full fiscal year 2023, the growth of demand on our platform and the expansion of our customers' utilization of our services. These risks and uncertainties include, but are not limited to, the coronavirus pandemic (COVID-19), variants thereof, and their impact on our employees, customers, strategic partners, vendors, results of operations, liquidity and financial condition and on supply chains and labor markets, our history of operating losses, our recent rapid growth, the large sums of customer funds that we transfer daily, the risk of loss, errors and fraudulent activity, the market, interest rate, foreign exchange and other conditions that the customer funds we hold in trust are subject to, our ability to attract new customers and convert trial customers into paying customers, our ability to develop new products and services, increased competition or new entrants in the marketplace, potential impacts of acquisitions and investments, changes in staffing levels, macroeconomic factors, including interest rate, inflationary and recessionary environments, fluctuations in foreign exchange rates, instability and the global impact of the ongoing war in Ukraine, and other risks detailed in the periodic reports we file with the SEC, including our quarterly and annual reports, which may be obtained on the Investor Relations section of BILL's website (https://investor.BILL/financials/secfilings/default.aspx) and on the SEC website at www.sec.gov. You should not rely on these forward-looking statements, as actual results may differ materially from those contemplated by these forward-looking statements as a result of such risks and uncertainties. All forward-looking statements in this presentation are based on information available to us as of the date hereof. We assume no obligation to update or revise the forward-looking statements contained in this presentation because of new information, future events or otherwise.  In addition to financial measures prepared in accordance with U.S. generally accepted accounting principles (GAAP), this presentation contains non-GAAP financial measures, including non-GAAP gross margin, non-GAAP operating expenses, non-GAAP loss from operations, and non-GAAP net loss. The non-GAAP financial information is presented for supplemental informational purposes only and is not intended to be considered in isolation or as a substitute for, or superior to, financial information prepared and presented in accordance with GAAP. Investors are cautioned that there are material limitations associated with the use of non-GAAP financial measures as an analytical tool. We believe that these non-GAAP financial measures provide useful information about our financial performance, enhance the overall understanding of our past performance and future prospects and allow for greater transparency with respect to important metrics used by our management for financial and operational  decision-making. We believe that these measures provide an additional tool for investors to use in comparing our core financial performance over multiple periods with other companies in our industry; however, it is important to note that the particular items we exclude from, or include in, our non-GAAP financial measures may differ from the items excluded from, or included in, similar non-GAAP financial measures used by other companies in the same industry. Please see the reconciliation tables in the Appendix for a reconciliation of GAAP and non-GAAP measures.  Safe harbor 
 3  Who we are:  Champions of small and midsize businesses.  Our mission:  Make it simple to connect and do business.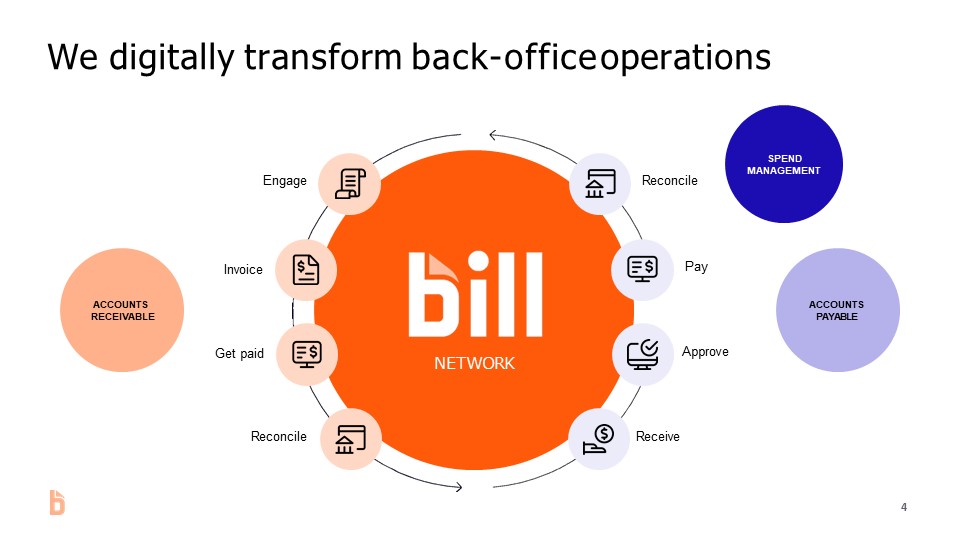 4  We digitally transform back-office operations  Invoice  Get paid  ACCOUNTS RECEIVABLE  ACCOUNTS PAYABLE  Engage  Reconcile  Reconcile  Pay  Approve  Receive  NETWORK  SPEND MANAGEMENT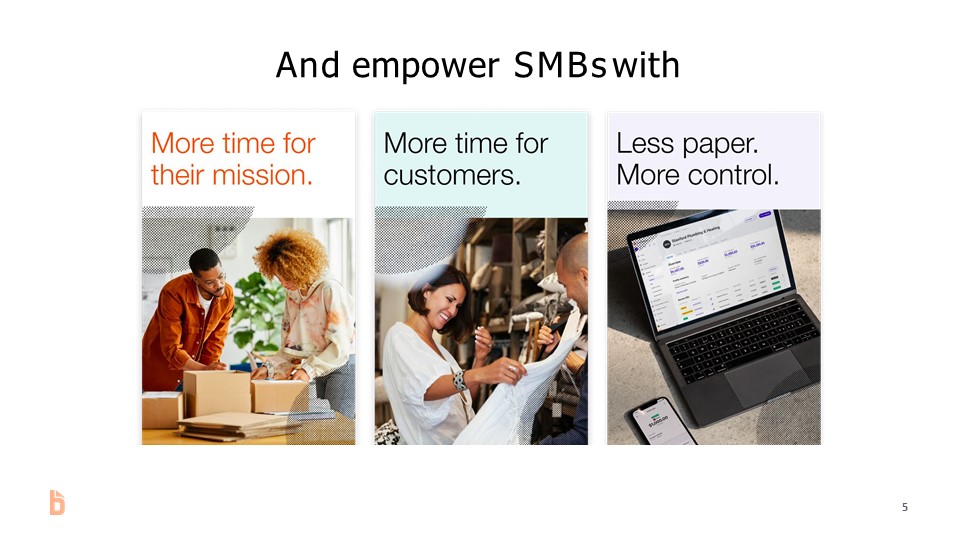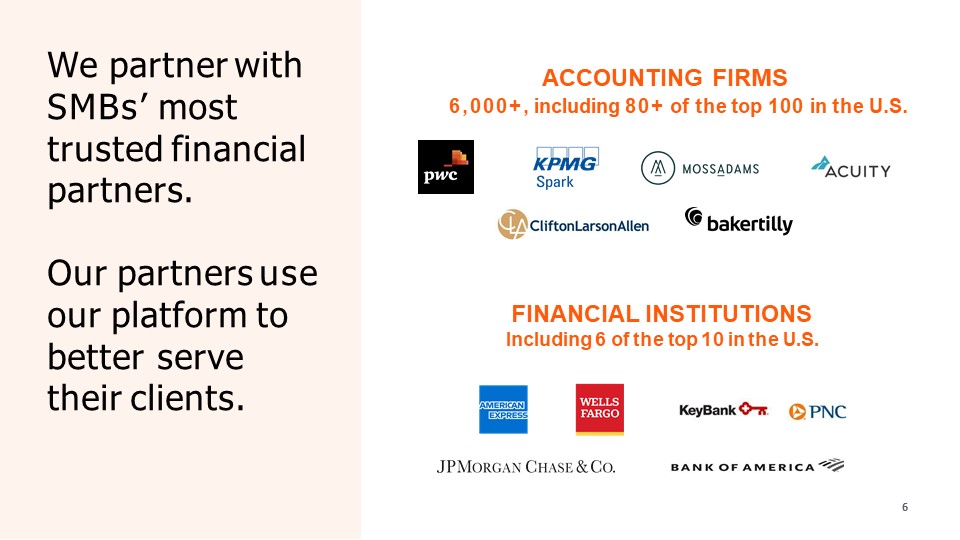 6  We partner with SMBs' most trusted financial partners.  Our partners use our platform to better serve their clients.  ACCOUNTING FIRMS  6,000+, including 80+ of the top 100 in the U.S.  FINANCIAL INSTITUTIONS  Including 6 of the top 10 in the U.S.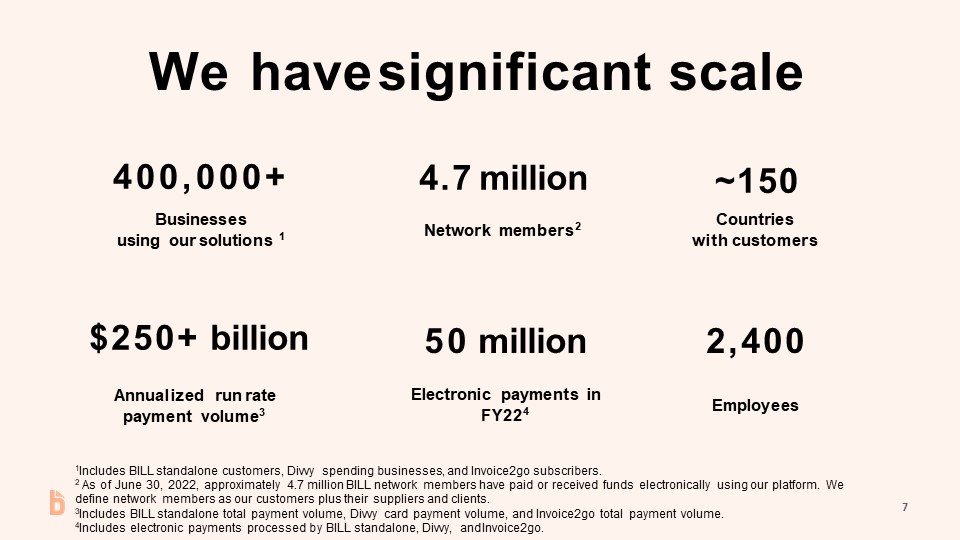 1Includes BILL standalone customers, Divvy spending businesses, and Invoice2go subscribers.  2 As of June 30, 2022, approximately 4.7 million BILL network members have paid or received funds electronically using our platform. We define network members as our customers plus their suppliers and clients.  3Includes BILL standalone total payment volume, Divvy card payment volume, and Invoice2go total payment volume.  4Includes electronic payments processed by BILL standalone, Divvy, and Invoice2go.  50 million  Electronic payments in FY224  400,000+  Businesses  using our solutions  1  4.7 million  Network members2  ~150  Countries with customers  2,400  Employees  We have significant scale  $250+ billion  Annualized run rate payment volume3  7 
 8  U.S.  Opportunity  Global Opportunity  30M+  $66B  $25T  Number of SMBs and Sole Proprietors  SMB Software Spend  B2B Payment Volume  1 As of 2018; Nonemployer Statistics, 2018 (Census); Statistics of US Businesses, 2018 (Census). 2 As of 2017; IDC Research, Inc., U.S. Small and Medium-Sized Business Forecast, 2018-2022: PCs and Peripherals, Systems and Storage, Telecommunications/Network Equipment, Software, IT Services, and Business Services, 2018. 3 As of 2017; Mastercard; North American Business Payments. $25T represents the total North American B2B payment volume. 4 As of 2017; SME Finance Forum: MSME Finance Gap. 5 As of 2018; Nonemployer Statistics, 2018 (Census); Statistics of US Businesses, 2018 (Census); Eurostat, 2021; Australian Bureau of Statistics (Figure includes SMEs in US, AUS, EU only). 6 As of 2021; IDC Research, Inc., Worldwide Small and Medium-Sized Business Spending Guide Forecast Data. 7 As of 2017; 2017 Mastercard Investment Community Meeting Report. 7 As of 2017; 2017 Mastercard Investment Community Meeting Report.  1  2  3  70M+4,5 $239B 6 $125T 7  Our opportunity to create value in the SMB segment is significant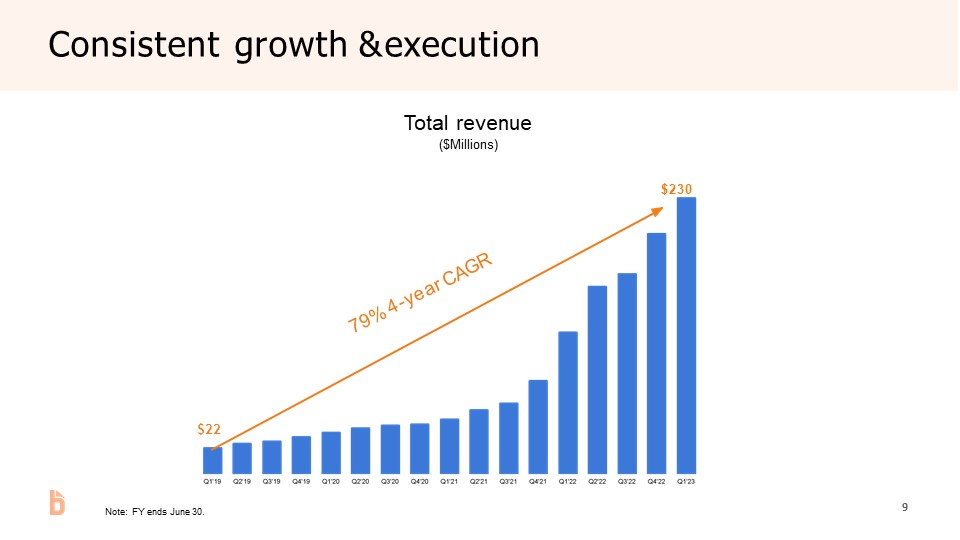 9  Total revenue  ($Millions)  Note: FY ends June 30.  79% 4-year CAGR  $22  $230  Consistent growth & execution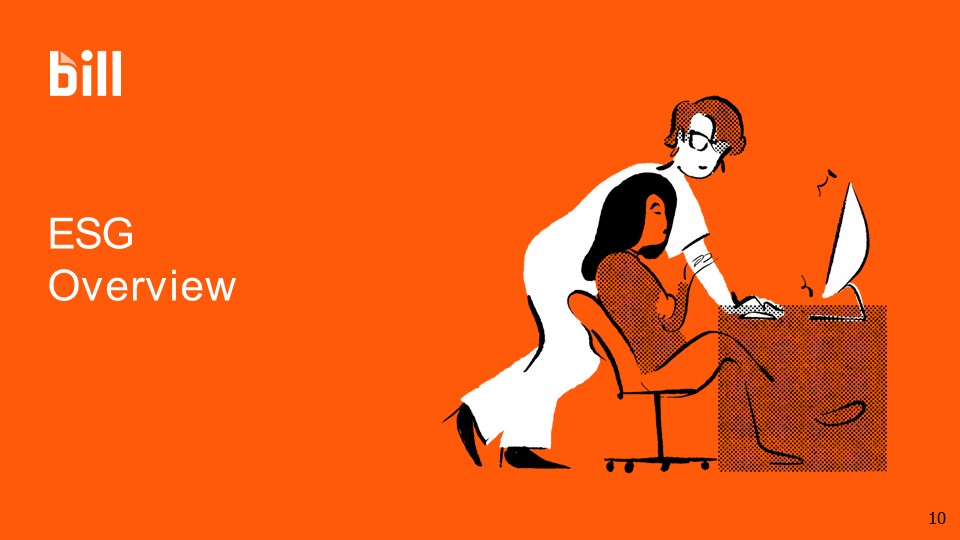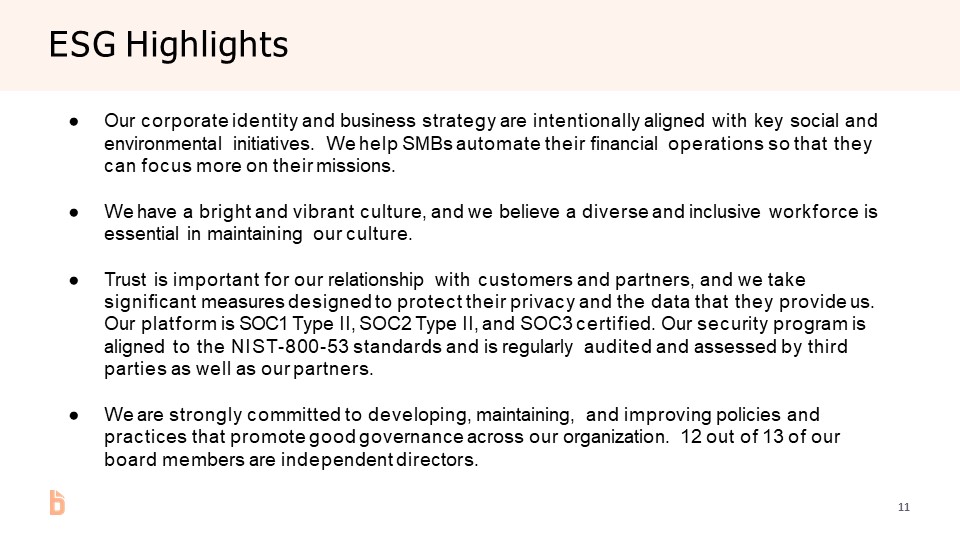 ESG Highlights  Our corporate identity and business strategy are intentionally aligned with key social and environmental initiatives. We help SMBs automate their financial operations so that they can focus more on their missions.  We have a bright and vibrant culture, and we believe a diverse and inclusive workforce is essential in maintaining our culture.  Trust is important for our relationship with customers and partners, and we take significant measures designed to protect their privacy and the data that they provide us. Our platform is SOC1 Type II, SOC2 Type II, and SOC3 certified. Our security program is aligned to the NIST-800-53 standards and is regularly audited and assessed by third parties as well as our partners.  We are strongly committed to developing, maintaining, and improving policies and practices that promote good governance across our organization. 12 out of 13 of our board members are independent directors.  11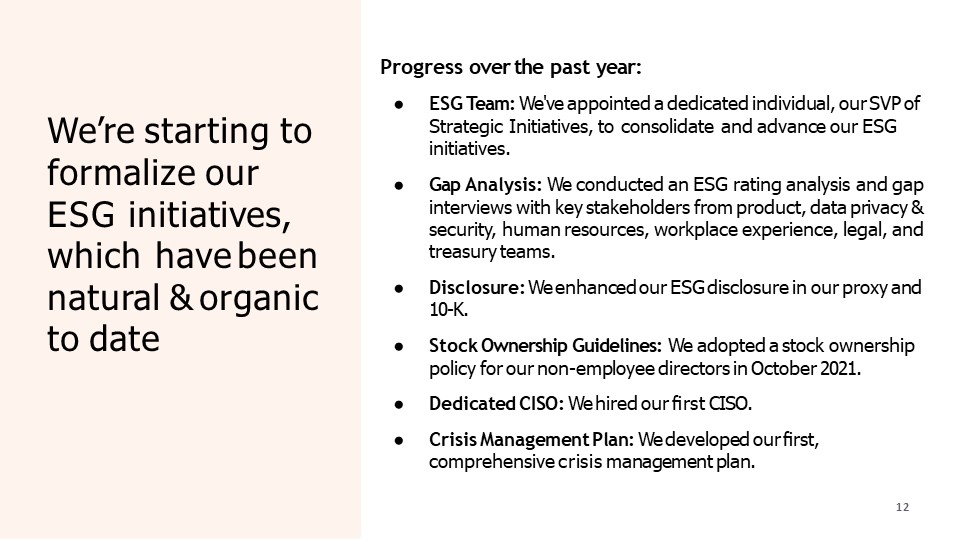 12  We're starting to formalize our ESG initiatives, which have been natural & organic to date  Progress over the past year:  ESG Team: We've appointed a dedicated individual, our SVP of Strategic Initiatives, to consolidate and advance our ESG initiatives.  Gap Analysis: We conducted an ESG rating analysis and gap interviews with key stakeholders from product, data privacy & security, human resources, workplace experience, legal, and treasury teams.  Disclosure: We enhanced our ESG disclosure in our proxy and 10-K.  Stock Ownership Guidelines: We adopted a stock ownership policy for our non-employee directors in October 2021.  Dedicated CISO: We hired our first CISO.  Crisis Management Plan: We developed our first, comprehensive crisis management plan.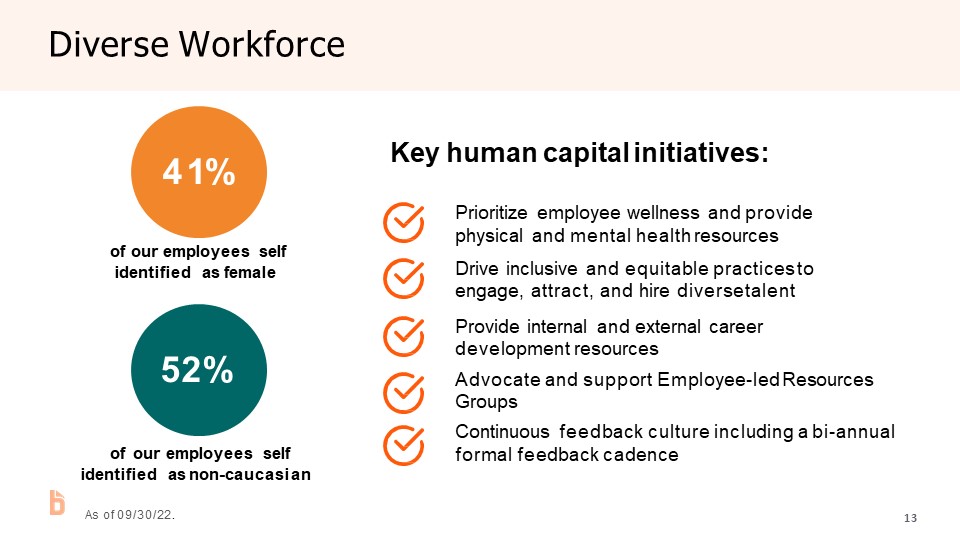 Diverse Workforce  52%  of our employees self identified as female  of our employees self identified as non-caucasian  Key human capital initiatives:  Prioritize employee wellness and provide physical and mental health resources  Drive inclusive and equitable practices to engage, attract, and hire diverse talent  Provide internal and external career development resources  Advocate and support Employee-led Resources Groups  Continuous feedback culture including a bi-annual formal feedback cadence  41%  13  As of 09/30/22.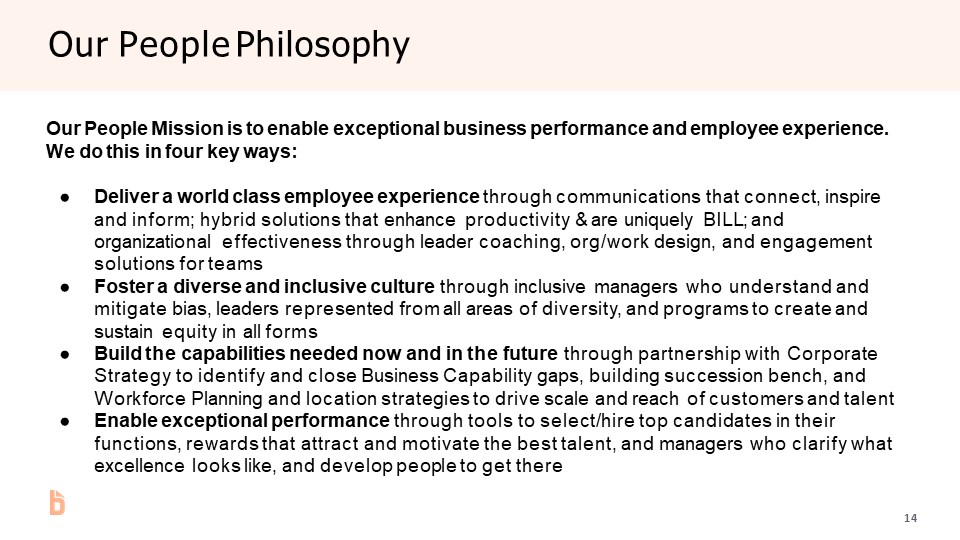 Our People Philosophy  14  Our People Mission is to enable exceptional business performance and employee experience. We do this in four key ways:  Deliver a world class employee experience through communications that connect, inspire and inform; hybrid solutions that enhance productivity & are uniquely BILL; and organizational effectiveness through leader coaching, org/work design, and engagement solutions for teams  Foster a diverse and inclusive culture through inclusive managers who understand and mitigate bias, leaders represented from all areas of diversity, and programs to create and sustain equity in all forms  Build the capabilities needed now and in the future through partnership with Corporate Strategy to identify and close Business Capability gaps, building succession bench, and Workforce Planning and location strategies to drive scale and reach of customers and talent  Enable exceptional performance through tools to select/hire top candidates in their functions, rewards that attract and motivate the best talent, and managers who clarify what excellence looks like, and develop people to get there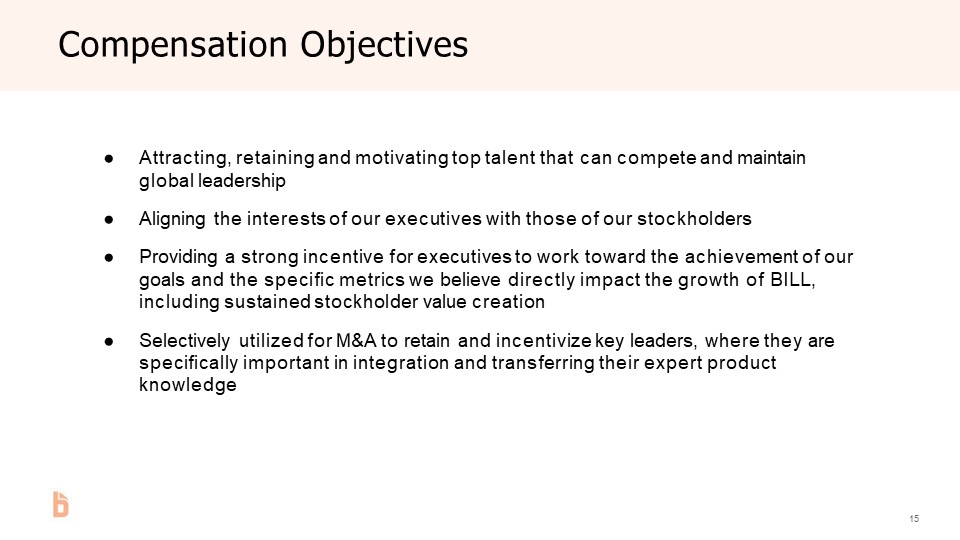 Compensation Objectives  Attracting, retaining and motivating top talent that can compete and maintain global leadership  Aligning the interests of our executives with those of our stockholders  Providing a strong incentive for executives to work toward the achievement of our goals and the specific metrics we believe directly impact the growth of BILL, including sustained stockholder value creation  Selectively utilized for M&A to retain and incentivize key leaders, where they are specifically important in integration and transferring their expert product knowledge  15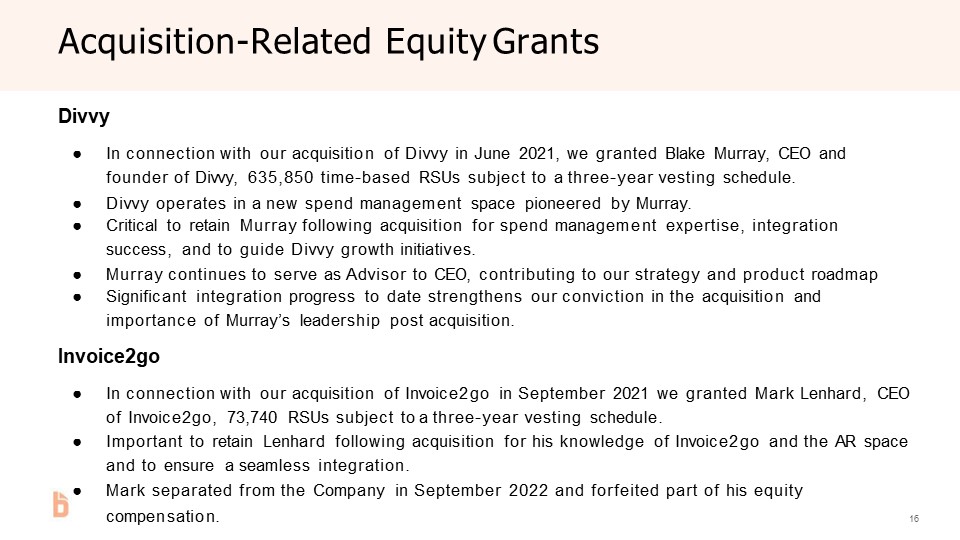 Acquisition-Related Equity Grants  16  Divvy  In connection with our acquisition of Divvy in June 2021, we granted Blake Murray, CEO and founder of Divvy, 635,850 time-based RSUs subject to a three-year vesting schedule.  Divvy operates in a new spend management space pioneered by Murray.  Critical to retain Murray following acquisition for spend management expertise, integration success, and to guide Divvy growth initiatives.  Murray continues to serve as Advisor to CEO, contributing to our strategy and product roadmap  Significant integration progress to date strengthens our conviction in the acquisition and importance of Murray's leadership post acquisition.  Invoice2go  In connection with our acquisition of Invoice2go in September 2021 we granted Mark Lenhard, CEO of Invoice2go, 73,740 RSUs subject to a three-year vesting schedule.  Important to retain Lenhard following acquisition for his knowledge of Invoice2go and the AR space and to ensure a seamless integration.  Mark separated from the Company in September 2022 and forfeited part of his equity  compensation.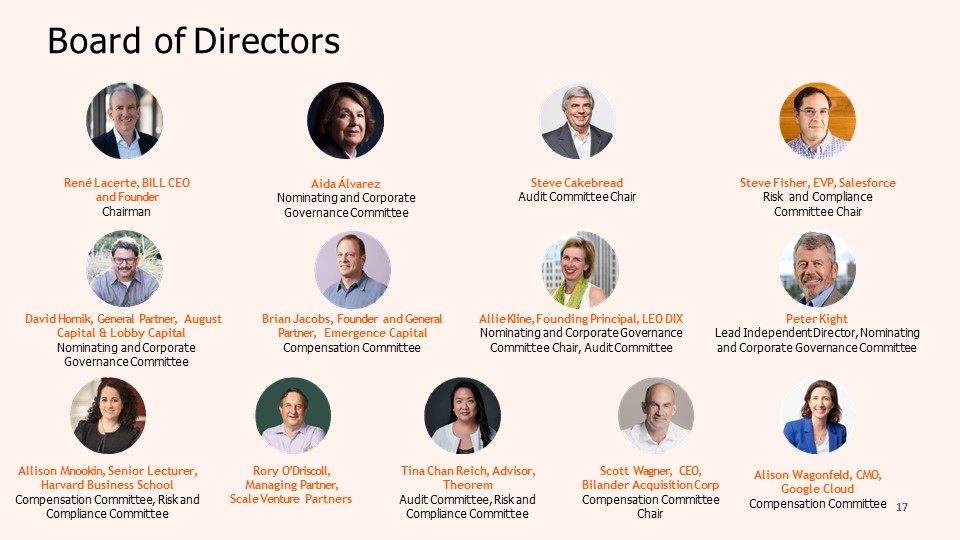 17  Board of Directors  René Lacerte, BILL CEO and Founder  Chairman  Aida Álvarez  Nominating and Corporate Governance Committee  Steve Cakebread  Audit Committee Chair  Steve Fisher, EVP, Salesforce Risk and Compliance Committee Chair  David Hornik, General Partner, August Capital & Lobby Capital Nominating and Corporate  Governance Committee  Brian Jacobs, Founder and General Partner, Emergence Capital Compensation Committee  Allie Kline, Founding Principal, LEO DIX Nominating and Corporate Governance Committee Chair, Audit Committee  Peter Kight  Lead Independent Director, Nominating and Corporate Governance Committee  Allison Mnookin, Senior Lecturer, Harvard Business School Compensation Committee, Risk and Compliance Committee  Rory O'Driscoll, Managing Partner, Scale Venture Partners  Tina Chan Reich, Advisor, Theorem  Audit Committee, Risk and Compliance Committee  Scott Wagner, CEO, Bilander Acquisition Corp Compensation Committee Chair  Alison Wagonfeld, CMO, Google Cloud Compensation Committee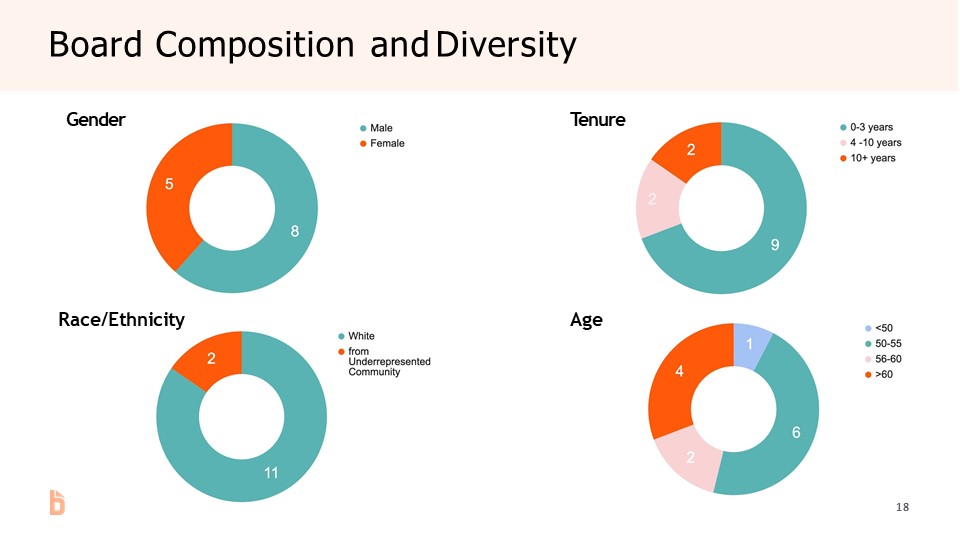 Board Composition and Diversity  Gender  Tenure  Race/Ethnicity  Age  18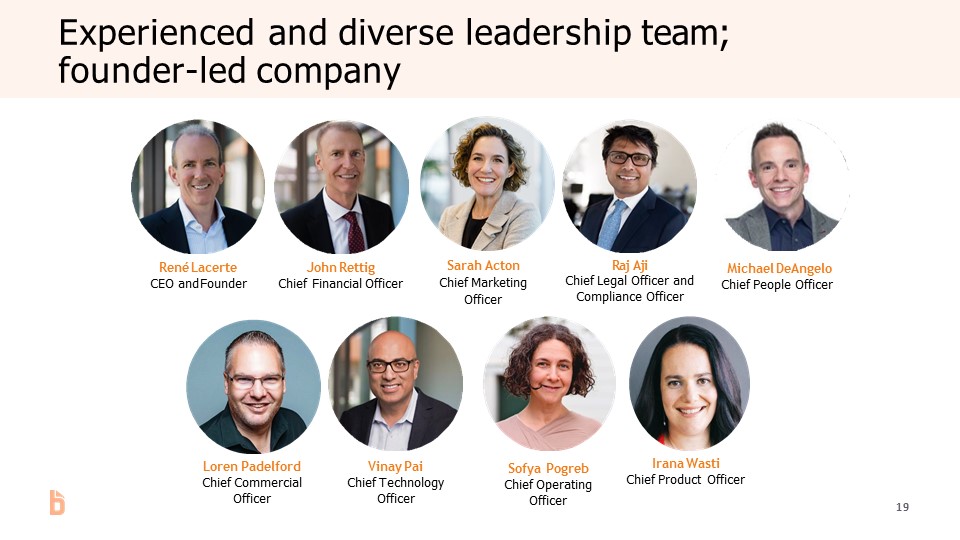 Experienced and diverse leadership team; founder-led company  Irana Wasti  Chief Product Officer  Vinay Pai  Chief Technology Officer  Raj Aji  Chief Legal Officer and Compliance Officer  John Rettig  Chief Financial Officer  René Lacerte  CEO and Founder  Sofya Pogreb Chief Operating Officer  Sarah Acton Chief Marketing Officer  Michael DeAngelo  Chief People Officer  Loren Padelford Chief Commercial Officer  19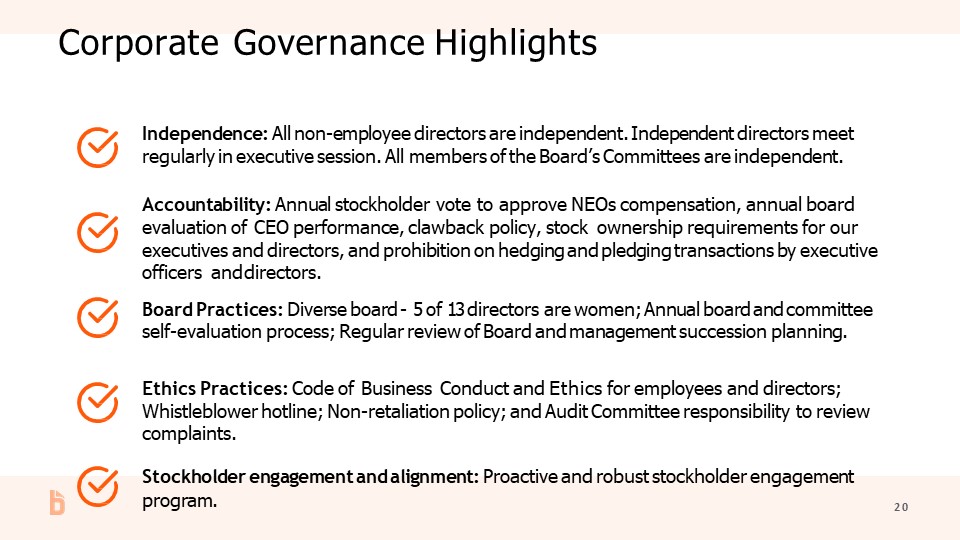 Corporate Governance Highlights  Independence: All non-employee directors are independent. Independent directors meet regularly in executive session. All members of the Board's Committees are independent.  Accountability: Annual stockholder vote to approve NEOs compensation, annual board evaluation of CEO performance, clawback policy, stock ownership requirements for our executives and directors, and prohibition on hedging and pledging transactions by executive officers and directors.  Board Practices: Diverse board - 5 of 13 directors are women; Annual board and committee self-evaluation process; Regular review of Board and management succession planning.  Ethics Practices: Code of Business Conduct and Ethics for employees and directors; Whistleblower hotline; Non-retaliation policy; and Audit Committee responsibility to review complaints.  Stockholder engagement and alignment: Proactive and robust stockholder engagement  program.  20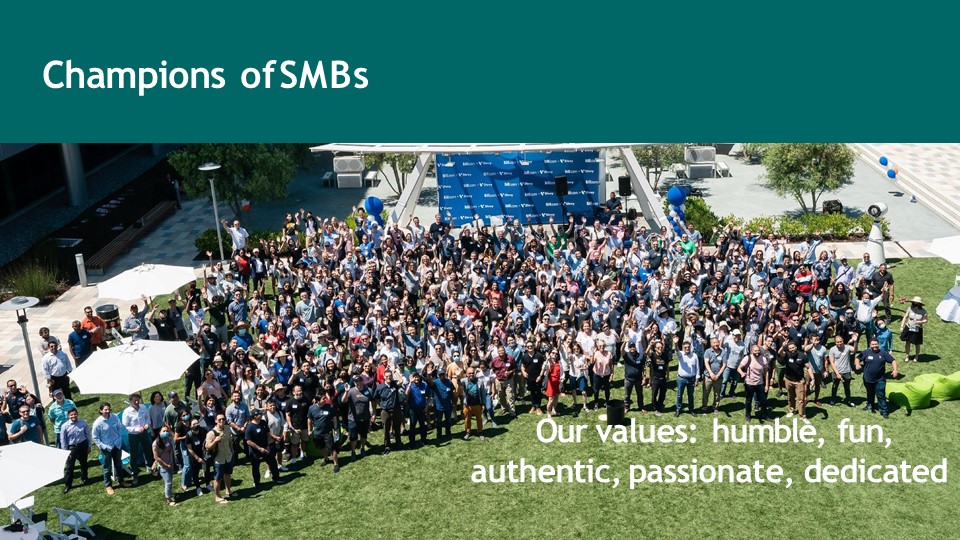 21  Champions of SMBs  Our values: humble, fun, authentic, passionate, dedicated 
SEC Filings
Sign up for StreetInsider Free!
Receive full access to all new and archived articles, unlimited portfolio tracking, e-mail alerts, custom newswires and RSS feeds - and more!