Form 8-K VerifyMe, Inc. For: May 25
---
Get inside Wall Street with StreetInsider Premium. Claim your 1-week free trial here.
---
Exhibit 99.1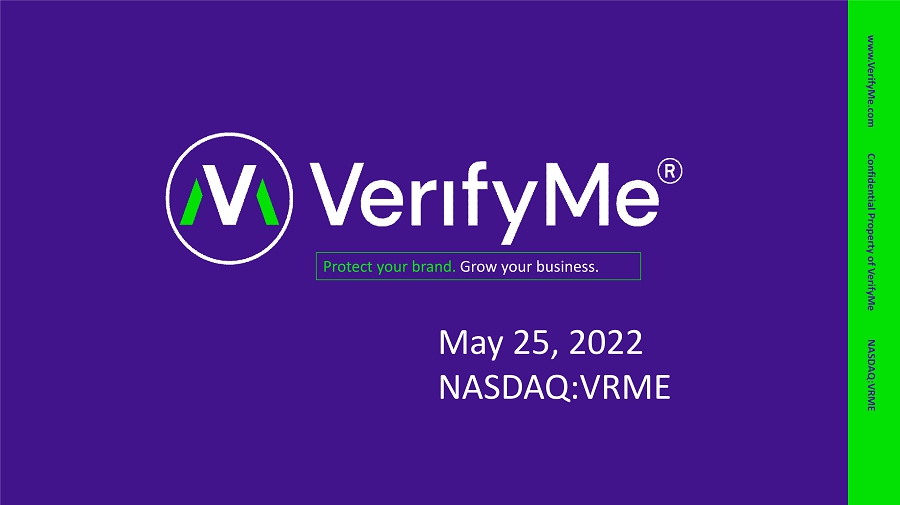 May 25, 2022 NASDAQ:VRME Protect your brand. Grow your business. www.VerifyMe.com Confidential Property of VerifyMe NASDAQ:VRME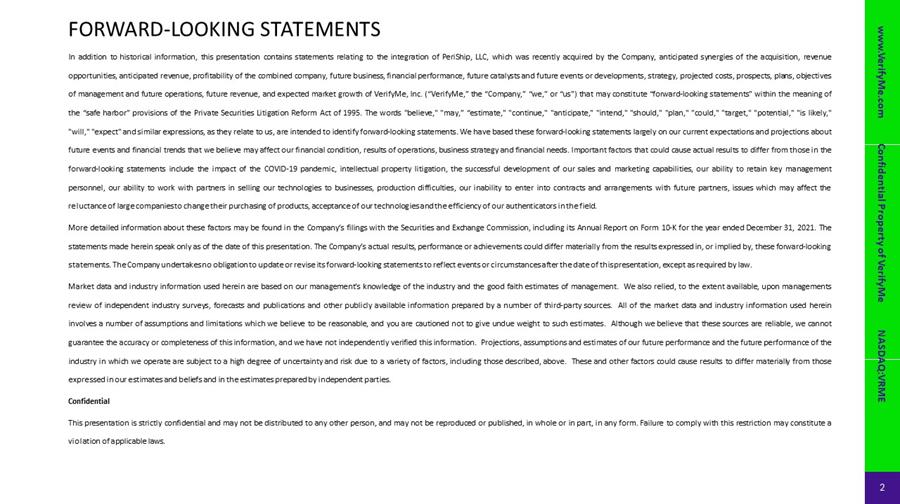 FORWARD - LOOKING STATEMENTS 2 In addition to historical information, this presentation contains statements relating to the integration of PeriShip , LLC, which was recently acquired by the Company, anticipated synergies of the acquisition, revenue opportunities, anticipated revenue, profitability of the combined company, future business, financial performance, future catalysts and future events or developments, strategy, projected costs, prospects, plans, objectives of management and future operations, future revenue, and expected market growth of VerifyMe , Inc . (" VerifyMe ," the "Company," "we," or "us") that may constitute "forward - looking statements" within the meaning of the "safe harbor" provisions of the Private Securities Litigation Reform Act of 1995 . The words "believe," "may," "estimate," "continue," "anticipate," "intend," "should," "plan," "could," "target," "potential," "is likely," "will," "expect" and similar expressions, as they relate to us, are intended to identify forward - looking statements . We have based these forward - looking statements largely on our current expectations and projections about future events and financial trends that we believe may affect our financial condition, results of operations, business strategy and financial needs . Important factors that could cause actual results to differ from those in the forward - looking statements include the impact of the COVID - 19 pandemic, intellectual property litigation, the successful development of our sales and marketing capabilities, our ability to retain key management personnel, our ability to work with partners in selling our technologies to businesses, production difficulties, our inability to enter into contracts and arrangements with future partners, issues which may affect the reluctance of large companies to change their purchasing of products, acceptance of our technologies and the efficiency of our authenticators in the field . More detailed information about these factors may be found in the Company's filings with the Securities and Exchange Commission, including its Annual Report on Form 10 - K for the year ended December 31 , 2021 . The statements made herein speak only as of the date of this presentation . The Company's actual results, performance or achievements could differ materially from the results expressed in, or implied by, these forward - looking statements . The Company undertakes no obligation to update or revise its forward - looking statements to reflect events or circumstances after the date of this presentation, except as required by law . Market data and industry information used herein are based on our management's knowledge of the industry and the good faith estimates of management . We also relied, to the extent available, upon managements review of independent industry surveys, forecasts and publications and other publicly available information prepared by a number of third - party sources . All of the market data and industry information used herein involves a number of assumptions and limitations which we believe to be reasonable, and you are cautioned not to give undue weight to such estimates . Although we believe that these sources are reliable, we cannot guarantee the accuracy or completeness of this information, and we have not independently verified this information . Projections, assumptions and estimates of our future performance and the future performance of the industry in which we operate are subject to a high degree of uncertainty and risk due to a variety of factors, including those described, above . These and other factors could cause results to differ materially from those expressed in our estimates and beliefs and in the estimates prepared by independent parties . Confidential This presentation is strictly confidential and may not be distributed to any other person, and may not be reproduced or published, in whole or in part, in any form . Failure to comply with this restriction may constitute a violation of applicable laws . www.VerifyMe.com Confidential Property of VerifyMe NASDAQ:VRME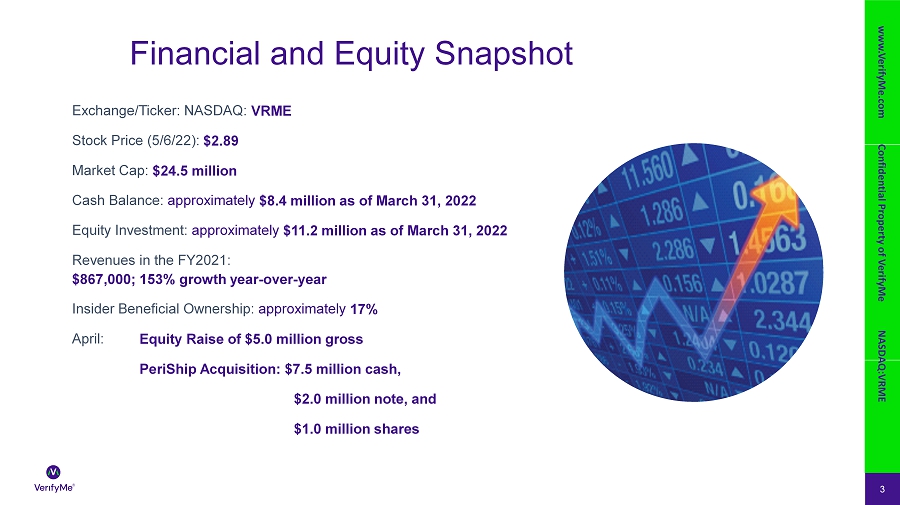 Financial and Equity Snapshot 3 Exchange/Ticker: NASDAQ: VRME Stock Price (5/6/22): $2.89 Market Cap: $24.5 million Cash Balance: approximately $8.4 million as of March 31, 2022 Equity Investment: approximately $11.2 million as of March 31, 2022 Revenues in the FY2021: $867,000; 153% growth year - over - year Insider Beneficial Ownership: approximately 17% April: Equity Raise of $5.0 million gross PeriShip Acquisition: $7.5 million cash, $2.0 million note, and $1.0 million shares www.VerifyMe.com Confidential Property of VerifyMe NASDAQ:VRME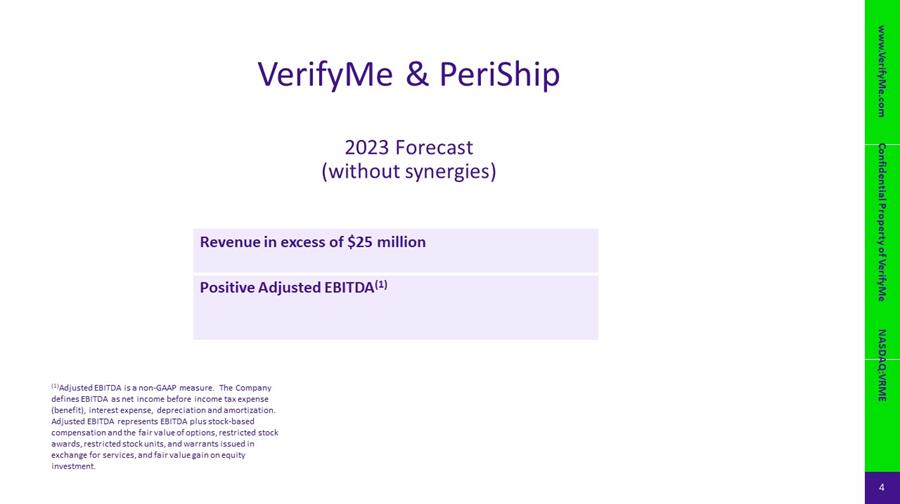 VerifyMe & PeriShip 2023 Forecast (without synergies) 4 www.VerifyMe.com Confidential Property of VerifyMe NASDAQ:VRME Revenue in excess of $25 million Positive Adjusted EBITDA (1) (1) Adjusted EBITDA is a non - GAAP measure. The Company defines EBITDA as net income before income tax expense (benefit), interest expense, depreciation and amortization. Adjusted EBITDA represents EBITDA plus stock - based compensation and the fair value of options, restricted stock awards, restricted stock units, and warrants issued in exchange for services, and fair value gain on equity investment.
VerifyMe Story 5 • 1999 x Laserlock Technologies formed Nov 1999 x Laser Pen Product Authentication • 2015 x Name change to VerifyMe , Inc, - Biometric focus • 2017 x Patrick White becomes CEO x Signs Contract with HP Indigo to create Ink Taggants for Secure Labels and Packaging on the HP Indigo 6000 series Digital Press x Signs a Software Development Company Partnership for Serialization/Track and Trace Technology • 2018 x Signed first revenue generating contract with a multi - billion $ Label Printer – Top 10 Consumer Products company becomes their first client x Signs Strategic Partnership with S - One Corp for world - wide infrastructure • 2019 x Developed Smart Phone Visible/Invisible code technology x Signed additional PSP Licenses x First Serialization Client - Multi - level Marketing www.VerifyMe.com Confidential Property of VerifyMe NASDAQ:VRME ​ • 2020 ​ x 2 Capital Raises ​ x Listed to NASDAQ in June 2020 ​ x First Consumer Engagement Technology Client ​ x First Secure Label Printing Client ​ ​ • 2021 ​ x Website Re - design ​ x Re - Branded as Brand Protection Consumer Engagement Solutions Provider ​ x Co - Sponsor of SPAC GGGV ​ x Added to Russell Index ​ x Received first orders from new cannabis Industry Client – 40 mil estimated annual units ​ • 2022 x PeriShip LLC acquisition x Continuous Inject printing capabilities developed x Signed First Sports Memorabilia Client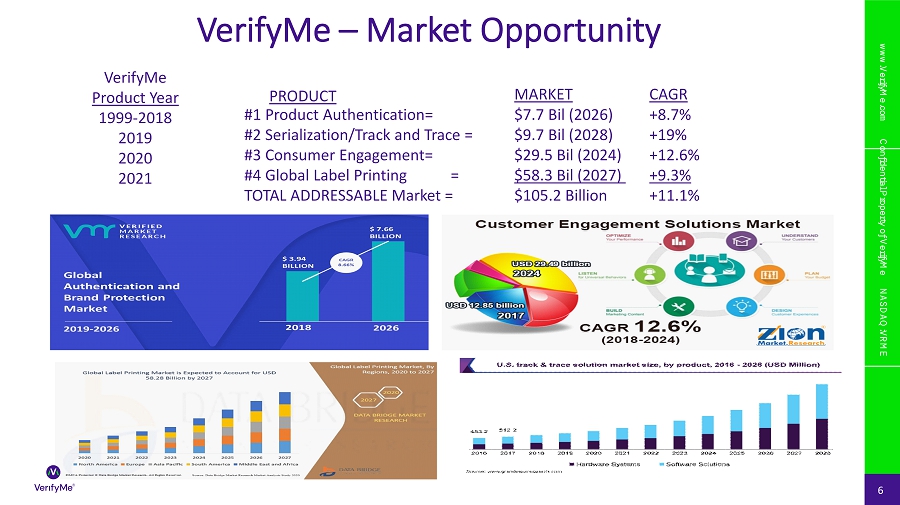 VerifyMe – Market Opportunity 6 MARKET CAGR #1 Product Authentication= $7.7 Bil (2026) +8.7% #2 Serialization/Track and Trace = $9.7 Bil (2028) +19% #3 Consumer Engagement= $29.5 Bil (2024) +12.6% #4 Global Label Printing = $58.3 Bil (2027) +9.3% TOTAL ADDRESSABLE Market = $105.2 Billion +11.1% VerifyMe Product Year 1999 - 2018 2019 2020 2021 PRODUCT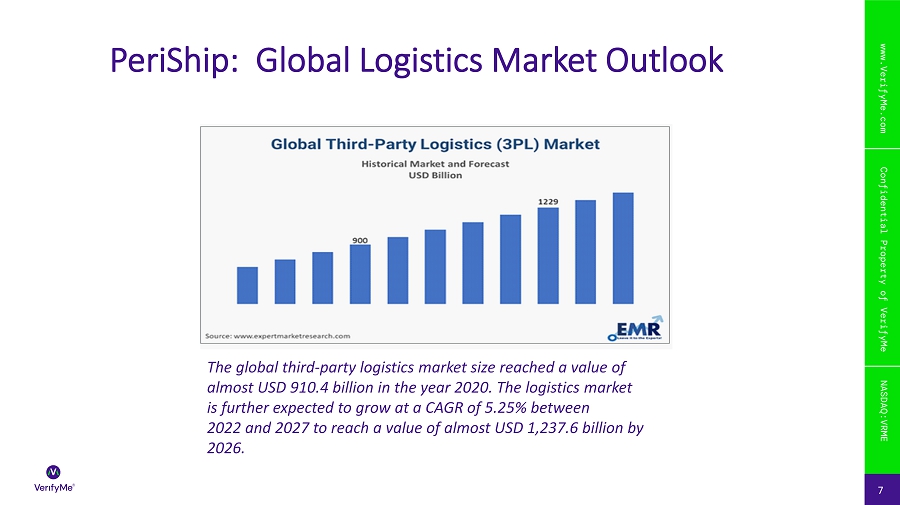 7 The global third - party logistics market size reached a value of almost USD 910.4 billion in the year 2020. The logistics market is further expected to grow at a CAGR of 5.25% between 2022 and 2027 to reach a value of almost USD 1,237.6 billion by 2026. PeriShip: Global Logistics Market Outlook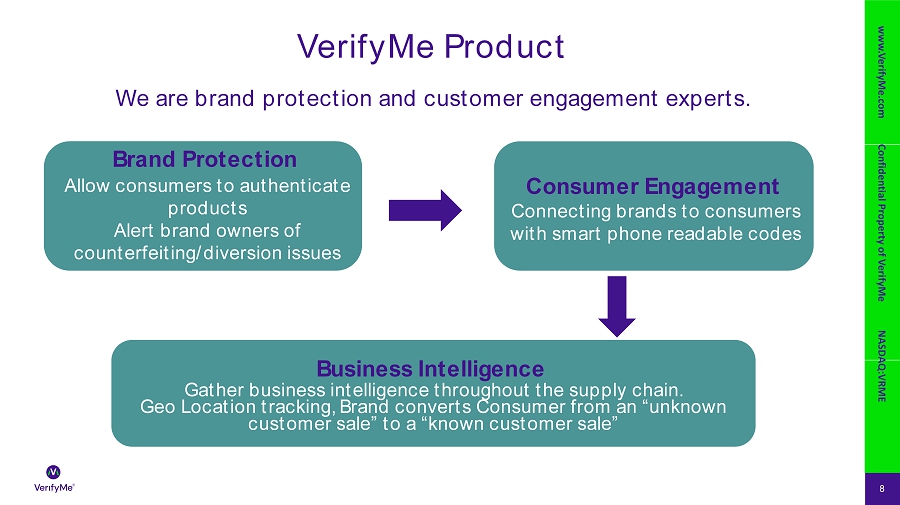 8 Brand Protection Allow consumers to authenticate products Alert brand owners of counterfeiting/diversion issues Consumer Engagement Connecting brands to consumers with smart phone readable codes Business Intelligence Ga ther business intelligence throughout the supply chain . Geo Location tracking, Brand converts Consumer from an "unknown customer sale" to a "known customer sale" VerifyMe Product We are brand protection and customer engagement experts. www.VerifyMe.com Confidential Property of VerifyMe NASDAQ:VRME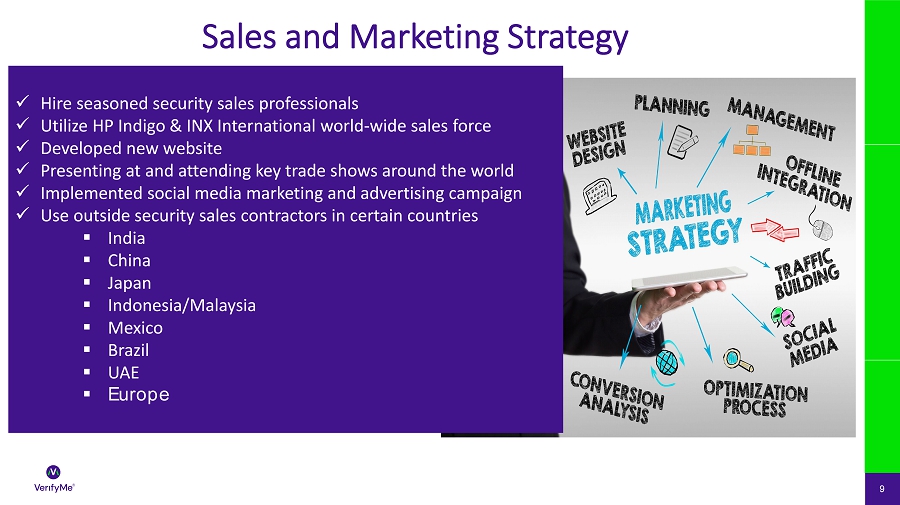 Sales and Marketing Strategy 9 x Hire seasoned security sales professionals x Utilize HP Indigo & INX International world - wide sales force x Developed new website x Presenting at and attending key trade shows around the world x Implemented social media marketing and advertising campaign x Use outside security sales contractors in certain countries ▪ India ▪ China ▪ Japan ▪ Indonesia/Malaysia ▪ Mexico ▪ Brazil ▪ UAE ▪ Europe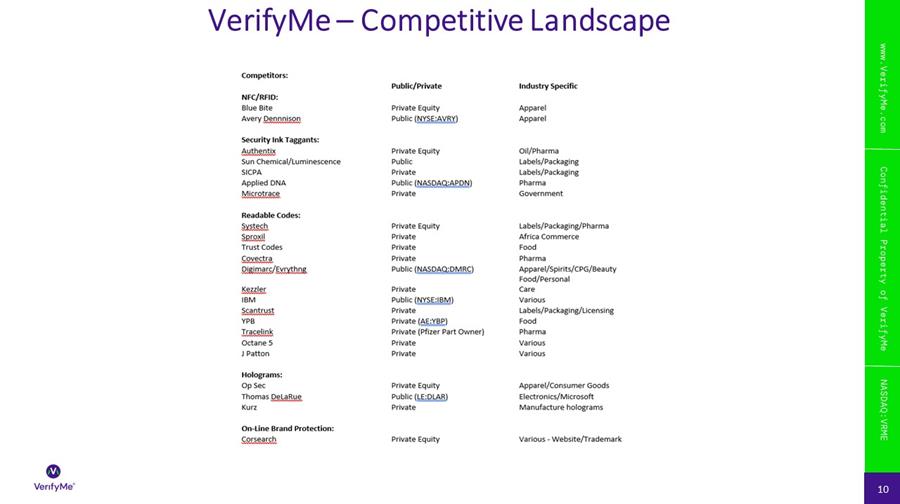 VerifyMe – Competitive Landscape 10
9 Industry Observations – Differentiators OBSERVATIONS • Fragmented Industry • Acquisitions are Occurring by private equity firms and Brands • Broad Range of Technologies • 80% of Brand Owners Still use Holographs/UV Ink • Readable Codes (QR, Serialization) • RFID/NFC (Expensive and Can be defused) • Digital Watermarks – Failing • DNA – Slow Authentication process • Blockchain Solutions are Being Developed DIFFERENTUATORS: • VerifyMe Major Strategic Partners • HP Indigo • Micro Focus • INX International • VerifyMe Instant Authentication Technologies • Web Portal – Cloud Based • Adds Customer Engagement • Lower Cost • "Silver Bullet" A nswer - Patented Dual Code T echnology
Product Comparison 12 The above table overview of products is based on management's internal analysis .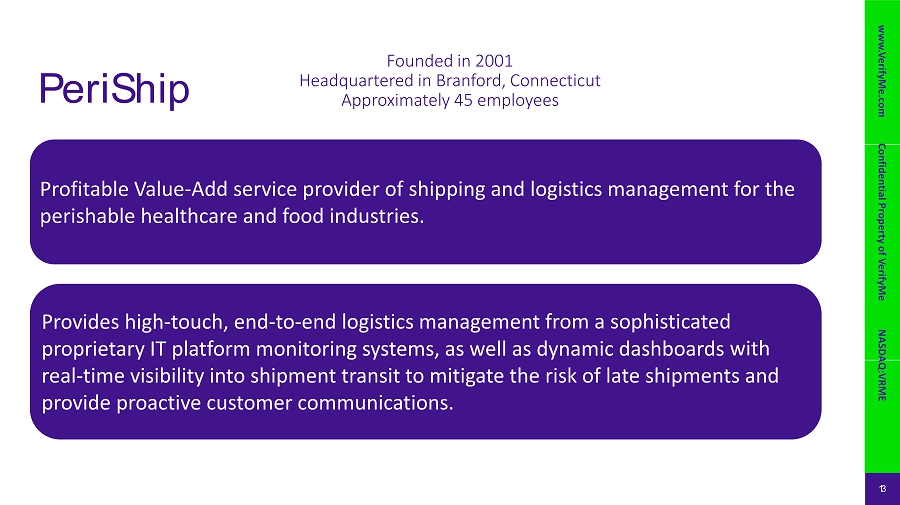 PeriShip 13 www.VerifyMe.com Confidential Property of VerifyMe NASDAQ:VRME Founded in 2001 Headquartered in Branford, Connecticut Approximately 45 employees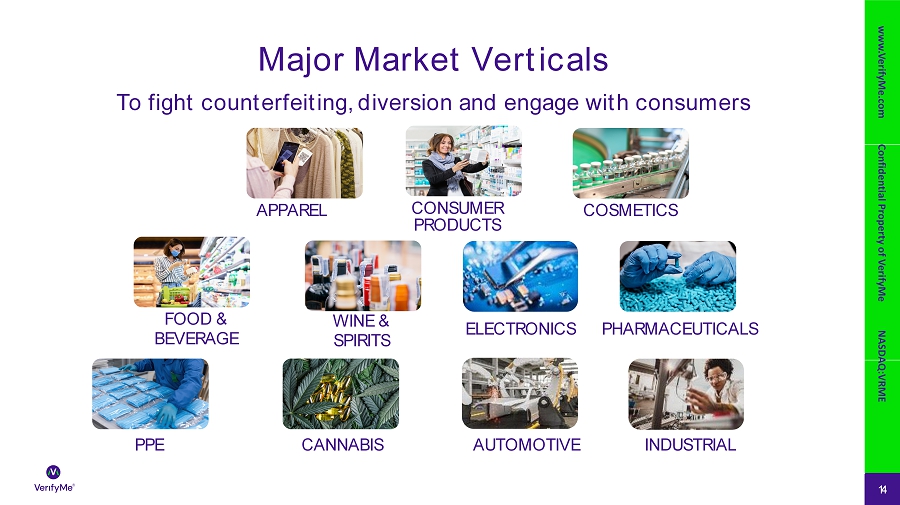 Major Market Verticals To fight counterfeiting , diversion and engage with consumers 14 COSMETICS CONSUMER PRODUCTS FOOD & BEVERAGE APPAREL ELECTRONICS PHARMACEUTICALS PPE CANNABIS INDUSTRIAL WINE & SPIRITS AUTOMOTIVE www.VerifyMe.com Confidential Property of VerifyMe NASDAQ:VRME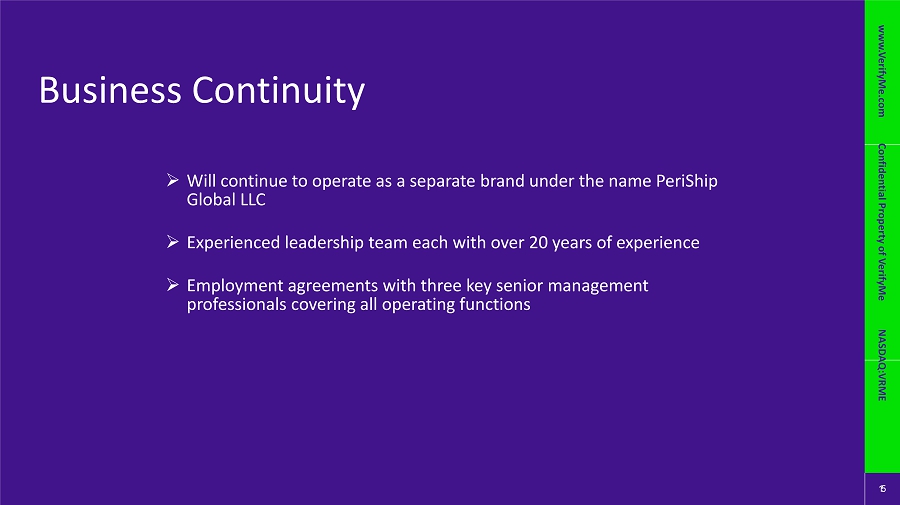 Business Continuity 15 » Will continue to operate as a separate brand under the name PeriShip Global LLC » Experienced leadership team each with over 20 years of experience » Employment agreements with three key senior management professionals covering all operating functions www.VerifyMe.com Confidential Property of VerifyMe NASDAQ:VRME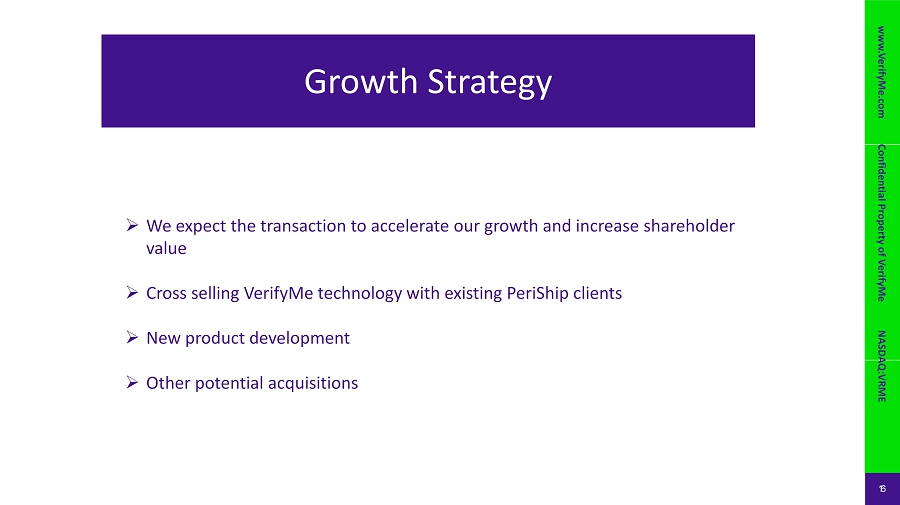 16 Growth Strategy www.VerifyMe.com Confidential Property of VerifyMe NASDAQ:VRME » We expect the transaction to accelerate our growth and increase shareholder value » Cross selling VerifyMe technology with existing PeriShip clients » New product development » Other potential acquisitions
Protect your brand. Grow your business. US Headquarters 75 S Clinton Avenue Suite 510 Rochester NY 14604 +1 585 736 9400 [email protected] verifyme.com 17
SEC Filings
Sign up for StreetInsider Free!
Receive full access to all new and archived articles, unlimited portfolio tracking, e-mail alerts, custom newswires and RSS feeds - and more!