Form 8-K Marpai, Inc. For: Aug 09
---
Get instant alerts when news breaks on your stocks. Claim your 1-week free trial to StreetInsider Premium here.
---
UNITED STATES
SECURITIES AND EXCHANGE COMMISSION
Washington, D.C. 20549
Form 8-K
CURRENT REPORT PURSUANT
TO SECTION 13 OR 15(d) OF THE
SECURITIES EXCHANGE ACT OF 1934
Pursuant to Section 13 or 15(d) of the Securities Exchange Act of 1934
Date of Report (Date of earliest event reported): August 9, 2022
MARPAI, INC.
(Exact name of registrant as specified in its charter)
001-40904
(Commission File Number)
Delaware
86-1916231
(State or other jurisdiction of
incorporation)

(I.R.S. Employer Identification No.)
5701 East Hillsborough Avenue, Suite 1417,
Tampa, Florida 33610
(Address of principal executive offices, with zip code)
(646) 303-3483
(Registrant's telephone number, including area code)
Not Applicable
(Former name or former address, if changed since last report)
Check the appropriate box below if the Form 8-K filing is intended to simultaneously satisfy the filing obligation of the registrant under any of the following provisions (see General Instruction A.2. below):
| | | |
| --- | --- | --- |
| | ¨ | Written communications pursuant to Rule 425 under the Securities Act (17 CFR 230.425) |
| | | |
| --- | --- | --- |
| | ¨ | Soliciting material pursuant to Rule 14a-12 under the Exchange Act (17 CFR 240.14a-12) |
| | | |
| --- | --- | --- |
| | ¨ | Pre-commencement communications pursuant to Rule 14d-2(b) under the Exchange Act (17 CFR 240.14d-2(b)) |
| | | |
| --- | --- | --- |
| | ¨ | Pre-commencement communications pursuant to Rule 13e-4(c) under the Exchange Act (17 CFR 240.13e-4(c)) |
Securities registered pursuant to Section 12(b) of the Act:
Title of each class

Ticker symbol(s)

Name of each exchange on which
registered
Class A Common Stock, par value $0.0001 per share
MRAI
The Nasdaq Capital Market
Indicate by check mark whether the registrant is an emerging growth company as defined in Rule 405 of the Securities Act of 1933 (§230.405 of this chapter) or Rule 12b-2 of the Securities Exchange Act of 1934 (§240.12b-2 of this chapter).
Emerging growth company x
If an emerging growth company, indicate by check mark if the registrant has elected not to use the extended transition period for complying with any new or revised financial accounting standards provided pursuant to Section 13(a) of the Exchange Act. ¨
Item 7.01 Regulation FD Disclosure.
Marpai, Inc. (the "Company") intends, from time to time, to present and/or distribute to the investment community and utilize at various industry and other conferences a slide presentation, which is attached hereto as Exhibit 99.1. The Company undertakes no obligation to update, supplement or amend the materials attached hereto as Exhibit 99.1.
In accordance with General Instruction B.2 of Form 8-K, the information in this Item 7.01 of this Current Report on Form 8-K, including Exhibit 99.1, shall not be deemed "filed" for the purposes of Section 18 of the Securities Exchange Act of 1934, as amended (the "Exchange Act"), or otherwise subject to the liabilities of that section, nor shall it be deemed incorporated by reference in any filing under the Exchange Act or the Securities Act of 1933, as amended, except as shall be expressly set forth by reference in such a filing.
Item 9.01 Financial Statements and Exhibits.
(d) Exhibits.
SIGNATURES
Pursuant to the requirements of the Securities Exchange Act of 1934, the Registrant has duly caused this report to be signed on its behalf by the undersigned hereunto duly authorized.
| | | |
| --- | --- | --- |
| Date: August 9, 2022 | By: | /s/ Edmundo Gonzalez |
|   | Name: | Edmundo Gonzalez |
|   | Title: | Chief Executive Officer |
Exhibit 99.1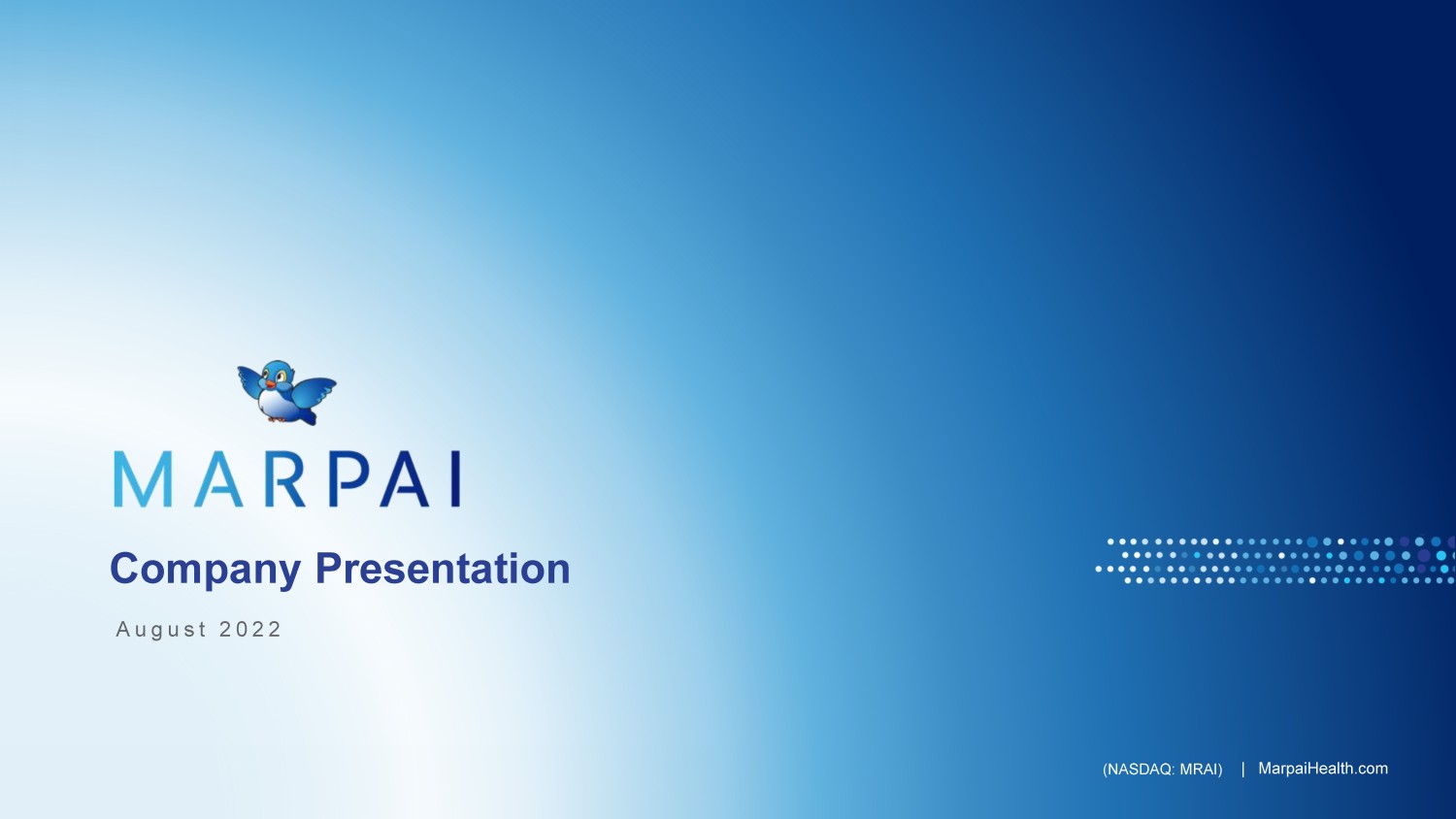 A u g u s t 2 0 2 2 (NASDAQ: MRAI) | MarpaiHealth.com Company Presentation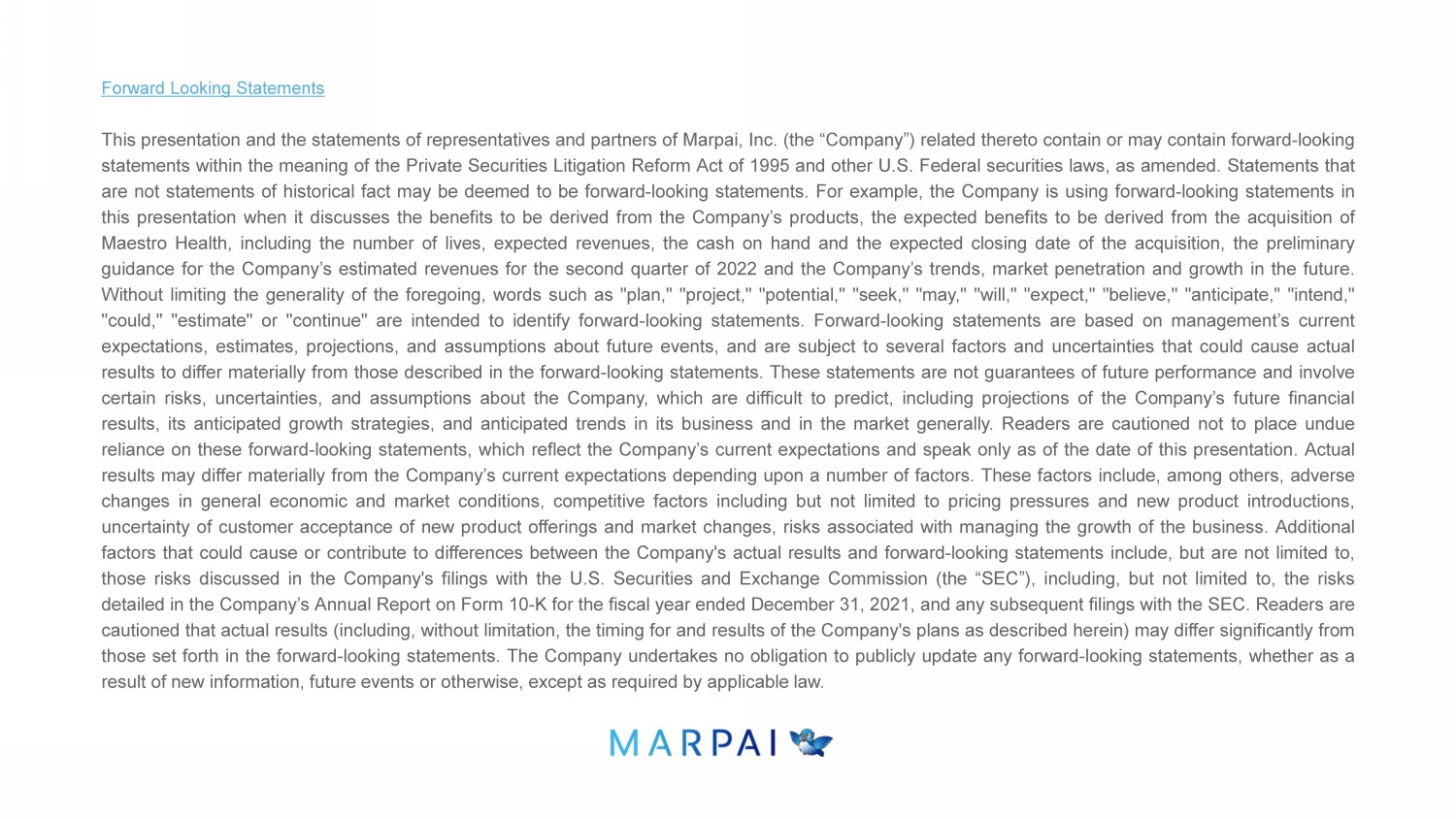 Forward Looking Statements This presentation and the statements of representatives and partners of Marpai, Inc . (the "Company") related thereto contain or may contain forward - looking statements within the meaning of the Private Securities Litigation Reform Act of 1995 and other U . S . Federal securities laws, as amended . Statements that are not statements of historical fact may be deemed to be forward - looking statements . For example, the Company is using forward - looking statements in this presentation when it discusses the benefits to be derived from the Company's products, the expected benefits to be derived from the acquisition of Maestro Health, including the number of lives, expected revenues, the cash on hand and the expected closing date of the acquisition, the preliminary guidance for the Company's estimated revenues for the second quarter of 2022 and the Company's trends, market penetration and growth in the future . Without limiting the generality of the foregoing, words such as "plan," "project," "potential," "seek," "may," "will," "expect," "believe," "anticipate," "intend," "could," "estimate" or "continue" are intended to identify forward - looking statements . Forward - looking statements are based on management's current expectations, estimates, projections, and assumptions about future events, and are subject to several factors and uncertainties that could cause actual results to differ materially from those described in the forward - looking statements . These statements are not guarantees of future performance and involve certain risks, uncertainties, and assumptions about the Company, which are difficult to predict, including projections of the Company's future financial results, its anticipated growth strategies, and anticipated trends in its business and in the market generally . Readers are cautioned not to place undue reliance on these forward - looking statements, which reflect the Company's current expectations and speak only as of the date of this presentation . Actual results may differ materially from the Company's current expectations depending upon a number of factors . These factors include, among others, adverse changes in general economic and market conditions, competitive factors including but not limited to pricing pressures and new product introductions, uncertainty of customer acceptance of new product offerings and market changes, risks associated with managing the growth of the business . Additional factors that could cause or contribute to differences between the Company's actual results and forward - looking statements include, but are not limited to, those risks discussed in the Company's filings with the U . S . Securities and Exchange Commission (the "SEC"), including, but not limited to, the risks detailed in the Company's Annual Report on Form 10 - K for the fiscal year ended December 31 , 2021 , and any subsequent filings with the SEC . Readers are cautioned that actual results (including, without limitation, the timing for and results of the Company's plans as described herein) may differ significantly from those set forth in the forward - looking statements . The Company undertakes no obligation to publicly update any forward - looking statements, whether as a result of new information, future events or otherwise, except as required by applicable law .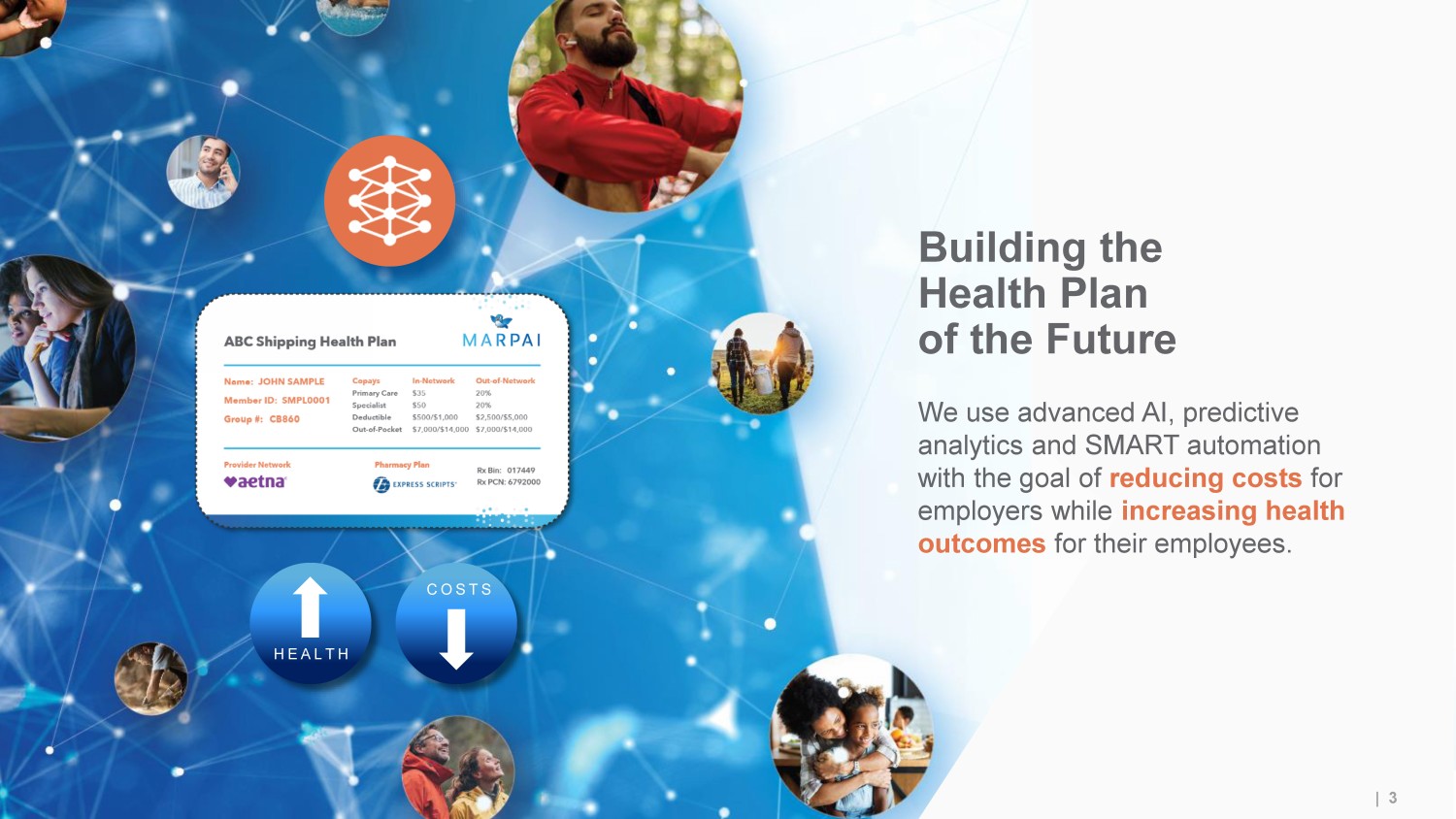 We use advanced AI, predictive analytics and SMART automation with the goal of reducing costs for employers while increasing health outcomes for their employees. Building the Health Plan of the Future H E A L T H C O S T S | 3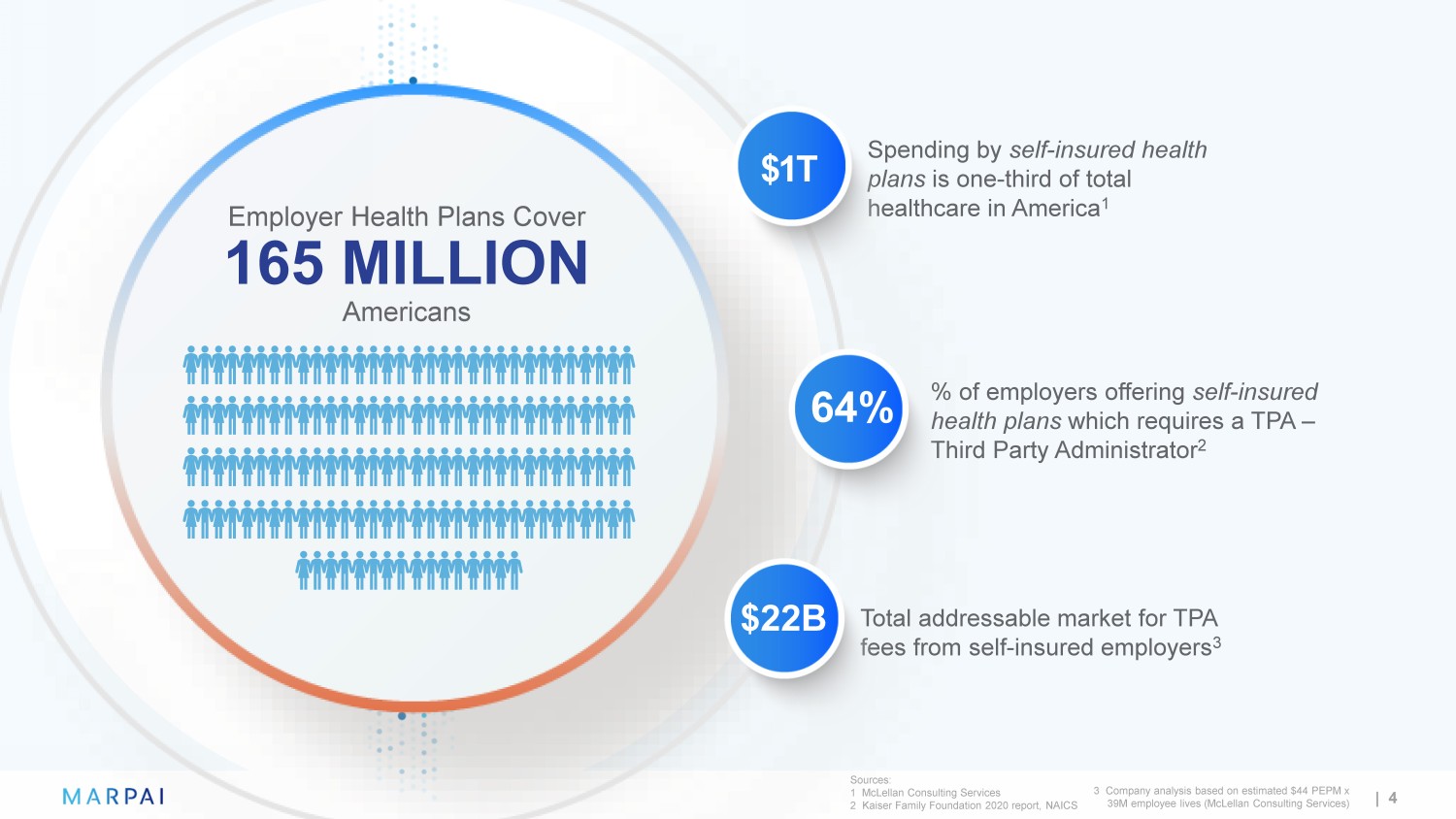 Total addressable market for TPA fees from self - insured employers 3 % of employers offering self - insured health plans which requires a TPA – Third Party Administrator 2 Spending by self - insured health plans is one - third of total healthcare in America 1 | 4 Employer Health Plans Cover 165 MILLION Americans $2 2 B 6 4 % $1T Sources: 1 McLellan Consulting Services 2 Kaiser Family Foundation 2020 report, NAICS 3 Company analysis based on estimated $44 PEPM x 39M employee lives (McLellan Consulting Services)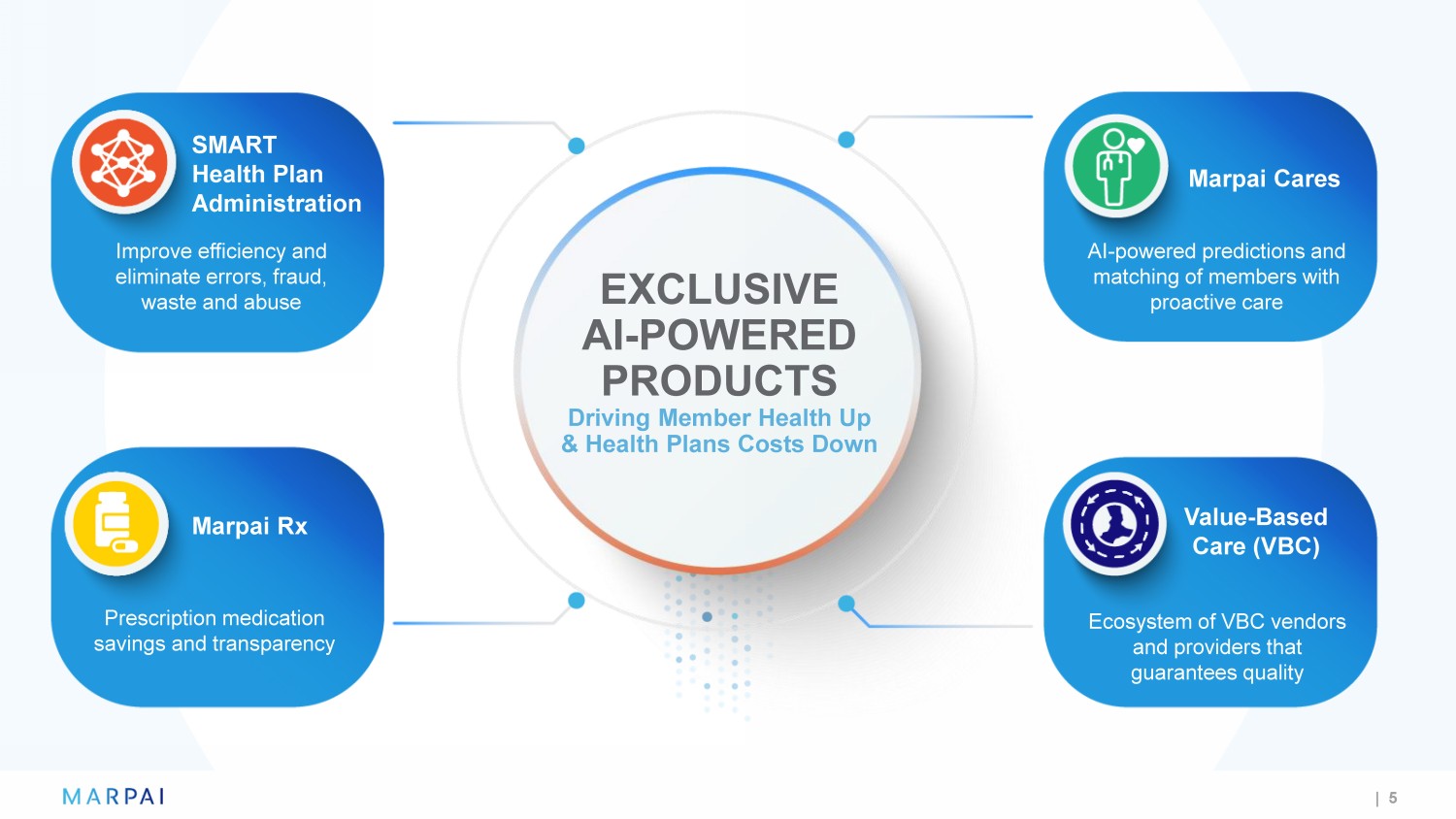 EXCLUSIVE A I - P O WE R ED PRODUCTS Driving Member Health Up & Health Plans Costs Down | 5 Prescription medication savings and transparency Ecosystem of VBC vendors and providers that guarantees quality AI - powered predictions and matching of members with proactive care Marpai Cares Value - Based Care (VBC) Marpai Rx SMART Health Plan A d m i ni s tr a tion Improve efficiency and eliminate errors, fraud, waste and abuse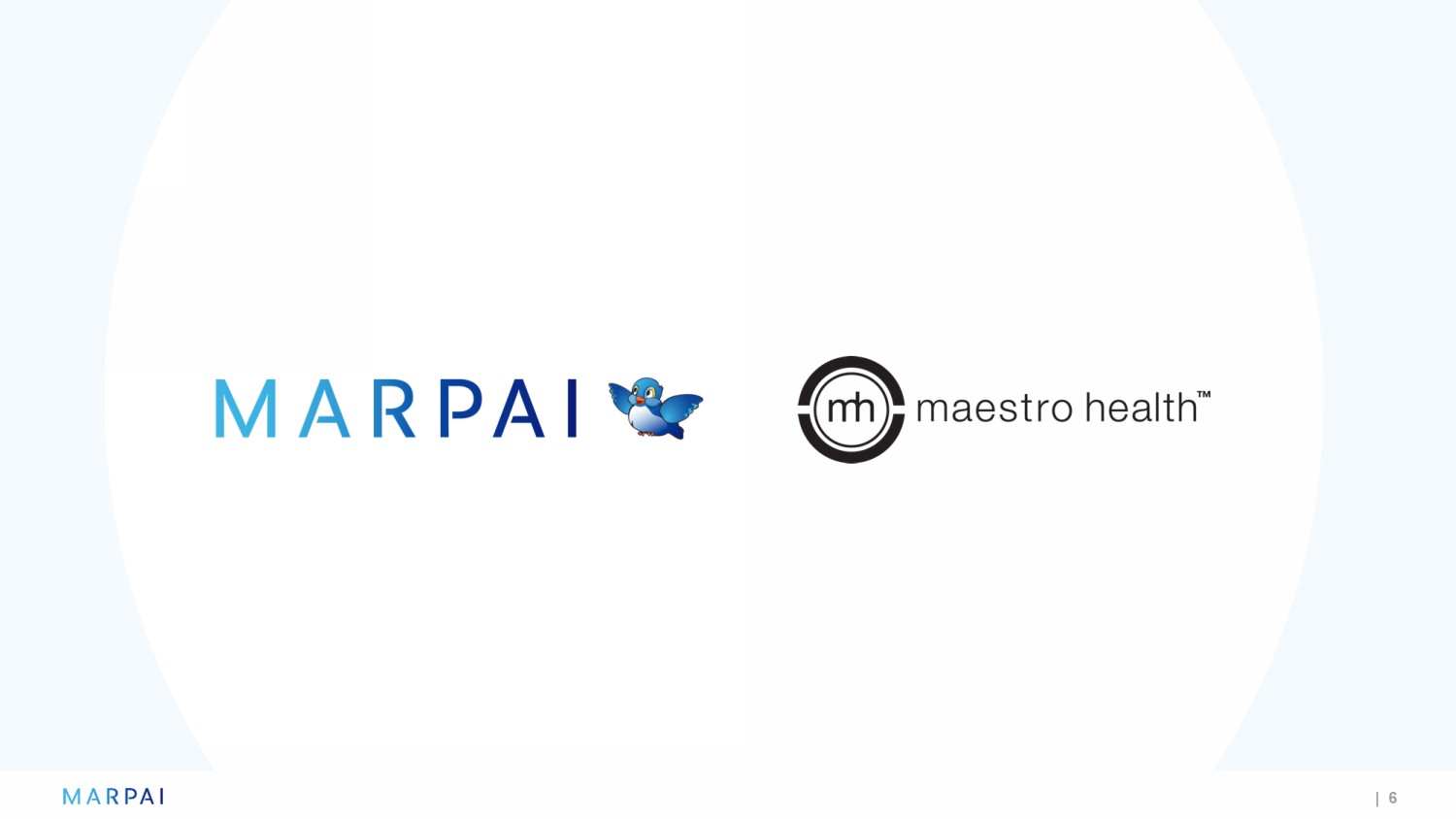 | 6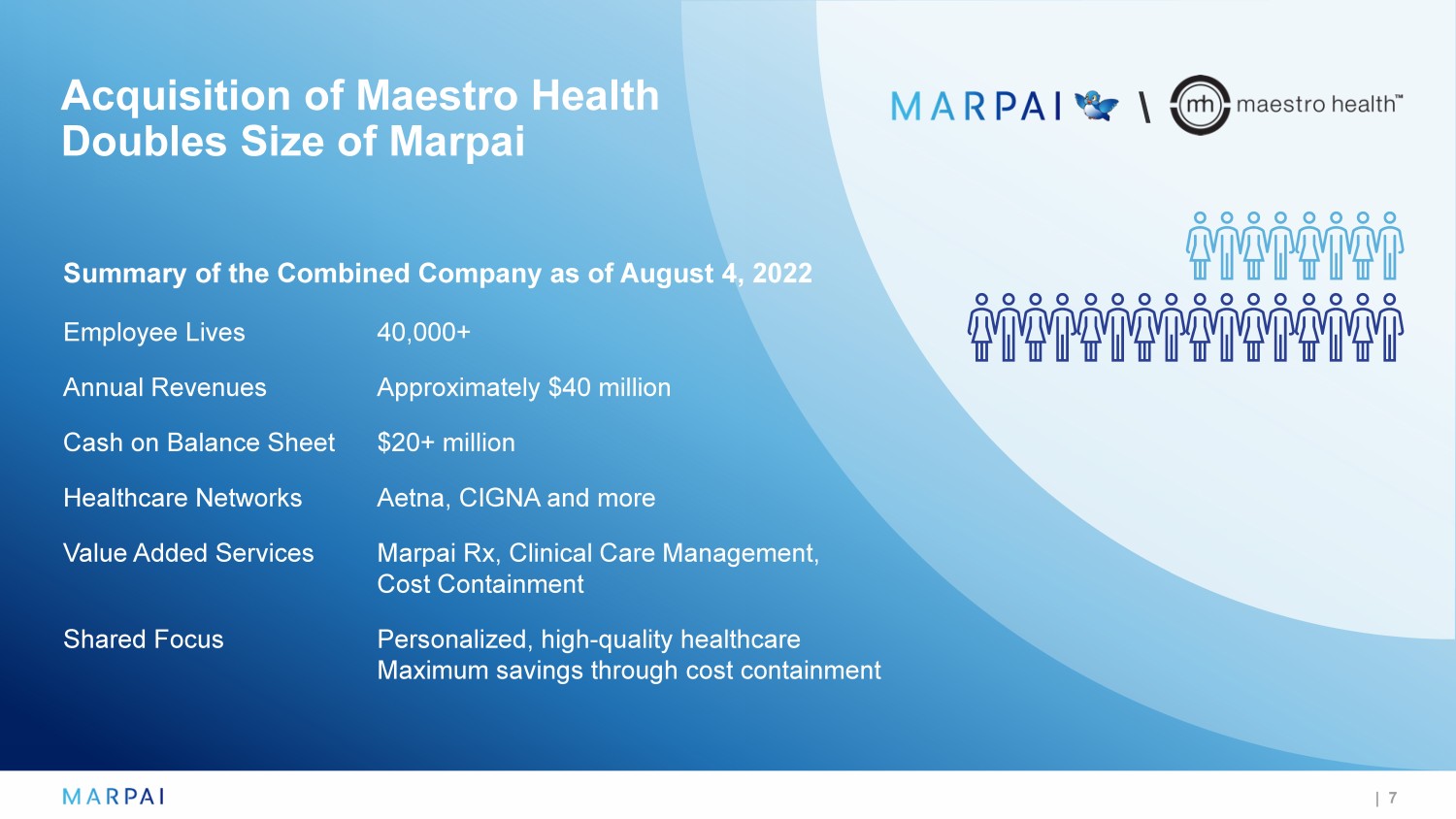 Acquisition of Maestro Health Doubles Size of Marpai Summary of the Combined Company as of August 4, 2022 Employee Lives 40,000+ Annual Revenues Approximately $40 million Cash on Balance Sheet $20+ million Healthcare Networks Aetna, CIGNA and more Value Added Services Marpai Rx, Clinical Care Management, Cost Containment Shared Focus Personalized, high - quality healthcare Maximum savings through cost containment | 7 \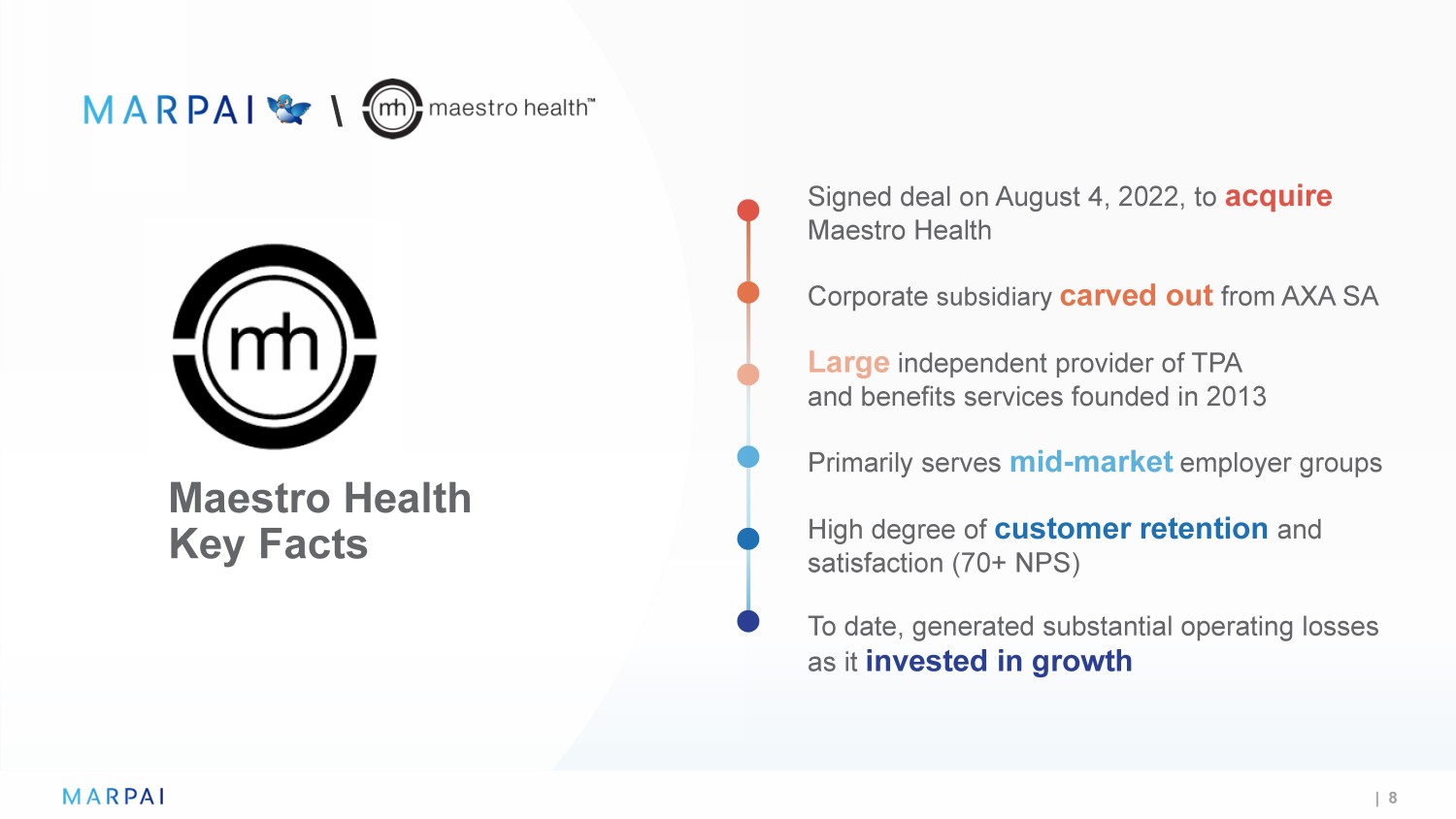 Signed deal on August 4, 2022, to acquire Maestro Health Corporate subsidiary carved out from AXA SA Large independent provider of TPA and benefits services founded in 2013 Primarily serves mid - market employer groups High degree of customer retention and satisfaction (70+ NPS) To date, generated substantial operating losses as it invested in growth \ | 8 Maestro Health Key Facts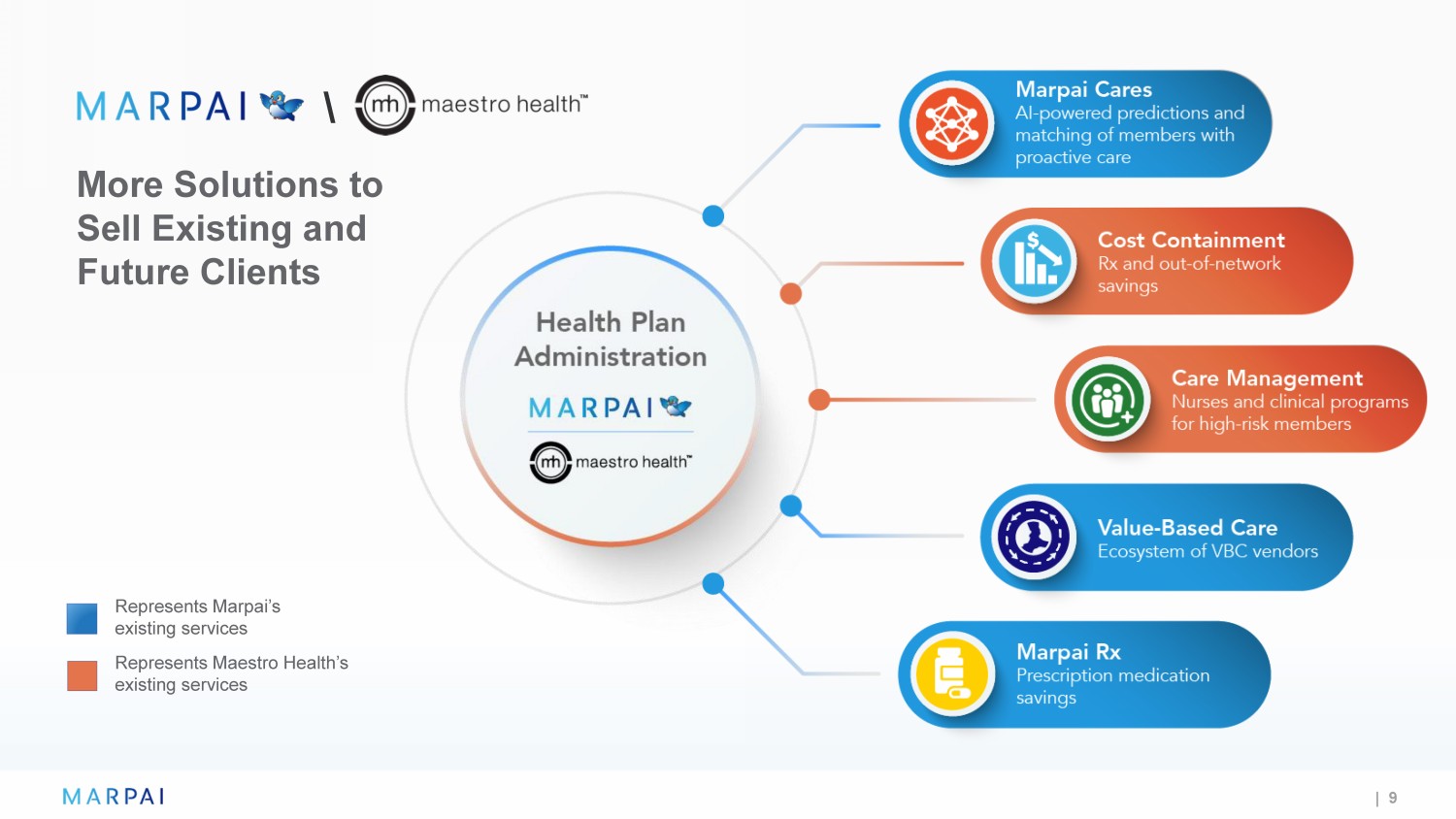 Represents Marpai's existing services Represents Maestro Health's existing services | 9 More Solutions to Sell Existing and Future Clients \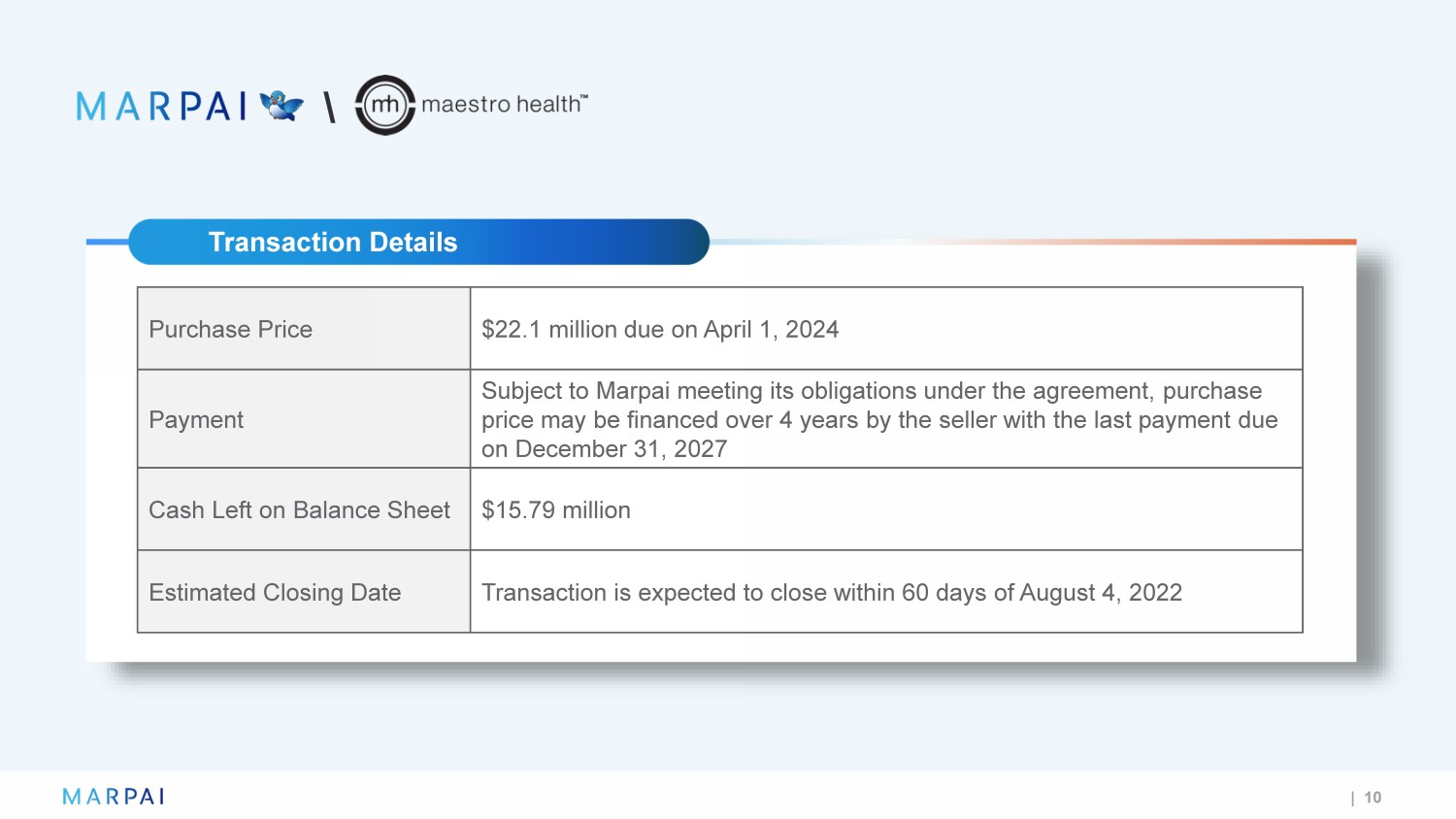 Purchase Price $22.1 million due on April 1, 2024 Payment Subject to Marpai meeting its obligations under the agreement, purchase price may be financed over 4 years by the seller with the last payment due on December 31, 2027 Cash Left on Balance Sheet $15.79 million Estimated Closing Date Transaction is expected to close within 60 days of August 4, 2022 | 10 Transaction Details \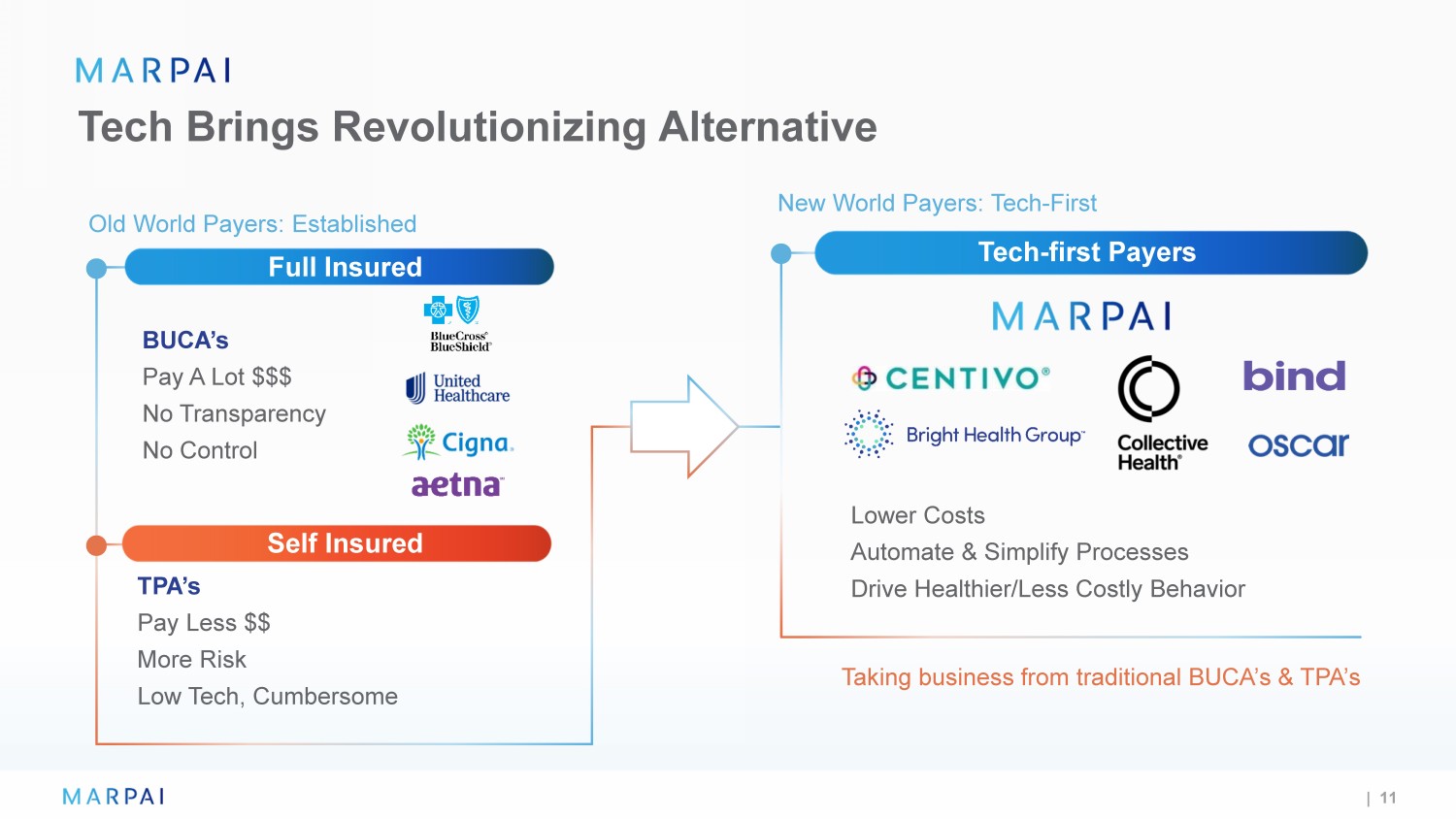 Tech Brings Revolutionizing Alternative BUCA's Pay A Lot $$$ No Transparency No Control Old World Payers: Established Full Insured Self Insured TPA's Pay Less $$ More Risk Low Tech, Cumbersome Lower Costs Automate & Simplify Processes Drive Healthier/Less Costly Behavior Taking business from traditional BUCA's & TPA's New World Payers: Tech - First Tech - first Payers | 11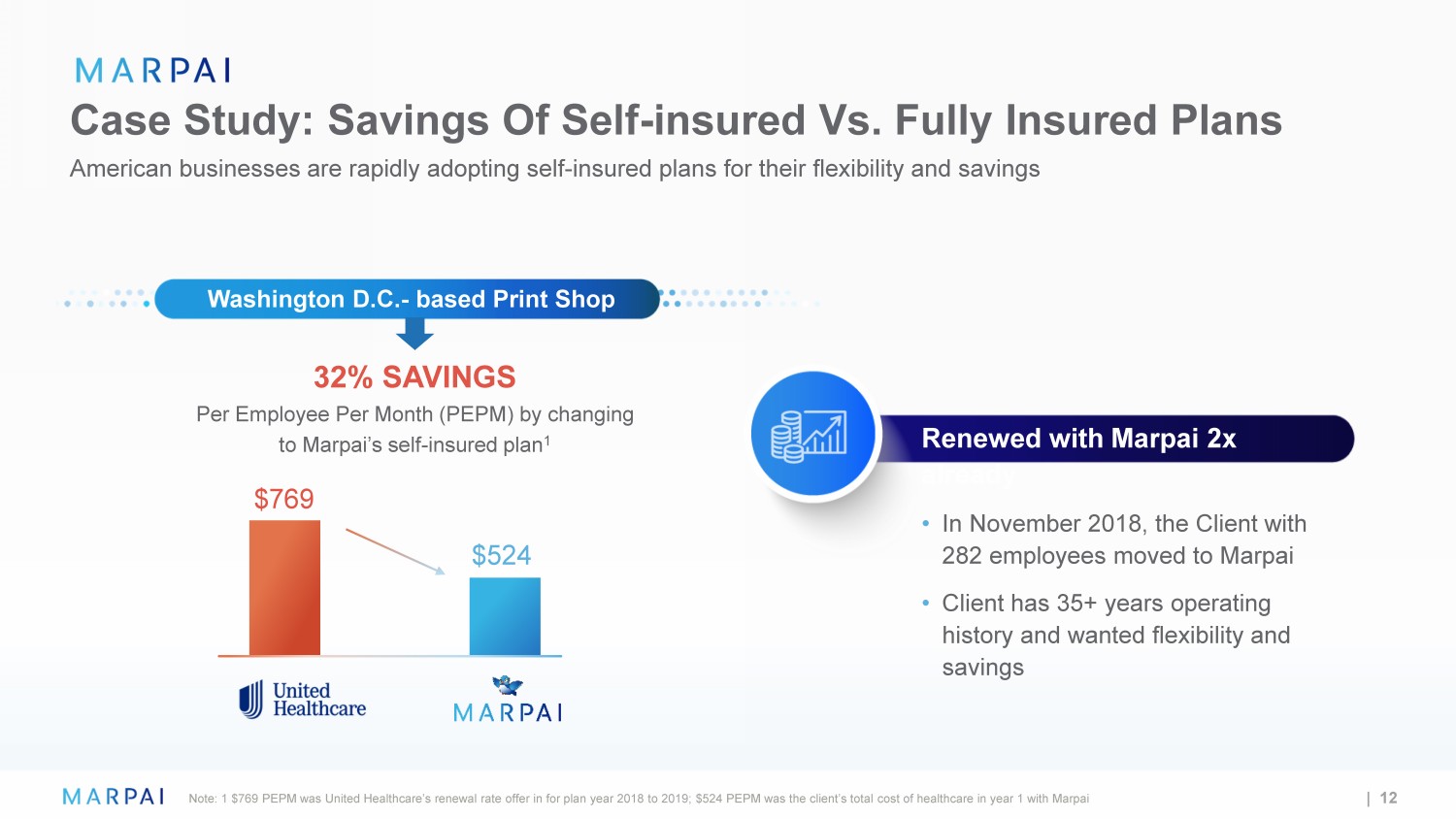 32% SAVINGS Per Employee Per Month (PEPM) by changing to Marpai's self - insured plan 1 Case Study: Savings Of Self - insured Vs. Fully Insured Plans American businesses are rapidly adopting self - insured plans for their flexibility and savings Washington D.C. - based Print Shop Note: 1 $769 PEPM was United Healthcare's renewal rate offer in for plan year 2018 to 2019; $524 PEPM was the client's total cost of healthcare in year 1 with Marpai $769 $524 | 12 Renewed with Marpai 2x already • In November 2018, the Client with 282 employees moved to Marpai • Client has 35+ years operating history and wanted flexibility and savings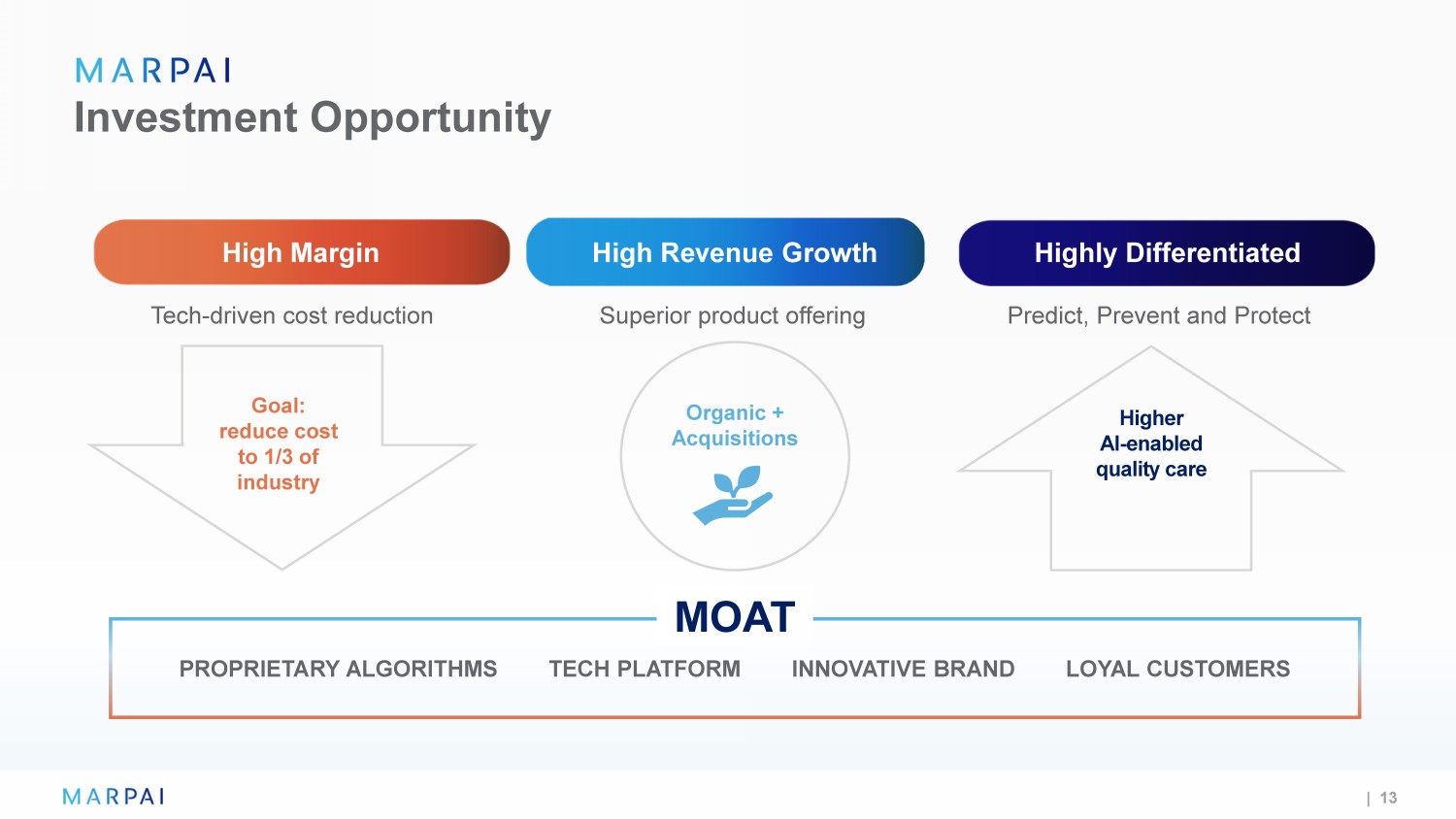 Investment Opportunity High Margin Tech - driven cost reduction High Revenue Growth Superior product offering Highly Differentiated Predict, Prevent and Protect PROPRIETARY ALGORITHMS TECH PLATFORM INNOVATIVE BRAND LOYAL CUSTOMERS MOAT Goal: reduce cost to 1/3 of industry Higher AI - enabled quality care | 13 Organic + A c qu isiti on s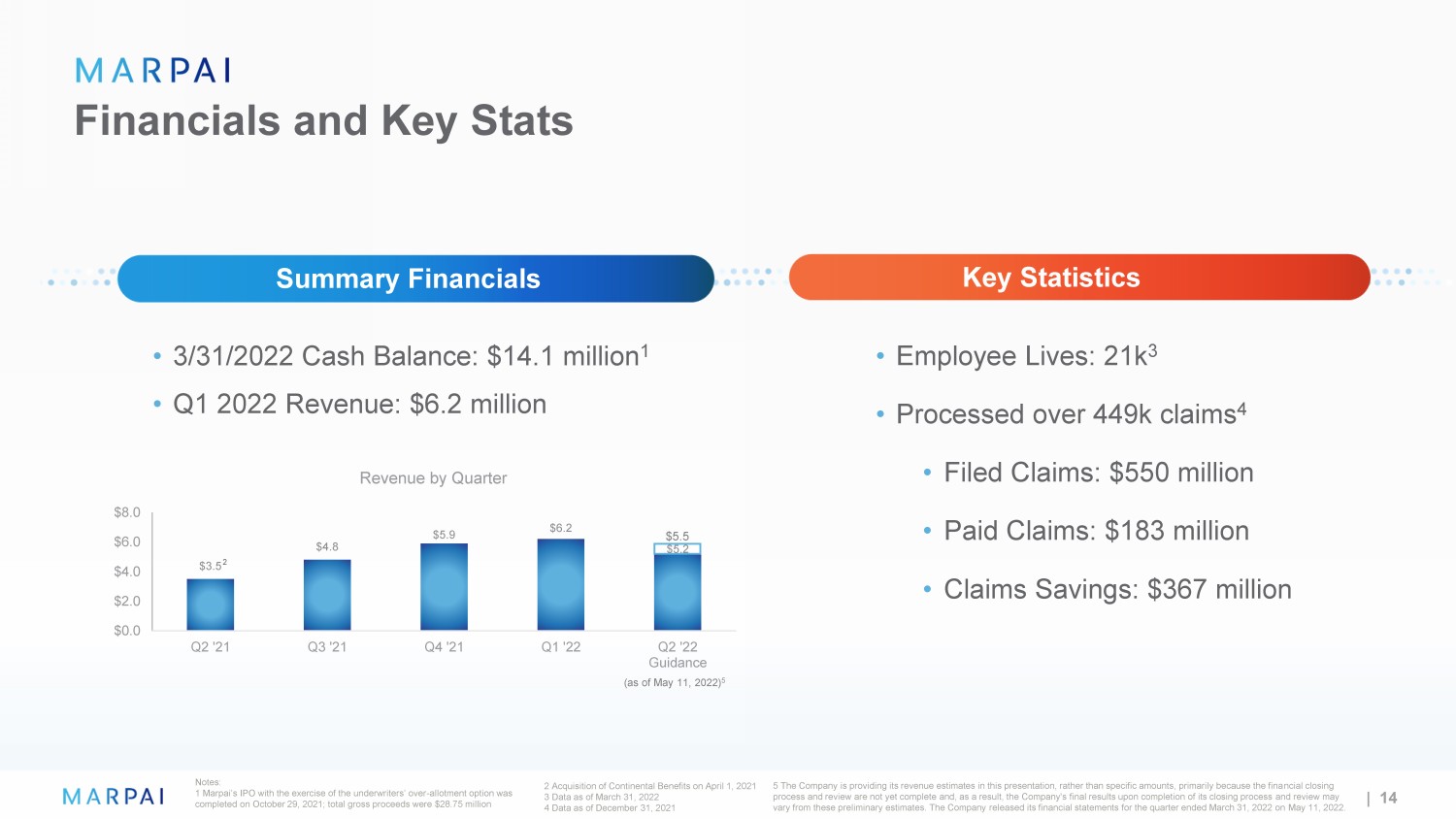 $4.8 $5.9 $6.2 $ 0 .0 $ 2 .0 $ 4 .0 $ 6 .0 $ 8 .0 Q2 '21 Q3 '21 Q4 '21 Q1 '22 Revenue by Quarter Financials and Key Stats • 3/31/2022 Cash Balance: $14.1 million 1 • Q1 2022 Revenue: $6.2 million Summary Financials Key Statistics • Employee Lives: 21k 3 • Processed over 449k claims 4 • Filed Claims: $550 million • Paid Claims: $183 million • Claims Savings: $367 million $3.5 2 Notes: 1 Marpai's IPO with the exercise of the underwriters' over - allotment option was completed on October 29, 2021; total gross proceeds were $28.75 million 2 Acquisition of Continental Benefits on April 1, 2021 3 Data as of March 31, 2022 4 Data as of December 31, 2021 5 The Company is providing its revenue estimates in this presentation, rather than specific amounts, primarily because the financial closing process and review are not yet complete and, as a result, the Company's final results upon completion of its closing process and review may vary from these preliminary estimates. The Company released its financial statements for the quarter ended March 31, 2022 on May 11, 2022. Q2 '22 Guidance (as of May 11, 2022) 5 $5 .5 $5.2 | 14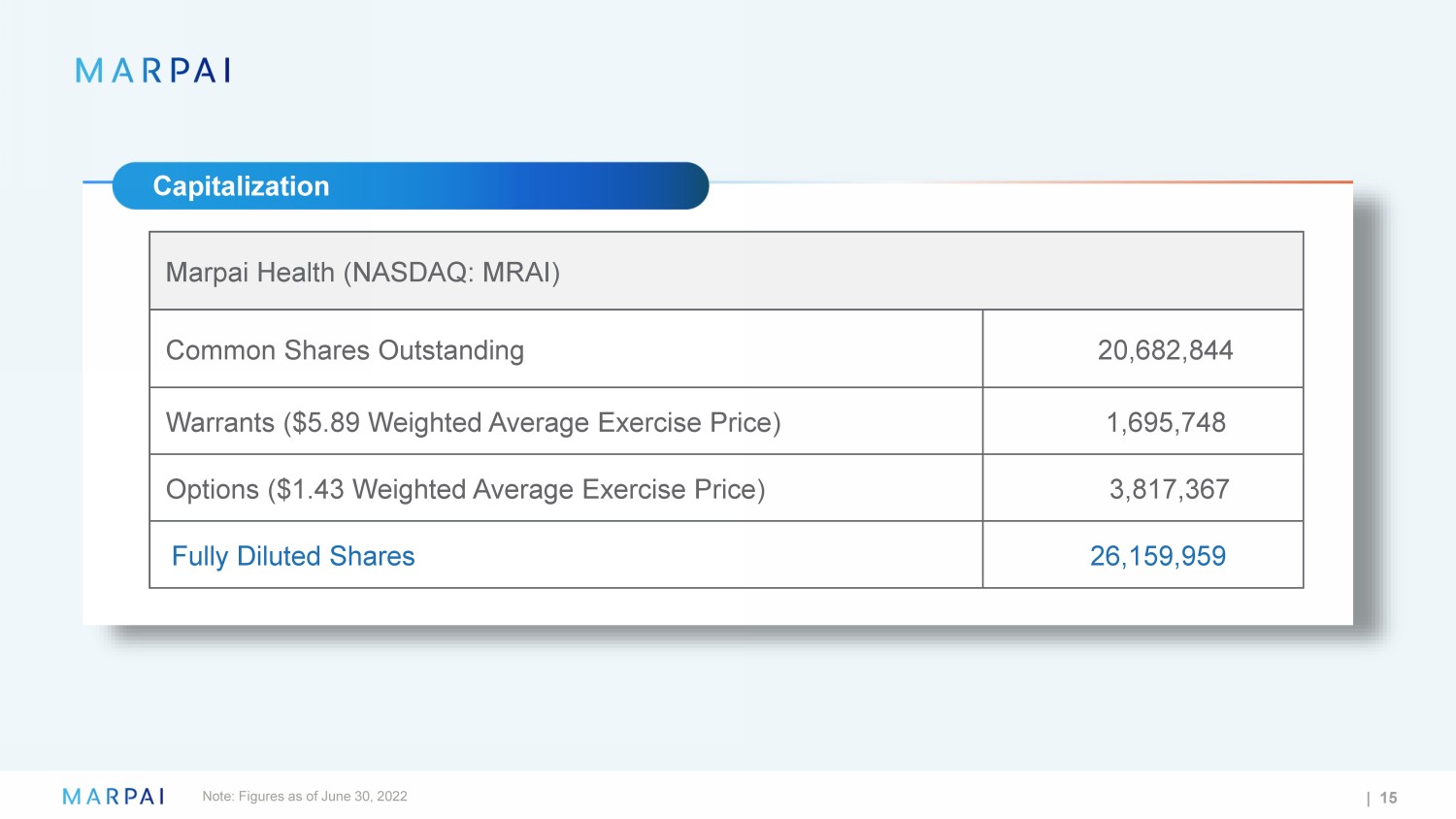 Marpai Health (NASDAQ: MRAI) Common Shares Outstanding 2 0 ,6 8 2, 8 44 Warrants ($5.89 Weighted Average Exercise Price) 1, 6 9 5 ,7 4 8 Options ($1.43 Weighted Average Exercise Price) 3, 8 1 7 ,3 6 7 Fully Diluted Shares 2 6 ,1 5 9, 9 59 Note: Figures as of June 30, 2022 | 15 C a p i talizati o n
Predict Health States Prevent Costly Claims Organic + Acquisitions High M a rgi n C laims Costs Highly Efficient Payer Investment Summary $22+ billion market opportunity addressed with highly differentiated AI products 1 Source: 1 Company analysis based on estimated $44 PEPM x 39M employee lives (McLellan Consulting Services) + | 16 Tech - Driven DISRUPTION with Advanced AI High Growth Expanding # of Lives Covered
Edmundo Gonzalez CEO Ronnie Brown COO Lutz Finger President, Product & Development Eli David Chief Science Advisor Art Hoath CRO Yoram Bibring CFO Yaron Eitan Chairman Damien Lamendola Director Gonen Antebi Director Mohsen Moazami Director Colleen DiClaudio Director Vincent Kane Director Yaron Eitan Chairman Edmundo Gonzalez CEO | 17 Seasoned Leadership Team Board of Directors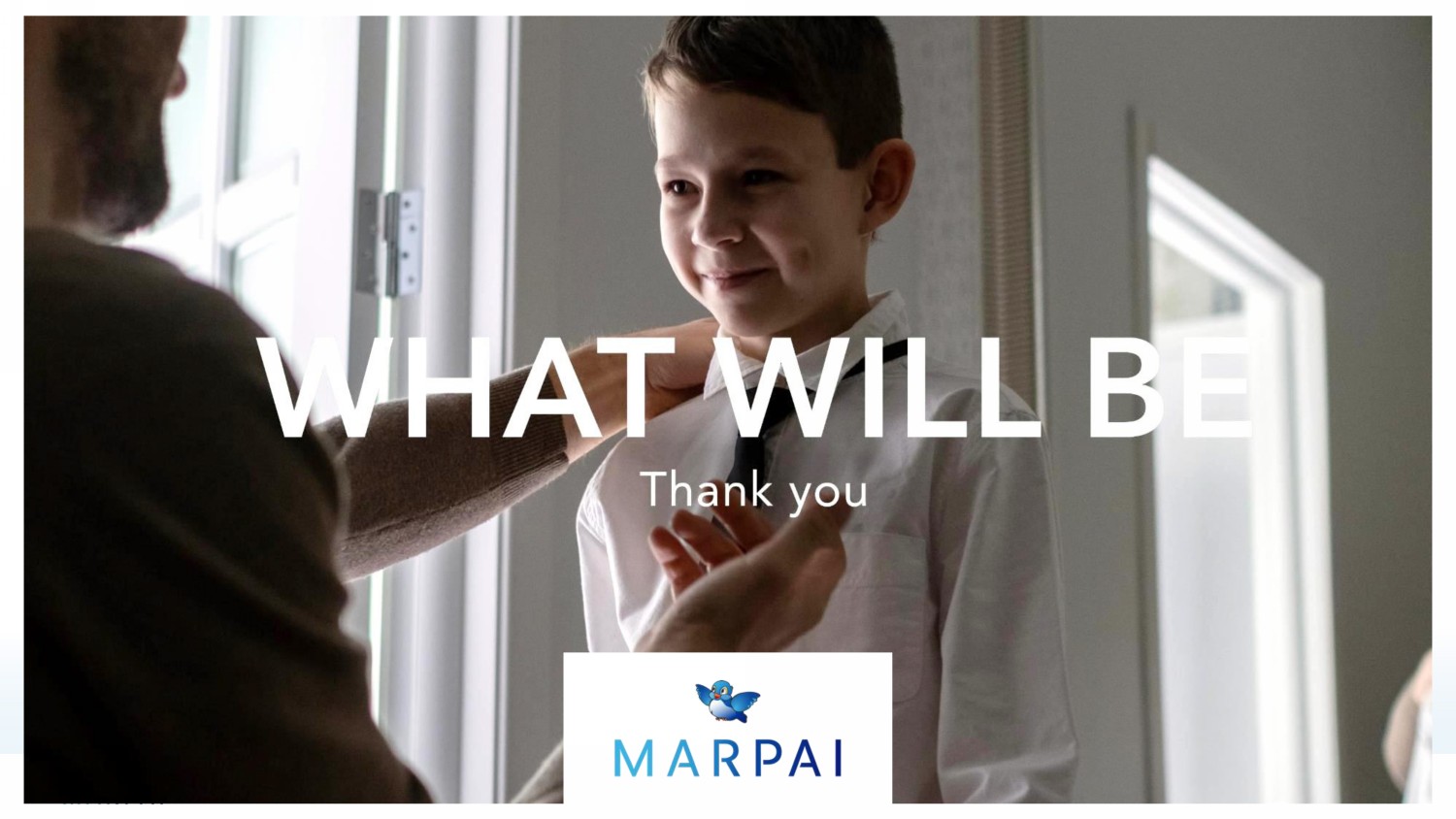 SEC Filings
Sign up for StreetInsider Free!
Receive full access to all new and archived articles, unlimited portfolio tracking, e-mail alerts, custom newswires and RSS feeds - and more!