Form 8-K ASSURANT, INC. For: Jul 06
---
Get instant alerts when news breaks on your stocks. Claim your 1-week free trial to StreetInsider Premium here.
---
SECURITIES AND EXCHANGE COMMISSION
FORM 8-K
Pursuant to Section 13 or 15(d)
of the Securities Exchange Act of 1934
Date of Report (Date of earliest event reported): July 6, 2022
Assurant, Inc.
(Exact Name of Registrant as Specified in its Charter)
Delaware
001-31978
39-1126612
(State or Other Jurisdiction
of Incorporation)
(Commission
File Number)
(I.R.S. Employer
Identification No.)
55 Broadway, Suite 2901
New York, New York 10006
(212) 859-7000
(Address, including zip code, and telephone number, including area code, of Registrant's Principal Executive Offices)
(Former Name or Former Address, if Changed Since Last Report)
Check the appropriate box below if the Form 8-K filing is intended to simultaneously satisfy the filing obligation of the registrant under any of the following provisions:
☐

Written communications pursuant to Rule 425 under the Securities Act (17 CFR 230.425)

☐

Soliciting material pursuant to Rule 14a-12 under the Exchange Act (17 CFR 240.14a-12)

☐

Pre-commencement communications pursuant to Rule 14d-2(b) under the Exchange Act (17 CFR 240.14d-2(b))

☐

Pre-commencement communications pursuant to Rule 13e-4(c) under the Exchange Act (17 CFR 240.13e-4(c))
Securities registered pursuant to Section 12(b) of the Act:
Title of Each Class

Trading Symbol(s)

Name of Each Exchange on Which Registered

Common Stock, $0.01 Par Value
AIZ
New York Stock Exchange
5.25% Subordinated Notes due 2061
AIZN
New York Stock Exchange
Indicate by check mark whether the registrant is an emerging growth company as defined in Rule 405 of the Securities Act of 1933 (§230.405 of this chapter) or Rule 12b-2 of the Securities Exchange Act of 1934 (§240.12b-2 of this chapter).
Emerging growth company
☐
If an emerging growth company, indicate by check mark if the registrant has elected not to use the extended transition period for complying with any new or revised financial accounting standards provided pursuant to Section 13(a) of the Exchange Act.  
☐
---
Item 7.01.    Regulation FD Disclosure.
On July 6, 2022, Assurant, Inc. (the "Company") announced that it has finalized its 2022 property catastrophe reinsurance program.
2022 Catastrophe Reinsurance Program Summary
The Company successfully placed over $1 billion in loss coverage within its main U.S. program while maintaining an $80 million retention per event, limiting the Company's financial exposure against severe weather and other hazards. In addition, the Company was able to mitigate pricing impacts compared to the broader market given the strength of its partnerships with over 40 reinsurers and its use of multiyear coverage.
2022 U.S. Program Key Highlights
•
The U.S. program provides $1.16 billion of coverage
(1)
in excess of a $80 million retention per event, predominantly reflecting increased lender-placed exposure as a result of higher average insured values compared to 2021. Total program coverage protects against a projected probable maximum loss of approximately a 1-in-174-year storm, while the $80 million per event retention protects against a 1-in-3-year storm, based on projected modeled loss estimates
(2)
.
•
When combined with the Florida Hurricane Catastrophe Fund, the U.S. program protects against gross Florida losses of up to approximately $1.34 billion.
•
The Company continued to strategically assess ways to reduce its risk exposure, including the decision to exit the remainder of its program in Latin America as the business did not meet risk-return expectations.
•
Overall, the majority of Assurant's business is not exposed to catastrophe losses and therefore, combined with the comprehensive 2022 catastrophe reinsurance program, in a 1-in-50-year season the Company would expect to retain approximately 75% of Adjusted EBITDA compared to approximately 54% in 2018.
•
Multiyear reinsurance contracts cover approximately 45% of the U.S. program, reducing volatility in future reinsurance costs.
•
Layers 2 through 7 allow for one automatic reinstatement; Layer 1 has two reinstatements.
•
The U.S. program maintains its unique cascading feature that provides multi-event protection in which higher coverage layers (Layers 3 through 6) cascade down to $110 million as the lower layers and reinstatement limits are exhausted.
•
2022 reinsurance premiums for the total program are estimated to be approximately $189 million pre-tax
(3)
based on current estimated exposure.
•
Coverage was placed with more than 40 reinsurers that are all rated A- or better by A.M. Best.
---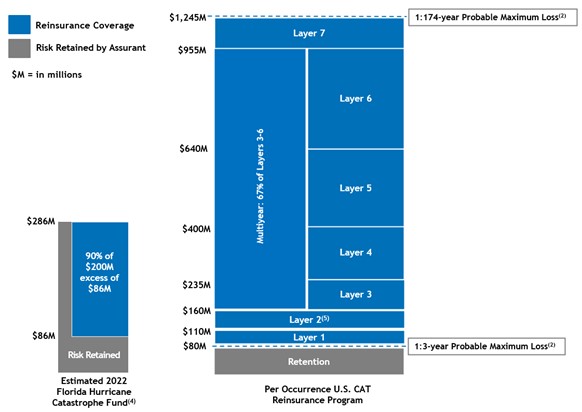 (1)
The 2022 Catastrophe Reinsurance Program also includes coverage in the Caribbean of up to $150 million in excess of $20 million. Renewals are subject to changes in coverage amount, retention and cost.
(2)
Probable Maximum Loss is projected based on estimated December 31, 2022 exposure and a blend of industry modeling tools. Actual losses may differ materially from projections.
(3)
Actual reinsurance premiums will vary if exposure changes significantly from estimates or if reinstatement premiums are required due to catastrophe events. Total pre-tax dollar amount includes Caribbean coverage.
(4)
The risk retained by the Company for the Florida Hurricane Catastrophe Fund ("FHCF") is applied to the main U.S. program retention. The FHCF inures to the benefit of the main U.S. program. Once exhausted, there is no reinstatement of the FHCF coverage.
(5)
Layer 2 has a co-participation of $5 million pre-tax.
Some of the statements included in this Form 8-K may constitute forward-looking statements within the meaning of the U.S. Private Securities Litigation Reform Act of 1995. Any forward-looking statements contained in this Form 8-K are based upon the Company's historical performance and on current plans, estimates and expectations. The inclusion of this forward-looking information should not be regarded as a representation by the Company or any other person that the Company's future plans, estimates or expectations will be achieved. Actual results may differ materially from those projected in the forward-looking statements. The Company undertakes no obligation to update or review any forward-looking statements, whether as a result of new information, future events or other developments. For additional information on factors that could affect the Company's actual results, please refer to the factors identified in the reports that the Company files with the U.S. Securities and Exchange Commission (the "SEC"), including the risk factors identified in the Company's most recent Annual Report on Form 10-K and Quarterly Reports on Form 10-Q, each as filed with the SEC.
Item 9.01.     Financial Statements and Exhibits.
Exhibit No.

Exhibit

104

The cover page from this Current Report on Form 8-K, formatted in Inline XBRL.
---
Pursuant to the requirements of the Securities Exchange Act of 1934, the registrant has duly caused this report to be signed on its behalf by the undersigned hereunto duly authorized.
ASSURANT, INC.

Date: July 6, 2022

By:

/s/ Jay Rosenblum

Jay Rosenblum

Executive Vice President, Chief Legal Officer
SEC Filings
Sign up for StreetInsider Free!
Receive full access to all new and archived articles, unlimited portfolio tracking, e-mail alerts, custom newswires and RSS feeds - and more!