Form 6-K CREDIT SUISSE GROUP AG For: Mar 31
---
News and research before you hear about it on CNBC and others. Claim your 1-week free trial to StreetInsider Premium here.
---
Pursuant to the requirements of the Securities Exchange Act of 1934, the registrant has duly caused this report to be signed on its behalf by the undersigned, thereunto duly authorized.
(Registrant)
Date: May 25, 2022
By:
/s/ David Wildermuth
David Wildermuth
Chief Risk Officer
By:
/s/ David R. Mathers
David R. Mathers
Chief Financial Officer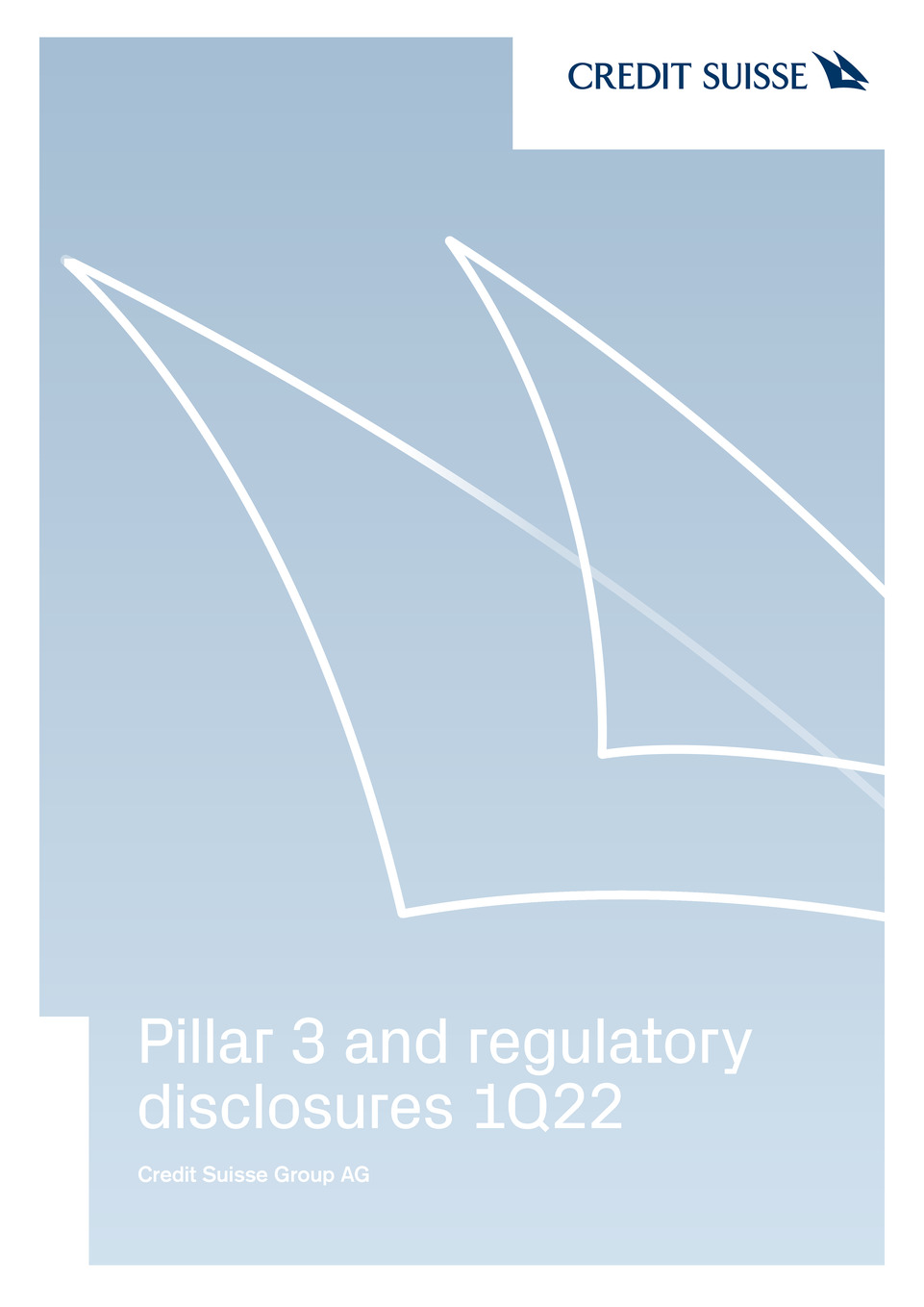 For purposes of this report, unless the context otherwise requires, the terms "Credit Suisse," the "Group," "we," "us" and "our" mean Credit Suisse Group AG and its consolidated subsidiaries. The business of Credit Suisse AG, the direct bank subsidiary of the Group, is substantially similar to the Group, and we use these terms to refer to both when the subject is the same or substantially similar. We use the term the "Bank" when we are only referring to Credit Suisse AG and its consolidated subsidiaries.
Abbreviations are explained in the List of abbreviations in the back of this report.
Publications referenced in this report, whether via website links or otherwise, are not incorporated into this report.
In various tables, use of "–" indicates not meaningful or not applicable.
Credit Suisse Group AG
Introduction
Swiss capital requirements
Risk-weighted assets
Additional regulatory disclosures
List of abbreviations
Cautionary statement regarding forward-looking information
This report as of March 31, 2022 is based on the Circular 2016/1 "Disclosure – banks" (FINMA circular) issued by the Swiss Financial Market Supervisory Authority FINMA (FINMA).
This report is produced and published quarterly, in accordance with FINMA requirements. The reporting frequency for each disclosure requirement is either annual, semi-annual or quarterly. This document should be read in conjunction with the Pillar 3 and regulatory disclosures – Credit Suisse Group AG 4Q21, the Credit Suisse Annual Report 2021 and the Credit Suisse Financial Report 1Q22, which include important information on regulatory capital and risk management (specific references have been made herein to these documents) and regulatory developments and proposals.
Credit Suisse Group is the highest consolidated entity to which the FINMA circular applies.
These disclosures were verified and approved internally in line with our board-approved policy on disclosure controls and procedures. The level of internal control processes for these disclosures is similar to those applied to the Group's quarterly and annual financial reports. This report has not been audited by the Group's external auditors.
For certain prescribed table formats where line items have zero balances, such line items have not been presented.
In connection with the implementation of Basel III, certain regulatory disclosures for the Group and certain of its subsidiaries are required. The Group's Pillar 3 disclosure, regulatory disclosures, additional information on capital instruments, including the main features of regulatory capital instruments and total loss-absorbing capacity (TLAC)-eligible instruments that form part of the eligible capital base and TLAC resources, global systemically important bank (G-SIB) financial indicators, reconciliation requirements, leverage ratios and certain liquidity disclosures as well as regulatory disclosures for subsidiaries can be found on our website.
FINMA requires the Group to comply fully with the special requirements for systemically important financial institutions operating internationally. The following tables present the Swiss capital and leverage requirements and metrics as required by FINMA.
With the adoption of the revised FINMA circular, risk-weighted assets (RWA) presented in this report, including prior period comparisons, are based on the Swiss capital requirements.
The following table provides an overview of total Swiss RWA forming the denominator of the risk-based capital requirements.
RWA were CHF 273.6 billion as of the end of 1Q22, a 2% increase compared to the end of 4Q21. The increase in RWA was mainly related to internal model and parameter updates, primarily in operational risk, and the foreign exchange impact.
RWA flow statements for credit risk, counterparty credit risk (CCR) and market risk are presented below.
Credit risk and counterparty credit risk
The following table presents the definitions of the RWA flow statements components for credit risk and CCR.
Credit risk RWA movements
The following table presents the 1Q22 flow statement explaining the variations in the credit risk RWA determined under an internal ratings-based (IRB) approach.
Credit risk RWA under IRB increased CHF 1.1 billion to CHF 102.4 billion compared to the end of 4Q21. The increase was primarily driven by movement in risk levels attributable to asset size, model and parameter updates as well as a positive foreign exchange impact. These increases were partially offset by an improvement in asset quality due to phase-out of a regulatory add-on in the corporate asset class.
Counterparty credit risk RWA movements
The following table presents the 1Q22 flow statement explaining the variations in the CCR RWA determined under the internal model method (IMM) for CCR (derivatives and SFTs).
CCR RWA under IMM decreased CHF 1.5 billion to CHF 10.0 billion compared to the end of 4Q21. The decrease was primarily driven by decreases in asset size risk levels reflecting reduced exposures on our securities financing business and other products in this category.
Market risk
The following table presents the definitions of the RWA flow statements components for market risk.
Market risk RWA movements
The following table presents the 1Q22 flow statement explaining the variations in the market risk RWA determined under an internal models approach (IMA).
Market risk RWA under an IMA increased CHF 1.0 billion to CHF 15.7 billion compared to the end of 4Q21, primarily due to an increase in risks not in VaR reflecting an increase in average risk levels, mainly in Global Trading Solutions within the Investment Bank.
Most line items in the following table reflects the view as if the Group was not a systemically important financial institution.
The following table presents information about available TLAC and TLAC requirements applied at the resolution group level, which is defined as Credit Suisse Group AG consolidated.
Credit Suisse has adopted the BIS leverage ratio framework, as issued by the BCBS and implemented in Switzerland by FINMA.
Our calculation methodology for the liquidity coverage ratio (LCR) is prescribed by FINMA. For disclosure purposes our LCR is calculated using a three-month average which is measured using daily calculations during the quarter.
This document contains statements that constitute forward-looking statements. In addition, in the future we, and others on our behalf, may make statements that constitute forward-looking statements. Such forward-looking statements may include, without limitation, statements relating to the following:
Words such as "believes," "anticipates," "expects," "intends" and "plans" and similar expressions are intended to identify forward-looking statements but are not the exclusive means of identifying such statements. We do not intend to update these forward-looking statements.
By their very nature, forward-looking statements involve inherent risks and uncertainties, both general and specific, and risks exist that predictions, forecasts, projections and other outcomes described or implied in forward-looking statements will not be achieved. We caution you that a number of important factors could cause results to differ materially from the plans, targets, goals, expectations, estimates and intentions expressed in such forward-looking statements and that the ongoing COVID-19 pandemic creates significantly greater uncertainty about forward-looking statements in addition to the factors that generally affect our business. These factors include: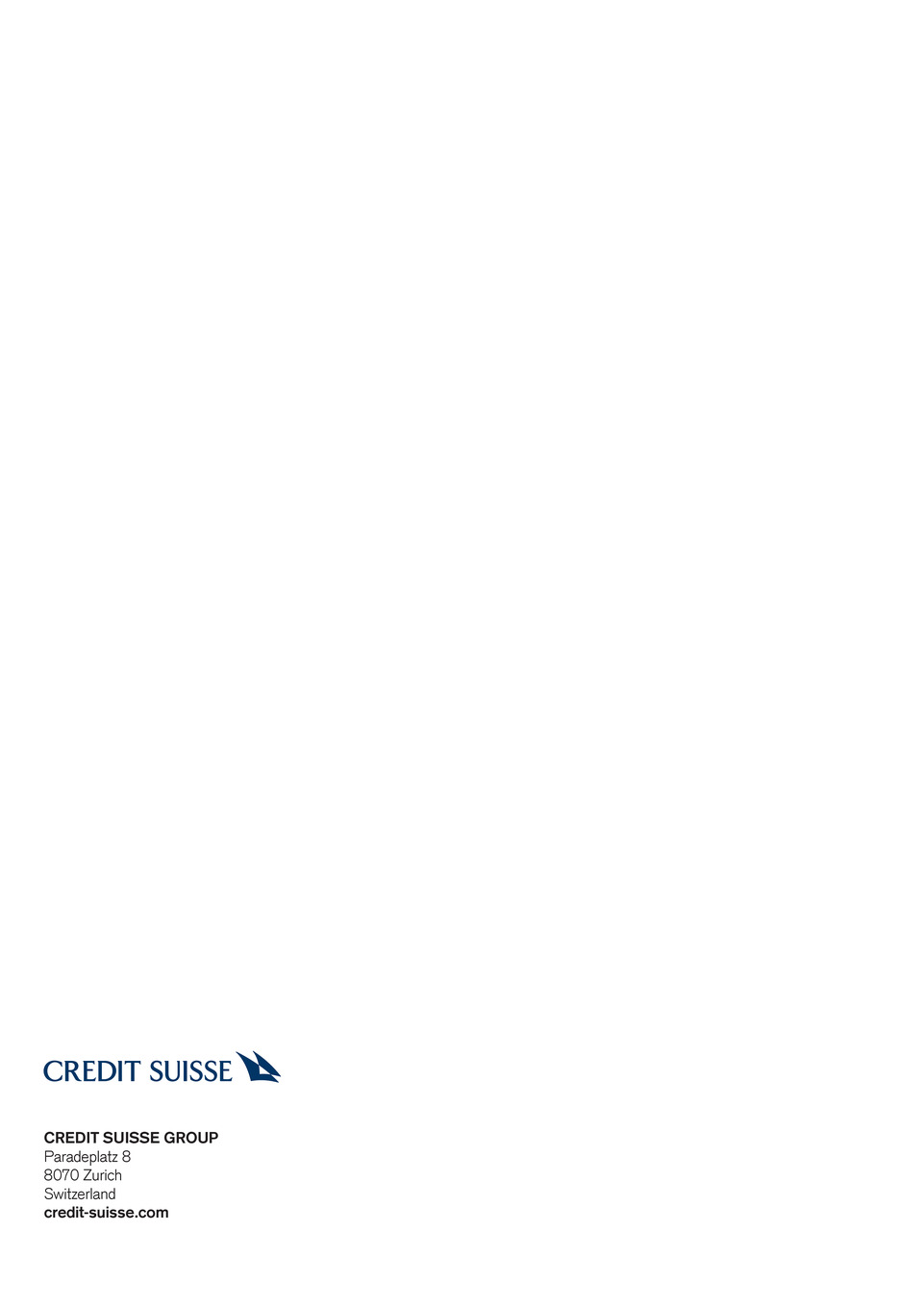 SEC Filings
Related Entities
Credit Suisse
Sign up for StreetInsider Free!
Receive full access to all new and archived articles, unlimited portfolio tracking, e-mail alerts, custom newswires and RSS feeds - and more!