Form 497K J.P. Morgan Exchange-Tra
---
News and research before you hear about it on CNBC and others. Claim your 1-week free trial to StreetInsider Premium here.
---

Summary Prospectus July 1, 2021
 JPMorgan Corporate Bond Research Enhanced ETF
Ticker: JIGB 
Before you invest, you may want to review the Fund's Prospectus, which contains more information about the Fund and its risks. You can find the Fund's Prospectus and other information about the Fund, including the Statement of Additional Information, online at www.jpmorganfunds.com/funddocuments. You can also get this information at no cost by calling 1-844-457-6383 or by sending an e-mail request to jpm.xf@jpmorgan.com or by asking any financial intermediary that offers shares of the Fund. The Fund's Prospectus and Statement of Additional Information, both dated July 1, 2021, as may be supplemented from time to time are incorporated by reference into this Summary Prospectus.
What is the goal of the Fund?
The Fund seeks to provide total return.
Fees and Expenses of the Fund
The following table describes the fees and expenses that you may pay if you buy, hold and sell Shares of the Fund. You may pay other fees, such as brokerage commissions and other fees to financial intermediaries, which are not reflected in the tables and examples below. 
ANNUAL FUND OPERATING EXPENSES1

(Expenses that you pay each year as a percentage of the value

of your investment)

Total Annual Fund Operating Expenses
1
The Fund's management agreement provides that the adviser will pay substantially all expenses of the Fund (including expenses of the Trust relating to the Fund), except for the management fees, payments under the Fund's 12b-1 plan (if any), interest expenses, dividend and interest expenses related to short sales, taxes, acquired fund fees and expenses (other than fees for funds advised by the adviser and/or its affiliates), costs of holding shareholder meetings, and litigation and potential litigation and other extraordinary expenses not incurred in the ordinary course of the Fund's business. Additionally, the Fund shall be responsible for its non-operating expenses, including brokerage commissions and fees and expenses associated with that Fund's securities lending program, if applicable.
Example
This Example is intended to help you compare the cost of investing in the Fund with the cost of investing in other funds. The Example does not take into account brokerage commissions that you pay when purchasing or selling Shares of the Fund. The Example assumes that you invest $10,000 in the Fund for the time periods indicated. The Example also assumes that your investment has a 5% return each year and that the Fund's operating expenses remain the same. Your actual costs may be higher or lower. 
WHETHER OR NOT YOU SELL YOUR SHARES, YOUR COST

WOULD BE:
Portfolio Turnover
The Fund pays transaction costs, such as commissions, when it buys and sells securities (or "turns over" its portfolio). A higher portfolio turnover rate may indicate higher transaction costs and may result in higher taxes when Shares are held in a taxable account. These costs, which are not reflected in annual fund operating expenses or in the Example, affect the Fund's performance. During the Fund's most recent fiscal year, the Fund's portfolio turnover rate was 41% of the average value of its portfolio.
What are the Fund's main investment strategies?
The Fund is actively managed and mainly invests in corporate bonds that are rated investment grade by a nationally recognized statistical rating organization or in securities that are unrated but are deemed by the Fund's adviser, J.P. Morgan Investment Management Inc. (JPMIM or the adviser) to be of comparable quality. Under normal circumstances, the Fund invests at least 80% of its assets in corporate bonds. "Assets" means net assets plus the amount of borrowings for investment purposes. The Fund will provide shareholders with at least 60 days prior notice of any change to this policy. A "corporate bond" is defined as a debt security issued by a corporation or non-governmental entity with a maturity of 90 days or more at the time of its issuance. As part of its principal strategy, the Fund invests in corporate bonds structured as corporate debt securities, debt securities of real estate investment trusts (REITs) and master limited partnerships (MLPs), public or private placements, restricted securities and other unregistered securities.
In implementing its strategy and seeking to achieve its investment objective, the Fund constructs a portfolio of holdings that seeks to outperform the Bloomberg Barclays U.S. Corporate Bond Index (the benchmark) over time while maintaining similar risk characteristics. Within each sector of the benchmark, the Fund may overweight corporate bonds issued by companies that the adviser's fundamental credit research teams have given stronger credit scores while underweighting or not holding corporate bonds issued by companies given weaker credit scores. The adviser generates such credit scores by evaluating each individual company based on certain fundamental credit metrics, the company's competitive environment, risks that the company may face, and other technical factors, such as the liquidity of debt issued by the company and the amount of debt outstanding. In weighting sectors, the adviser makes relative value judgments and performs fundamental analysis of companies and their respective sectors. Similar to the credit score rankings, the adviser generates a score for each corporate
---
sector based on fundamental and relative value views. The adviser looks to overweight sectors with higher scores and underweight sectors with lower scores, seeking to generate excess return over the benchmark. By emphasizing investment in corporate bonds issued by the highest scoring companies and in the highest scoring sectors, the Fund seeks total returns that exceed those of the benchmark over the long term with a similar level of volatility.
The Fund mainly invests in securities included within the universe of the benchmark, however, the Fund may also invest in securities not included within the benchmark or securities or instruments with similar economic characteristics. Under normal circumstances, the Fund targets a similar duration to the benchmark, but is not required to maintain a specific duration and may invest in securities of any maturity or duration. As of May 31, 2021, the duration of the benchmark was 8.45 years. As of May 31, 2021, the benchmark was concentrated in the financial sector.
The Fund will not invest more than 25% of the value of its total assets in the securities of companies conducting their principal business activities in the same industry, except that, to the extent that an industry represents 20% or more of the Fund's benchmark at the time of investment, the Fund may invest up to 35% of its total assets in that industry.
The Fund may invest in U.S. dollar-denominated securities of foreign issuers.
In addition to direct investments in securities, derivatives, which are instruments that have a value based on another instrument, exchange rate or index, may be used as substitutes for securities in which the Fund can invest. The Fund may use futures contracts as tools in the management of portfolio assets. The Fund may use derivatives to hedge various investments, for risk management and/or to increase income or gain to the Fund. In particular, the Fund may invest in futures to manage duration.
As part of its principal investment strategy and for temporary defensive purposes, any portion of the Fund's total assets may be invested in cash and cash equivalents, including affiliated money market funds.
Investment Process: In managing the Fund, the adviser combines fundamental research with a disciplined port-folio construction process. The adviser utilizes proprietary research, risk management techniques and individual security selection in constructing the Fund's portfolio. In-depth, fundamental research into individual securities is conducted by research analysts who emphasize each issuer's long-term prospects. This research allows the adviser to rank issuers within each sector group according to what it believes to be their relative value. As part of its security selection process, the adviser also evaluates whether environmental, social and governance factors could have a material negative or positive impact on the cash flows or risk profiles of many companies in the universe in which the Fund may invest. These determinations may not be conclusive and securities of issuers that may be negatively impacted by such factors may be purchased and retained by the Fund while the Fund may divest or not invest in securities of issuers that may be positively impacted by such factors.
The Fund's Main Investment Risks
The Fund is subject to management risk and may not achieve its objective if the adviser's expectations regarding particular instruments or markets are not met.
An investment in this Fund or any other fund may not provide a complete investment program. The suitability of an investment in the Fund should be considered based on the investment objective, strategies and risks described in this prospectus, considered in light of all of the other investments in your portfolio, as well as your risk tolerance, financial goals and time horizons. You may want to consult with a financial advisor to determine if this Fund is suitable for you.
The Fund is subject to the main risks noted below, any of which may adversely affect the Fund's net asset value (NAV), market price, performance and ability to meet its investment objective.
General Market Risk. Economies and financial markets throughout the world are becoming increasingly interconnected, which increases the likelihood that events or conditions in one country or region will adversely impact markets or issuers in other countries or regions. Securities in the Fund's portfolio may underperform in comparison to securities in general financial markets, a particular financial market or other asset classes due to a number of factors, including inflation (or expectations for inflation), deflation (or expectations for deflation), interest rates, global demand for particular products or resources, market instability, debt crises and downgrades, embargoes, tariffs, sanctions and other trade barriers, regulatory events, other governmental trade or market control programs and related geopolitical events. In addition, the value of the Fund's investments may be negatively affected by the occurrence of global events such as war, terrorism, environmental disasters, natural disasters or events, country instability, and infectious disease epidemics or pandemics.
For example, the outbreak of COVID-19, a novel coronavirus disease, has negatively affected economies, markets and individual companies throughout the world, including those in which the Fund invests. The effects of this pandemic to public health and business and market conditions, including exchange trading suspensions and closures may continue to have a significant negative impact on the performance of the Fund's investments, increase the Fund's volatility, negatively impact the Fund's arbitrage and pricing mechanisms, exacerbate pre-existing political, social and economic risks to the Fund, and negatively impact broad segments of businesses and populations. The Fund's operations may be interrupted as a result, which may contribute to the negative impact on investment performance. In addition, governments, their regulatory agencies, or self-regulatory organizations may take actions in response to the pandemic that affect the instruments in which the Fund invests, or the issuers of such instruments, in ways that could have a significant negative impact on the Fund's investment performance. The full impact of the COVID-19 pandemic, or other future epidemics or pandemics, is currently unknown.
Interest Rate Risk. The Fund's investments in bonds and other debt securities will change in value based on changes in interest rates. If rates rise, the value of these investments generally declines. Securities with greater interest rate sensitivity and longer maturities generally are subject to greater fluctuations in
---
value. The Fund may face a heightened level of interest rate risk due to certain changes in monetary policy. During periods when interest rates are low or there are negative interest rates, the Fund's yield (and total return) also may be low or the Fund may be unable to maintain positive returns.
Credit Risk. The Fund's investments are subject to the risk that issuers and/or counterparties will fail to make payments when due or default completely. If an issuer's or counterparty's financial condition worsens, the credit quality of the issuer or counterparty may deteriorate, making it difficult for the Fund to sell such investments.
Foreign Securities Risk. Investments in foreign currencies and foreign issuers are subject to additional risks, including political and economic risks, civil conflicts and war, greater volatility, expropriation and nationalization risks, sanctions or other measures by the United States or other governments, currency fluctuations, higher transaction costs, delayed settlement, possible foreign controls on investment, liquidity risks, and less stringent investor protection and disclosure standards of foreign markets. In certain markets where securities and other instruments are not traded "delivery versus payment," the Fund may not receive timely payment for securities or other instruments it has delivered or receive delivery of securities paid for and may be subject to increased risk that the counterparty will fail to make payments or delivery when due or default completely.
Geographic Focus Risk. The Fund may focus its investments in one or more regions or small groups of countries. As a result, the Fund's performance may be subject to greater volatility than a more geographically diversified fund.
Prepayment Risk. The issuer of certain securities may repay principal in advance, especially when yields fall. Changes in the rate at which prepayments occur can affect the return on investment of these securities. When debt obligations are prepaid or when securities are called, the Fund may have to reinvest in securities with a lower yield. The Fund also may fail to recover additional amounts (i.e., premiums) paid for securities with higher coupons, resulting in an unexpected capital loss.
Derivatives Risk. Derivatives, including futures contracts, may be riskier than other types of investments and may increase the volatility of the Fund. Derivatives may be sensitive to changes in economic and market conditions and may create leverage, which could result in losses that significantly exceed the Fund's original investment. Certain derivatives expose the Fund to counterparty risk, which is the risk that the derivative counterparty will not fulfill its contractual obligations (and includes credit risk associated with the counterparty). Certain derivatives are synthetic instruments that attempt to replicate the performance of certain reference assets. With regard to such derivatives, the Fund does not have a claim on the reference assets and is subject to enhanced counterparty risk. Derivatives may not perform as expected, so the Fund may not realize the intended benefits. When used for hedging, the change in value of a derivative may not correlate as expected with the currency, security or other risk being hedged. In addition, given their complexity, derivatives expose the Fund to risks of mispricing or improper valuation.
Privately Placed Securities Risk. Privately placed securities generally are less liquid than publicly traded securities and the Fund may not always be able to sell such securities without experiencing delays in finding buyers or reducing the sale price for such securities. The disposition of some of the securities
held by the Fund may be restricted under federal securities laws. As a result, the Fund may not be able to dispose of such investments at a time when, or at a price at which, it desires to do so and may have to bear expenses of registering these securities, if necessary. These securities may also be difficult to value.
Industry and Sector Focus Risk. At times the Fund may increase the relative emphasis of its investments in a particular industry or sector. The prices of securities of issuers in a particular industry or sector may be more susceptible to fluctuations due to changes in economic or business conditions, government regulations, availability of basic resources or supplies, or other events that affect that industry or sector more than securities of issuers in other industries and sectors. To the extent that the Fund increases the relative emphasis of its investments in a particular industry or sector, the Fund's Share values may fluctuate in response to events affecting that industry or sector.
Financials Sector Risk. Financial services companies are subject to extensive governmental regulation which may limit both the amounts and types of loans and other financial commitments they can make, the interest rates and fees they can charge, the scope of their activities, the prices they can charge and the amount of capital they must maintain. Profitability is largely dependent on the availability and cost of capital funds and can fluctuate significantly when interest rates change or due to increased competition. In addition, deterioration of the credit markets generally may cause an adverse impact in a broad range of markets, including U.S. and international credit and interbank money markets generally, thereby affecting a wide range of financial institutions and markets. Certain events in the financial sector may cause an unusually high degree of volatility in the financial markets, both domestic and foreign, and cause certain financial services companies to incur large losses. Securities of financial services companies may experience a dramatic decline in value when such companies experience substantial declines in the valuations of their assets, take action to raise capital (such as the issuance of debt or equity securities), or cease operations. Credit losses resulting from financial difficulties of borrowers and financial losses associated with investment activities can negatively impact the sector. Insurance companies may be subject to severe price competition. Adverse economic, business or political developments could adversely affect financial institutions engaged in mortgage finance or other lending or investing activities directly or indirectly connected to the value of real estate.
Foreign Issuer Risk. U.S. dollar-denominated securities of foreign issuers or U.S. affiliates of foreign issuers may be subject to additional risks not faced by domestic issuers. These risks include political and economic risks, civil conflicts and war, greater volatility, expropriation and nationalization risks, sanctions or other measures by the United States or other governments, and regulatory issues facing issuers in such countries.
Industry Concentration Risk. The Fund will not invest more than 25% of the value of its total assets in the securities of companies conducting their principal business activities in the same industry, except that, to the extent that an industry represents 20% or more of the Fund's benchmark at the time of investment, the Fund may invest up to 35% of its assets in that industry. Concentrating Fund investments in companies conducting business in the same industry will subject the Fund
---
to a greater risk of loss as a result of adverse economic, business or other developments affecting that industry than if its investments were not so concentrated.
REITs Risk. The Fund's investments in debt securities of REITs are subject to the same risks as direct investments in real estate and mortgages, and their value will depend on the value of the underlying real estate interests. These risks include default, prepayments, changes in value resulting from changes in interest rates and demand for real and rental property, and the management skill and creditworthiness of REIT issuers. Debt securities of REITs are subject to the risks of debt securities in general. For example, such securities are more sensitive to interest rates than equity securities of REITs.
MLP Risk. Debt securities of MLPs are subject to the risks of debt securities in general. For example, such securities are more sensitive to interest rates than equity interests in MLPs. The managing general partner of an MLP may receive an incentive allocation based on increases in the amount and growth of cash distributions to investors in the MLP. This method of compensation may create an incentive for the managing general partner to make investments that are riskier or more speculative than would be the case in the absence of such compensation arrangements. Certain MLPs may operate in, or have exposure to, the energy sector. The energy sector can be significantly affected by changes in the prices and supplies of oil and other energy fuels, energy conservation, the success of exploration projects, and tax and other government regulations, policies of the Organization of Petroleum Exporting Countries (OPEC) and relationships among OPEC members and between OPEC and oil importing nations.
ETF Shares Trading Risk. Shares are listed for trading on the NYSE Arca Inc. (the "Exchange") and are bought and sold in the secondary market at market prices. The market prices of Shares are expected to fluctuate, in some cases materially, in response to changes in the Fund's NAV, the intraday value of the Fund's holdings and supply and demand for Shares. The adviser cannot predict whether Shares will trade above, below or at their NAV. Disruptions to creations and redemptions, the existence of significant market volatility or potential lack of an active trading market for the Shares (including through a trading halt), as well as other factors, may result in the Shares trading significantly above (at a premium) or below (at a discount) to NAV or to the intraday value of the Fund's holdings. During such periods, you may incur significant losses if you sell your Shares.
The securities held by the Fund may be traded in markets that close at a different time than the Exchange. Liquidity in those securities may be reduced after the applicable closing times. Accordingly, during the time when the Exchange is open but after the applicable market closing, fixing or settlement times, bid-ask spreads on the Exchange and the corresponding premium or discount to the Shares' NAV may widen.
Authorized Participant Concentration Risk. Only an authorized participant may engage in creation or redemption transactions directly with the Fund. The Fund has a limited number of intermediaries that act as authorized participants and none of these authorized participants is or will be obligated to engage in creation or redemption transactions. To the extent that these intermediaries exit the business or are unable to or choose not to proceed with creation and/or redemption orders with respect
to the Fund and no other authorized participant creates or redeems, Shares may trade at a discount to NAV and possibly face trading halts and/or delisting.
Cash Transactions Risk. Unlike certain ETFs, the Fund may effect creations and redemptions in cash or partially in cash. Therefore, it may be required to sell portfolio securities and subsequently recognize gains on such sales that the Fund might not have recognized if it were to distribute portfolio securities in-kind. As such, investments in Shares may be less tax-efficient than an investment in an ETF that distributes portfolio securities entirely in-kind.
Investments in the Fund are not deposits or obligations of, or guaranteed or endorsed by, any bank and are not insured or guaranteed by the FDIC, the Federal Reserve Board or any other government agency.
You could lose money investing in the Fund.
The Fund's Past Performance
This section provides some indication of the risks of investing in the Fund. The bar chart shows the performance of the Fund's Shares over the past two calendar years. The table shows the average annual total returns for the past one year and life of the Fund. It compares that performance to the Bloomberg Barclays U.S. Corporate Index. Past performance (before and after taxes) is not necessarily an indication of how the Fund will perform in the future. Updated performance information is available by visiting www.jpmorganfunds.com or by calling 1-844-457-6883 (844-4JPM ETF).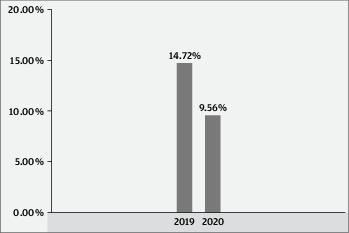 | | | | | | |
| --- | --- | --- | --- | --- | --- |
| The Fund's year-to-date total return | | | | | |
---
AVERAGE ANNUAL TOTAL RETURNS

(For periods ended December 31, 2020)

Return After Taxes on Distributions

Return After Taxes on Distributions and Sale of

Fund Shares

BLOOMBERG BARCLAYS U.S. CORPORATE

INDEX

(Reflects No Deduction for Fees, Expenses, or

Taxes)
After-tax returns are calculated using the historical highest individual federal marginal income tax rates and do not reflect the impact of state and local taxes. Actual after-tax returns depend on the investor's tax situation and may differ from those shown, and the after-tax returns shown are not relevant to investors who hold their shares through tax-deferred arrangements such as 401(k) plans or individual retirement accounts.
Management
J.P. Morgan Investment Management Inc. (the adviser) 
Primary Title with

Investment Adviser
Purchase and Sale of Shares
Individual Shares of the Fund may only be purchased and sold in secondary market transactions through brokers or financial intermediaries. Shares of the Fund are listed for trading on the
Exchange, and because Shares trade at market prices rather than NAV, Shares of the Fund may trade at a price greater than NAV (premium) or less than NAV (discount). Certain affiliates of the Fund and the adviser may purchase and resell Shares pursuant to this prospectus.
An investor may incur costs attributable to the difference between the highest price a buyer is willing to pay to purchase Shares of the Fund (bid) and the lowest price a seller is willing to accept for Shares (ask) when buying or selling Shares in the secondary market (the "bid-ask spread").
Recent information, including information about the Fund's NAV, market price, premiums and discounts, and bid-ask spreads, is included on the Fund's website at jpmorganfunds.com.
Tax Information
To the extent the Fund makes distributions, those distributions will be taxed as ordinary income or capital gains, except when your investment is in an IRA, 401(k) plan or other tax-advantaged investment plan, in which case you may be subject to federal income tax upon withdrawal from the tax-advantaged investment plan.
Payments to Broker-Dealers and Other Financial Intermediaries
If you purchase Shares of the Fund through a broker-dealer or other financial intermediary (such as a bank), the adviser and its related companies may pay the financial intermediary for the sale of Shares and related services. These payments may create a conflict of interest by influencing the broker-dealer or financial intermediary and your salesperson to recommend the Fund over another investment. Ask your salesperson or visit your financial intermediary's website for more information.
---
This Page Intentionally Left Blank.

---
SEC Filings
Related Entities
JPMorgan
Sign up for StreetInsider Free!
Receive full access to all new and archived articles, unlimited portfolio tracking, e-mail alerts, custom newswires and RSS feeds - and more!