Form 497K ADVISORS SERIES TRUST
---
Get inside Wall Street with StreetInsider Premium. Claim your 1-week free trial here.
---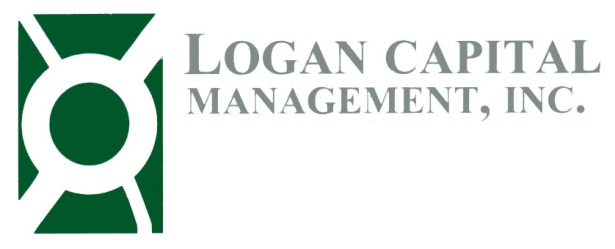 Logan Capital Broad Innovative Growth ETF
(Ticker: LCLG)
Listed on NYSE Arca, Inc. (the "Exchange")
Summary Prospectus
August 8, 2022
Before you invest, you may want to review the Logan Capital Broad Innovative Growth ETF's (the "Fund") Statutory Prospectus and Statement of Additional Information ("SAI"), which contain more information about the Fund and its risks.  The current Statutory Prospectus and SAI dated August 8, 2022, are incorporated by reference into this Summary Prospectus.  You can find the Fund's Statutory Prospectus, SAI, shareholder reports and other information about the Fund online at https://www.logancapitalfunds.com/regulatory-info.  You can also get this information at no cost by calling 1-800-617-0004 or by sending an e-mail request to funds@logancapital.com.
Investment Objective
The Logan Capital Broad Innovative Growth ETF (the "Fund") seeks long-term capital appreciation.
Fees and Expenses of the Fund
The following table describes the fees and expenses you may pay if you buy, hold, and sell shares of the Fund ("Shares"). This table and the Example below do not include the brokerage commissions and other fees to financial intermediaries that investors may pay on their purchases and sales of Shares.
Annual Fund Operating Expenses
(expenses that you pay each year as a percentage of the value of your investment)
Management Fees
0.65%
Distribution and/or Service (12b-1) Fees
None

Other Expenses1

0.38%
Total Annual Fund Operating Expenses
1.03%

Fee Waiver/Reimbursement or Recoupment2

-0.04%
Total Annual Fund Operating Expenses After Fee Waiver/Reimbursement
0.99%
1    Restated to reflect current fees.
2    Logan Capital Management, Inc. (the "Adviser") has contractually agreed to waive a portion or all of its management fees and pay the Fund expenses in order to limit Total Annual Fund Operating Expenses After Fee Waiver (excluding acquired fund fees and expenses ("AFFE"), taxes, interest expense, dividends on securities sold short, and extraordinary expenses) to 0.99% of average daily net assets of the Fund (the "Expense Cap"). The Expense Cap will remain in effect through at least August 28, 2023, and may be terminated only by the Board. The Adviser may request recoupment of previously waived fees and paid expenses from the Fund for 36 months from the date they were waived or paid, subject to the Expense Cap, if such reimbursement will not cause the Fund's expense ratio, after recoupment has been taken into account, to exceed the lesser of: (1) the Expense Cap in place at the time of the waiver and/or expense payment; or (2) the Expense Cap in place at the time of the recoupment. This provision includes fees the Adviser previously waived or expenses previously paid for the Predecessor Fund (as defined below).
Example
This Example is intended to help you compare the cost of investing in the Fund with the cost of investing in other funds. The Example assumes that you invest $10,000 in the Fund for the time periods indicated and then redeem and hold all of your Shares at the end of those periods. The Example also assumes that your investment has a 5% return each year and that the Fund's operating expenses remain the same (taking into account the Expense Cap only in the first year). The Example does not take into account brokerage commissions that you may pay on your purchases and sales of Shares. Although your actual costs may be higher or lower, based on these assumptions your costs would be:
---
1 Year
3 Years
5 Years
10 Years
$101
$324
$565
$1,256
Portfolio Turnover
The Fund pays transaction costs, such as commissions, when it buys and sells securities (or "turns over" its portfolio). A higher portfolio turnover rate may indicate higher transaction costs and may result in higher taxes when Shares are held in a taxable account. These costs, which are not reflected in annual fund operating expenses or in the Example, affect the Fund's performance. For the most recent fiscal year, the Logan Capital Large Cap Growth Fund (the "Predecessor Fund's") portfolio turnover rate was 13% of the average value of its portfolio.
Principal Investment Strategies of the Fund
Logan Capital's Broad Innovative Growth investment philosophy is based on the belief that earnings growth ultimately drives stock prices. Our investment process seeks to identify companies that have the ability to generate sustainable and durable long-term earnings growth. Our goal is to invest in U.S. companies that have outstanding earnings growth due to factors such as superior pricing power, distribution channels, management, etc. The companies in the portfolio are selected for their innovative thinking which often results in a captive market for their service or product and the potential to grow earnings at a faster rate than the average stock often by using innovative technologies or ideas to gain advantage over competitors. We are patient, long-term growth investors, which means we will often hold through earnings setbacks that we believe are short-term in nature as long as the fundamentals indicate that a resumption in earnings growth is probable.
Under normal market conditions, the Fund invests primarily in securities of companies that use innovative technologies or ideas to gain advantage over competitors. The Fund expects to invest principally in large capitalization equity securities that are traded on U.S. securities exchanges. The Fund expects to invest principally in equity securities that are traded on U.S. securities exchanges. Equity securities in which the Fund may invest include common stocks, preferred stocks, American Depositary Receipts ("ADRs"), rights and warrants, and may include securities of companies that are offered pursuant to an initial public offering ("IPO"). From time to time, the Fund may be invested significantly in securities of companies in the same economic sector. For example, as of April 30, 2022, 36.11% of the Predecessor Fund's net assets were invested in securities within the information technology sector.
The Fund may invest up to 20% of its total assets in securities of foreign issuers, including issuers in emerging markets.
The Fund's investment process is "bottom up" and focused on superior security selection. The investment team utilizes a three-component process that includes top-down macroeconomic analysis, fundamental research and technical analysis. For a stock to be eligible for portfolio inclusion, it must pass all three independent components of this process.
1)Macroeconomic analysis – To aid in security selection, the Advisor begins by analyzing macroeconomic factors including, but not limited to, trends in real gross domestic product ("GDP") growth, short and long-term interest rates, yield curve, inflation, U.S. Federal Reserve Board actions, productivity gains and corporate cash flow.
2)Fundamental analysis – Investment ideas are generated utilizing the Advisor's proprietary ranking and screening tool which assigns a score, based on a number of factors, to a broad universe of stocks, giving the Advisor an advantage when evaluating new opportunities. Factors considered include, but are not limited to, market expansion opportunities, market dominance and/or pricing power, a strong balance sheet, and significant barriers to entry (e.g., obstacles that prevent a company from easily entering the market or industry, such as dominant market share, proprietary software, patents, or brand loyalty).
3)Technical Analysis – An evaluation that examines a stock's price behavior and chart patterns to determine an uptrend or downtrend. Other factors considered include, but are not limited to, relative performance as compared to the peer group and the overall market, historically significant price patterns, overbought and oversold levels and support and resistance levels. "Support" occurs where a downtrend is expected to pause due to a concentration of demand, and "resistance" occurs where an uptrend is expected to pause, due to a concentration of supply.
The Advisor may sell a position when it no longer qualifies for purchase under at least two of the three independent components.
---
Principal Risks of Investing in the Fund
The principal risks of investing in the Fund are summarized below. As with any investment, there is a risk that you could lose all or a portion of your investment in the Fund. Some or all of these risks may adversely affect the Fund's net asset value per share ("NAV"), trading price, yield, total return and/or ability to meet its objectives. For more information about the risks of investing in the Fund, see the section in the Fund's Prospectus titled "Additional Information About the Fund."
•ETF Risks. The Fund is an ETF, and, as a result of an ETF's structure, it is exposed to the following risks:
◦Authorized Participants, Market Makers, and Liquidity Providers Concentration Risk. The Fund has a limited number of financial institutions that may act as Authorized Participants ("APs"). In addition, there may be a limited number of market makers and/or liquidity providers in the marketplace. To the extent either of the following events occur, Shares may trade at a material discount to NAV and possibly face delisting: (i) APs exit the business or otherwise become unable to process creation and/or redemption orders and no other APs step forward to perform these services, or (ii) market makers and/or liquidity providers exit the business or significantly reduce their business activities and no other entities step forward to perform their functions.
◦Costs of Buying or Selling Shares. Due to the costs of buying or selling Shares, including brokerage commissions imposed by brokers and bid-ask spreads, frequent trading of Shares may significantly reduce investment results and an investment in Shares may not be advisable for investors who anticipate regularly making small investments.
◦Shares May Trade at Prices Other Than NAV. As with all ETFs, Shares may be bought and sold in the secondary market at market prices. Although it is expected that the market price of Shares will approximate the Fund's NAV, there may be times when the market price of Shares is more than the NAV intra-day (premium) or less than the NAV intra-day (discount) due to supply and demand of Shares or during periods of market volatility. This risk is heightened in times of market volatility, periods of steep market declines, and periods when there is limited trading activity for Shares in the secondary market, in which case such premiums or discounts may be significant.
◦Trading. Although Shares are listed for trading on the Exchange and may be traded on U.S. exchanges other than the Exchange, there can be no assurance that Shares will trade with any volume, or at all, on any stock exchange. In stressed market conditions, the liquidity of Shares may begin to mirror the liquidity of the Fund's underlying portfolio holdings, which can be significantly less liquid than Shares.
•Portfolio Turnover Risk. The portfolio manager may actively and frequently trade securities or other instruments in the Fund's portfolio to carry out its investment strategies. A high portfolio turnover rate increases transaction costs, which may increase the Fund's expenses. Frequent and active trading may also cause adverse tax consequences for investors in the Fund due to an increase in short-term capital gains.
•General Market Risk. Events in the financial markets and economy may cause volatility and uncertainty and adversely impact the Fund's performance. Market events may affect a single issuer, industry, sector, or the market as a whole. Traditionally liquid investments may experience periods of diminished liquidity. Governmental and regulatory actions, including tax law changes, may also impair portfolio management and have unexpected or adverse consequences on particular markets, strategies, or investments. The Fund's investments may decline in value due to factors affecting individual issuers (such as the results of supply and demand), or sectors within the securities markets. The value of a security or other investment also may go up or down due to general market conditions that are not specifically related to a particular issuer, such as real or perceived adverse economic conditions, changes in interest rates or exchange rates, or adverse investor sentiment generally. In addition, unexpected events and their aftermaths, such as the spread of deadly diseases; natural, environmental or man-made disasters; financial, political or social disruptions; terrorism and war; and other tragedies or catastrophes, can cause investor fear and panic, which can adversely affect the economies of many companies, sectors, nations, regions and the market in general, in ways that cannot necessarily be foreseen.
•Equity Securities Risk. The price of equity securities may rise or fall because of economic or political changes or changes in a company's financial condition, sometimes rapidly or unpredictably. These price movements may result from factors affecting individual companies, sectors or industries selected for the Fund's portfolio or the securities market as a whole, such as changes in economic or political conditions.
•Management Risk. The Fund is an actively managed portfolio. The Advisor's management practices and investment strategies might not produce the desired results. The Advisor may be incorrect in its assessment of a stock's appreciation potential.
•Large-Cap Companies Risk. Larger, more established companies may be unable to respond quickly to new competitive challenges like changes in consumer tastes or innovative smaller competitors. In addition, large-cap companies are sometimes unable to attain the high growth rates of successful, smaller companies, especially during extended periods of economic expansion.
---
•Growth Style Investment Risk. Growth stocks can perform differently from the market as a whole and from other types of stocks. While growth stocks may react differently to issuer, political, market and economic developments than the market as a whole and other types of stocks by rising or falling in price in certain environments, growth stocks also tend to be sensitive to changes in the earnings of their underlying companies and more volatile than other types of stocks, particularly over the short term.
•Foreign Securities Risk. Investing in foreign securities typically involves more risks than investing in U.S. securities, and includes risks associated with: (1) internal and external political and economic developments – e.g., the political, economic and social policies and structures of some foreign countries may be less stable and more volatile than those in the United States or some foreign countries may be subject to trading restrictions or economic sanctions; (2) trading practices – e.g., government supervision and regulation of foreign securities and currency markets, trading systems and brokers may be less than in the U.S.; (3) availability of information – e.g., foreign issuers may not be subject to the same disclosure, accounting and financial reporting standards and practices as U.S. issuers; (4) limited markets – e.g., the securities of certain foreign issuers may be less liquid (harder to sell) and more volatile; and (5) currency exchange rate fluctuations and policies.
•Emerging Markets Risk. Emerging markets are markets of countries in the initial stages of industrialization and generally have low per capita income. In addition to the risks of foreign securities in general, emerging markets are generally more volatile, have relatively unstable governments, social and legal systems that do not protect shareholders, economies based on only a few industries and securities markets that are substantially smaller, less liquid and more volatile with less government oversight than those of more developed countries.
•Depositary Receipt Risk. The Fund's equity investments may take the form of sponsored or unsponsored depositary receipts. Holders of unsponsored depositary receipts generally bear all the costs of such facilities and the depositary of an unsponsored facility frequently is under no obligation to distribute shareholder communications received from the issuer of the deposited security or to pass through voting rights to the holders of such receipts of the deposited securities.
•Initial Public Offering Risk. The market value of IPO shares may fluctuate considerably due to factors such as the absence of a prior public market, unseasoned trading, the small number of shares available for trading and limited information about the issuer. The purchase of IPO shares may involve high transaction costs. IPO shares are subject to market risk and liquidity risk.
•Sector Emphasis Risk. The securities of companies in the same or related businesses, if comprising a significant portion of the Fund's portfolio, could react in some circumstances negatively to market conditions, interest rates and economic, regulatory or financial developments and adversely affect the value of the portfolio to a greater extent than if securities of companies in such a sector comprised a lesser portion of the Fund's portfolio.
◦Information Technology Sector Risk. Information technology companies face intense competition, both domestically and internationally, which may have an adverse effect on profit margins. Like other technology companies, information technology companies may have limited product lines, markets, financial resources or personnel. The products of information technology companies may face product obsolescence due to rapid technological developments and frequent new product introduction, unpredictable changes in growth rates and competition for the services of qualified personnel. Technology companies and companies that rely heavily on technology, especially those of smaller, less-seasoned companies, tend to be more volatile than the overall market.
Performance
The following performance information indicates some of the risks of investing in the Fund. As of August 8, 2022, the Fund has adopted the performance history of the Predecessor Fund, which operated as a mutual fund using substantially similar investment strategies. The bar chart shows the Predecessor Fund's performance for the calendar years ended December 31. The table illustrates how the Predecessor Fund's average annual returns for one-year, five years and since inception periods compare with those of a broad measure of market performance. The Predecessor Fund's past performance, before and after taxes, does not necessarily indicate how the Fund will perform in the future. Updated performance information is available on the Fund's website at www.logancapitalfunds.com or by calling the Fund toll-free at 1-800-617-0004.
---
Calendar Year Total Returns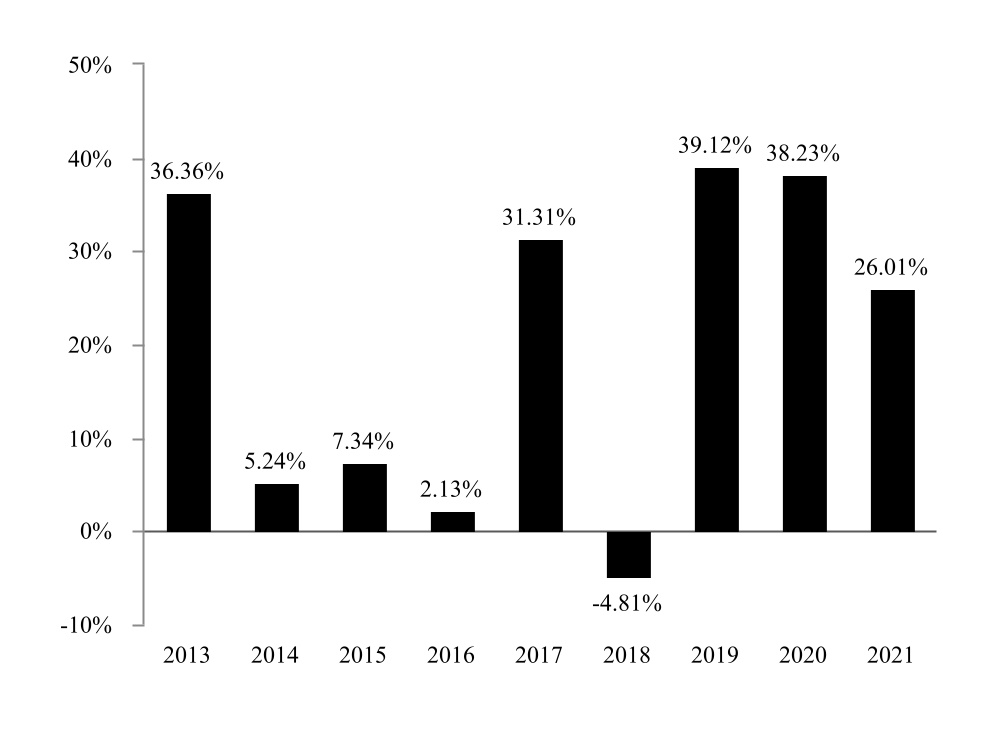 Calendar Year to Date Return as of June 30, 2022 -31.85%
Highest Quarterly Return
Q2: 2020
30.67 
%
Lowest Quarterly Return
Q4: 2018
-19.31 
%
Average Annual Total Returns
For Periods Ended December 31, 2021 for the Predecessor Fund

1 Year
5 Years

Since Inception

(6/28/2012)

Return Before Taxes
26.01%
24.81%
18.52%
Return After Taxes on Distributions
24.02%
23.94%
18.03%
Return After Taxes on Distributions and Sale of Shares
16.81%
20.40%
15.80%

Russell 1000® Growth Index

(reflects no deduction for fees, expenses, or taxes)

27.60%
25.32%
20.02%
After-tax returns are calculated using the historical highest individual federal marginal income tax rates during the period covered by the table above and do not reflect the impact of state and local taxes. Actual after-tax returns depend on an investor's tax situation and may differ from those shown. After-tax returns shown are not relevant to investors who hold their Shares through tax-deferred arrangements such as an individual retirement account ("IRA") or other tax-advantaged accounts.
Management
Investment Advisor

Portfolio Managers

Managed the Fund Since:

Logan Capital Management, Inc.

Al Besse, Principal
Stephen S. Lee, Principal
Dana H. Stewardson, Principal
2012
2012
2012
Purchase and Sale of Fund Shares
Shares are listed on the Exchange, and individual Shares may only be bought and sold in the secondary market through brokers at market prices, rather than NAV. Because Shares trade at market prices rather than NAV, Shares may trade at a price greater than NAV (premium) or less than NAV (discount).
---
The Fund generally issues and redeems Creation Units in exchange for a portfolio of securities closely approximating the holdings of the Fund (the "Deposit Securities") and/or a designated amount of U.S. cash. The Fund issues and redeems Shares at NAV only in large blocks known as "Creation Units," which only APs (typically, broker-dealers) may purchase or redeem. Creation Units generally consist of 25,000 Shares, though this may change from time to time.
Investors may incur costs attributable to the difference between the highest price a buyer is willing to pay to purchase Shares (bid) and the lowest price a seller is willing to accept for Shares (ask) when buying or selling Shares in the secondary market (the "bid-ask spread"). Recent information about the Fund, including its NAV, market price, premiums and discounts, and bid-ask spreads is available on the Fund's website at www.logancapitalfunds.com.
Tax Information
Fund distributions are generally taxable as ordinary income, qualified dividend income, or capital gains (or a combination), unless your investment is in an IRA or other tax-advantaged account. Distributions on investments made through tax-deferred arrangements may be taxed later upon withdrawal of assets from those accounts.
Financial Intermediary Compensation
If you purchase Shares through a broker-dealer or other financial intermediary (such as a bank) (an "Intermediary"), the Adviser or its affiliates may pay Intermediaries for certain activities related to the Fund, including participation in activities that are designed to make Intermediaries more knowledgeable about exchange-traded products, including the Fund, or for other activities, such as marketing, educational training or other initiatives related to the sale or promotion of Shares. These payments may create a conflict of interest by influencing the Intermediary and your salesperson to recommend the Fund over another investment. Any such arrangements do not result in increased Fund expenses. Ask your salesperson or visit the Intermediary's website for more information.
SEC Filings
Sign up for StreetInsider Free!
Receive full access to all new and archived articles, unlimited portfolio tracking, e-mail alerts, custom newswires and RSS feeds - and more!