Twitter (TWTR) Stock Surge Goes Main Street
Up 182% from its November 7th IPO price, the debate on Twitter's (NYSE:
TWTR
) sky-high valuation has moved from Wall Street to Main Street.
Today, popular political magnet Matt Drudge of the Drudge Report threw his hat into the Twitter stock price ring. Drudge took to the social media platform to question the company's valuation. "How does a company that has not made $1 profit now have stock value of $41 BILLION?," Drudge asked on Twitter. He then predicts the worst: "The coming crash will be horrific..." Moments later Drudge followed up with a post that grouped Twitter into irrational values seen across America. "America's inability to be grounded and rational on value of things and stuff is on full display at TWTR (NYSE)," he said. What exactly he meant by that is unclear, although he could have been referring to bitcoin or the stock market in general. Later in the day, Twitter made the famed Drudge Report homepage as the lead, with the link pointing to a CNBC stock quote page.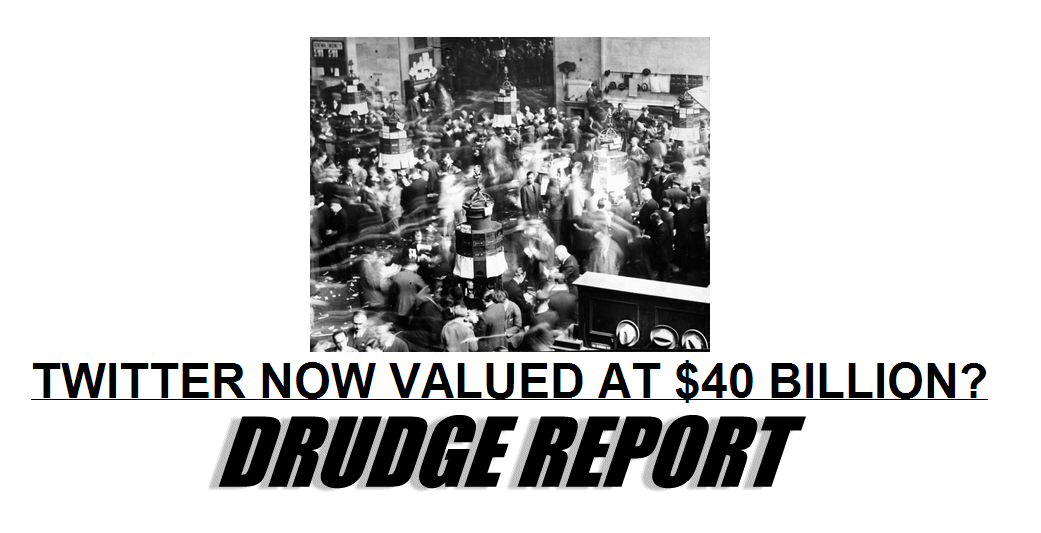 Drudge is not the first to question Twitter's valuation. With an all-in valuation of nearly $52 billion when accounting for RSUs and other securities (Drudge is using a much-lower $40 billion), a full choir of Wall Street analysts have for weeks been questioning the valuation.
In fact, well-informed Internet analyst Robert Peck, who was among the first to recommend the stock pre-IPO, downgraded the shares on December 16th after they surpassed his $50 price target. In the downgrade report, Peck said he remained extremely positive on the long-term opportunity for the company he said "is still in a very nascent stage of its life cycle," although near-term valuation was "stretched." At that time shares were trading at 34x their 2014 $1.2 billion revenue estimate, versus other fast-growing peers like Facebook (NASDAQ:
FB
) trading at 12x, LinkedIn (NYSE:
LNKD
) trading at 11x, and Yelp (NYSE:
YELP
) trading at 12x. This has since grown to 43x 2014 revenue estimates for Twitter, with shares up another 24% since then.
So what's driving the shares? There's a lot of theories out there but little answers. One popular answers is year-end window dressing. Twitter's quite-period ended on December 2, allowing not only underwriters to recommend the stock to clients but giving the company the opportunity to speak with investors. Excluding the
73% IPO pop
, shares were really trading sideways until the quite-period ended. It wasn't the underwriters' analysts that got the shares going (they were
lukewarm on the stock
), which has some speculating that Twitter is talking a good game with investors that has them eager to load up on the stock and look good on paper to clients at year end.
In addition to the quite period ending, prompting window dressing, a number of smaller items have come out which is adding to the positive investor sentiment, although none is seen as the catalyst in-and-of-itself. Some of those are:
12/23/2013: Twitter's Jack Dorsey named to Disney board
12/12/2013: MoPub native ads implementation
12/10/2013: Twitter reveals direct messaging of photo
12/5/2013: Twitter rolls out tailored audience
12/2/2013: Apple acquires Topsy.
In addition to the above reasons, short covering is also said to be contributing to the move. As of 11/29/13, 17.8 million of Twitter shares were held short, or 22% of the available float.
Whatever the reason for the move higher, it has early investors thrilled and counting their winnings. If anything is going to stop the runaway train from going higher it will be these early investors hitting the sell button once available to them... and this could be a lot.
From the company's S-1 filing:
"Upon completion of this offering, stockholders owning an aggregate of up to 386,952,743 shares will be entitled, under contracts providing for registration rights, to require us to register shares of our common stock owned by them for public sale in the United States. In addition, we intend to file a registration statement to register 209,449,274 shares reserved for future issuance under our equity compensation plans, including shares reserved for future issuance pursuant to options under an equity compensation plan that were assumed upon completion of our acquisition of MoPub. Upon effectiveness of that registration statement, subject to the satisfaction of applicable exercise periods and expiration of the market standoff agreements and lock-up agreements referred to above, the shares of our common stock issued upon exercise of outstanding stock options or the vesting of RSUs will be available for immediate resale in the United States in the open market."
Insiders' Blog
,
Momentum Movers
,
Short Sales
,
Trader Talk
Related Entities
Twitter
,
S1
,
Definitive Agreement
,
IPO
,
Bitcoin
Sign up for StreetInsider Free!
Receive full access to all new and archived articles, unlimited portfolio tracking, e-mail alerts, custom newswires and RSS feeds - and more!