Rootly Raises $12M to Help Enterprise IT Teams Resolve Incidents 80 Percent Faster
Founded by early Instacart employees, Rootly helps IT teams make incident response their superpower; deal signed the day after the collapse of SVB
SAN FRANCISCO, Aug. 10, 2023 (GLOBE NEWSWIRE) -- Rootly, which offers the first and only enterprise-grade incident management platform, announced today that it has raised a $12M Series A round of financing led by Renegade Partners with participation from Google Gradient Ventures (Google's AI-focused venture fund) and XYZ Ventures. This brings Rootly's total funding to date to $15.2M ($20M CAD). The company will use the funding to accelerate Rootly's product roadmap, increase its global engineering presence, and invest in sales and marketing to meet steep market demand for its solution.
Rootly's latest funding was signed the day after the collapse of Silicon Valley Bank – one of the darkest days in history for the tech startup and venture capital communities. "Rootly's ability to sign this deal in the midst of that chaos is a true testament to the appeal of their solution," said Roseanne Wincek, Co-founder and Managing Director at Renegade Partners. "Rootly has a world-class team, strong business fundamentals, sustained growth, and is serving a mission-critical need for engineering teams. This is a crucial technology infrastructure that companies need and will invest in even in a challenging economy."
Rootly's founders met at Instacart where they were on opposite ends of the same problem. Tang was on the product side for enterprise where he owned 25 percent of the company's revenue and Rootly co-founder Quentin Rousseau was Instacart's first site reliability engineer (SRE).
"While working at Instacart, my co-founder and I discovered an urgent need for a better way to manage incident response. Instacart was losing millions of dollars in orders due to outages, and our customers and retailers were frustrated," said JJ Tang, co-founder and CEO of Rootly. "The need to automate became especially acute during the pandemic, when Instacart was providing an essential service and uptime was critical. Engineers need more than paper checklists for incident management—they need immediate context on previous incidents, help looping in the right people fast, and a way to keep others updated without answering dozens of individual messages. Rootly combined all of that into one and made it enterprise-grade and scalable for any size company." Rootly has landed hundreds of enterprise customers since going live in late 2020.
The growing complexity of IT systems and the continued push towards remote work have made managing and resolving incidents harder than ever. A single minute of downtime can cost $16,700 ($1,000,000 hourly), and that figure will only rise. There are also immeasurable reputational costs to downtime. To address it, in 2003 Google pioneered the original concept of Site Reliability Engineering (SRE), which marked a step change in how software teams approached driving reliability. Two decades later in 2023, Google Gradient Ventures is one of several investors betting on Rootly as the platform that will transform the landscape for years to come.
One company using Rootly is Tripadvisor. Geoff Powell, Manager of Technical Operations at Tripadvisor said, "Rootly has become an essential part of our incident response process, helping our team spend more time on resolution and less time on organizing the manual admin work. We've been able to cut our resolution times in half and reduce the number of repeat incidents occurring over time. Rootly has been one of our best IT investments in terms of ROI."
While other tools exist to act as the fire alarm for incidents, none can automate putting out the fire the way that Rootly can. Using cutting edge technology in a space that hasn't seen much recent innovation, Rootly automates much of the incident management and resolution process, from coordinating the right responders to work on the incident in Slack to proactively suggesting guided next steps. Rootly leverages GenAI to allow users to help users identify related incidents, automate generated status updates, and automatically generate retrospective/postmortems based on timelines of incidents events, to save time and help prevent future incidents.
"Incident management is ripe for change, and Rootly is bringing it," said Tang. "Customer feedback has been amazing, and there's so much more innovation to come. We're excited about what's next."
About RootlyRootly offers the best enterprise-grade incident management platform, proven to help accelerate incident resolution times by 80 percent or more. Rootly's simple and configurable platform can be set up in 10 minutes, and with 50+ integrations automates manual admin work such as paging responders, incident creation, tracking action items and metrics, stakeholder communication, and generating retrospectives. The AI-powered platform learns over time, helping companies understand the root cause of incidents so they can be prevented in the future. Backed by leading investors including Y Combinator, Renegade Partners, and Gradient Ventures, Rootly is already in use at hundreds of enterprises including Canva, NVIDIA and Tripadvisor. Learn more at Rootly.com.
A photo accompanying this announcement is available at https://www.globenewswire.com/NewsRoom/AttachmentNg/4242a5f5-55b4-408a-8c17-e2550ad168ba

Media Contact:
Michelle Faulkner
Big Swing
617-510-6998


[email protected]

Rootly's founders met at Instacart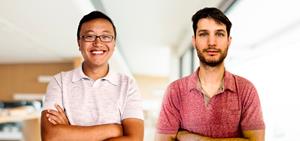 While working at Instacart, JJ Tang and Quentin Rousseau discovered an urgent need for a better way to manage incident response. They left Instacart to pursue the idea full time and have since landed hundreds of enterprise customers including Canva, NVIDIA and TripAdvisor.
Source: Rootly
Globe Newswire
,
Press Releases
Sign up for StreetInsider Free!
Receive full access to all new and archived articles, unlimited portfolio tracking, e-mail alerts, custom newswires and RSS feeds - and more!