RewardTax Announces Launch of First-Ever Multi-Chain Deflationary Token Using Tax as a Reward (TaaR) Mechanism
---
News and research before you hear about it on CNBC and others. Claim your 1-week free trial to StreetInsider Premium here.
---
Singapore, Jan. 06, 2023 (GLOBE NEWSWIRE) -- RewardTax, a new multi-chain deflationary token, has announced the launch of its innovative token, $REWARD, on the Binance Smart Chain which aims to empower retail investors by rewarding them for holding the token long-term and providing access to secure and transparent financial products. By holding and staking $REWARD, investors can accumulate rewards in both a stable coin (BUSD) and the native $REWARD token. The company states that as the platform matures, $REWARD holders can look forward to receiving additional rewards such as unique NFT airdrops and prediction win rewards. This launch presents an exciting opportunity for investors to earn rewards distributed in BUSD while seeing their $REWARD tokens grow through various automated strategies.

RewardTax is a community-driven project operating in the decentralized finance (DeFi) sector and governed by a decentralised autonomous organization (DAO). The platform utilizes the concept of negative tax, which means that investors receive over 100% of the threshold when making a transaction. On the buying side, there is a 2% tax and a 4% negative tax (reward) for a net output of +2%. The 2% tax is split, with 1% converted into BUSD and distributed among $REWARD holders and the other 1% collected as reserve tax for strategic price support and marketing. The 4% reward is paid in $REWARD tokens.
Whereas on the sell side, there is a 2% tax that is split, with 1% converted into BUSD and distributed among $REWARD holders and the other 1% collected as reserve tax for buyback and burning using strategic pricing support. Reward Tax is the first project to offer investors 2x the value of their tax in rewards, making it an attractive option for buyers. The combination of 1% BUSD reward and deflationary staking make $REWARD a strong asset in the DeFi space.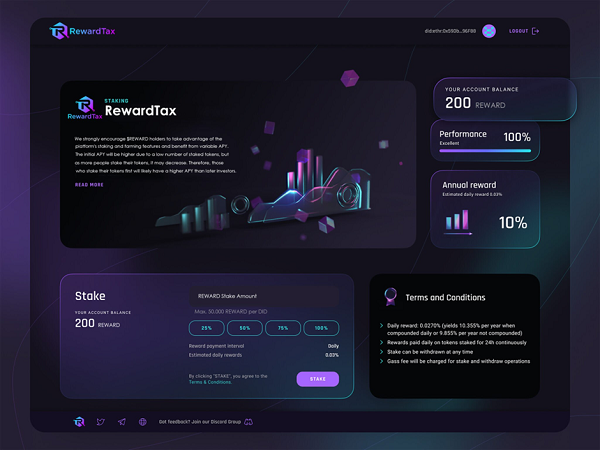 RewardTax Products-
RSWAP DEX- RSWAP (short form of Reward Swap) is a decentralized exchange that allows users to trade and exchange different types of assets. It uses existing liquidity pools from PancakeSwap and will eventually offer its own liquidity options to generate revenue for $REWARD holders. The exchange is easy to use and operates in a decentralized manner, meaning it is not controlled by any central authority. Users can participate in trade farming and contribute to the liquidity of the exchange.
RBRIDGE (Cross-chain Asset Management)- RBRIDGE is a tool that allows investors to move various assets between different blockchains. This improves the user experience and generates fees for the RewardTax platform. It is an important part of the company's portfolio as cross-chain technology is expected to play a significant role in the future.
RFARM (Staking & Farming)- RFARM is a feature that allows $REWARD holders to earn a variable annual percentage yield (APY) through staking and farming. When more people stake their tokens, the initial high APY may decrease. However, those who stake their tokens early are more likely to earn a higher APY than later investors. The RewardTax platform rewards long-term stakers and encourages $REWARD holders to take advantage of this feature.
RMPLACE (Buy, Sell, & Rent NFTs)- RMPLACE is a marketplace for buying, selling, and renting non-fungible tokens (NFTs). It allows investors to maximize their earnings through the sale or rental of their revenue-linked NFTs. Users can buy and sell various types of NFTs, including $REWARD NFTs, project mystery boxes, and accessories, with other users. Only $REWARD NFTs have a revenue-sharing feature, and in the future, users will be able to rent these NFTs to others using the marketplace.
The CEO of RewardTax, Randy Rowdy, spoke about the future of the company and its plans for the next few years. He emphasized that the $REWARD token will be deflationary in nature, with its supply decreasing over time through the use of a strategic price support strategy. The company has already completed its research and development phase and is now preparing for launch, which is scheduled for the end of January 2023. In the following quarters, the company plans to focus on growth and refinement through the launch of integrated products such as RSWAP DEX, RBRIDGE, RFARM, and RMPALACE. These products are expected to bring additional value to the RewardTax platform and its investors.
About Us- RewardTax is a multi-chain deflationary token that aims to empower retail investors by rewarding them for long-term holding and providing access to secure, transparent, and open financial products. The company's mission is to create a more accessible, efficient, and equitable financial system within the blockchain industry. Through the use of negative tax, where investors receive 100% of the threshold, and the distribution of rewards in both BUSD and $REWARD tokens, the company encourages long-term holding. In addition, the platform is governed by a DAO, giving the community a direct say in its development and direction. As the platform grows, $REWARD holders will benefit from various rewards such as unique NFT airdrops, prediction win rewards, and more. The company has a strong focus on the future, with plans to launch integrated products like RSWAP DEX, RBRIDGE, RFARM, and RMPALACE in the coming quarters.
Read More: White Paper
Connect with the team on social media

Media Contact- 
Randy Rowdy- CEO RewardTax
support-at-rewardtax.io 
Singapore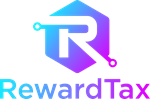 Source: RewardTax
Globe Newswire
,
Press Releases
Related Entities
Twitter
,
Earnings
Sign up for StreetInsider Free!
Receive full access to all new and archived articles, unlimited portfolio tracking, e-mail alerts, custom newswires and RSS feeds - and more!